Southrnfresh has grown and has gained tons of new viewers and popularity over the last 3 years.  So it's only right to reintroduce ourselves to some of our new viewers that have no idea where we came from or even what we are about.  I always end up in conversations with people at events or online that have no clue where Southrnfresh came from.  People I have known for years in the car scene still barely don't know that I am a piece of Southrnfresh, and I faithfully see them at  our events and commenting and participating in discussions on our Facebook page or on the site.  It's one thing to have friends that support you because they stand behind you, but I think it's even better for friends to support something that I put a lot of time into just because they enjoy it and stand behind what we deliver to them.  This post has been a long time coming, but my schedule along with the holidays has just made getting the time to write this how I wanted to very hard.  But seeing that we just hit a milestone of 20,000 likes on our Facebook page, it was must.  I wanted to put together a post that would kind of give you an idea of what we are trying to create here and why we do it. 
Back in early 2008, I was all over the internet in my spare time on tons of forums just to see what people did in other regions and with other makes and models.  Around that time Google started to  turn into a better source for searching the internet than browsing forums.  I eventually stumbled into the  hidden blog world.   Hidden because it was damn near impossible to dig up these sites without a saved bookmark.  Most of them were from other countries, which just amazed the hell out of me to see cars styled in ways I had never seen before. But at the same time, the passion from these fellow enthusiasts was just like what we do here.  
One of the main sites that really started it all was KULTIVATE'S WEBLOG . The majority of the photos were not their own content, but it was crazy how that site would draw me in for hours into the night.  
Pictures like this would just blow me away because it was not often that we would see cars like this in 2009.  At one point I was convinced that no one that attended these events owned a DSLR or edited pictures because some of the baddest cars were always shown in low quality photos compared to what we were doing in the states.   This photo of the GARAGE SARUS R32 opened up a whole new avenue of me wanting to see more of this and maybe find more photos of similar cars.  The blogroll on KULTIVATE was just filled with other blogs that would absorb you into another world.  
Another favorite of mine was RISKY DEVIL who offered a look inside of Chicago and the whole midwest.  They mainly chronicled the drift scene, but showed a whole side of Chicago I never knew existed.  Up until I discovered their blog, I would have never known that Chicago got down like they do.  Also at the time, drifting was making a huge impact in the US and more and more grassroots drift oriented blogs were born.  
BESPOKE ADVENTURES was also a favorite of mine.  They seemed to always be in the know with a lot of the import manufacturers and just everything automotive related.   There were also a lot of new cars being introduced to us at that time.  The R35 GTR was all over the place–everyone hated it and no one believed the Nurburgring lap time numbers. It's crazy how times have changed for the GTR after proving itself since then.  The picture above is a photo from the concept FT-86 dashboard.   
I also came across two amazing photographers at that time, SEAN KLINGELHOEFER &  DINO DALLE CARBONARE.  Sean always had his own site going on. Before then I never really recognized the name in any magazines until I noticed his name in the blogroll of damn near all these blogs from Japan.  It is unreal to see how large these guys have become since then.  I was never truly in the mix of who was who and what was what, I always just liked to look at car pictures on the internet.
A few other favorites I suggest looking at:
NORI YARO 
Over time I got the idea to make threads on my home forum Import Atlanta and just post up some of the cars that I find and make huge picture threads.  It started out good and people loved it.  And it lead to great friendly discussions about cars we wished we had and what we wanted. It was everything a forum was supposed to be.  Eventually it started to be a ritual for me to settle down on Sunday afternoons and browse the internet and find photos to post up because people enjoyed it so much.  But there were some that had a problem with me posting photos in the photo section of the forum for some strange reason.  And since I am not the one to get upset or argue online about anything, I got the great idea to look into creating my own place to post up my finds.  
A good friend of mine, Kashime, was the first person I ran the idea by.  Nowadays we hear someone starting a blog every other day, but back then it was foreign territory.  We were familiar with the concept, but it wasn't the thing to do at the time.  As the thought process started on what to call it, I realized that what is the point in me having a site that just reposts what other post?
In the local scene there was a staleness going on with people not being too original and style going into a bad place.  There was no motivation in Atlanta no events, nothing going on.  I wanted to make this site represent something that would fire up the motivation for locals in the region.  Something else that got to me at the time was what was covered in the magazines, online, and as a whole.  The majority of the content I was finding  was from the West Coast if it was Honda related and if it was a euro it was from up north.  At first there was a slight animosity with this and it did make me feel a certain way about what people thought about the south.  The thing that bothered me the most is when the moon and stars aligned and a car from the southern region got any attention, they would always start out saying, "we would not expect this from  ______ (insert any southern state)."  I am sure it seemed like a great thing to say to them, but I could not help taking offense. It was as if we were unable to put a nice car together…  
Once the foundation was built, Kashime and I played with a few names. "SouthRn FresH" was it.  Above is our first logo used on the original site layout and where the first post was made in October 2009.  A few things to note about the logo that it was originally 2 words.   The idea then is still the same as it is today as I wrote in the first ever post:
Welcome to my blog,  I'm starting this blog to give some light to the southern automotive scene/lifestyle.  We do it better than anyone else…. 
which expanded to:
This site is dedicated to the southern states, and created to shine some light on our automotive scene. Because I personally have felt like we are getting left out. Just want to let the world know that we still do it .
It was on–just me and my Kodak camera!  The first event post was from the  October 2009 Varsity meet in Atlanta.  Pictured above is Gabe's Accord in its stage before getting a full tucked bay and color change and before the CCW out rage began.  Gabe's Accord was featured in Honda Tuning when it was white and again when it was brown for S3 magazine.  Last I heard the car sold in Texas to its 3rd owner since he originally owned it.   Photos that we took of it in 2009, before he went hollywood on us are here.
The official first car ever featured on Southrnfresh was this Civic owned by a guy that I do not even remember.  Cameron Flaisch was heavy into photography at the time and contributed the photos.  He has since moved on with life and not really into photography anymore.  
At this point I was focusing on the southern region with photo shoots done by photographers in their free time.  These photo sets where taken for the sole fact to have pictures taken and because a guy with a nice camera and skills wanted to take pictures of your car.  These photos were not needed for any sort of validation for anyone.  Most of the photographers doing photo shoots were getting paid willingly by the car owners because it was a select few that delivered a quality photo, and the line between a crappy photo and a nice photo was obvious and everyone understood.  
Most of the locals may recognize these two cars. The silver GS was owned by Dan Chi and the maroon GS is owned by Martin Villanos pictured here together.  Khris H. has always been one of the original Atlanta photographers that had talent then and now.  I had met Khris a few times through other folks and he always gave us permission to use his photo shoots for content.  At this time there were only a handful of photographers that were taking automotive photography seriously and taking the time to master their craft. I have remained grateful that Khris continues to this day to contribute to Southrnfresh.
The views on the site were okay and it was fun.  But something did not sit right with me about the reasoning behind the site.  The purpose of the site was fine by my personal standards and bringing this region to the limelight was something I enjoyed doing.  But I did not like the reasoning behind it, which was to try to make our region something it is not…the West Coast.  I knew in order for this thing to have some sort of  foundation, we needed to take what the South is and bring it to the light.  Rather than try to imitate something or compare it to something it is not.  We live a different life out here. We are laid back, our scene is tight knit, and everyone knows everyone one way or another.  Most importantly there is a true companionship here and it allows things to remain fun and easy going.  
The photo above is of Jun Lu's Ls430 (LS430 Glider & LS430 Glider v2)  which I was obsessed with at the time.  Jun and Gato had 2 of the nicest LS builds at the time out of Texas.  This photo is important because, after my revelation noted above, I attempted to expand the idea of Southrnfresh to other states.  And I reached out to some car owners from neighboring states to get some more content.
The first Florida car that we featured was owned by a guy named Nickoli Chin from Orlando.  Most people may recognize the name, he is the creator (or one of many creators) of Simply Clean.  I am not sure how I came across Nickoli's car but he had a pretty big build thread and everyone knew the car. He was constantly changing up the car and swapping wheels.  So it was perfect for what i wanted to show to our audience: progression with builds not just completed cars. The point of showing progression was to let people know that these things take time to build and it does not just happen within a few months.
A good example of that progression was Jay and his S2000.  At this time, me and Jay had never met nor did I know any of the PG+K guys.  I just knew anytime they showed up, quality cars would be in attendance.  I wanted to be able to take photos of them and present to our viewers what these guys did.  The majority of their builds were under the radar and just happened.  No build threads, no long poll threads asking what everyone thought.  Their cars would just show up completely transformed and take all the attention.  This photo was taken during Import Faceoff in 2009  in Atlanta.  Jay had won best of show, and was getting photos taken by another guy from the Import Faceoff staff.  And while he did his thing, I took advantage of the situation with my Kodak camera …haha, see them here.  I guess this can count as my first photo shoot with my terrible camera skills lol. And that URL…haha.
Over the years I ended up getting pretty close witht he PG+K crew especially with the trip up to Tennessee for Import Alliance. It's part of what makes Nashville such a great place for us to visit whenever possible.  Jay's S2000  progressed to what you see  above, pictured in 2011 Import Alliance Fall meet coverage.
We also started to get on track with Cliff and his G35 sedan.  Just like Jay, I had never met Cliff or even seen the car before.  But Khris H. was always getting the Kennesaw guys together for photos in the Kennesaw State University lot.  See the full set here.
Cliff's car got a lot of attention while at the  Fatlace Showcase for Formula Drift in 2010 at Road Atlanta and was awarded. By today's standards a car with Varrstoens would not get any kind of love from Hella Flush, but once upon a time it did happen. I borrowed coverage from Mayday Garage for the event:  Mayday Garage: One of One Showcase Coverage @ Road Atlanta
Cliff's G progressed over the years up until last year with a full color change, shaved body panels, and tons of small add-ons.  Photos here
After awhile the blog scene started to grow.  And a few of the blogs that I  paid close attention to were  FATLACE – STANCEWORKS – MAYDAY GARAGE – MOTORMAVENS – SPEEDHUNTERS – CANIBEAT –  VERSION TWO LABORATORY. There were others but those really motivated me to do what I do and polish up what I had going with Southrnfresh.
FATLACE – was and is still to this day the innovator of the blog world.  Granted Marc has been in the game for a long time.  But FATLACE has originated the flow of how the majority of blogs run, finding cars and featuring them by their own specialized photographers.  It was a point in time which HELLAFLUSH was the peak of your car and if you made it on their site you were king ding-a-ling.   Pictured above is another friends car, Charles, in the early stages.  He was one of the few Georgia cars that got accepted as HELLAFLUSH approved.
The crazy thing about how the cars were submitted and accepted, is that most of them were not submitted by the owners.  They were submitted by friends or photographers that thought the car was good enough.  From then on the standard was set and all the unfinished projects and half-assed  cars never would see the light of day.  One thing that I always got from browsing FATLACE is how they were able to reinvent the wheel and pave the way on how to take a blog and make into a brand.
STANCEWORKS – where do I begin?  SW provided all kinds of motivation for Southrnfresh.  Even though Stanceworks has evolved to something so much larger than a blog, it still retains is exclusiveness. When posts are made it puts that car on a pedestal.  Over the years we have begun to recognize what to expect from a SW post.  SW started a culture and style for enthusiasts.  From my understanding part of the reason for SW's success was because of the negativity towards BMW owners who preferred to slam their cars rather than modify them to perform.  Over time, the BMW crowd embraced the culture and just let it be what it is.  My first encounter with Stanceworks was when I ran across the photo above of Mike Burroughs' 6 series.
After further investigation and time, the 5 series began to pop up on the radar.  And at this stage the car was loved by all BMW purists.  The car at this point had great importance because I have always believed that Burroughs' 5 series is the heart and soul of Stanceworks.  Not meaning that SW is nothing because of the car, but because if you are preaching a lifestyle or at least publishing this to  your viewers it is important to actually be about what you preach.  Stanceworks would not have reached the level it is without that principle being applied deep within the SW core.
Once the 5 series was transformed into "RUSTY" it became a household name within our community.  The divide between those that hated it and those that loved it fueled arguments about what's good and what's bad when modifying a car.   There were tons of circumstances that led to the formation of RUSTY. First there was an accident and then there was of course rust.  The car became the  symbol of SW and the envy and main target for anyone that hated anything to do with stretched tires and slammed cars.  Burrough's  and the SW team never took in the negative light, and never (from what I saw) fired back at the criticism.  Why waste time? "Who cares?" seemed to be their attitude.  SW were not the ones making the photos spread all over the world, the car did it for itself.  Rusty developed and played by the rules that SW embraced the most.  The devotion to their community to embrace the weirdness and originality of the euro crowd was what made SW what it is today.  And at the same time, they managed to deliver a quality presentation  with every post.  I saw that as something that had to be done with Southrnfresh.
MAYDAY GARAGE – When I first came across Mayday Garage I had no idea they were from my hometown of Houston, Texas.  I never knew what they were or what they were about originally.  After being a faithful viewer of Mayday, I got a feel of how they got down.  They showed the part of the blog world that would disappear over time once it reached a certain level.  Mayday always delivered quality photos and a unique perspective on what they are featuring from a personal level.  Keeping with the blog aspect they would make a few lifestyle type posts in the mix.  But the majority of their content was automotive and it was not centered around one style or group.  The picture above is an example of what I always call "the Mayday Garage shot."  The one shot they always seem to do so well is the head-on street shot that I love so much. 
SPEEDHUNTERS – By the time I followed SPEEDHUNTERS they had already turned into the empire they are today.  I was amazed how they were everywhere all the time and the site was updated 2 or 3 times daily from every corner of the world.  That's something that was damn near impossible for Southrnfresh. Hell it was still a one man show.  I knew that in order for Southrnfresh to do what I wanted it to do the right way, I would need to have help.  One thing that kept me grounded to SPEEDHUNTERS was their presentation. Even though they were established and a solid online media outlet backed by real companies, they still managed to retain their blog style of reporting and not over saturating anything with irrelevant posts.  Everything posted on the site was interesting and had a full on documentary to go along with it.  SPEEDHUNTERS found a perfect balance of the racer boy lifestyle, meets, and car shows while also mixing in the hardcore motorsports coverage from all over the world.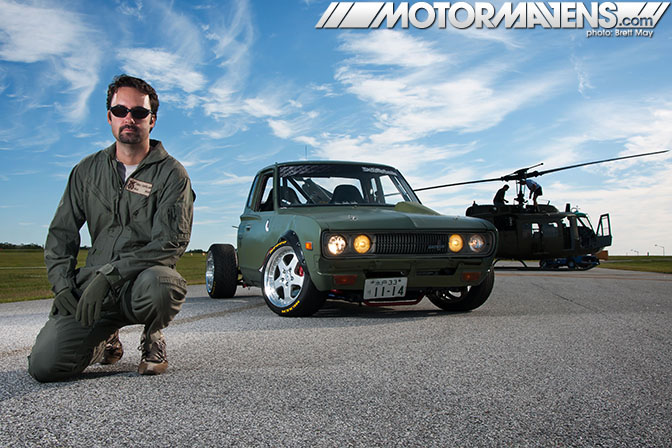 MOTORMAVENS – to me always seemed to be the intermediate in between the level of SPEEDHUNTERS and the typical car feature type of blog.  Much like SPEEDHUNTERS, they were already established when I discovered them.  But they had a much closer grassroots feel to their posts.  The appeal for me was that they were all over with their features and stories and covered so many grassroots and non-major motorsports events.  I have learned that most of the love and support comes from the smaller communities. Those are the viewers who wait for the site to be updated and wait for new events.  They're the ones that always support and help build a solid foundation.  The picture above is of a local, Chad Copeland, and his Datsun pickup (more here).  MM seemed to always show a lot of love to Atlanta in general they also did a feature on a local shop in Atlanta, Garage Zero .
CANIBEAT – When I came upon CANIBEAT it was when it was still partnered with Stanceworks.  Once they parted ways, CiB managed to hold it down and grow.  They were executing everything what I wanted SF to do.  CiB gained the ranks as being the site that everyone wanted to be on and the site that offered some that stamp of approval that we all like to get deep down inside.  While I enjoyed what they had to offer and was (and still am) a daily viewer of the site, I noticed that CiB's outreach spread to Georgia.  I was still posting and doing features on SF, but I can only naturally feel a certain way about having all the good photographers lending their skills to CiB.  What about us?!!?!? The local SF guys…I thought we were friends!?!?  It was a natural instinct for me to feel like CiB invaded my so called territory.  My personality is not the type to "hate" or hold back anyone from success because it's not up to me to say what someone deserves and what they don't deserve, so the local photographers didn't owe me or SF anything.  Because truthfully SF was a peon to what CiB had to offer. Hell I was not even a photographer myself (still not 🙁 ).
I have a weird mentality about things like this.  On one side the small hater comes out from deep within, but my true feelings never allow me to hate on someone for doing anything better than me.  It motivates me to prove myself, not because I feel obligated to prove to anyone what SF has to offer and what I want to provide, but  because its necessary when you are bringing something to the table that anyone can do.  Anyone can make a blog, What would make SF worth a look?
One thing I learned from CiB was regarding their presentation.  I envied them for using this format for their preview photos, almost presenting as a magazine preview.  I personally feel like they originated that format.
 Canibeat has been a great supporter of SF to this day.  They always make it out to our events and cover them and show love.  As time progressed I started to see more and more support from other big blogs.  It was a great feeling because I never set out to make people like what we post and I never truly looked for validation.  When it came down to it, we knew that the South needed a place of our own to call home.
VERSION TWO LABORATORY – The Florida and Georgia relationship is strange.  On a map we should all know each other and us Georgia folks should be running down to Florida all the time and likewise for the Florida crew.  But….that does not happen often. It's not because we don't like each other but it's because for some reason it just seems so far.  Georgia has one major city, Atlanta,, 90% of anything in Georgia happens in Atlanta or the surrounding area.  And with Florida, the closest and most active city is Orlando which is a solid 7+ hours away.  And Florida's scene is spread out between Orlando-Tampa, Miami, and the Gulf Coast area.  So it's very hard for us to keep up with what Florida has going on, and since not much goes on in Atlanta, they don't pay much attention to us anyway.  The photo above is my favorite from Ravi, I absolutely loved the subject (Nikita Esco)….and the car is cool too 🙂
When I was reaching out and seeing what else the neighboring states had to offer, one of the first sites that I came across was v2Lab.  The quality of photos that came from v2Lab were top notch magazine quality.  So a lot of their content ended up being reblogged on SF.  Eventually I met Ravi Angard (owner of v2Lab) on FB and we chatted for a good bit.  A few things I learned about Ravi and the V2 team is that they work hard all the time.  Majority of their contributors shoot consistently for magazines and are always on the move and working on something.  The conversations between Ravi and myself became schooling sessions for design ideas and advice between the two of us (moreso from him to me).  SF was picking up steam and people were wanting to do stuff with the site and I had a lot of ideas myself.  I would run a lot of things by Ravi to see what he thought, just because he had experience doing a lot of things that I was wanting to do myself.  With the late night discussions we had over FB I realized that Ravi hates everybody…haha.  But the work ethic behind V2 really motivated me to put more time into this if I wanted it to develop like I hoped.
After a year or so of posting reblogging and gaining a audience, it was only necessary to progress.  The only way was to have exclusive content.  I was only equipped with a Kodak point and shoot and had no skills to do any car justice. I connected with a few of the local photographers and asked if they would be willing to contribute their work to the site.  But first we needed a watermark or something to let everyone know who and what we were.  And that is when Jon Davis took control.  Jon had always been the man behind anything Southrnfresh.  I met Jon on Import Atlanta in the car pics section because of his great photos he took of friends cars and at a few of the local events.  However he was not much of a photoshoot type of guy at the time.  While my mind was scrambled he always came up with ideas and different designs for everything with the site.  So one day Jon sent me this logo shown above, and suggested it be our first official logo for photos.
One of the first photographers that contributed to the site was Andy Carter.  And the first shoot was the Ecto – Magnum, which was totally not what we would typically post, but it got a few folks talking and I was just happy to have our own content. 
 Andy was going and back and forth from Atlanta to Macon, so anytime he was in Atlanta he would shoot a car and let us use it for content.  Andy came through time and time again with some stunning photos.  Andy eventually got hooked up with Canibeat and is still a beast behind the lens.
Halston Pitman , was another local photographer and BMW lover that contributed a few photoshoots to us.  Halston was a busy guy, and when he could he shot some cars.  But most of his time he spent at work and dealing with his BMW love affair.  He is still a great photographer and he has moved on to doing what he loves with Motorsport Media 
Lam Le from Florida contributed as well for a long time.  Lam had a beautiful DC2 integra that was his main love.  Over the few years, he kind of stepped away from the photography stuff and now is a certified sneaker fiend…haha
Derek Matherne out of Louisiana contributed first with the IS owned by Easton Orman who you may know owns CZWheels.  Derek has become the go to guy in the Gulf Coast for anything Southrnfresh.  
Brannon Pool was a friend of a friend and was currently attending college so his schedule for shooting was in between studying and breaks.  Brannon still does some photography now and then.
 And around this time Jon Davis started to do more then just event coverage, he started doing photoshoots.  Many folks do not know how much Jon does for SF. About 85% of the visual graphics and logos are made by him.  I am always forgetting stuff, and ruining posts with my 2nd grade grammar skills so Jon gets it all straight.  He has been there from the beginning and I am thankful that he lends his time to Southrnfresh as much as he does.

I embraced 2010 with a plan to end the year with a big event to celebrate our birthday.  And it was a great feeling to see the turnout that we had at the first official Southrnfresh event.  It was held at Garage Zero in October of 2010, and still to this day I think that it was the best event.  Maybe because it was the first time we had anything and it was just overwhelming at the turnout for a little ole website. Check out the photos here,
The meet sparked some of my favorite photos that still get circulated around the net.  Most of them recropped on someone else FB fanpage…haha.  But this is a favorite of Darrin Ford driving his brother Cody's car.  This car was the center of attention the whole day.  It was pretty wild even for today's standards.  The photo above was taken by Nick Rico, another friend that was a dedicated contributor.  Nick is a pretty busy guy these days and spends most of his time in Texas.  
Another photo from the event, coincidentally it had Cody's miata in it once again.  This picture captured the overall vibe of the event.  It was taken over on the far side in the neighboring lot where Andy Carter was setting up taking photos.  While we did some photo shoots it slowly became a kick it spot .
In a rare instance two of the nicest S2ks' came out.  Lengs (Hypnotic Teal) and Jay's (Laguna Seca Blue).  I was so happy with how the event came together especially with it being the first time we had any kind of anything.  It really motivated us to keep going and make SF even better. The bar was raised for us to make it better from that point on.  
As I stated before, at the meet there were a handful of photo shoots that took place on the far side of the office park.  And one was Darrin's Miata (seen here), which ran on Canibeat the next day..haha  (seen here)
Best Friends – Futbol & Russ Accord/Jetta
Nick's Civic sedan
After the 1st meet, everything picked up, everyone was eagerly waiting for the next big meet.  So when 2011 rolled around, we planned to hit Atlanta hard with as many events and small meets as possible.  This led to the creation of SOUTHRNFRESH SUNDAYS.  The original idea behind them was to have a nice gathering at small businesses that would welcome us for the evening on Sunday afternoons. The photo above is a photo Jon took from the very first Southrnfresh Sunday meet at The Varsity in Atlanta on April 3rd, 2011.  
Crazy thing about this meet is that the turnout was decent. But in the middle of the meet while I was having a conversation, an APD cop came up to me and asked if I was the one in charge.  The guy was extremely pissed off and he told me that you can not just have all these people come here without permission.  I told him that they are all friends and just showed up randomly.  Obviously he was not laughing. The only thing that saved the meet was the fact that most of us had bought food at The Varsity so he just wandered away.  The photo above is from that same meet. It wears the newer watermark because Jon never really messed with the photo until months later.  I always thought it was a nice picture but Jon disliked it so much he didn't even want his name on it! haha.  From the left to right – Tubby's Fit – Meng Tea's 4 door K swapped GSR – Jay's Type R – Joe's RHD EG – Be's RHD DC2 – Rev's EE Wagovan.  
We held our 2nd and 3rd Southrnfresh Sunday event at Manhattan Pizza.  The first event was great–the crowd was huge and everyone seemed very pleased and happy.  The owner of the restaurant was very willing to have us return for a second time.  So we did return in July and the crowd was not as big as the first time due to the outrageous heat.  And parking was a little weird the second time because there was a new business in the lot that was open Sundays.  Unfortunately some of the guests felt a certain way about the owners customer service that day.  From what I heard there was a communication problem with a few folks when they asked if their order was ready in a non impatient way.  And a few times the owner yelled back at them for not being patient.  I never witnessed it, but a few folks told me about it so I never felt comfortable with bringing folks back to the place because of those incidents.  But I would always frequent Manhattan Pizza for lunch since their food was delicious!
Around that time Vance Milton & Colin Pershbacher joined up the team for awhile and covered the Tennessee / Carolina region for us.  They both tag teamed one of my favorite features, Tyson's LS2 .  I still see some of these photos floating around the web like they are brand new.  Colin's college work took up the majority of his free time, and Vance Milton now does photography for OMGDrift.com.
Vance Milton also shot this car for us out of North Carolina.  The feature (seen here) was a huge hit.  So much of a hit that S3 magazine decided to use it for a feature in one of their issues later that year.  I had no idea it was going to be in S3, I just picked up an issue and saw it, somewhat of a pleasant surprise.   
Another feature that was transformed into a magazine feature was Alain's 1jz FC.  I met Alain on Facebook, somehow through a random comment, that led to us becoming FB friends.  I reached out to Ravi from V2 lab to see if he knew of someone that be willing to shoot it in Florida.  And he recommended that I hit up Jordan Donnelly. I was a little intimidated about asking someone that does magazine features on a regular basis to do a shoot for little ole Southrnfresh.  But Ravi insisted that Jordan would be down for it because he enjoys to shoot regardless what its for.  So Jordan knocked it out and a few months later the car was in Modified magazine.  Alain showed SF much love in the article even mentioning me personally in his feature.  I had felt like it was my car in the magazine when I read my name.
Another favorite from that time period was Stephen Burke's STI from PG+K shot by KHRIS H.  Loved the whole set of photos. You can see them here.
We were really getting a lot of high quality cars from the South.  Kegan S. took some photos of  Tuan's S/C K swapped DC2.  I was really thankful for Tuan letting us get shots of the car because he was really seeking to get it into Honda Tuning.  Well a few months later the car did grace the pages of Honda Tuning magazine (seen here).  Special shout out to Tuan, he always manages to come out to SF events to show support when he's in town.
These photos seemed to be a favorite online.  Damien and Phillip's FD.
Once again me and Jon wanted to change the overall logo for the site and photos.  We were also upgrading the site to a new layout for the 2nd year.  We picked up a few advertising sponsors and had to make room for them.
Charlie's SI & Tubby's fit.  The first set of photos with the new logo/watermark.
Before we knew it, it was spring time again and the big rush for Import Alliance Atlanta was upon us.  We had thought about hosting an event the day before for all the folks coming in town.  Most of the times that we would travel to other cities for big car events there was always some sort of pre-game event being held by the locals.  I always thought that was a cool thing to be able to hang out in a new city with the locals.  Mainstream Performance allowed us to hold "Grillin N Chillin" in 2011 on the day before Import Alliance.  A tradition that is going into its 3rd year on April 20th of this year.  Coverage from the event here & here.
With any of our event coverage I always pay special attention to the mood of people in the crowd and look at peoples faces.  Seeing candid captures of people laughing and enjoying themselves is a great satisfaction for us.  
Perri Minot  joined the team, and  shot Krappy's s14.   Which was a car that everybody absolutely loved.  The car was bought as an unpainted shell and within a few months transformed into a beauty.  The car has been sold to a new owner in Georgia and it is not Rb26 powered anymore.  As far as I know it is KA powered again.  Check out the photos here.
Still to this day this car gets more hits then any car ever posted.  The Vengeance Camaro, owned by Amir, 95% built by the folks at Garage Zero.  The process to go about being able to get some photo time with the car took a good while due to Amir's constant work schedule. He is a very well achieved artist in the graffiti world known as Mr. Totem.  Up until someone told me I had no idea, and as long as I have known him he has always been a truely motivational person.  The few times we have had some one on one conversation his words always puts things in perspective for me, and I have always appreciated that.  Check out the feature here
Southrnfresh: Double Trouble Evos Round 2. from SOUTHRNFRESH.COM on Vimeo.
Mick Hawkins joined the team and started to do video features.  This was our first video feature, and it was an updated look at Kevin and Dan's Evo again from the year before  (here).  The video was supposed to have Dan's brother in the video, but his schedule never worked out.
Justin Semon's EK hatch was another pre-magazine feature that we managed to get.  The car was shot by Josh Chambers for us after hours at the Lexus Dealership (where Justin worked). I loved the way the photos came out, matched the car perfectly (see feature here).  The car ended up being featured in Super Street, shot by Kyle McManus  (see here).
 A personal favorite was Donnie's CRX.  Donnie and his dad (Catfish) brought the car up on a trailer from Rome, Ga just for the photo shoot.  The car is showroom clean, but is a full on drag car and gets run as much as possible.  The CRX is obviously not the typical styled CRX and the EK front caused a bit of stir when it was posted.  But Donnie told me that would happen beforehand, which is why he had almost abandoned any type of forum posting.  Donnie's dad Catfish kept me very entertained while Josh shot the car with some of his old racing stories.  Hopefully we can get some time with the CRX real soon, it has gone through some minor changes since I saw it last time. Check out the feature here.
Juan's Datsun 620 truck was a coop between Jon Davis and Kent Foster  that was a big hit online.  A favorite photo set of mine, it was the first time we used that location.  It's a little overgrown now so a shot like this is almost impossible to get anymore.  Check it out here.
This photo is significant because it was the first piece of content from our Houston team.  I met  Jason Scott on Flickr oddly enough. I messaged him about some photos he had taken for Zday in Savannah, Ga.  I'm not even sure if they were posted on the site or not, but it progressed into him and his close friends, Mark Razmandi and Dennis Nguyen, being apart of Southrnfresh.  The trio has taken SF to a whole new level the last year and a half. They pump out so much quality content from Texas its unreal sometimes.  They do features like clockwork. While Jason does photos, Mark and Dennis do video and have put out some of the best features to date from Texas.  I have had a few people ask me sometimes if Southrnfresh is based out of Texas because of those guys.  The amount of love we get from Texas is unreal, and being my hometown I am grateful to have their support.  The photo above is from Mayday Garage's: Wekfest Pre-Meet
 November 2011 rolled around and it was that time again for our Annual event, Southrnfresh 2.  We tried and tried to find a different location that year, but time was against us, so we held it at Garage Zero again.  The day started off great and much like the year before, we relied on the neighbor lot to handle the overflow.  But around 2pm, the owner of the building had a problem with that even though someone else that owns the lot said it was ok for us to use it.  So it started a cluster fuck of people trying to move their cars across the street.  Space was a problem that I had been worried about, but not being able to use that lot just made things a million times worse.  
All the verbal warnings and threats to tow all the cars in the lot went without much action because a lot of folks did not move their cars and no one got towed.  Other than that the event was pretty good.  But after that event, everyone involved agreed that this location could not hold the crowd next year.   See the coverage here.  
  Kimo's Mustegra was the first full feature from Dennis,Mark and Jason from Texas.  Getting this feature done was a long time coming.  I had been following Kimo's build on Houston Imports since the beginning, and had already got first dibs on a photo session with the car once completed.  Kimo, being a busy working man, meant Jason and Dennis had to do most of the video and photos at his actual work place.  But it turned out very well I thought.  For some folks, the whole concept of a v8 powered Integra just makes their blood boil.  But the concept and execution was flawless in my eyes.  Salute to Kimo once again for taking his beloved car to the next level. Check it out here.
 Also shout out to Team Sunworks, they have been a solid supporter of SF since day one!
 These photos are from different time frames, but I posted them all because, being able to have every stage and progress of KJ's S2000 is something that I take great pleasure in.  Kj's  first S2000 went through so many stages and changes. It went from a black car with crazy colored Work Meisters and a matching cage to a Krypton Green creation that would get mistaken for some sort of exotic.  The first time we officially took photos of KJ's S2000 was when it was painted the Phanton Blue on the CCWs . The first photo above was from a session that Jon did with him and 2 other S2000s seen here.  The Krypton Green stage was when the last photos of the car were taken before it was sold (seen here).  The last photo is of KJ's new S2000 which has already become a superstar before it is even ready, and best believe when it is ready we will be there to present it to you all.
 Marty's 1986 Corolla GTS was one of the most complete cars that we have ever featured where from front to back, inside and out nothing was untouched.  And the car's setup and theme flowed so well.  Marty even had the old Toyota Racing jackets to match the paint scheme (pictured in the 3rd photo).  Marty rarely brings the car out for obvious reasons.  I had only seen the car a few times at random events before that day.  After mentioning the car to a few friends, we ended up getting in contact with him and making it happen.  Check out the full set here.
 Another video/photo feature brought to us by the trio out of Texas of Jose's 350z from What the Fitment.  (seen here)
Futbol's accord wagon has progressed in front of us the last 3 years.  But Futbol's build had been almost 7 years strong.  As of now it sits in a shop being finished up for the spring.  Hopefully everything is done in time for the warm weather.  See feature here.
Rion Morse  became apart of the crew and helped us connect with some of the enthusiasts from Savannah/Augusta region.  Rion's best friends Dustin and Yota were in the very beginning of their drift car builds at this point. 
Jon, Kent and myself had a plan to go down to The Auto Combine being held by Funk Fashion in Green Cove Springs, Florida.  That was all fine and dandy until we headed out.  We got to the Airport to rent a car for the trip and had some issues with our reservations.  We had already planned on "supermaning" the trip and making the 7 hour trip a single day thing.  But our 9pm reservation turned into us leaving at midnight from Atlanta.  We did not get there until 7am, just in time to eat some breakfast  and be at the event to setup by 9am.  
This was our first time ever setting up a real booth at any event, and actually selling merchandise the right way.  We had everything on point and ready to go but we did not have any cars to park near us. Rion Morse  had just gotten in with the crew and him and a few of his buddies were going to be our booth cars but they were running a little late.  So I went and scouted the outside lot for some cars.  The first car was Justin Ghoad's Evo, and the second being  Anthony Mathesa's Miata. After about an hour into the show Rion and the crew showed up and filled in the large area we had.  
The Auto Combine show was one of the best shows that i have attended, the quality of cars was top notch, and the venue was just perfect in every way.  Organization was 100%, and everything seemed to run smoothly.  They even had a dodgeball tournament. But the trip and almost falling asleep driving back home in the same day was worth it..haha.  Check out coverage from the event here.
 Spring 2011 came and it was that time of the year again.  We officially named the event before Import Alliance "Welcome To Atlanta".  Mainly because that is what it is, an event to welcome the out of town folks to our city.  Another reason was that there were at least 3 other events named "grillin n chillin" from other blogs/sites after our event last year, so we changed things up a little to clear up any confusion.  I had attempted to make this event very organized and we setup some of the nicer cars up front .  At Import Alliance it's really hard to get a closeup and gauge for what is really good and bad as a whole due to the amount of people that attend.  
Last years event was pretty amazing for me because the amount of folks that showed up was way more than expected.  I was really impressed at how many of the out of town cars had heard about the meet and stopped by.  
It was the first time Kj's car had been seen at an event .  The second photo makes me laugh every time because of the looks on peoples faces and so many mixed emotions was priceless.  
Matt's Miata
Armanda's CRZ
Justin Ghoad's Evo
Anthony Malesa's Miata
Clayton Best's Caliber
Earlier (waaay earlier) in the post I mentioned how the Georgia-Florida connection is and how distant it seems for us to be neighbors.  After this meet I realized that our trip down to Green Cove Springs, Florida for Auto Combine helped bridge that gap.  Because these guys made the trip up for the weekend, over the past year these cars have been all over the internet.   All of them have gone through some extensive changes since then, so I am very excited to see how they come out this year.
Another pleasant surprise was to have the Unique Auto cars come out.  Most of the Honda guys know the cars very well, but I personally had never seen them before only because I am not tied into the Honda community.  I would have figured the guys would have been resting up in their rooms after the long drive down from New England.  Looking forward to seeing them again this year.  
As usual there was nothing but good vibes in the air the entire evening.  As the weekend went on, and after IA was over, I received a lot of positive feedback on the meet especially from the out of town folks who had never been to a real down south meet like that.  They were really amazed at the hospitality and laid back atmosphere.  Really excited about this years Welcome To Atlanta.  The photo above is from Canibeat's coverage of : Welcome To Atlanta.  Check out our coverage here & here.
Brad & Leng's STI – One of the photo sets from the event later in the afternoon.  Having Brad and Leng in the same place at the same time was a rare treat itself.  
Shortly after that, me and Jon decided to upgrade the site layout once again.  And with a redesign we wanted to redo the logo.  Mainly because we started to see the Grand Theft Auto font on damn near everything on the net.  So it was time for us to put something together that would make a statement.  The states logo was not enough for us to claim that as the symbol for SF.  The current logo was nicknamed the "crest" and it allowed us to do what we wish with the actual letters "southrnfresh" and burn the image of the crest  in our viewers minds.  Needless to say this one is the final and last logo for SF.
Dylan's S/C Kswapped DC2 was a popular post.  A lot of folks are kind of getting tired of seeing countless slammed cars with wide wheels.  So the function geared guys got a chance to see something that actually performs and is driven hard.  See the post here.
Shortly after the 2012 Welcome To Atlanta meet Matt Jones texted me and said that Import Tuner will be publishing the event coverage.  The event ended up being in the Import Tuner August 2012 issue.   I was beyond amazed that our event had made it into a national magazine.  The meet was made just to be a chilled event for people to hang out and talk and the cars were just the backdrop.  Suddenly the Welcome To Atlanta meet had outgrown our annual event and people were eager to attend the next one in 2013.  Before the meet a lot of folks complained about the location and the distance it was from the city, but part of the reason for staying with Mainstream Performance was because they have out lasted many shops in Georgia and have proven themselves to be a permanent fixture in our Georgia scene.  
Kevin Liew's Evo also graced the same issue of Import Tuner August 2013.   We had to wait till the magazine drop before we could shoot the car, so right before Kevin packed up and moved back to New York we were able to get a final photo session of the car (see it here)
2012 was the first year that we actually covered Petit Le Mans and we must say it was great experience.  Tim Easterday really did a fantastic job of covering the event.  I still look at the photos on a regular basis.  I met Tim Easterday on Flickr a few years back as he seemed to be a devoted motorsports photographer so we used a lot of his photos for Road Atlanta events.  He attends almost every Road Atlanta event and takes amazing photos.  Check out our Petit Le Mans coverage:
All through 2012 we had planned and planned to have an amazing event to celebrate our 3rd year of internet existence.  I had big plans for SOUTHRNFRESH 3, but the main problem is location in Atlanta.  And it was a year where we had a long issue with the site crashing and losing our original forum.  I did not want to half ass SF3.  Atlanta deserved something worth the 1 year wait.  And I truthfully did not feel we were ready to put something together in the time frame.  The fall was full of events all over the Southeast  during that time and it would be a joke to try and squeeze in a decent event.  Our viewers and fellow bloggers have raised the bar too high for us to deliver something not worthwhile.   
We gave the year to our local peers this year while we dealt with some internal organization.  There were a lot of groups that put in a lot of effort to create something in Georgia.  Some I personally feel like they can throw a fan page together with a catchy name, repost photos all day , sell shirts and stickers, and get rich.  Southrnfresh has turned into a job for us and it takes up the majority of our free time.  But we enjoy every second of it–every like, share, and view we get on the site makes all the work we do worthwhile.  And I respect our viewers enough not to take advantage of their support to deliver anything not worth their time or money.  I have sat with people that are associated with so many other things that seem to try and bleed the scene dry with smoke and mirrors.  But we at SF can never bring ourselves to be involved with anything like that.  So if we support or promote anything we make sure it is worth your time and effort because we value that more than anything.  
This post got way out of control length wise, but once it started going it just flowed over the original purpose of it.  I left out a few of our contributors in the post , Corey Vaughn – from Alabama that is a very creative graphics designer with a wild imagination.   Richard S . – a local Atlanta native that covers mostly the southside cars when he is not in school.   Ty Cobb – a new guy that is based out of Tennessee.   Evan Butts – that is holding down the Gulf Coast region alongside Derek Matherne.  Corbin Watson – is a Georgia native  that is back and forth between Savannah and Atlanta and works alongside Rion Morse when possible.  Charlie Banks – out of Tennessee that will be providing SF with video features.  
As we welcome in 2013, we prepare for another great year.  Thanks to everyone that has helped us get this far. And thanks to all of our Facebook fans around the world for helping us reach 20,000 fans!