Last weekend we took a trip to Road Atlanta to spectate the last NASA race of the year.  We try to make it out to these events, and see some of the regular guys out enjoying Road Atlanta.  But sadly the only one we were able to attend this year as the last one of the year.  Part of the reason we event knew about the race was from Honda Manufacturing of Alabama's facebook page .  We have followed their Odyssey every since we saw it on the One Lap of America tour in 2013.  Seeing the Odyssey on a race track just does not seem right from a racers stand point.  But from an engineering perspective, there is always a way.  What this team has done is take the Odyssey from a standard mode of transportation to a competitive automobile.
Photos by: JON DAVIS & JOSEPH DALE
The team that built this car  are all Honda employees that work at the Honda Manufacturing plant in Alabama.    The team comes from all different departments engineers, maintenance, suspension, and facility workers.  They all volunteer their time off the clock to build the vehicles at the plant since 2006.  Honda backs them with what they need to make it all happen.  But the program is not all about receiving freebies from the company.  The team puts together a business plan, sets a budget, and sends a proposal to get funding.
Why a Odyssey you ask?  Well the Odyssey is manufactured at the plant that they work at.  So they have access to everything they need at any given time for the chassis.  The plant also manufactures the Pilot, and Ridgeline.  
The team has been doing very well with their odyssey program.  
*2012 One Lap of America 2nd in class
*2013 One Lap of America 1st in class
*2013 Pikes Peak International Hill Climb driven by Simon Pagenaud 2nd in class (Unlimited)
*First minivan to competitively race up pikes peak.
The Odyssey that ran in the One Lap of America was a 532hp J35 with a ERL Built bottom end, KMS valve springs and titanium retainers and Garret GT35R.   
The Pikes Peak engine was a 458hp  HPD Supplied HR28TT LMP2 Race Engine.
Here are a few videos of the some of their Pikes Peak and One Lap Odyssey in action over the last 2 years.  
When the new model Odyssey came out we started with a bare white body and seam welded every seam on the car. Each part that is on that car from harness to bracket to fender to bolt we put there. We took the monster engine from the other van, gave it a refresh, and used it in the white van(pictured above).  As cool as the turbo van was, In the past few years our focus has shifted from building one fast van to focusing more on REAL racing. We opted out of the crazy turbo engine for a factory stock J35 so we could race in NASA Honda Challenge.

– Josh Foran (driver)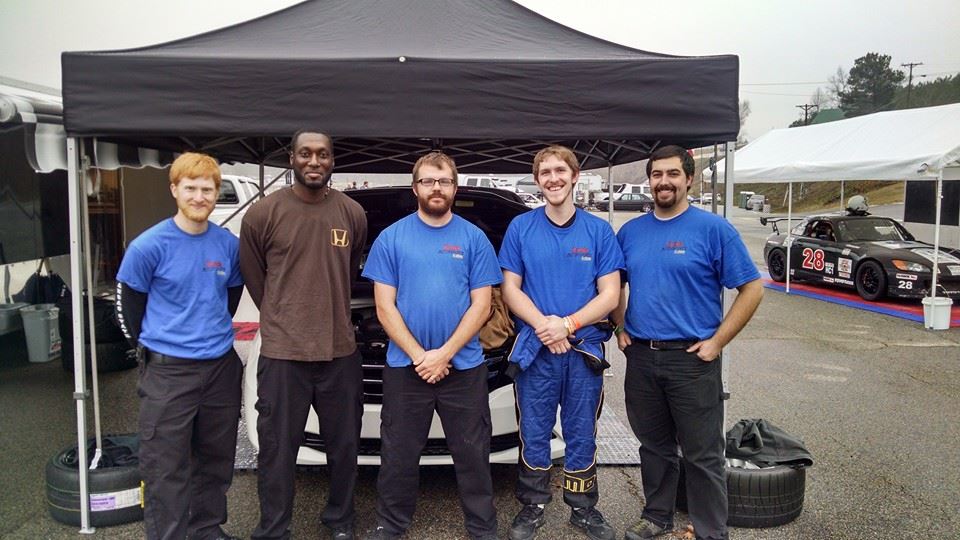 The driver Josh Foran (2nd from the right) is an enthusiast himself.  He told us that he was into the SEDA drift scene pretty heavy years ago.  To us the team seems to be living the dream, working at Honda, and being supported by Honda to race.  
From Left to Right:  Karl Hartell – Parts/Quality Engineer , Michael Gordon – Electrical Engineer, Matthew Speed – Mechanic, Josh Foran (driver)- Engineer, Tanner Powell – Quality Control
The suspension of the HMA Race Team Odyssey consists of H&R Coilovers and SPC Adjustable suspension arms.  The brakes are Brembo GT40 BBK 355mm 4 Piston Calipers and Stainless Steel brake lines.  The van rides on 18×9.5 Enkei 18×9.5 wrapped with  Toyo Tires Proxe R1R.
The team has other vehicles that they build for competition.  They have a MDX, Pilot, Ridgeline, and a fleet of Accords.  The HMA Race Team also has events were they train drivers on vehicle control.  HMA also hosts a track day for drivers at Little Talladega that is a few miles from their facility.
The van is equipped with all the necessary safety equipment.  Safe Craft fire suppression system, Momo seat, Momo steering wheel, and Schroth Harness, window and center net.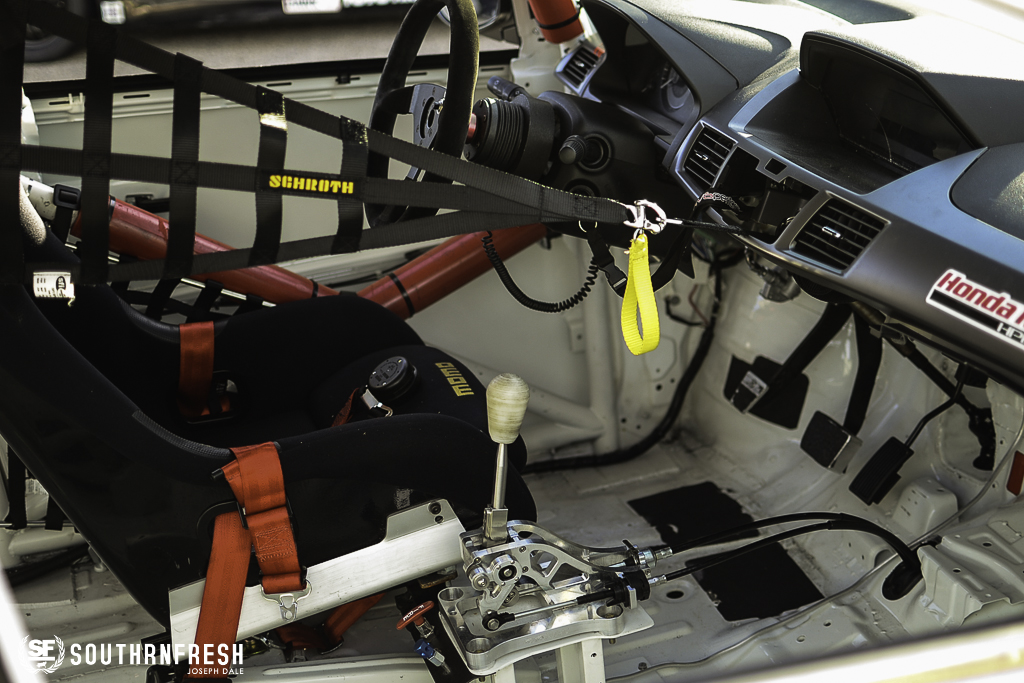 The 3080lb chassis is seam welded, and fitted with Lexan windows.  The Transmission used is from a 2007 Acura TL with M Factory Straight cut gears, and SPEC Clutch Flywheel.  Shown above is the Ktuned Shifter.
The Odyssey is powered by a Stock  J35 3.5 V6 with a few bolt-ons.  Honda Racing intake manifold, Unorthodox Racing underdrive crank pulley, Rv6 catalytic converter deletes and J pipe, and a custom made catback exhaust. Inovative 95 grade poly urethan front and rear engine mounts were used.  As well as one custom made aluminum side mount.  
We also have an old HART (Honda of America Racing Team) accord that competed in Continental Tire as well as an old Compass 360 Civic that was an ex Pirelli World Challenge car. As we build our 2013 Honda accord coupe for Pirelli World Challenge we will use these cars as benchmarks for our build. We are in the process of building our PWC accord right now and just got a driver approved and registered for our first professional race at Circuit of the Americas The team has progressed quite a ways from scrounging for parts.
The HMA Race Team has been very successful in their efforts to get more people on the race track in any type of vehicle not only Hondas.  We will be following them in 2015 closely and try to keep up with them as they hit the track with more of their vehicles.    
Here are some of the videos from them at the NASA event.  The team was running in 1st place on Friday, but they were hit by a vehicle that lost control causing some damage.  Saturday the team was running in 2nd.  The team finished in 2nd overall for the weekend.  The best time for the Odyssey was 1:45.438 .  
Photos from the NASA event here
Check out their Facebook page, the team constantly updates the page with photos and information on their builds.