Photos By: Khris H. – Joseph Dale
Officially starting our season here in Georgia  is Import Alliance Spring.  For most of us it is the first major event in the southeast .  It kick starts all the festivities, and a lot of people set IA Spring as the date for their winter builds to be completed.  For us it is the time for us to get back into the swing of things, and see what everyone has been up to.
Every year IA spring meet has slowly turned into the best meet of the year for the IA tour.  It is by far the largest, and the IA team has improved every year.  Coming from the cramped and confusing parking deck downtown, to backing up Atlanta's major highway when it was held at Turner Field.  IA has found a home at Atlanta Motor Speedway.  AMS is built to hold the traffic, and has plenty of parking inside and out.  And the surrounding area is full of hotels and restaurants to keep people entertained all weekend.
One big gripe for participants has always been organization, there have been many errors made in the past.  But this year the organization seemed to be solid.  The IA team decided to scan through the long line of people and pass out decals for people to park in the showcase parking, if they thought your vehicle was nice enough.  For the most part they did a good job with that, most of the quality vehicles made it to the showcase area.
Also the staff seemed to be on top of everything, and not letting people wonder around the speedway and park wherever.  The staff also seemed friendlier and not angry at you for no reason.  Everyone acted as they were there for a purpose, and wanted things to go as smooth as possible.
The vendor areas were spread out in both of the garages, instead of stuffing them all in one garage.  This gave the spectators more room to navigate and actually check out the booth cars, and not be stepped on, and rushed out of the way.  Between and all around the garages there were all the showcase cars, which gave the vendors a perfect walk through.  So no one had to really search for vendors, you just casually walked into them while looking at the cars.
This year CCW made it up from Florida.  As far as I can remember I had never seen CCW setup a full display at the Atlanta spring meet.  We usually only see them at the summer or fall stop.  Shown above is CCW's V8 Turbo Rx7.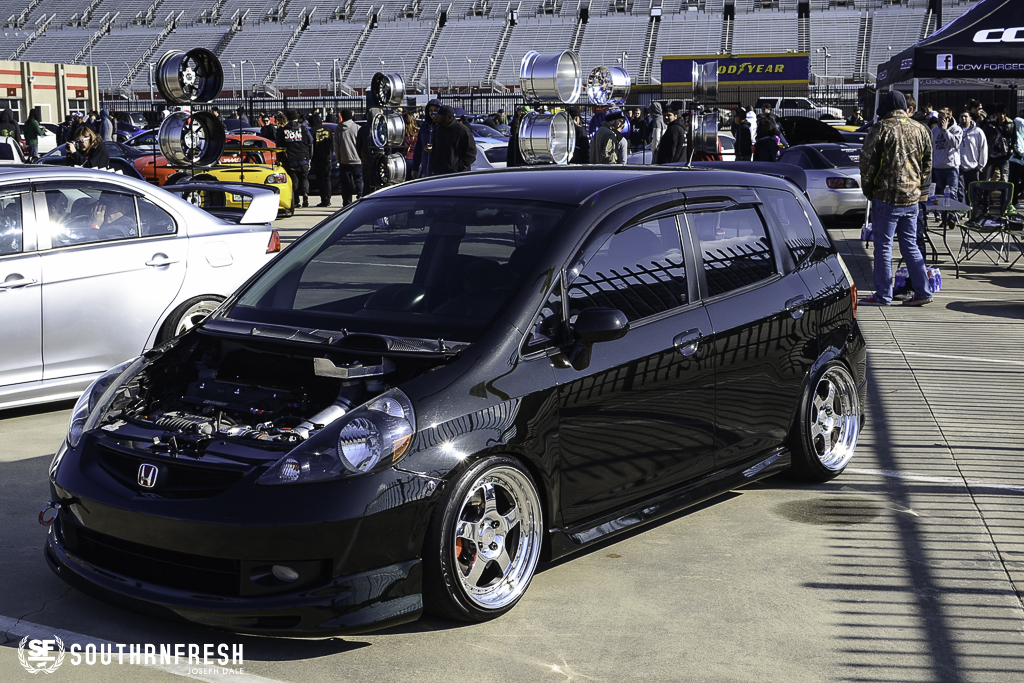 Tubby's K series supercharged Fit at the CCW display area.
We have always seen this Del Sol displayed with the CCW cars for years.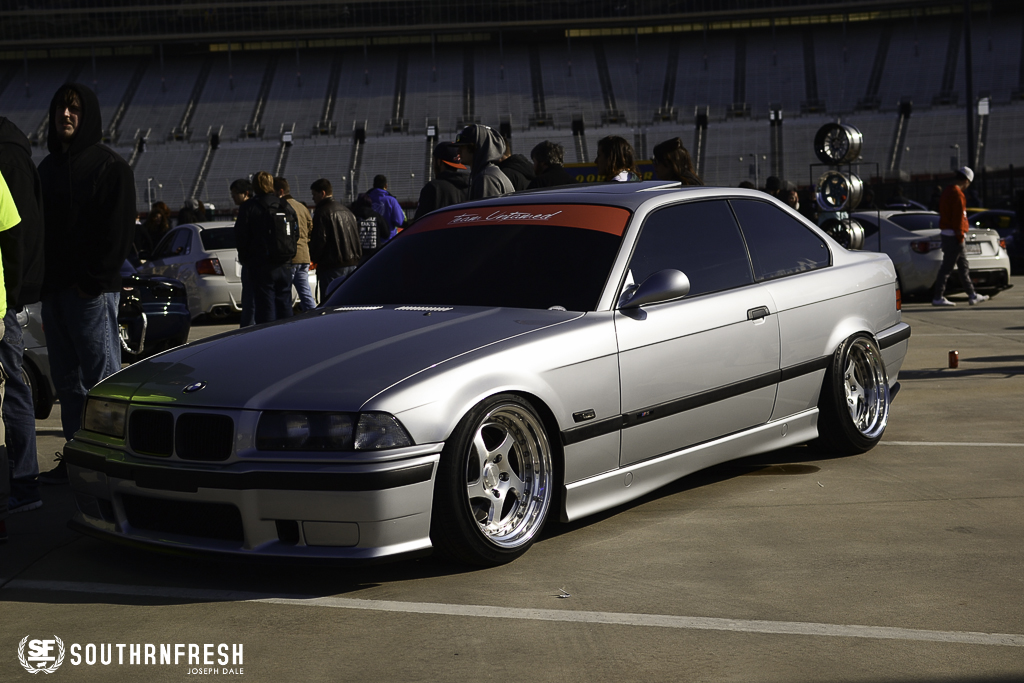 Josh's M3 from Team Utamed in the CCW display area.
Cass's Bagged S4 on Vip Modular wheels.  We first met Cass 3 years ago at the first Auto Combine in Florida, and he has since sold his Acura TL (pictured here) , and gotten this S4.   
Lucas Ferretti's Scion TC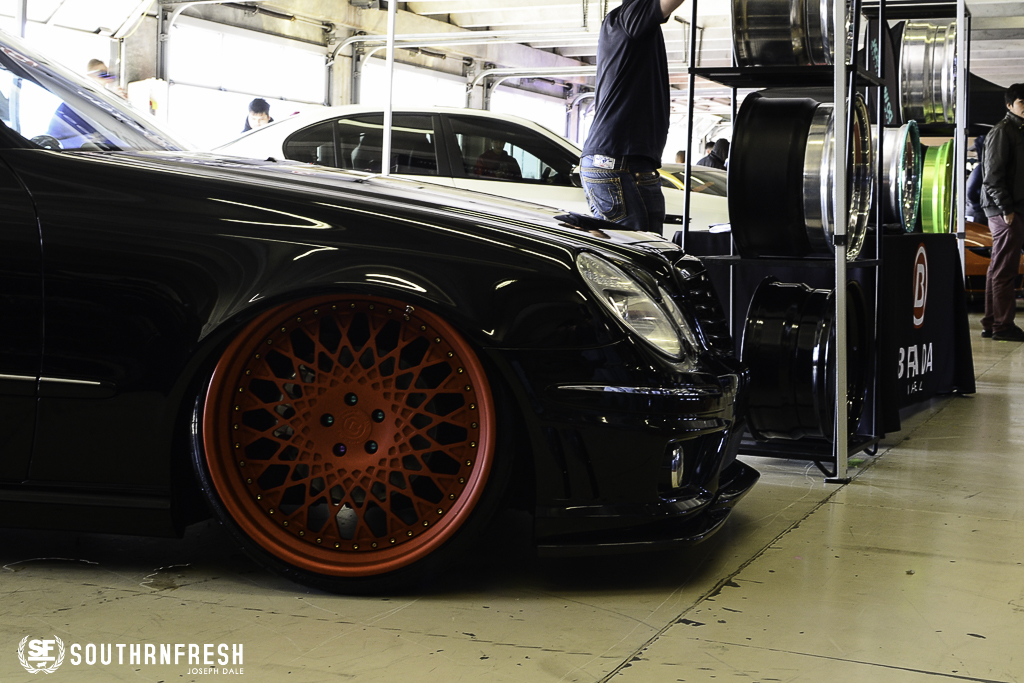 Edgar's Mercedes E500 in the Brada Wheels Booth.  It has been a pleasure to see Zane and his team at  Brada Wheels grow into what it has to today. I remember when he was debating on names for the company outside at one of our dyno days.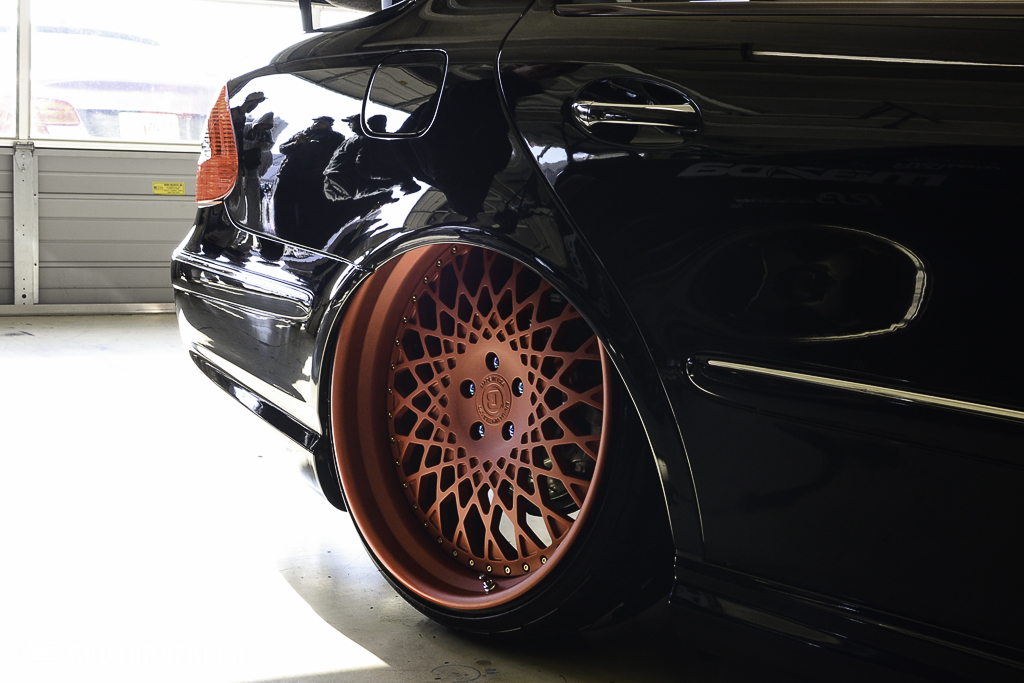 I met Edgar last year at Tuner Evolution in Charlotte, NC.  But our first contact was online when he had sent us photos for our fan car Friday posts on our Facebook page.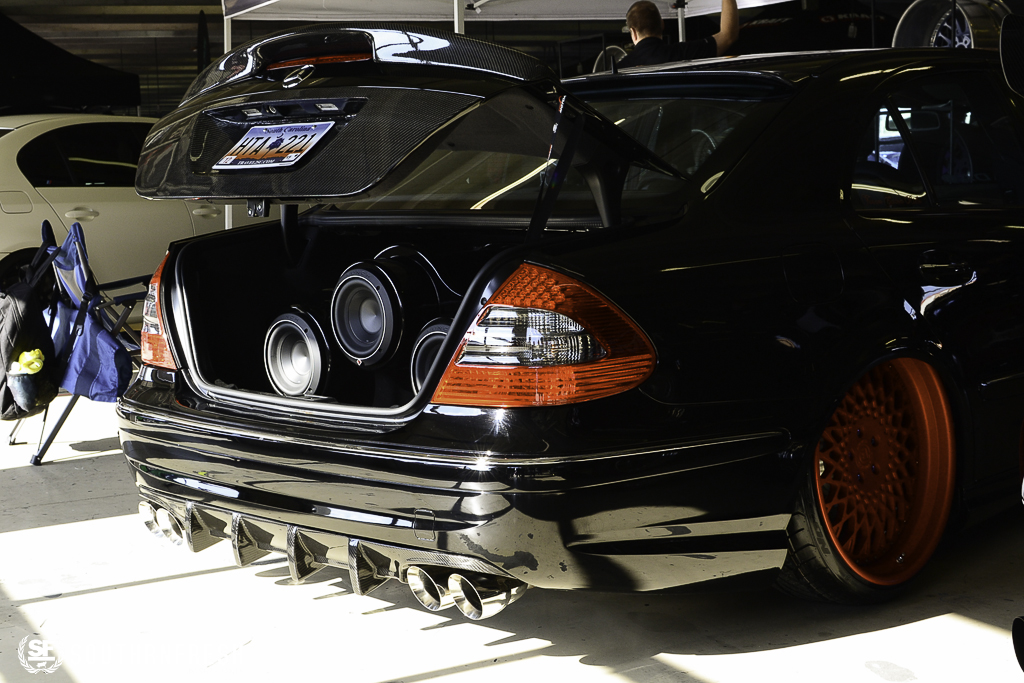 Meeting Edgar at Tuner Evolution I really got to learn about his Mercedes, and the amount of work done to it.  Edgar has had extensive carbon fiber work done to the Mercedes' interior, the work is absolutely flawless.  Done so well it looks OEM.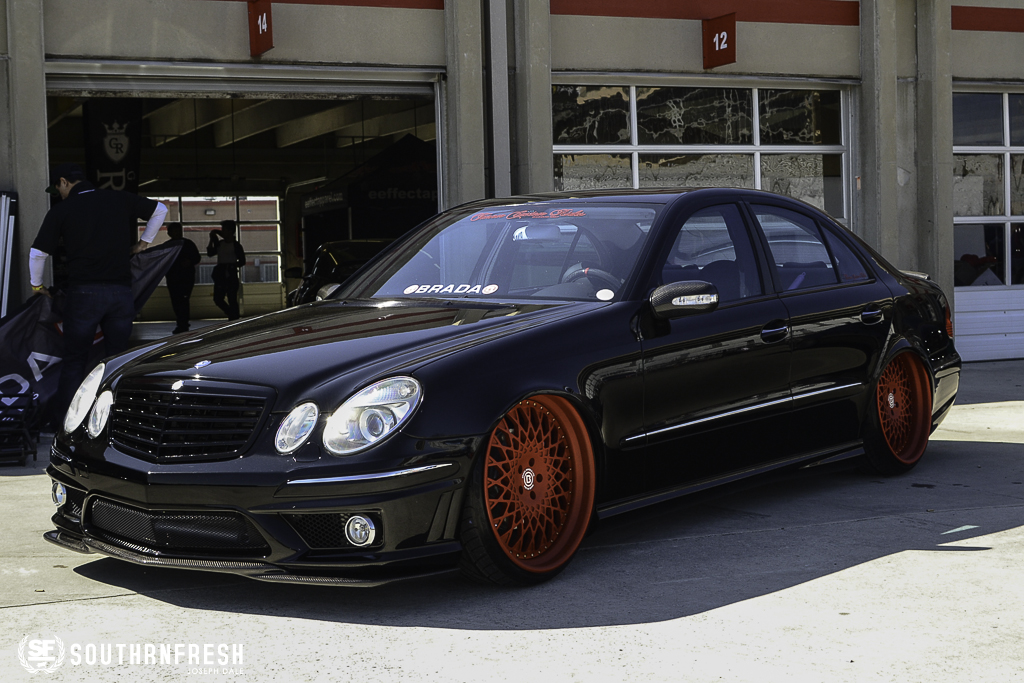 I was amazed to see the stock body swallow up the 22″ wheels like that.  Edgar spent a lot of time researching how to get the Mercedes to sit on 22″ wheels.  The Mercedes AWD system made it very difficult for him to do so, but with custom struts made just for his application he was able to do so.  
There were so many builds in attendance that have been in progress for a good while.  One of them being Chris Hall's S2000 that has been in progress for about 2+ years.    Back in 2011 we featured Chris' S2000 (seen here) with the J's racing aero kit.  
Chris has went to the next level with the J's Racing widebody kit painted by Classic Livery of Atlanta verde ithaca green from the Lamborghini color book.   
The turbo setup was cleaned up also by way of Origin fabrication.   Every since this car left the shop, Chris has taking the car all over Atlanta, and enjoying making up for all the downtime.  You would think that a car like this would sit in the garage all the time, but whats the point of all this work, if you cant drive it.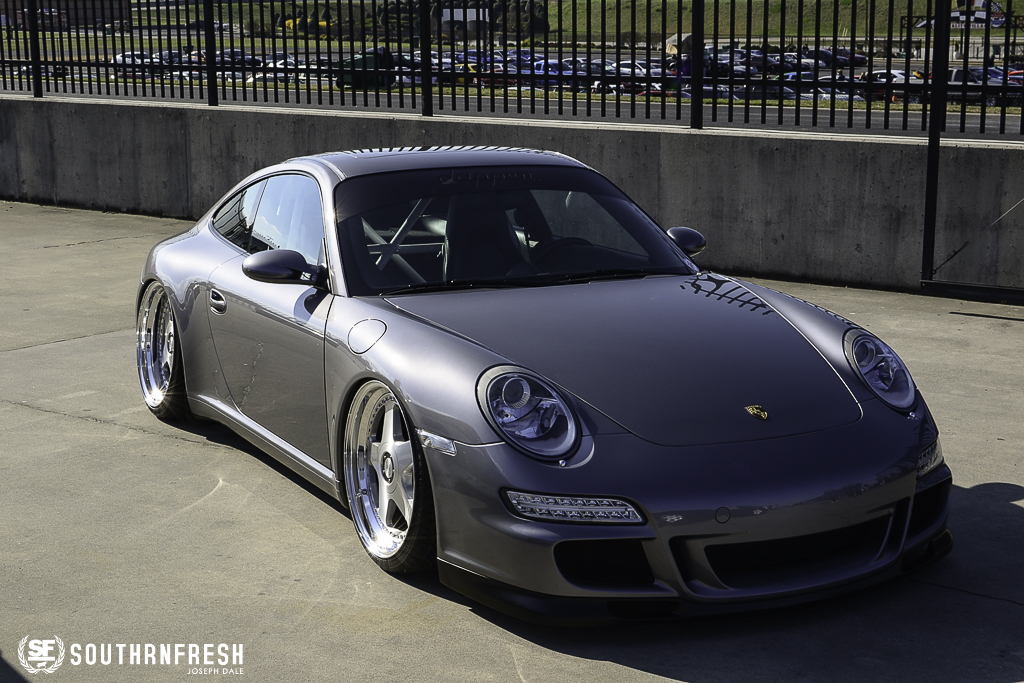 Dan Young's Porsche 
Kevin Lam's 370Z Nismo (more photos here)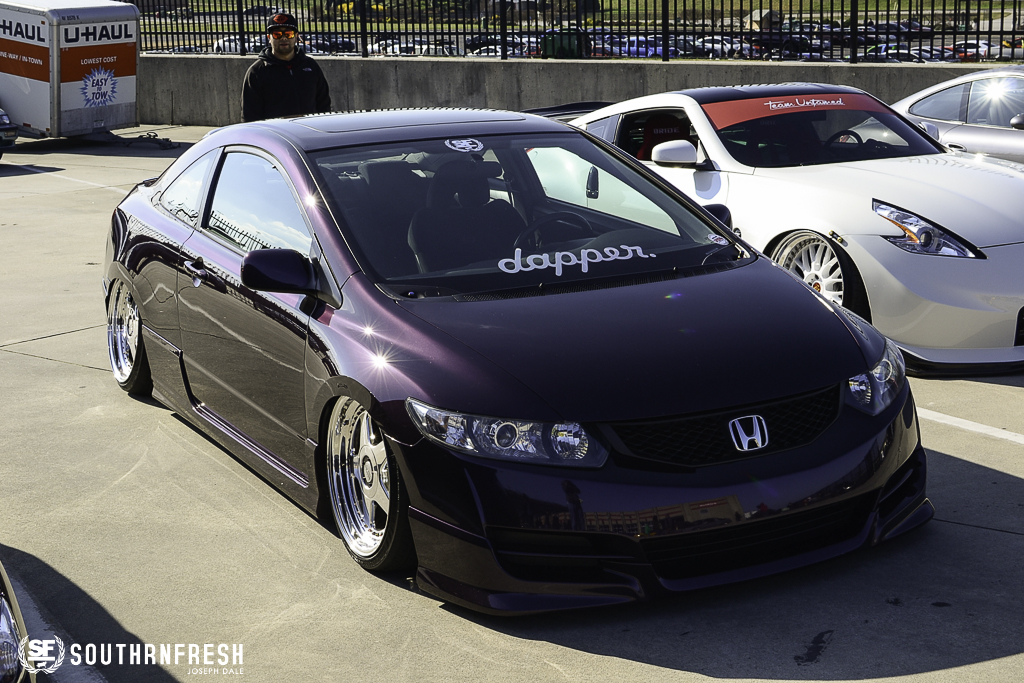 Charle's Civic Si 
Classic Toyota Crown 
Danny Joffe's under construction IS350.  
Thanks to Khris for the photo of my Mazda 6
Dan McDonald parting the crowd in his Mercedes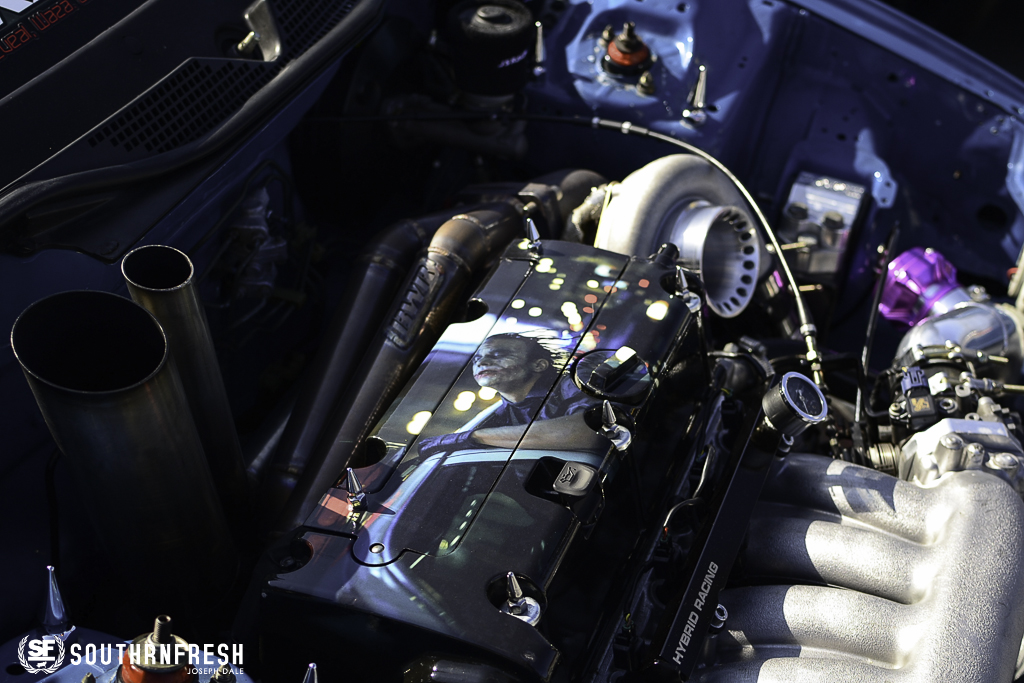 I thought this valve cover was pretty cool.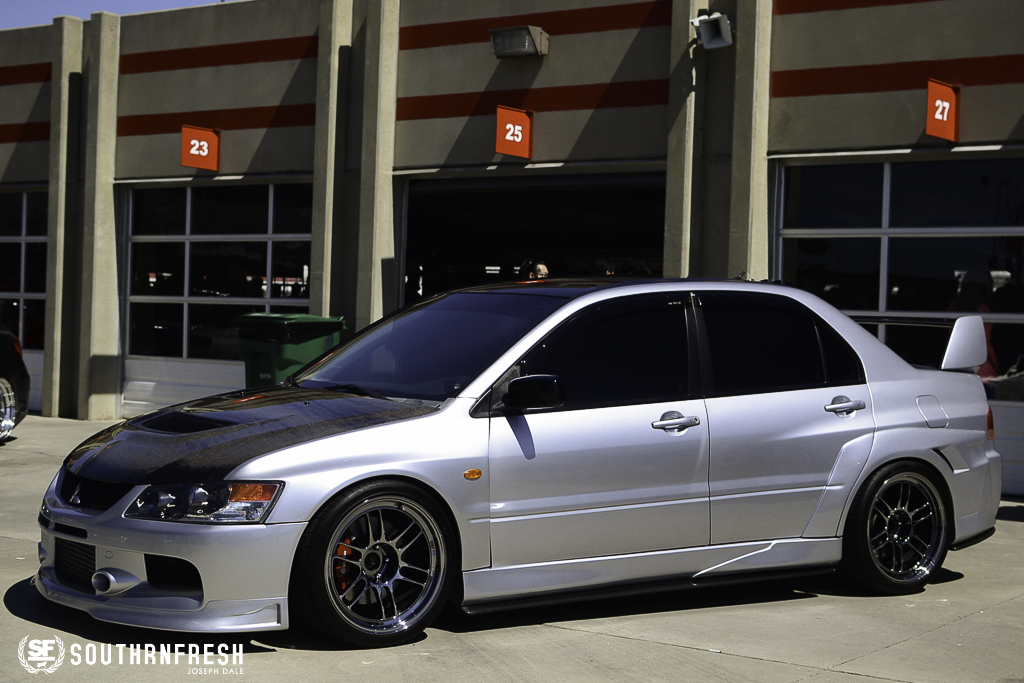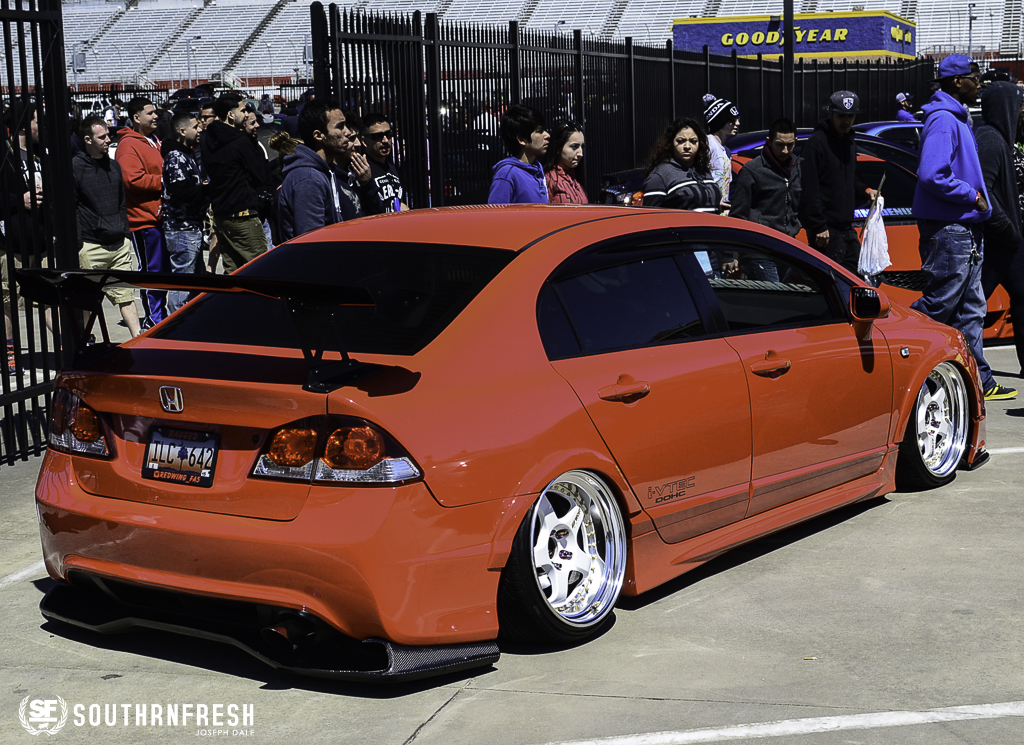 Caught a glimpse of some of the Authentic cars at Simply Clean last year.  This Si from Authentic came down from South Carolina.  Not sure were the group is originally from.  They have a solid group of cars.  
Chris Taylor's BMW M5 
Acura El from XMP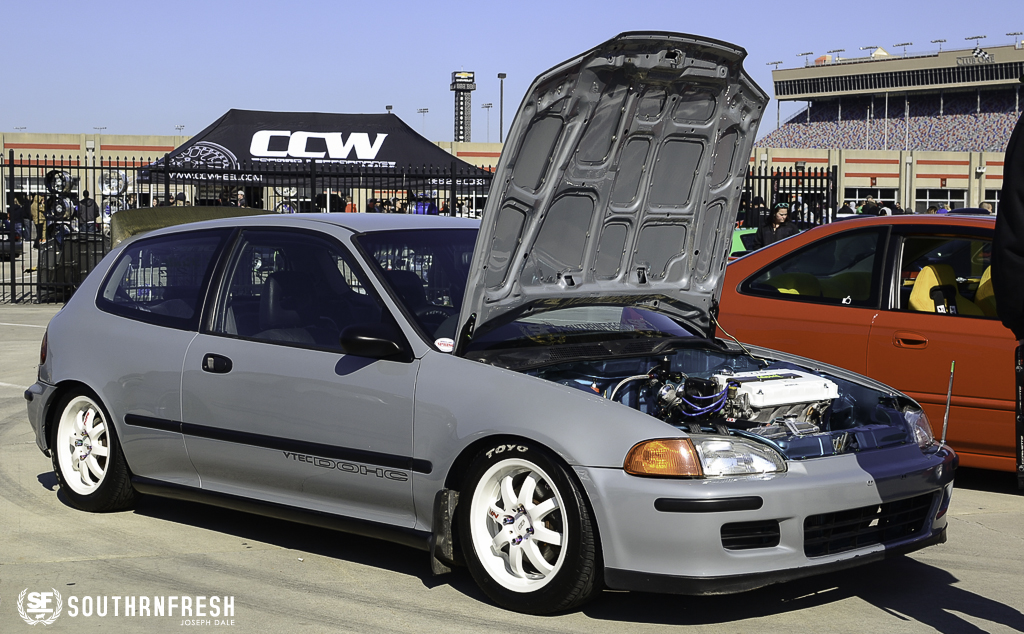 Shout out to this guy for running a SF banner.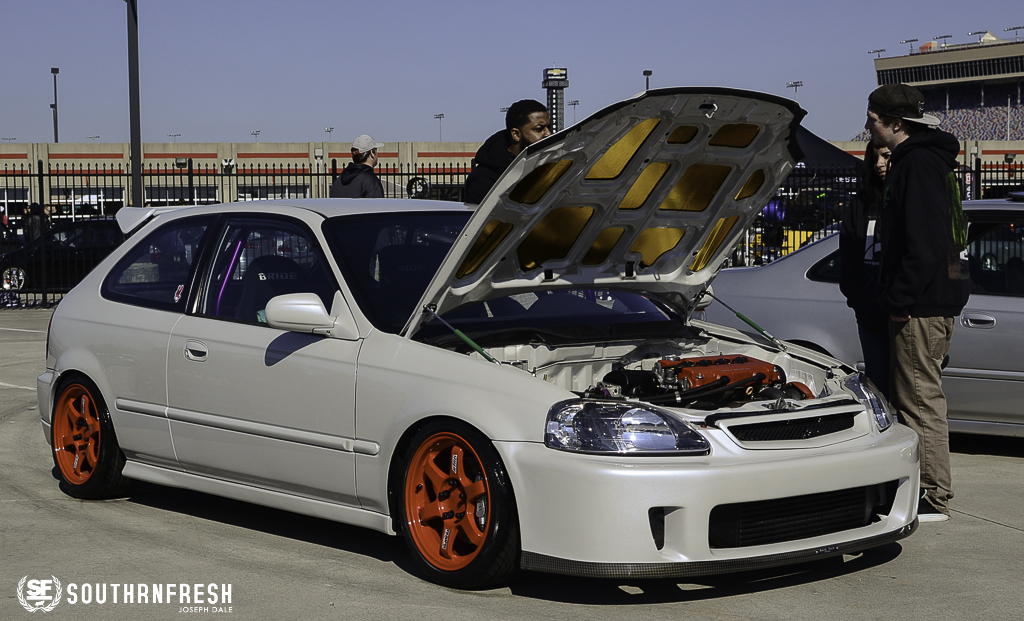 Wireworx EK looking flawless as usual.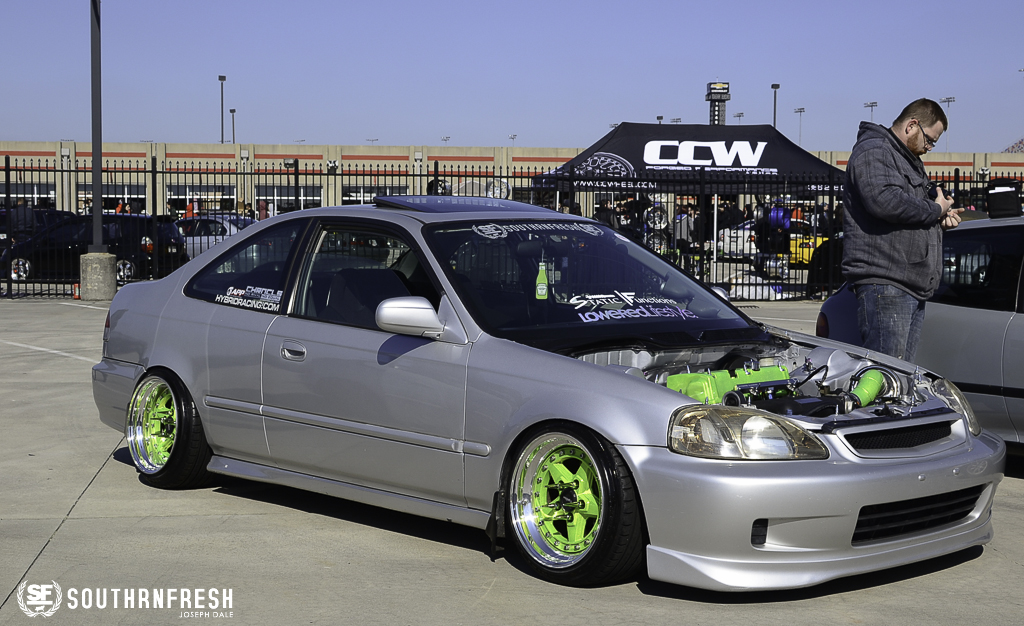 EK Sedan full of Downstar Inc. spikes
Civic Coupe from Supreme Quality 
One thing I always look forward to is seeing this group of guys at Import Alliance.  This is the only event they all seem to be able to make.  The group of Supra Celica's are part of DIY from surrounding states.
This one is owned by Kao Chang 
Moe's Supra Celica
The layout of IA is pretty simple, but the year before the parking was a little clustered.  As mentioned the team had parking under control very well.  On Saturday I was told that they almost reached capacity for the infield at the peak of the day.  This photo shows the parking spilling onto the road course.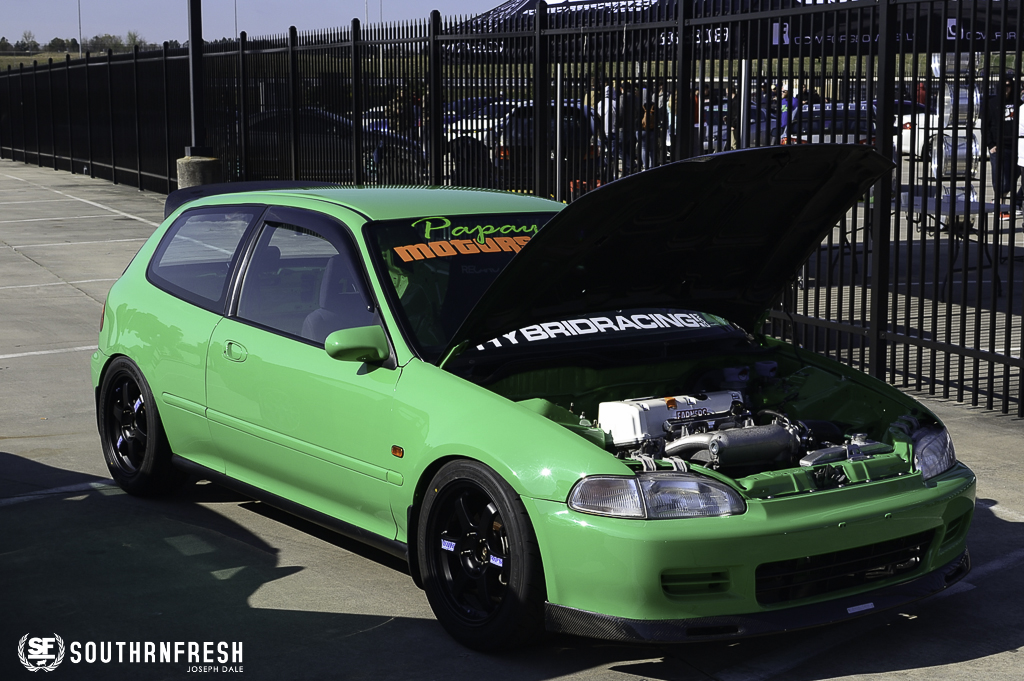 Seeing Bon's Eg back on the road in Atlanta was a treat.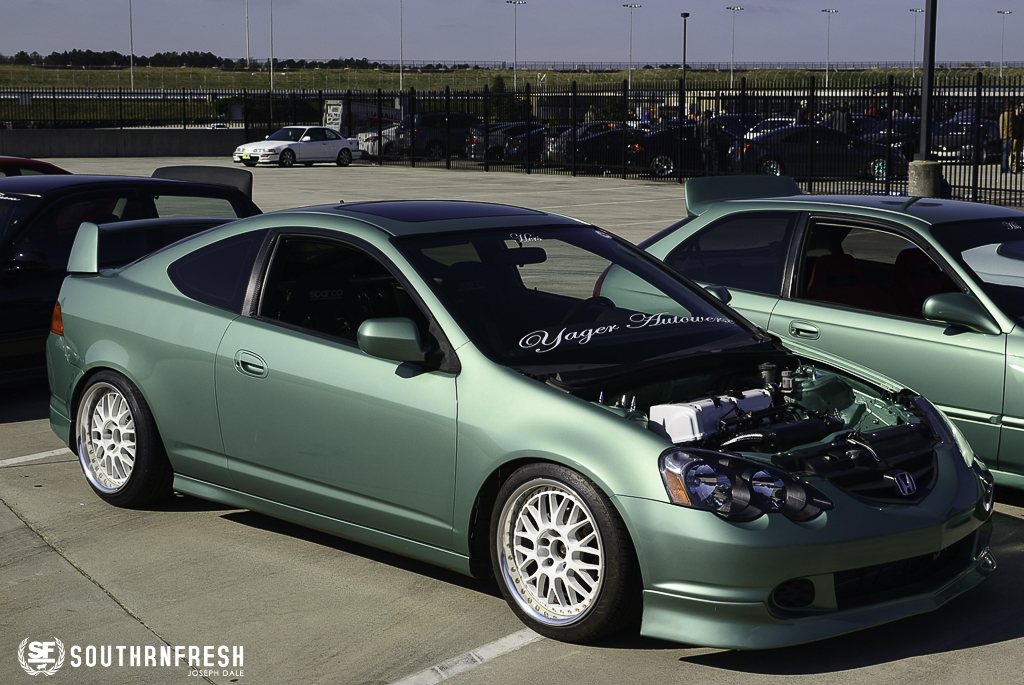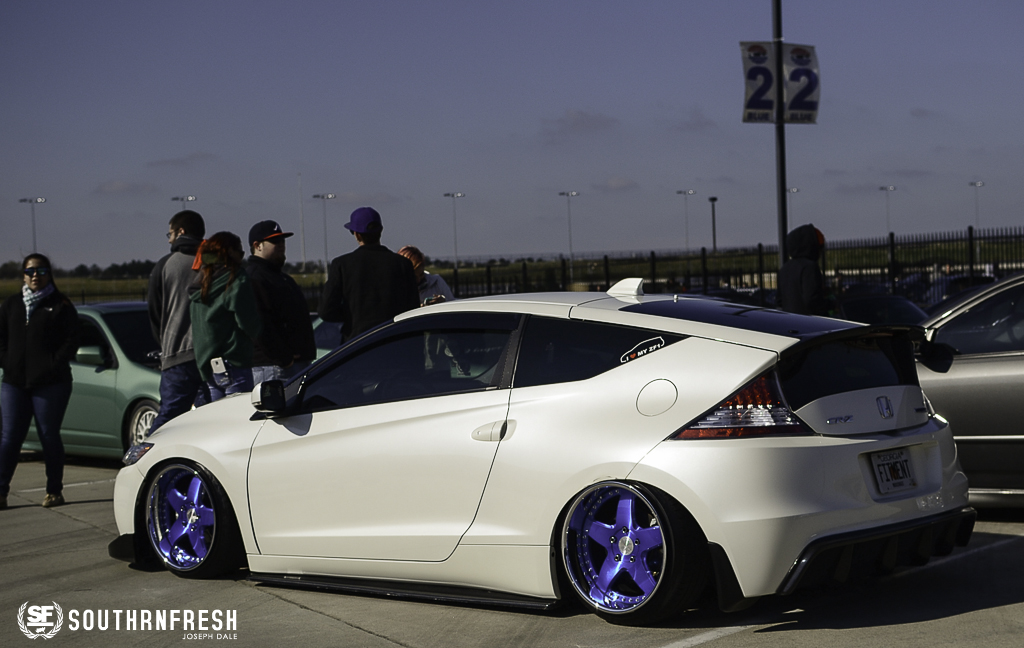 1jz powered Toyota Mark 2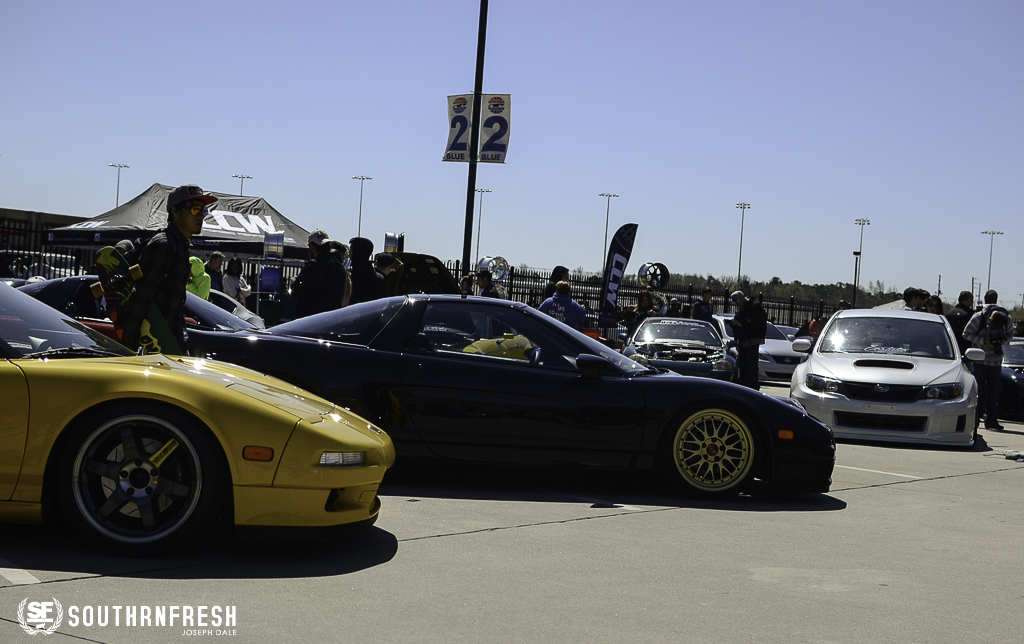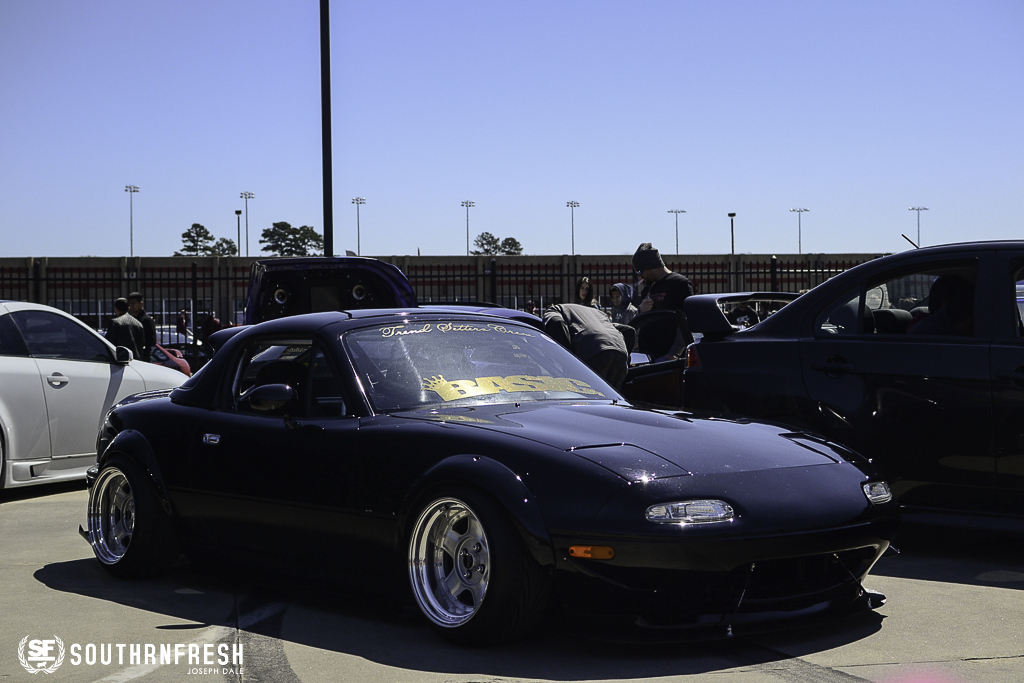 Evan Mount's Miata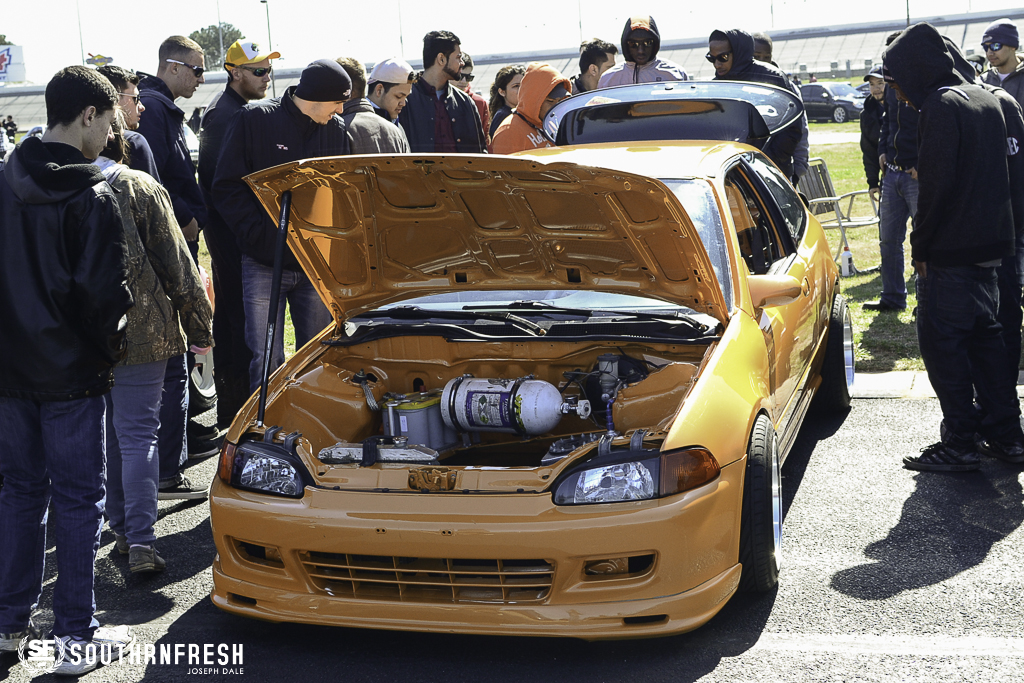 Found this rear engine mounted Eg civic on the outer lot.  When we walked up to it the hood was not open.  But as soon as he opened the hood, a crowd gathered around it.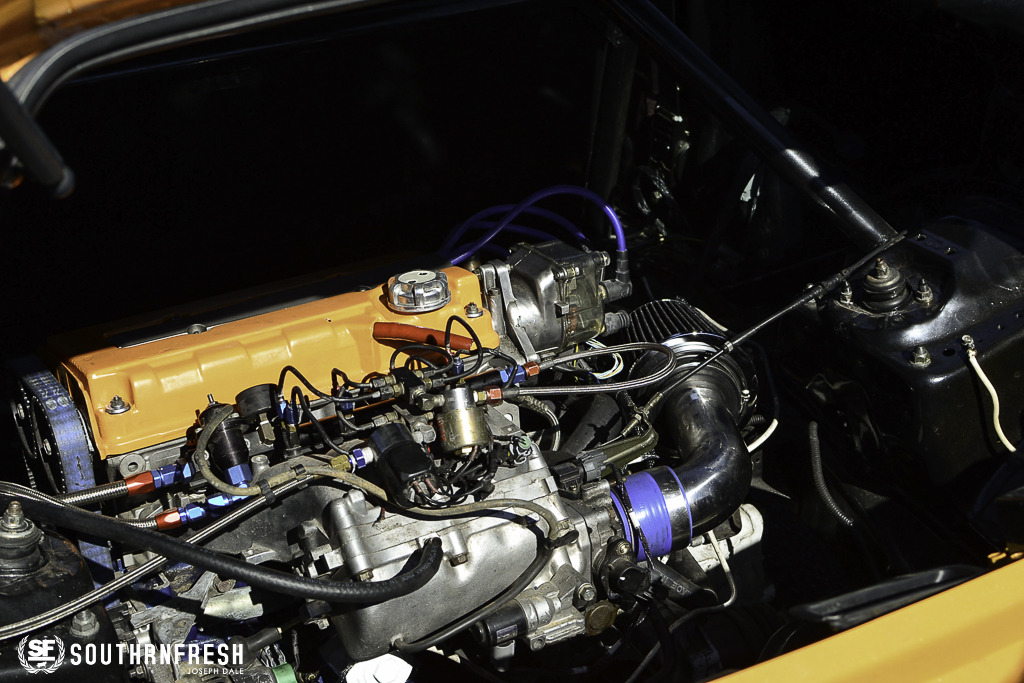 There it is a B series stuffed in the rear hatch.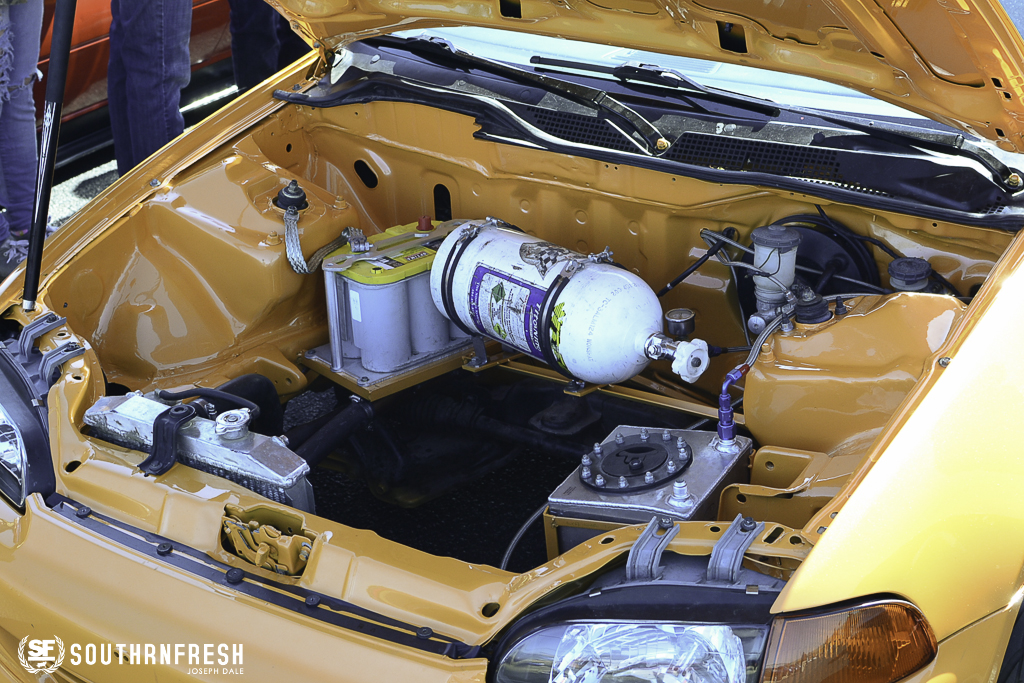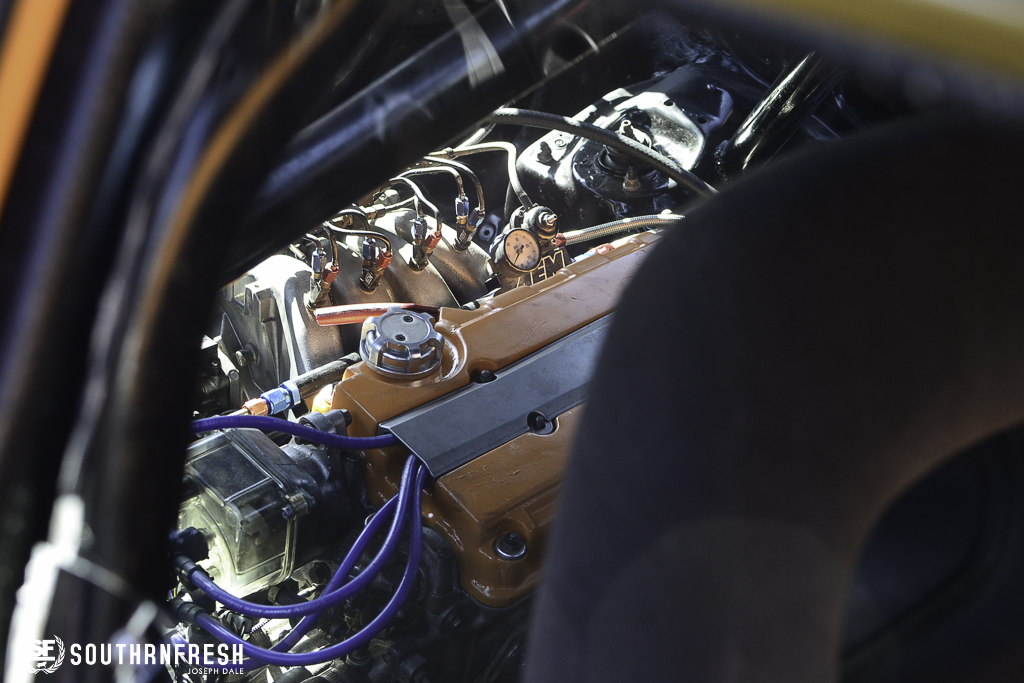 The owner built it himself at his home in Florida.  
BMW Z4 on VIP Modular wheels from Authentic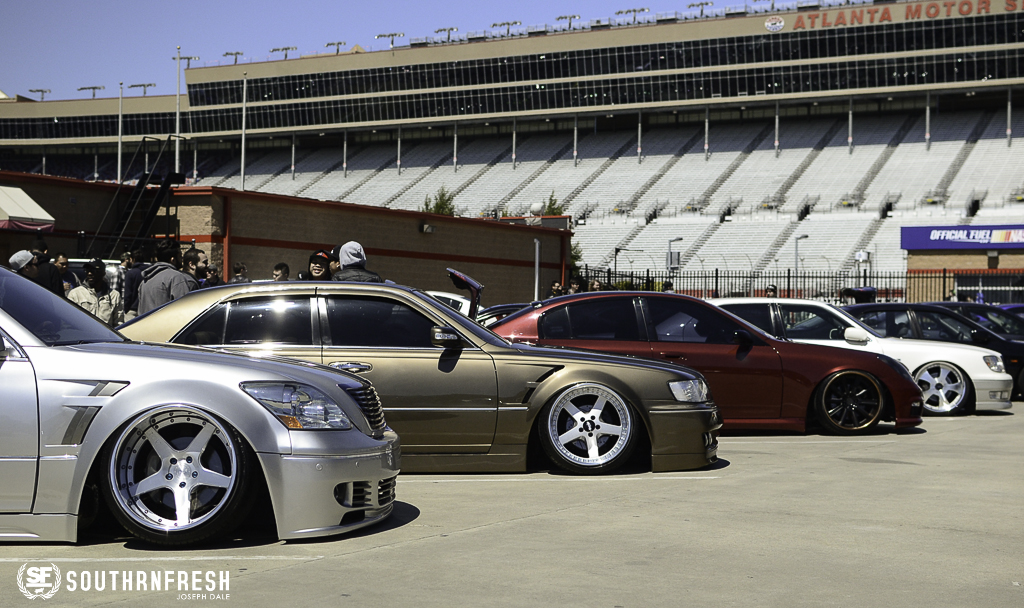 A line of some of the cars from Infamous Society.  Infamous Society is solely responsible for the growth of the VIP scene in the southeast.  We have just sat back and watched the vip builds pop up in the southeast.  
Justin Butera's LS400 built by Superstar Customs. 
Tony's LS430 also built by Superstar Customs 
Larry Young's Q45 another product from Superstar Customs 
Mike's LS430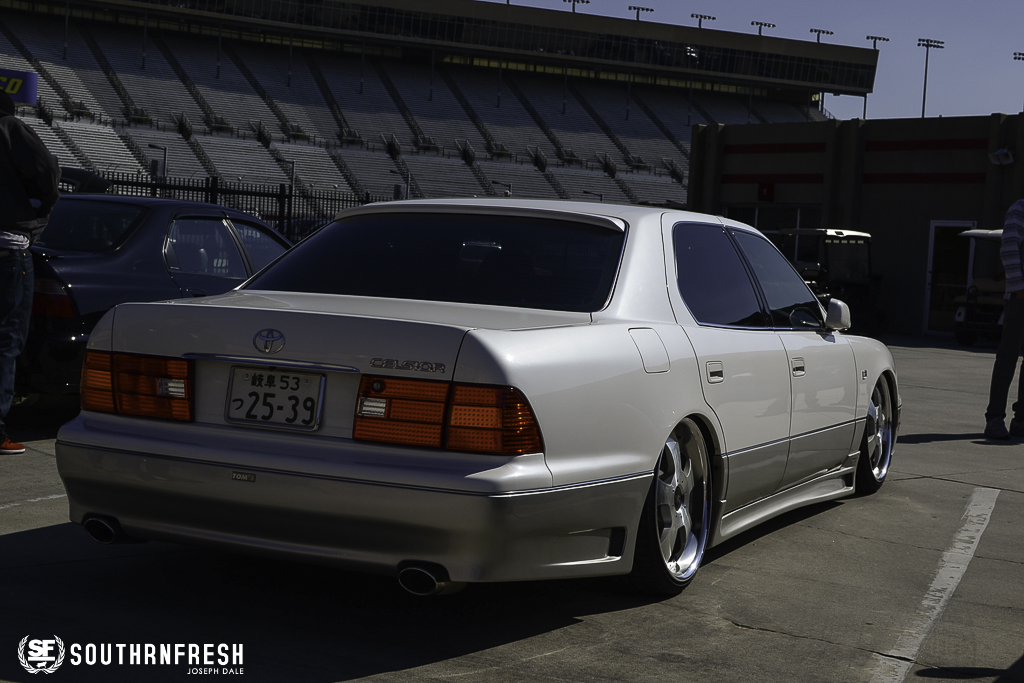 Toyota Celsior with the rare TOM's lip kit.  I wish I had gotten a better photo of the Toyota, but it left before I could get a better quality photo.  But I had to show it atleast.  
Kurt's Acura RL 
Caleb's Q45 rocking a SF air freshener. 
Marvin's Acura TL showing off some updates since we last took photos of it (seen here).  
Marvin has extended the fenders to hold the widened Ordens.  And also retrofit a set of RL projectors.  The projectors look perfect in the headlights.  
We will have some more photos of Marvin's Tl soon.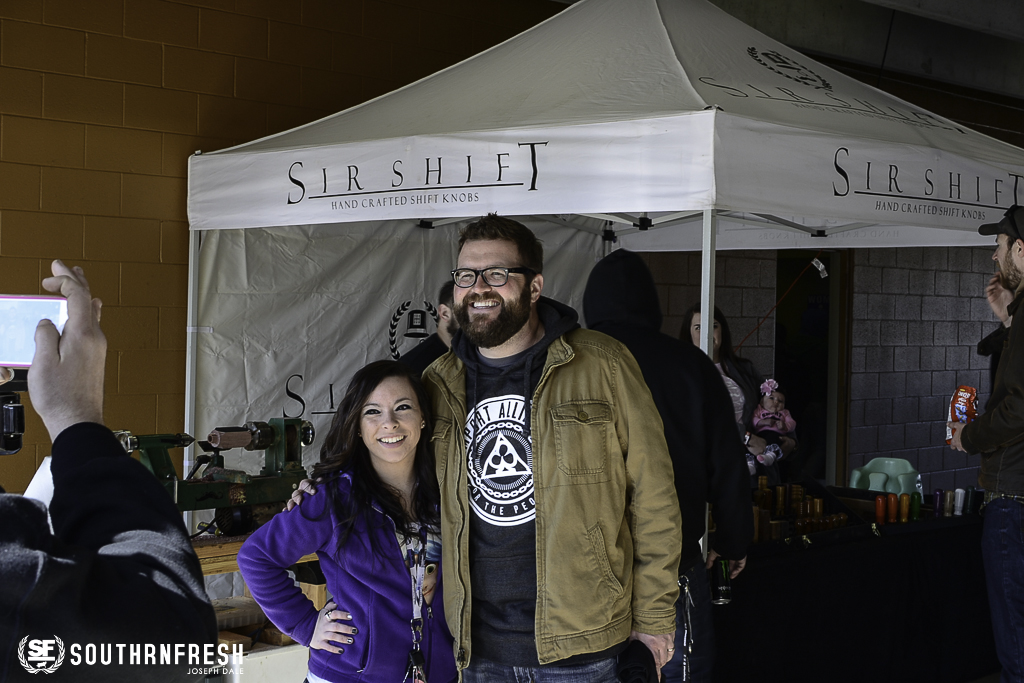 Rutledge Wood from Top Gear always makes an appearance at Import Alliance in Atlanta.  Being from Atlanta, he has always been a loyal supporter of anything automotive going on in Atlanta.  And is one of the nicest guys you will ever meet.  Rutledge has a new show coming on real soon called Lost in Transmission on the History Channel May 7th at 10pm, and we will all be watching.  Anyone familiar with Import Atlanta, can remember Rutledge on the forum. I remember the day he posted on the forum that he had gotten a job at speedvision years ago…and the rest was history.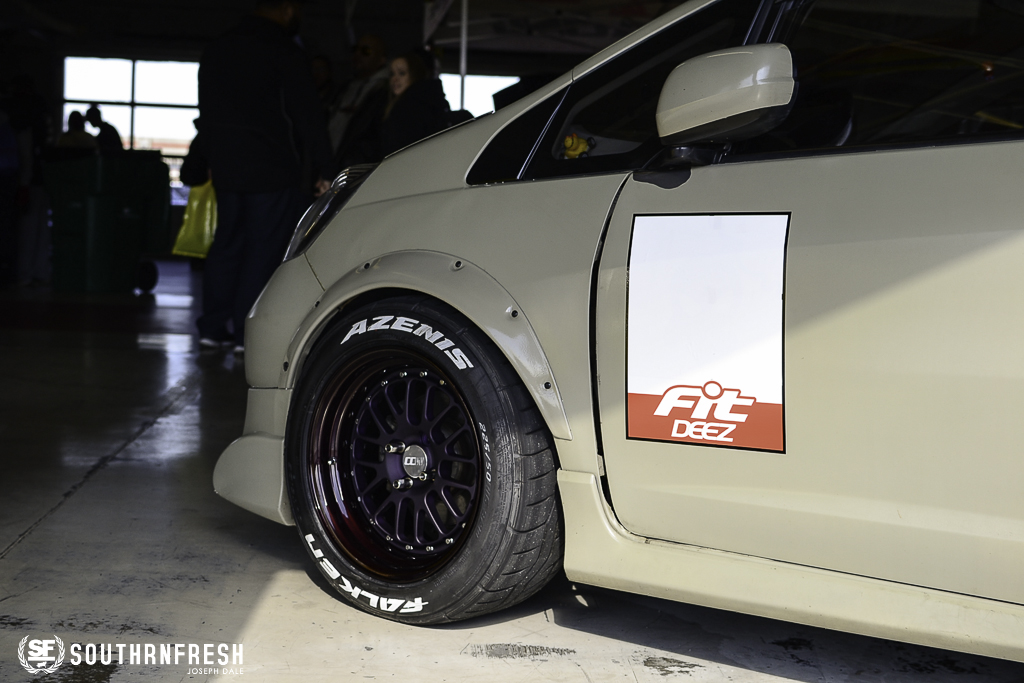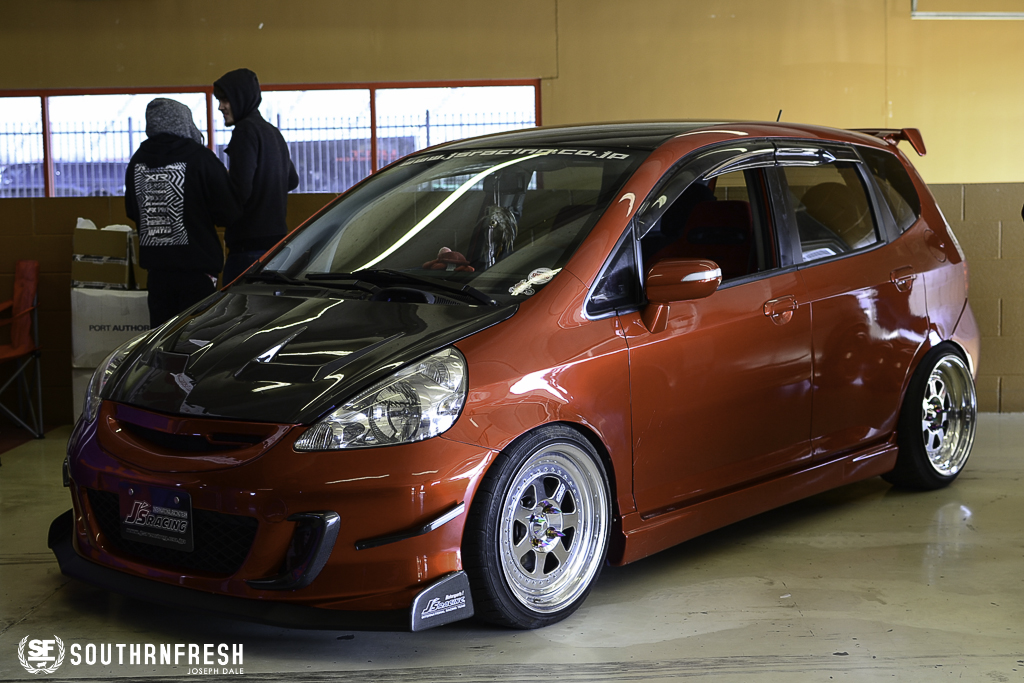 Danielle's Honda Fit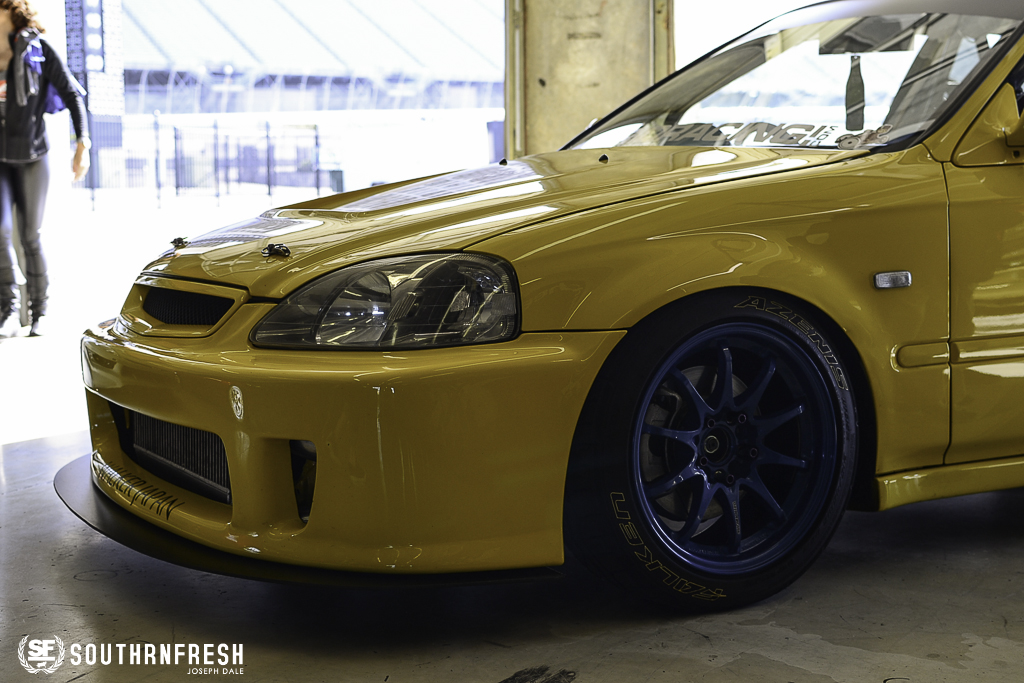 Matt Tucker's Civic Type R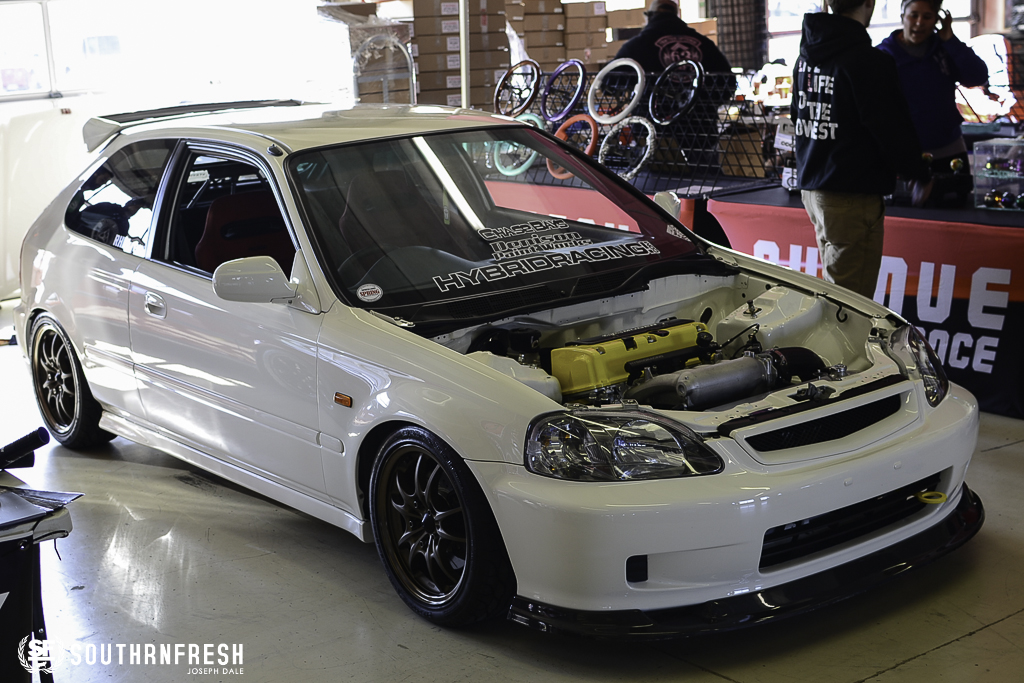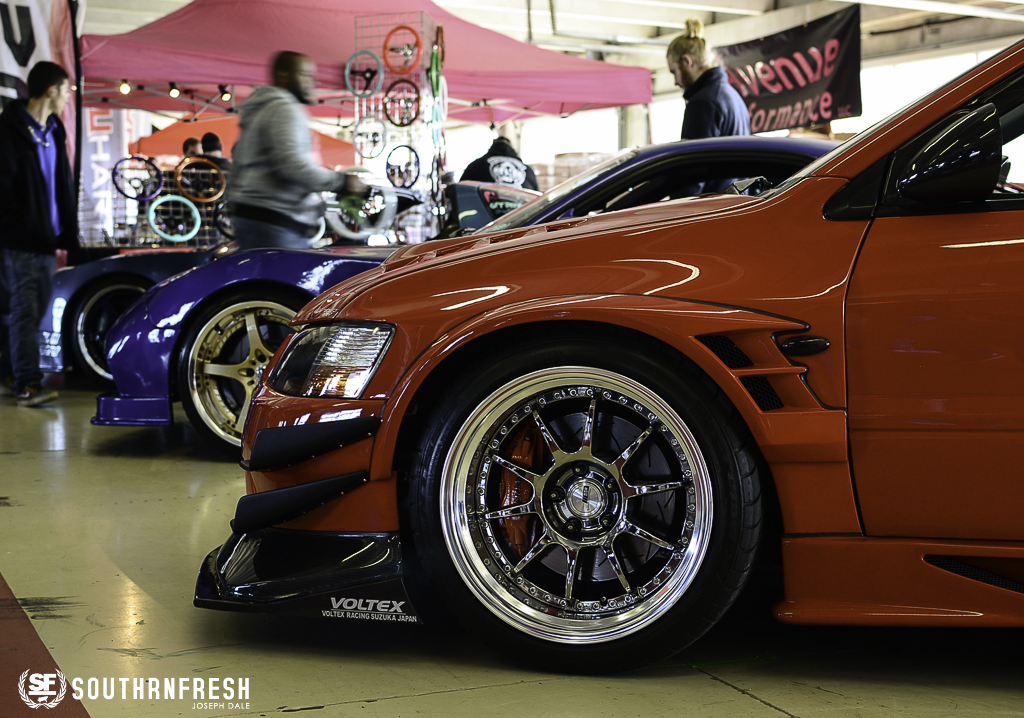 Jusin's Evo and the Jade Crew lined up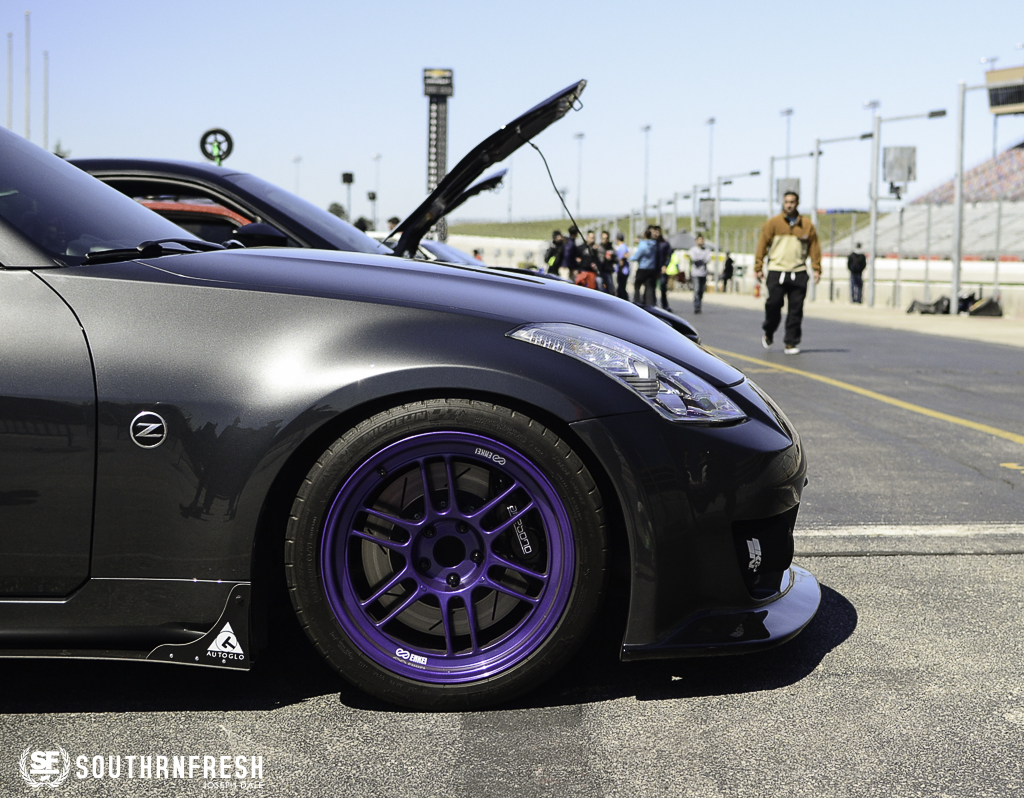 On Sunday they held the Autocross in the pit lane and on a portion of the track.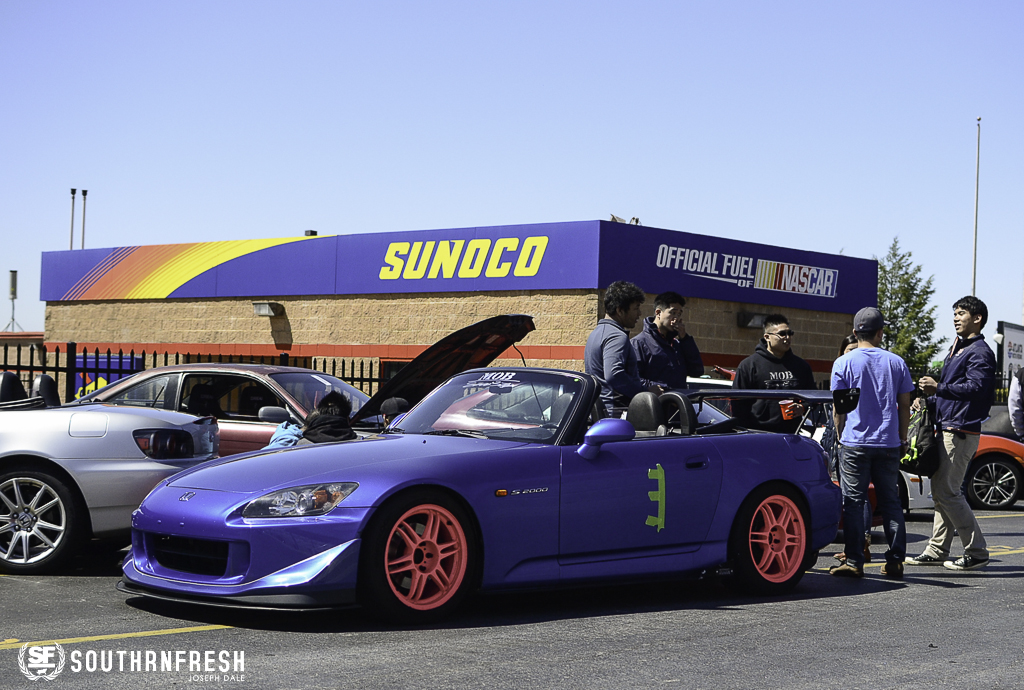 In between the runs the cars participating were displayed right off the track, so people could check them out.  It gave the more functional crowd some place to release their go fast habits.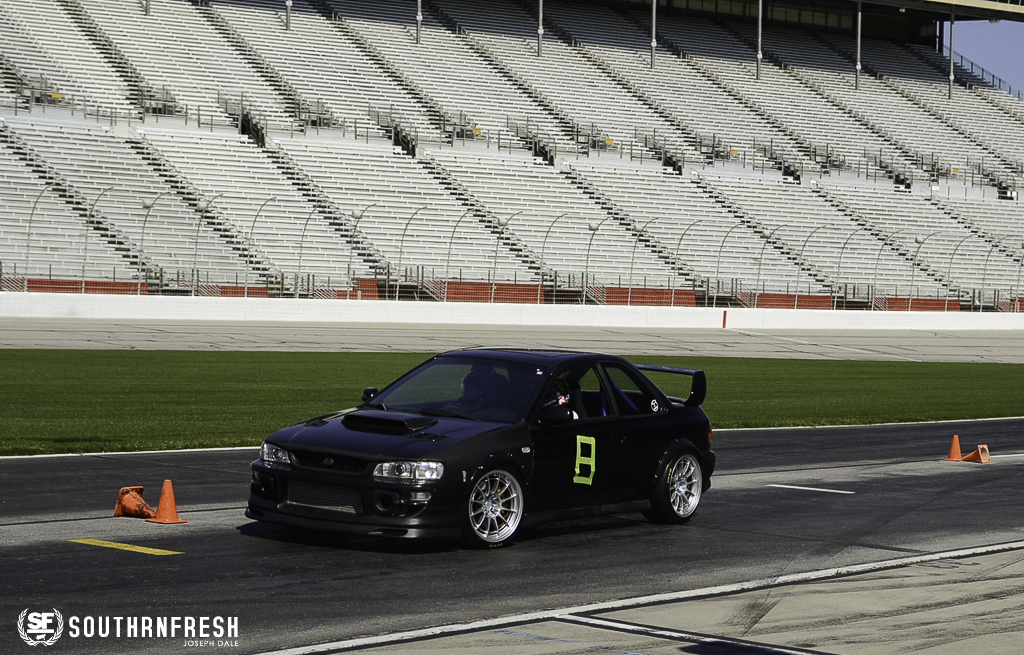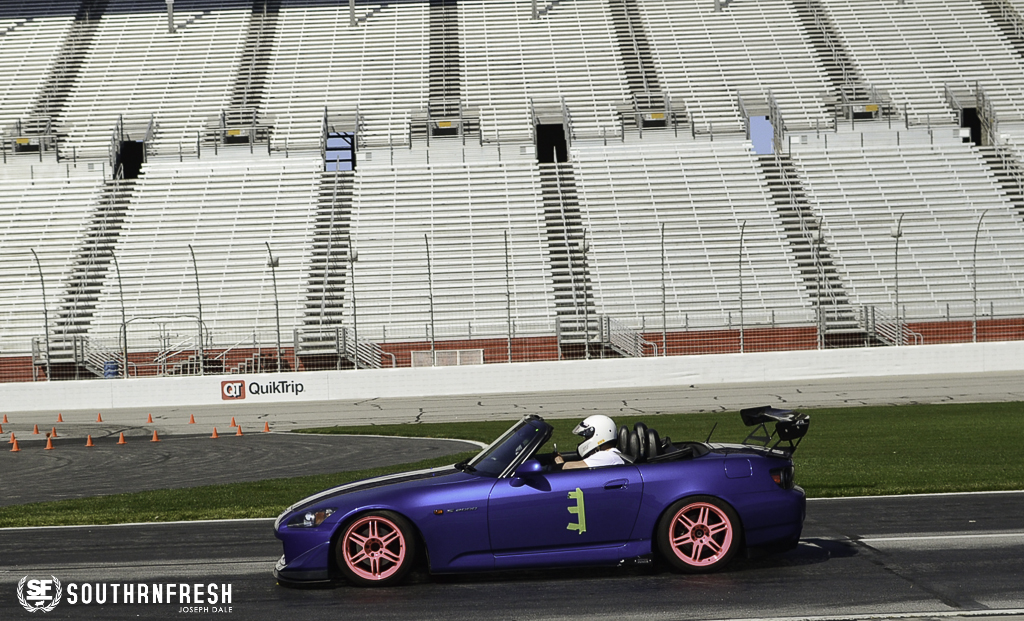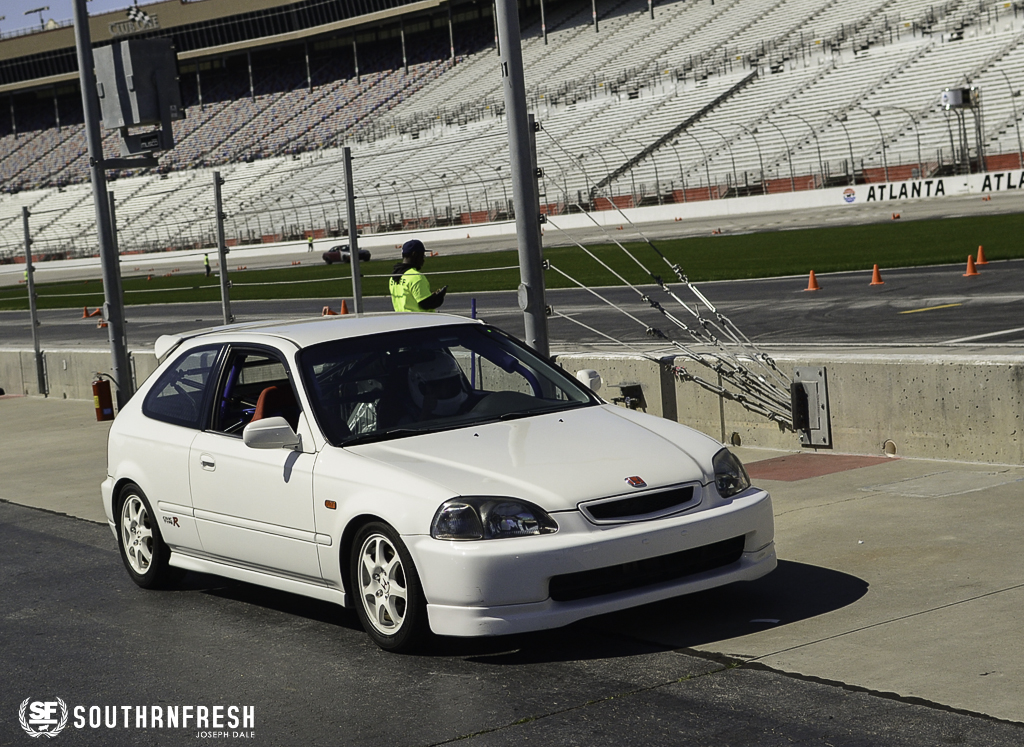 Adding this to the event last year was a really good idea.  I still would like to see the parade laps like they used to allow in Nashville.  But i don tthink that would even be possible at AMS with the size of the crowd.  
SF has been relatively slow to making posts, especially after our first post of the year stated that we were gonna aim to make daily posts.  It was a good idea, but honestly I felt extremely unmotivated and the enthusiasm was not there for us to force posts out.  We have spent the last 6 years working on the site, and keeping new content on the site.  But we almost lost our spirit, and forgot why we even make these posts.  The fuel for SF in the beginning was to show the world what the south has to offer.  But that makes for useless posts, and lackluster posts with nice photos.  And there are plenty of sites that can give you that.  We have molded ourselves to making the most out of every post, and make it worth the click.  
Import Alliance gives us that extra spark, and breaks us out of the winter laziness.  And we are thankful for the event being held in Atlanta.  We are extra grateful to you all for making IA a good event for us, by bringing out the quality this year.  The sites updates may not come as quick as they used to but we are very active on all our social media outlets Facebook and Instagram especially so be sure to follow us there.