Another season of Formula Drift has come and gone, and boy was it a good season. From the down-to-the-wire finish in the first round of Long Beach (see our coverage here!) we knew it'd be a season to pay attention to (more so than just a quick glance at parody Instagram accounts or Facebook posts). Irwindale had the makings of a round to remember, and boy did the House of Drift deliver. The track layout was changed from seasons past: by moving the inside clip 1 switchback moving further towards the infield and doing away with the final turn back towards the start/finish, the new layout forced drivers around the entirety of the second bank of outer zone 2 rather than allowing them to drive down earlier to focus on the transition between inside clip 2 and the now-gone turn back to the starting grid. (see the diagram via Scion Racing below)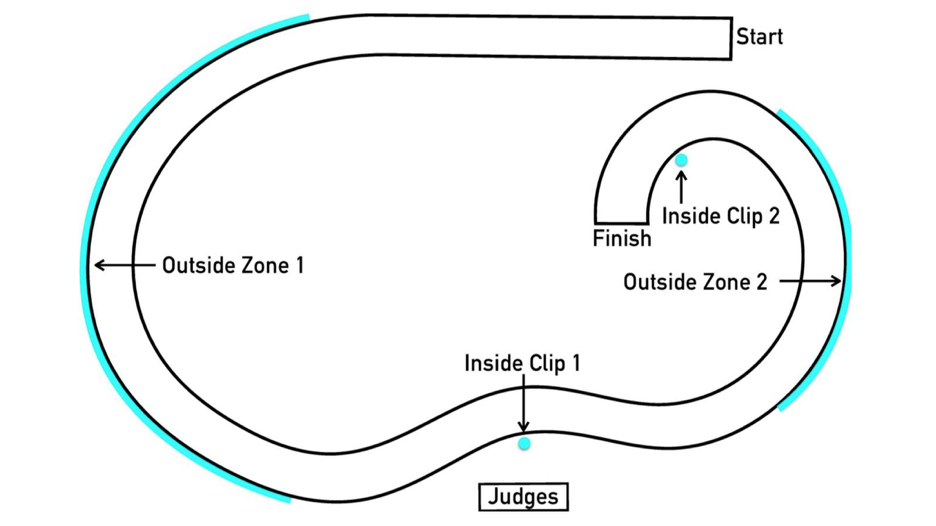 Going into round 7, Aasbo held the lead in the overall championship and needed only to get out of the round of 32 to lock up the overall win. Needless to say, as you're probably heard by now, he made it out in one piece. That being said, it was still an interesting event to see if Aasbo could hold on and win Irwindale back from the man of the House, Daigo Saito. Saturday started out hot and humid with hints of a later El Nino season hanging in the air, but the teams and show cars of Offset Kings were up and at 'em early. (Quick Shots coming soon).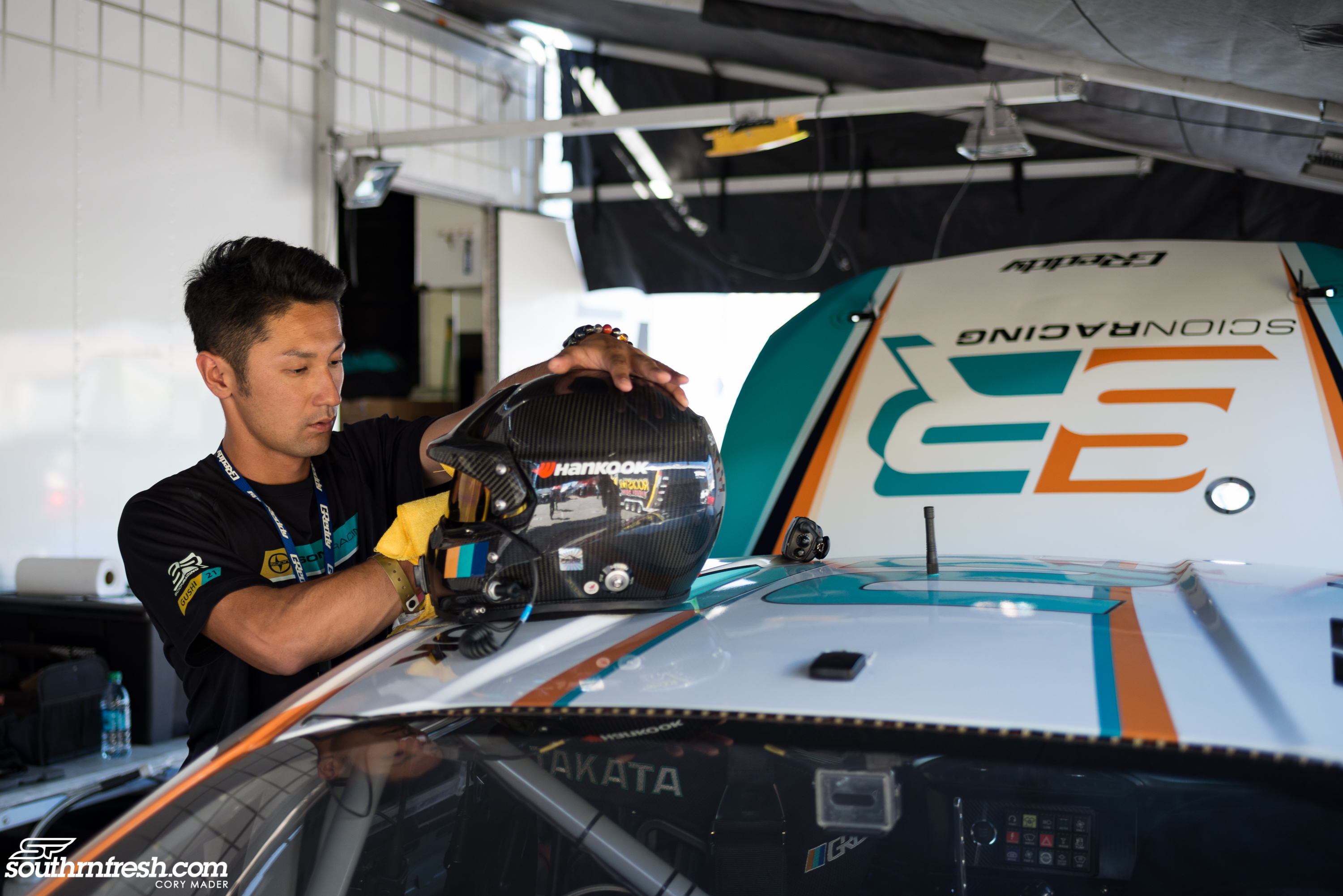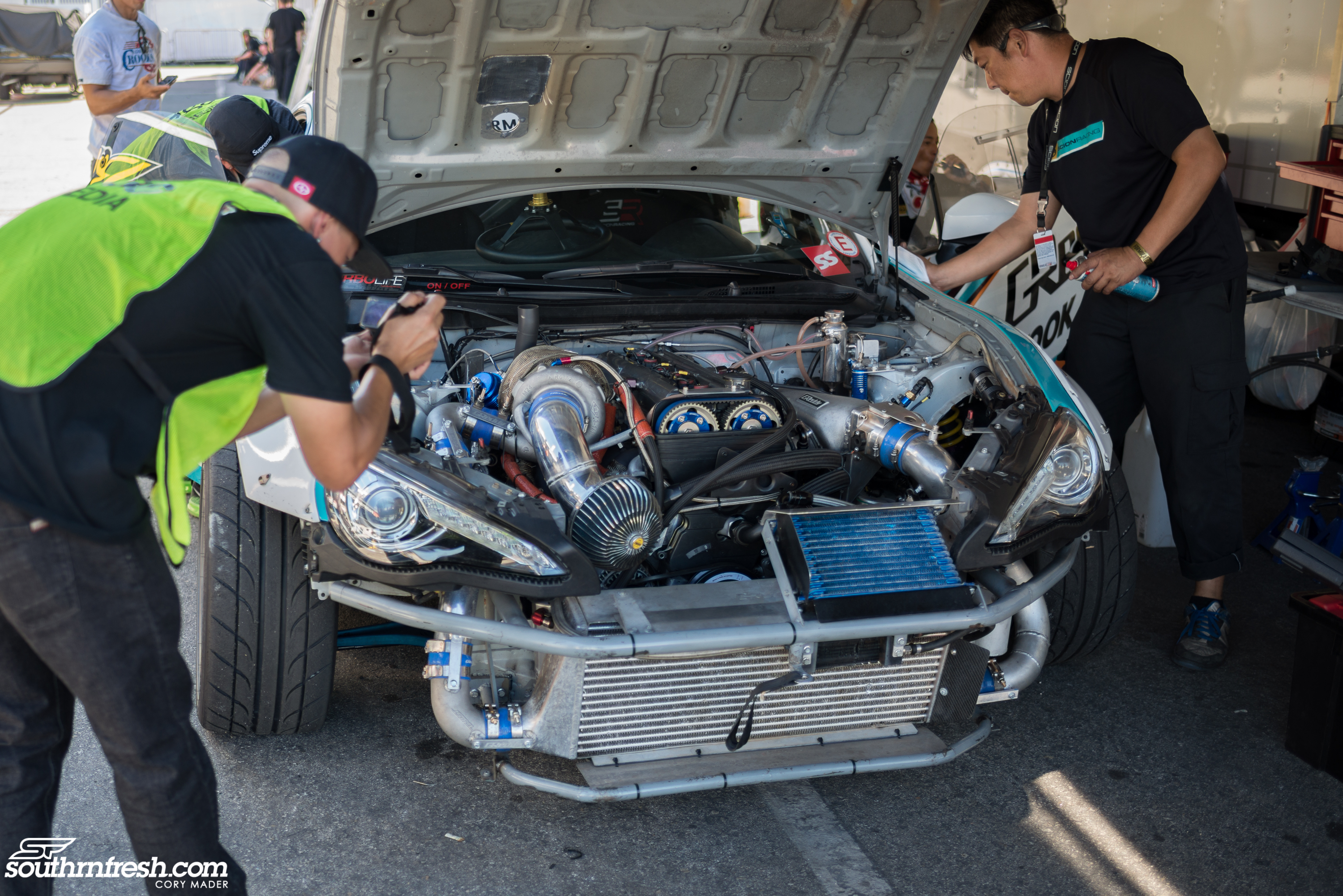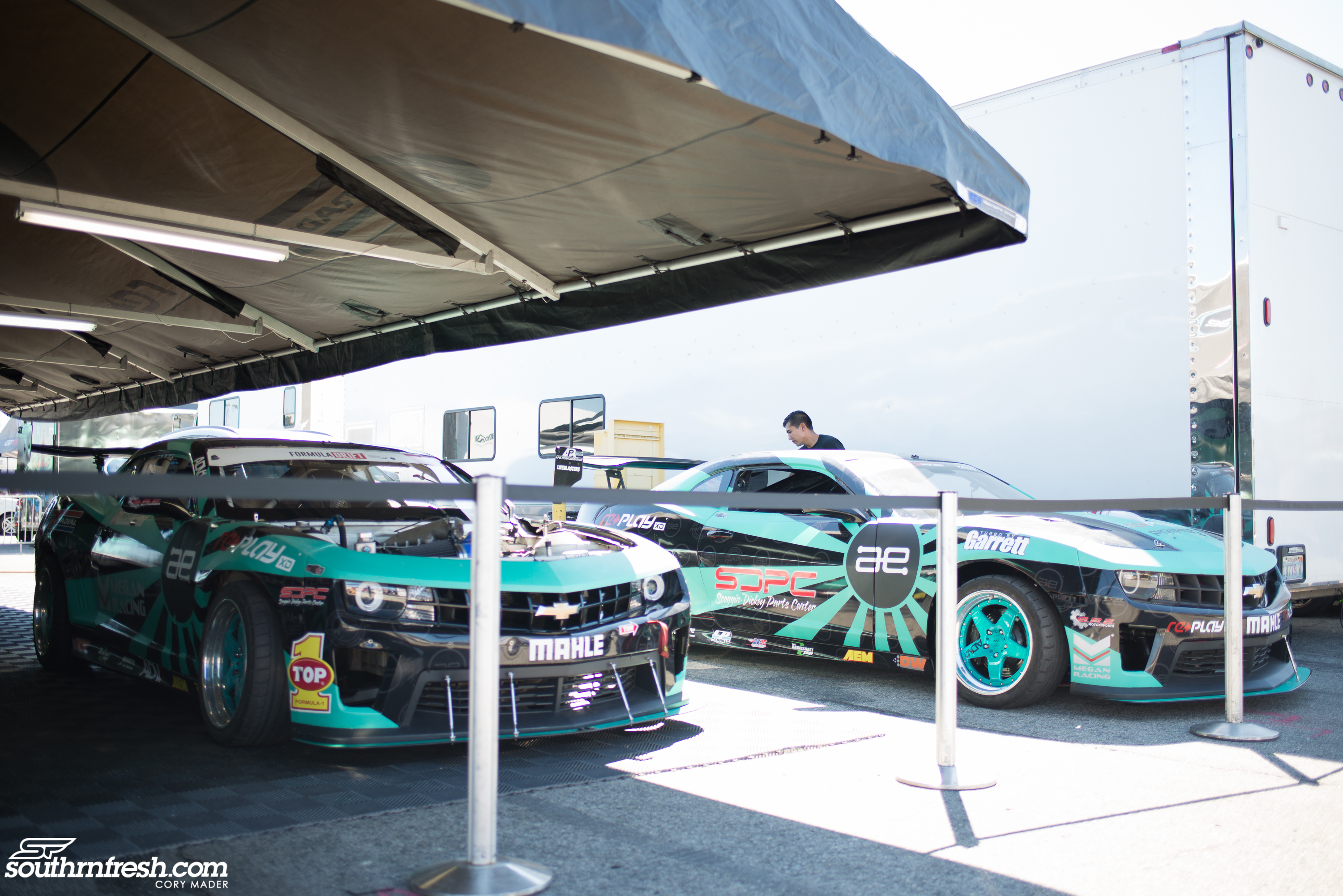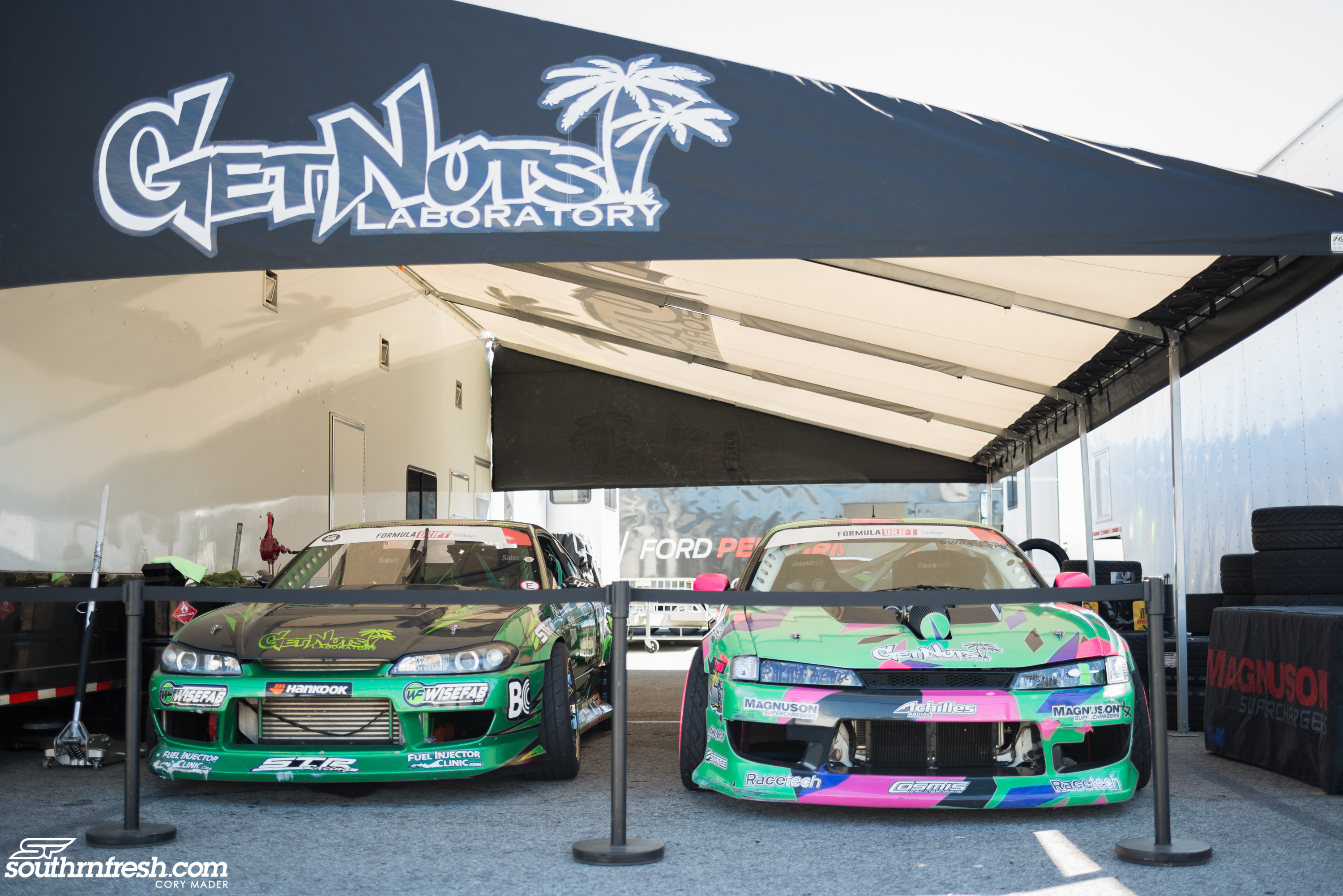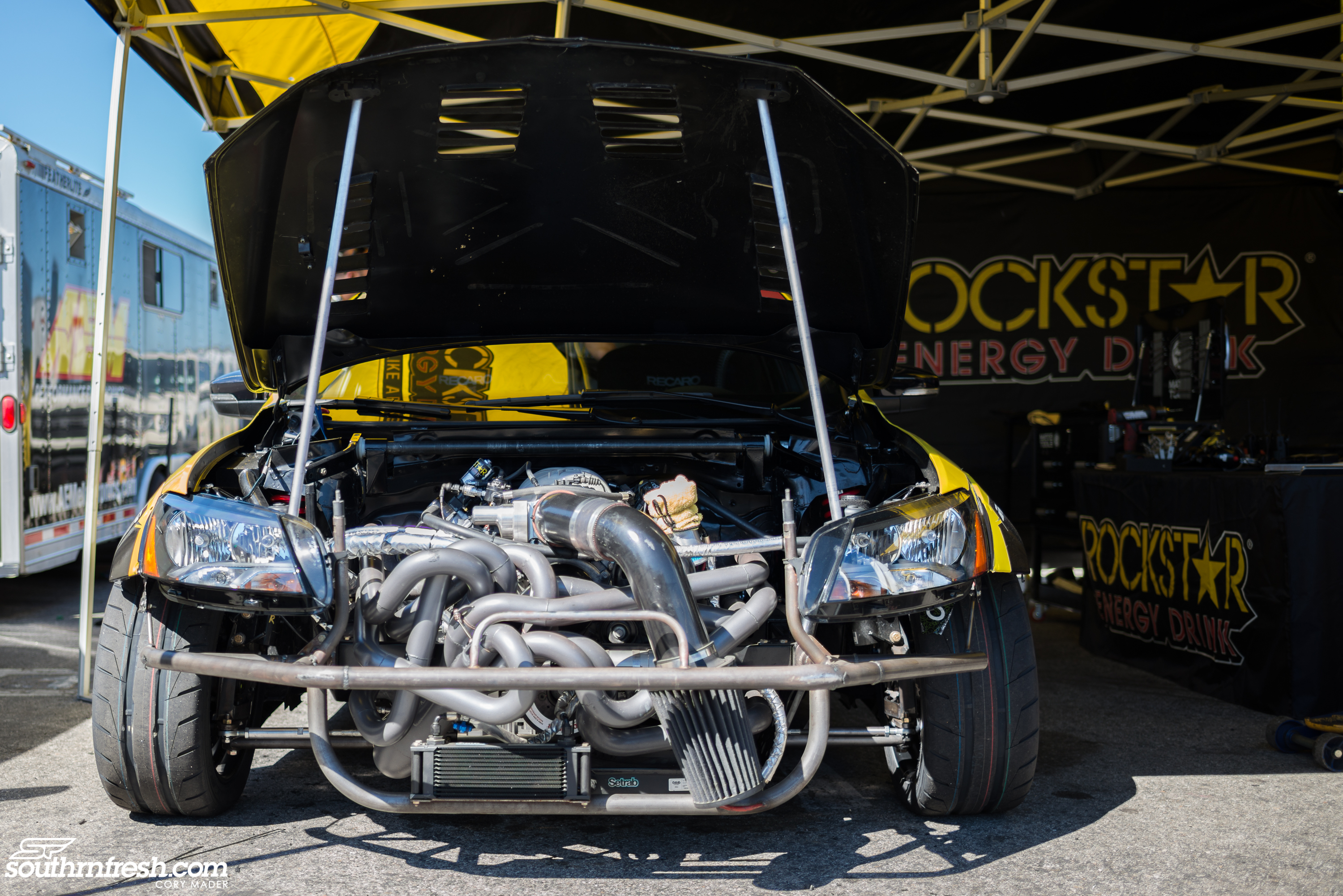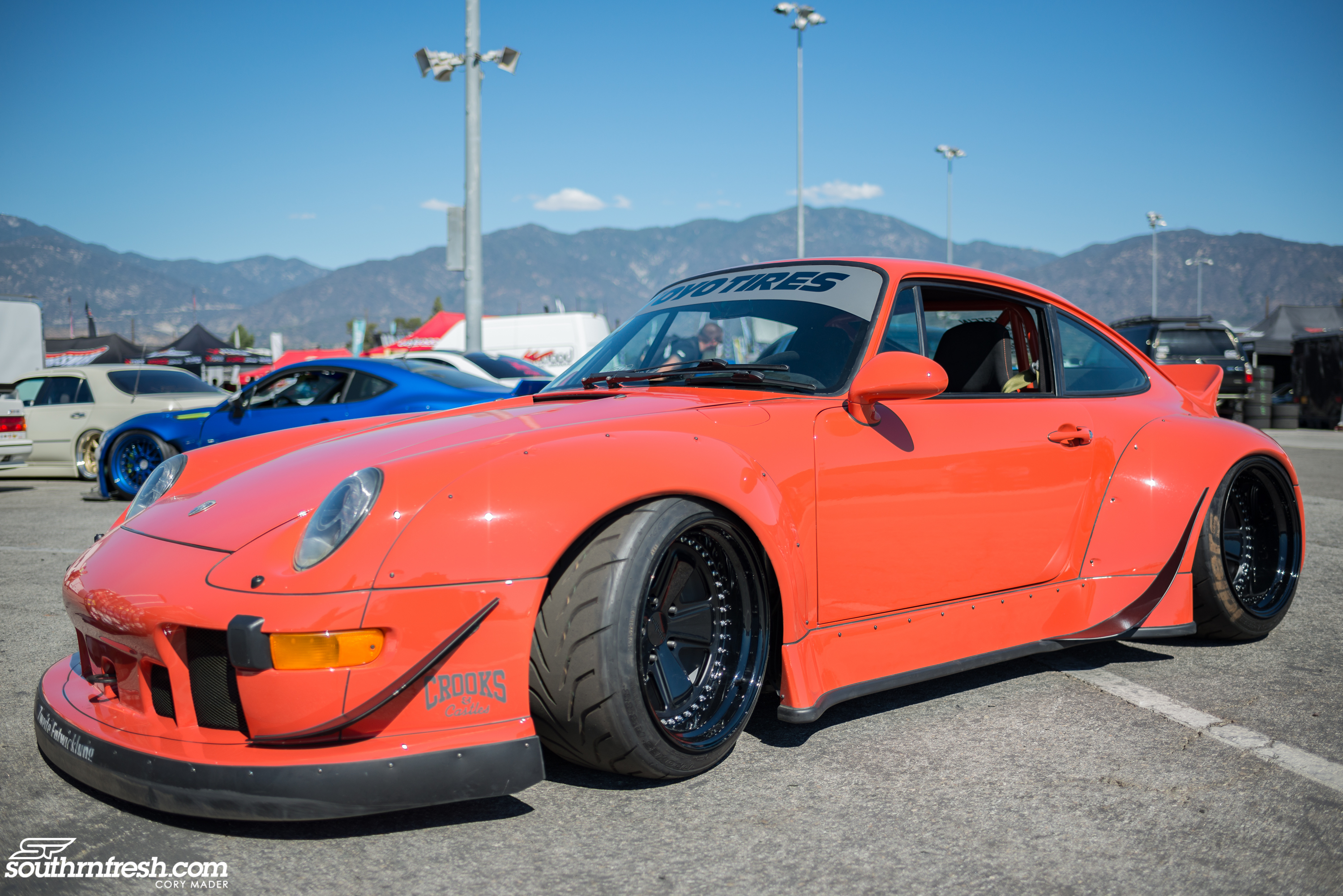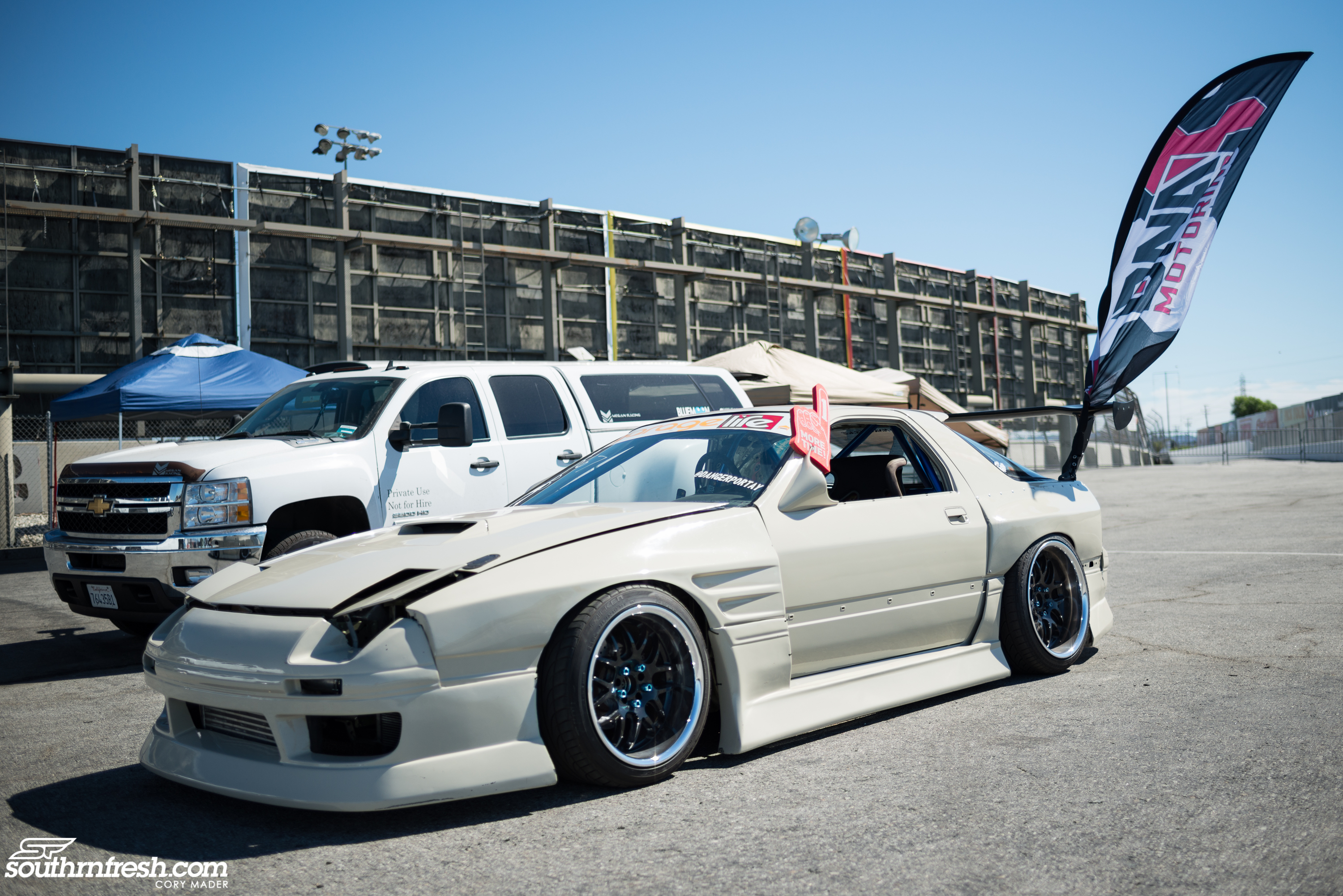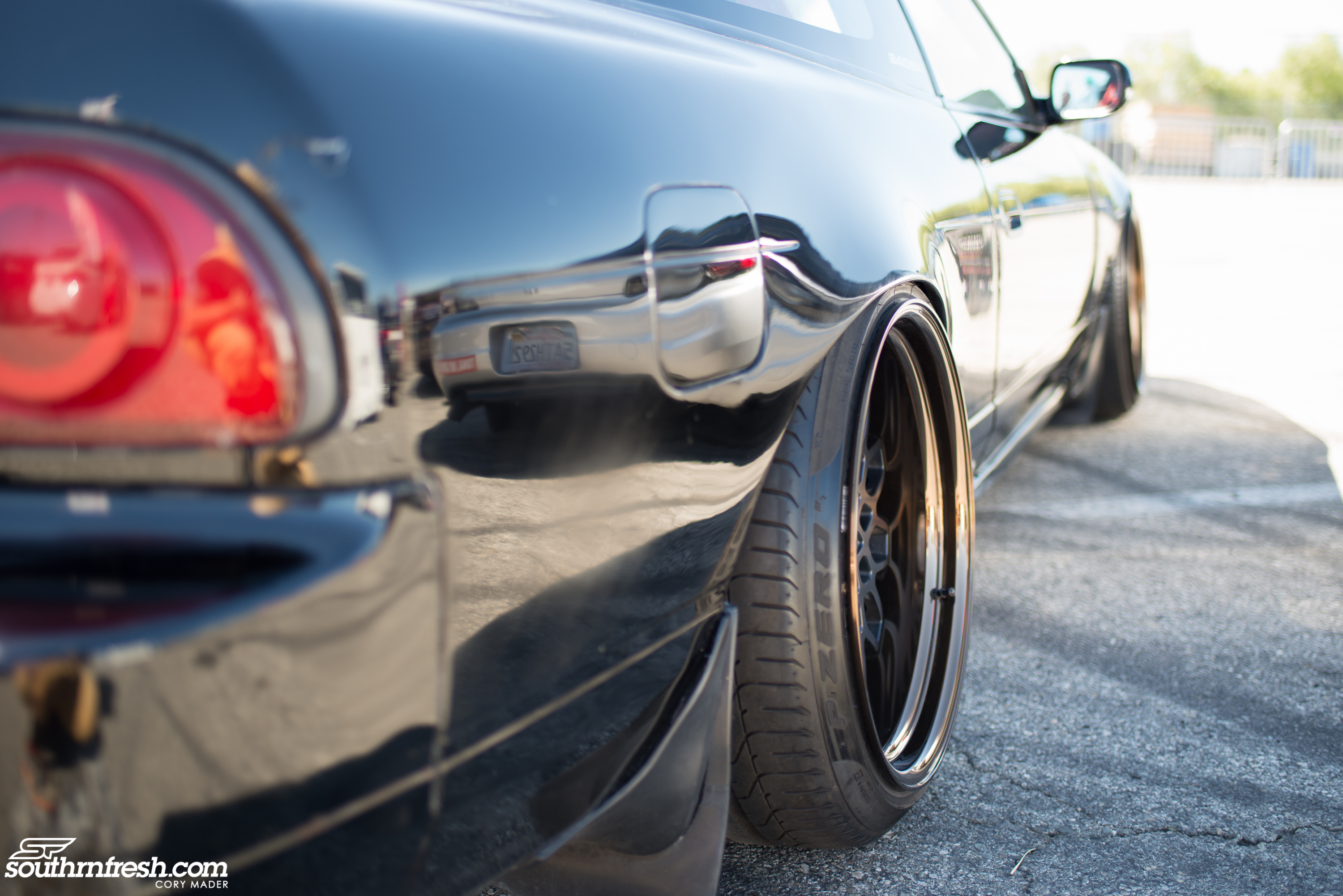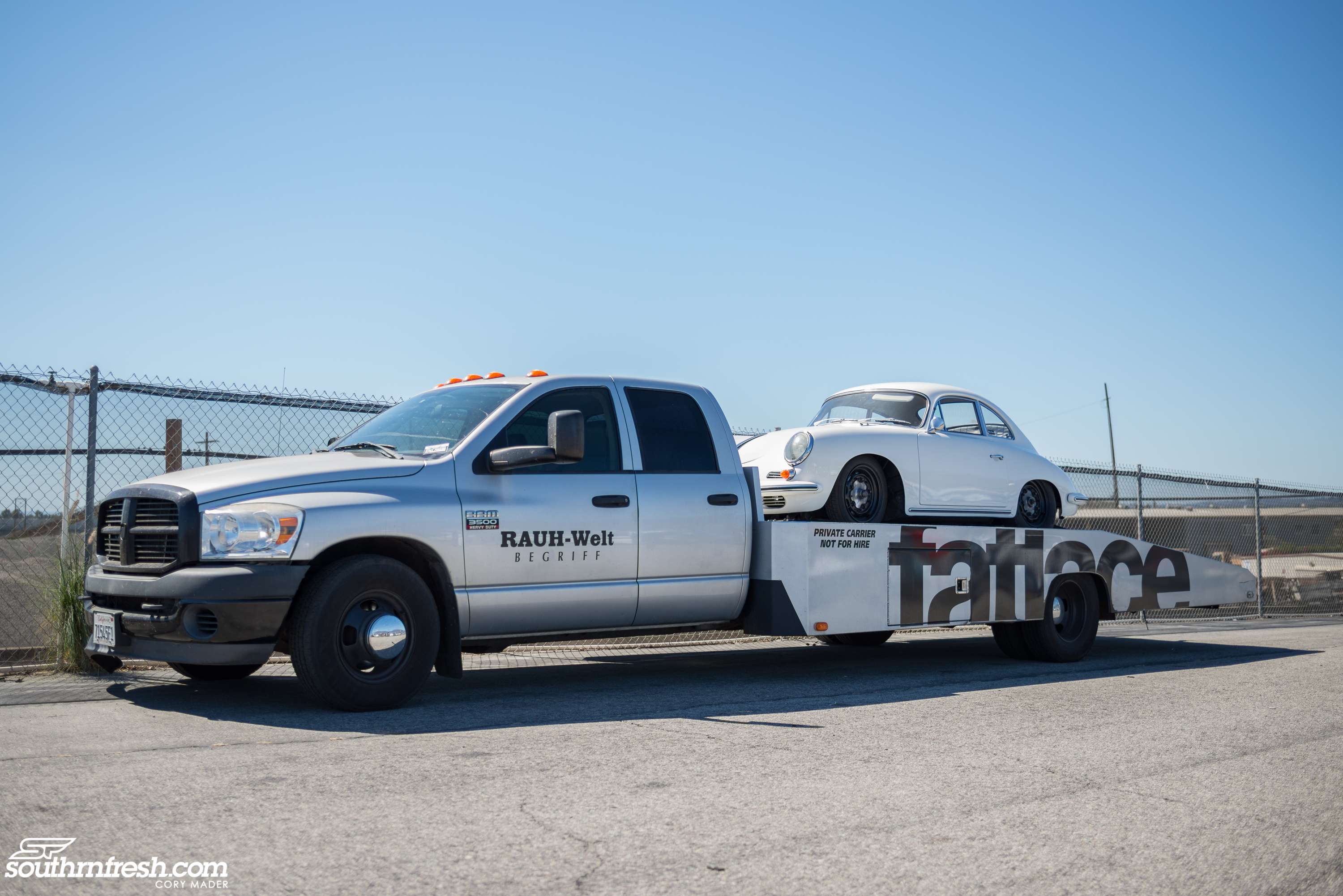 The practice rounds this year weren't only for the drivers. The change in the layout meant a loss of media standing room at the end of outside zone two and a big change in shooting angles for all the photographers and videographers. This lead to finding new angles and shooting spots to prepare for the later rounds where every shot started to count more and more. The fence, railing, and shadows were definitely not my boys, but we made it work and hope you enjoy the coverage even through the growing pains.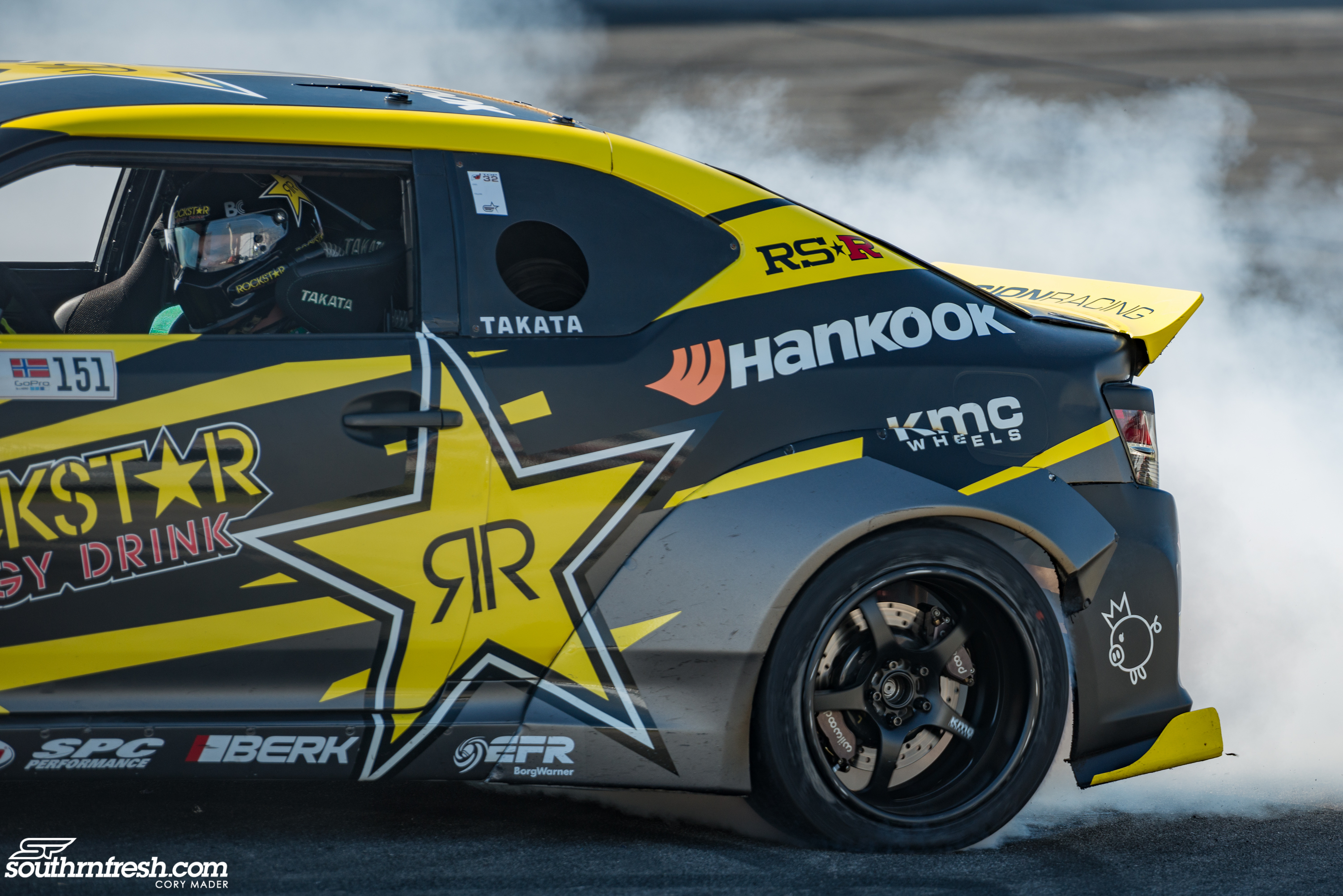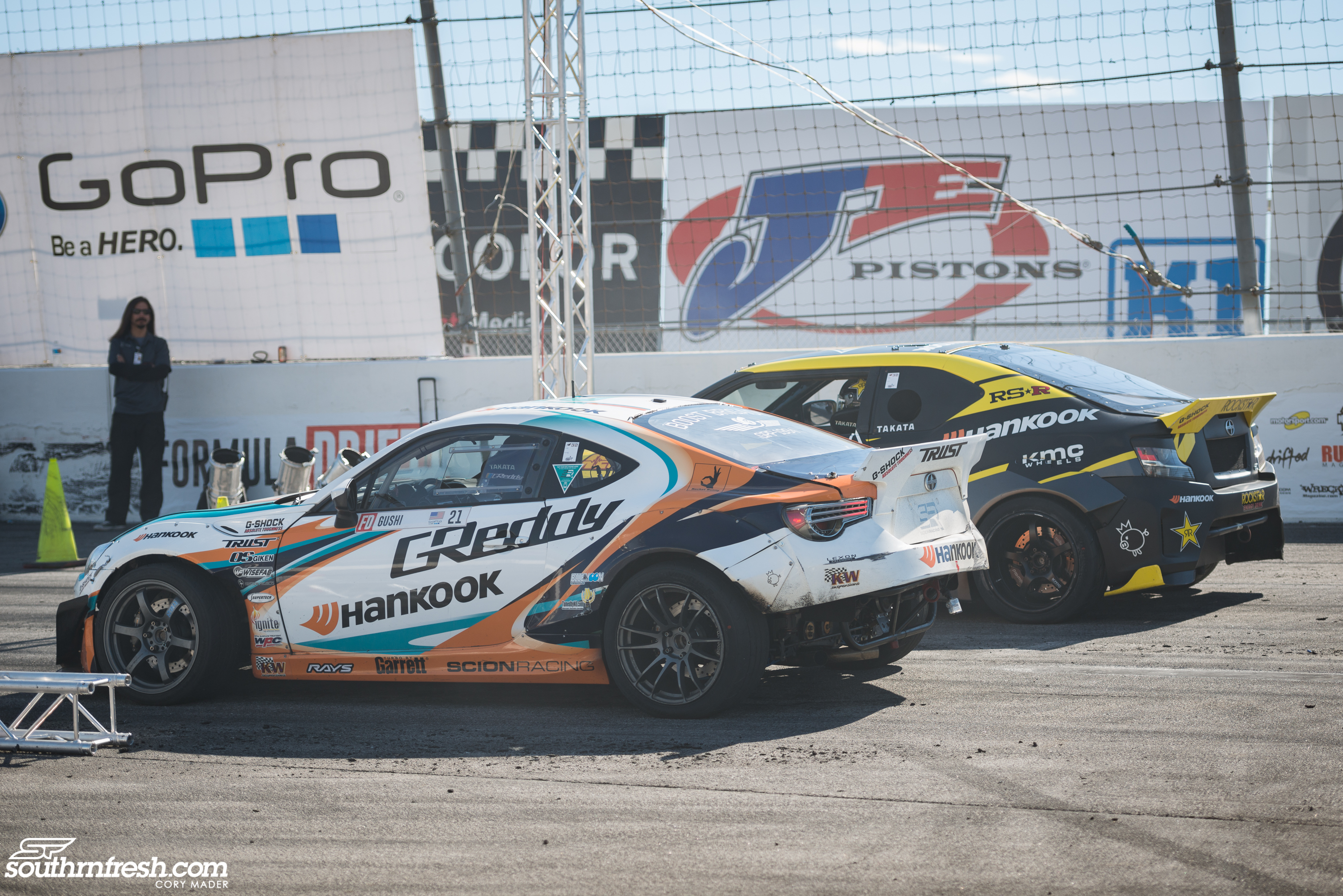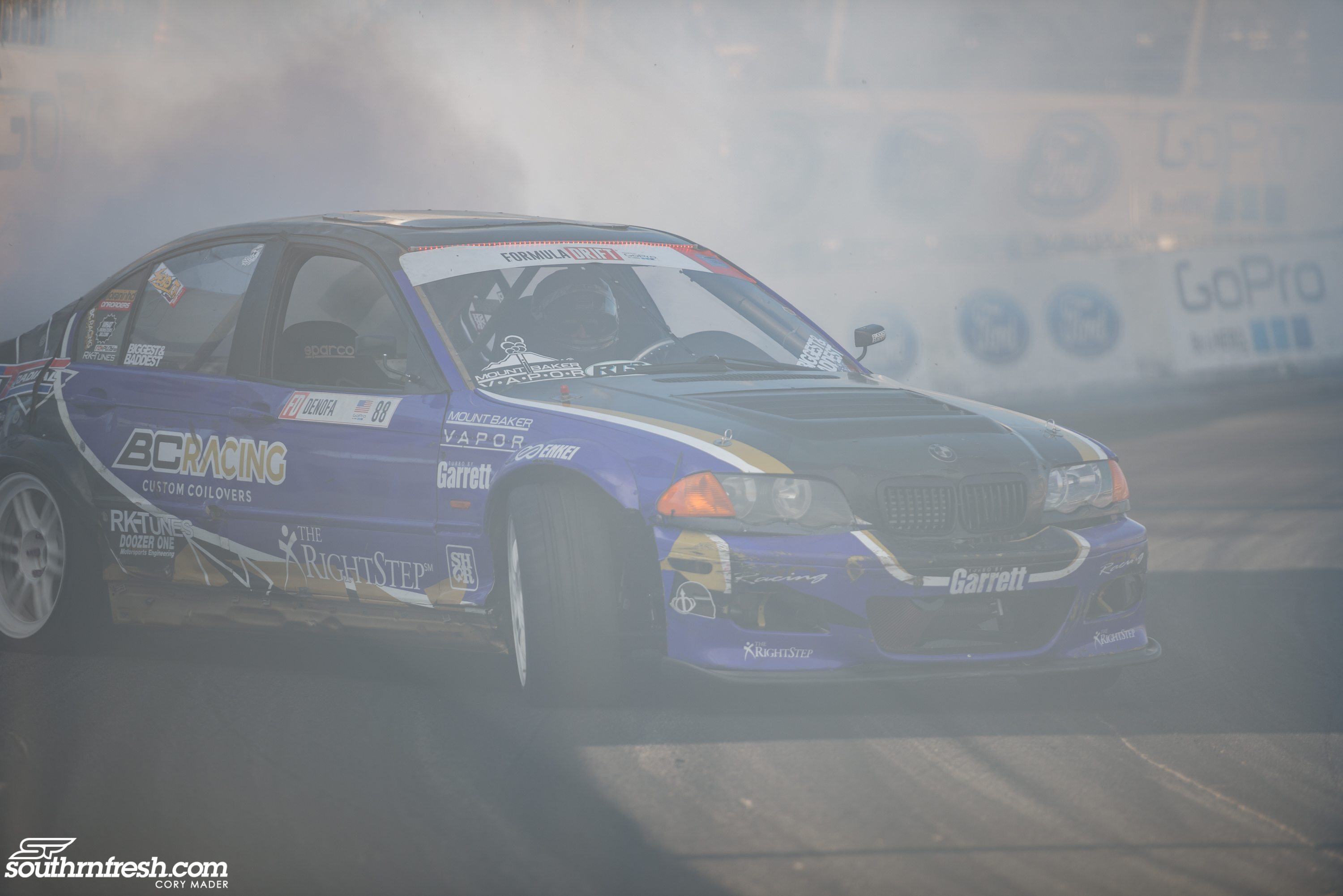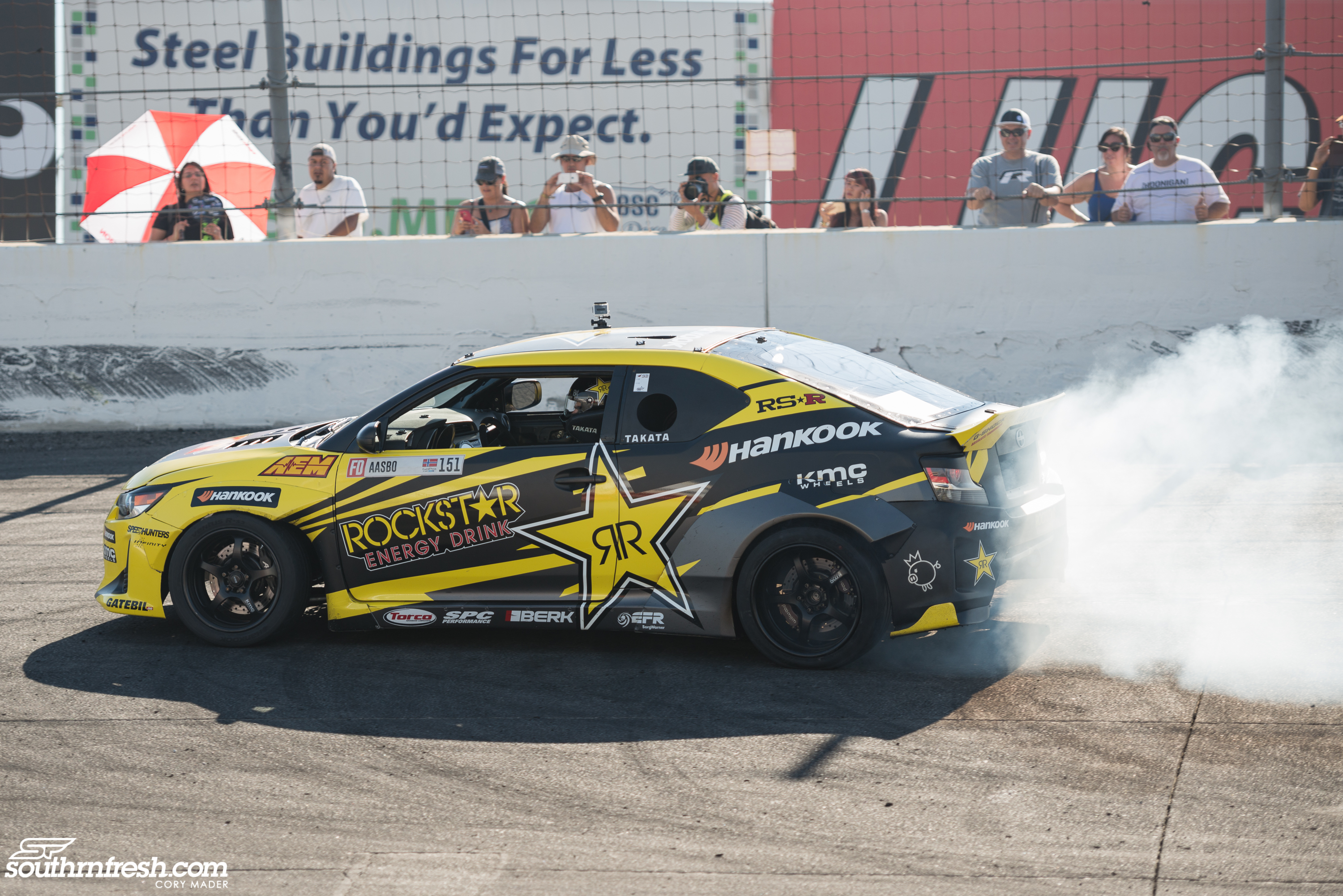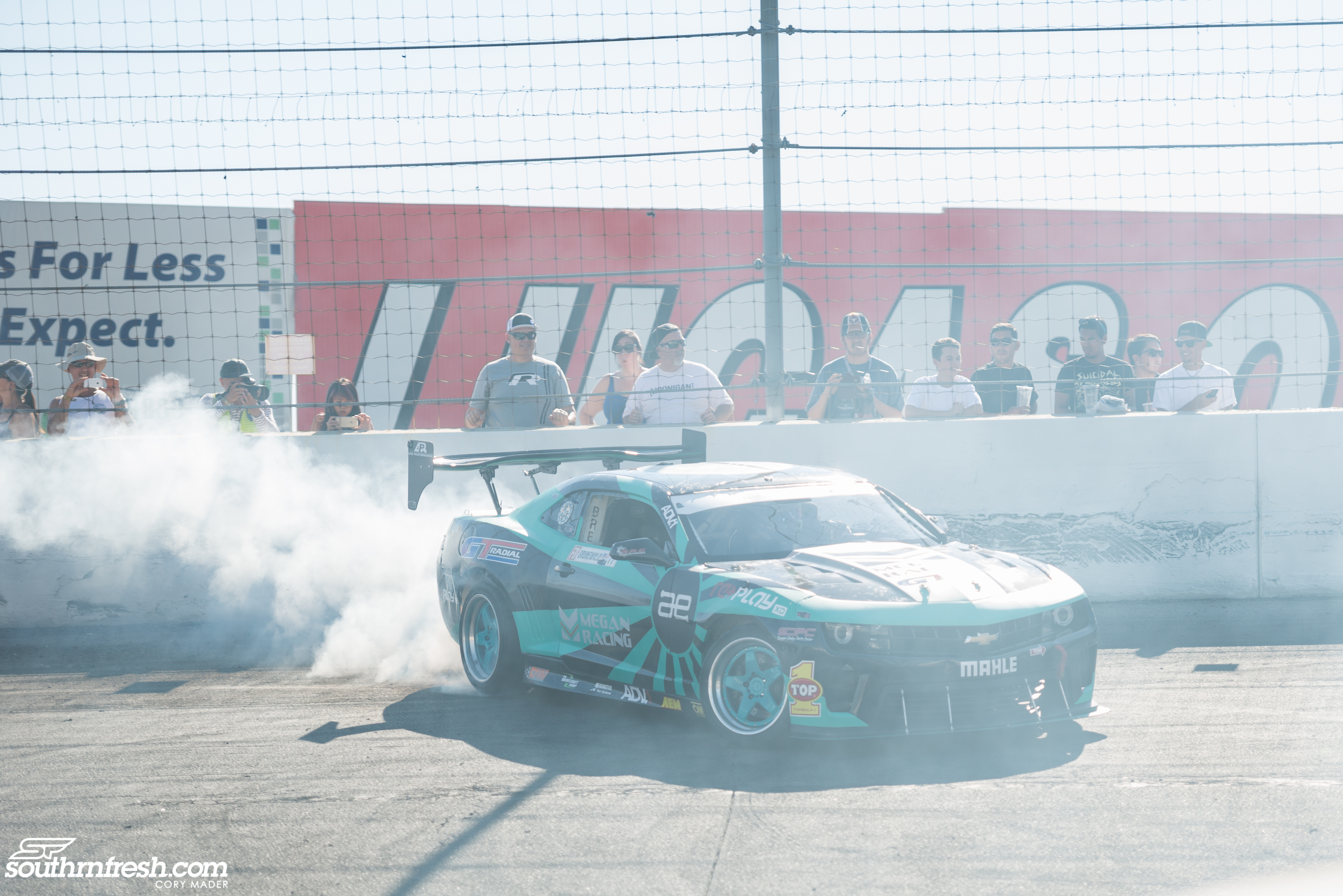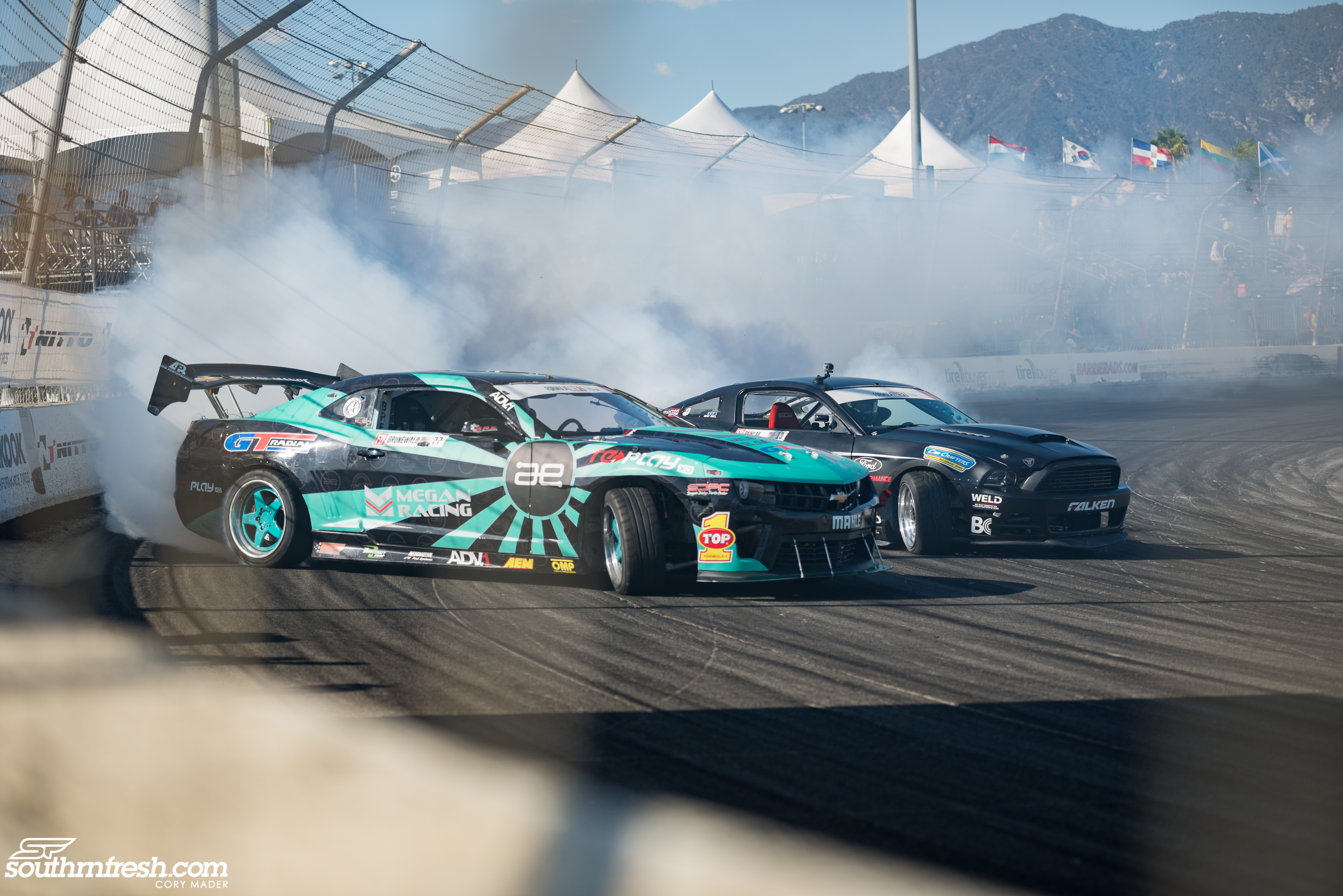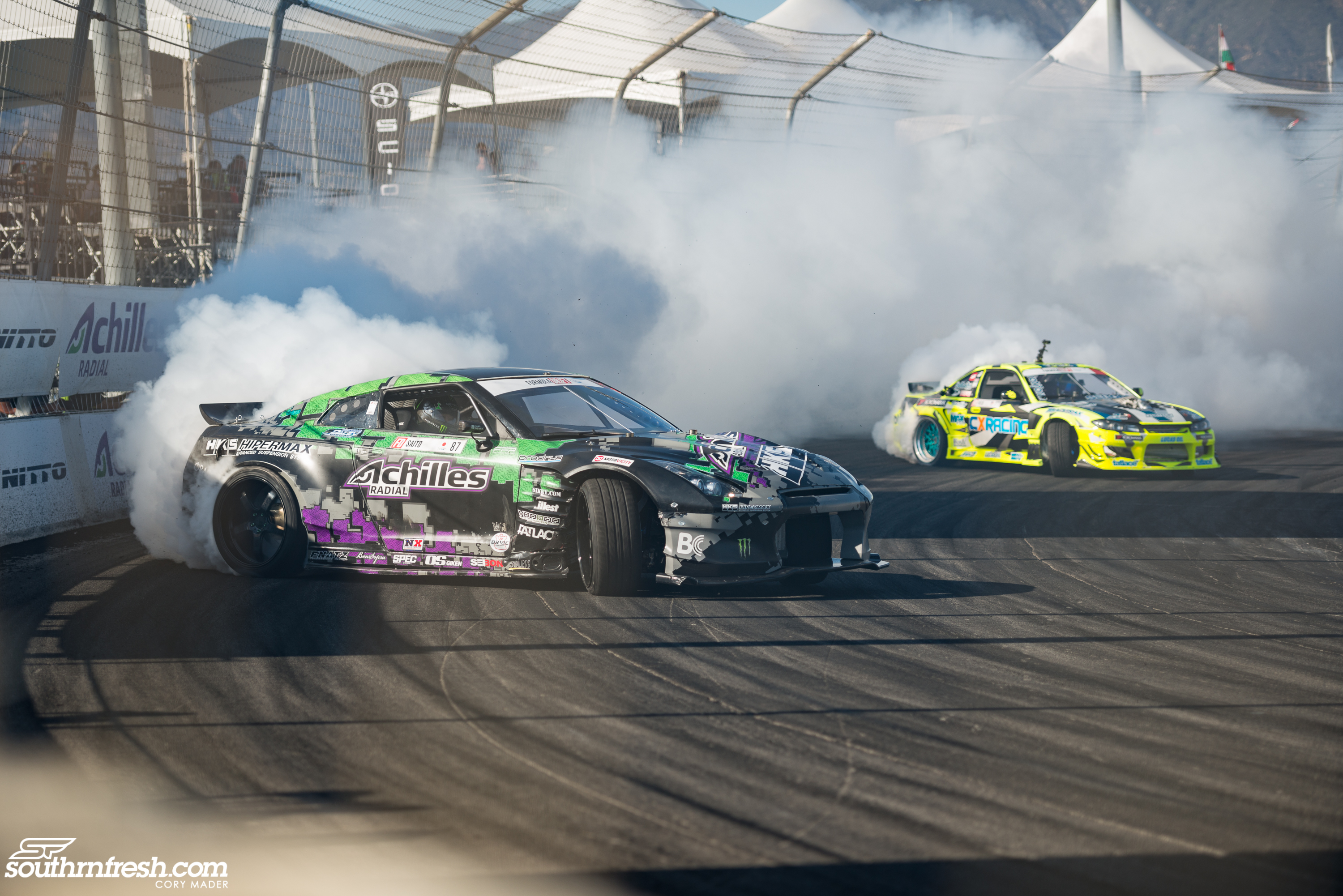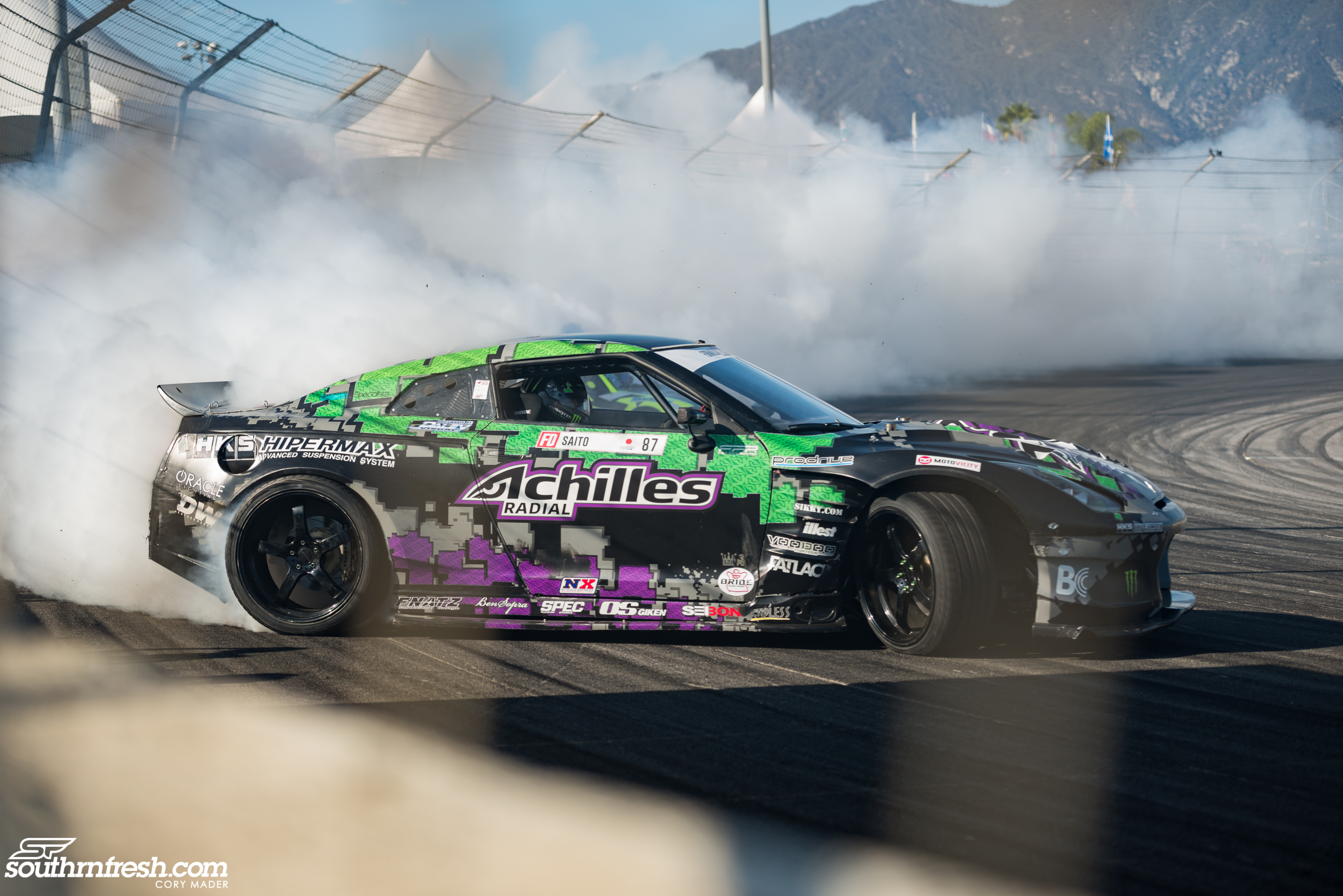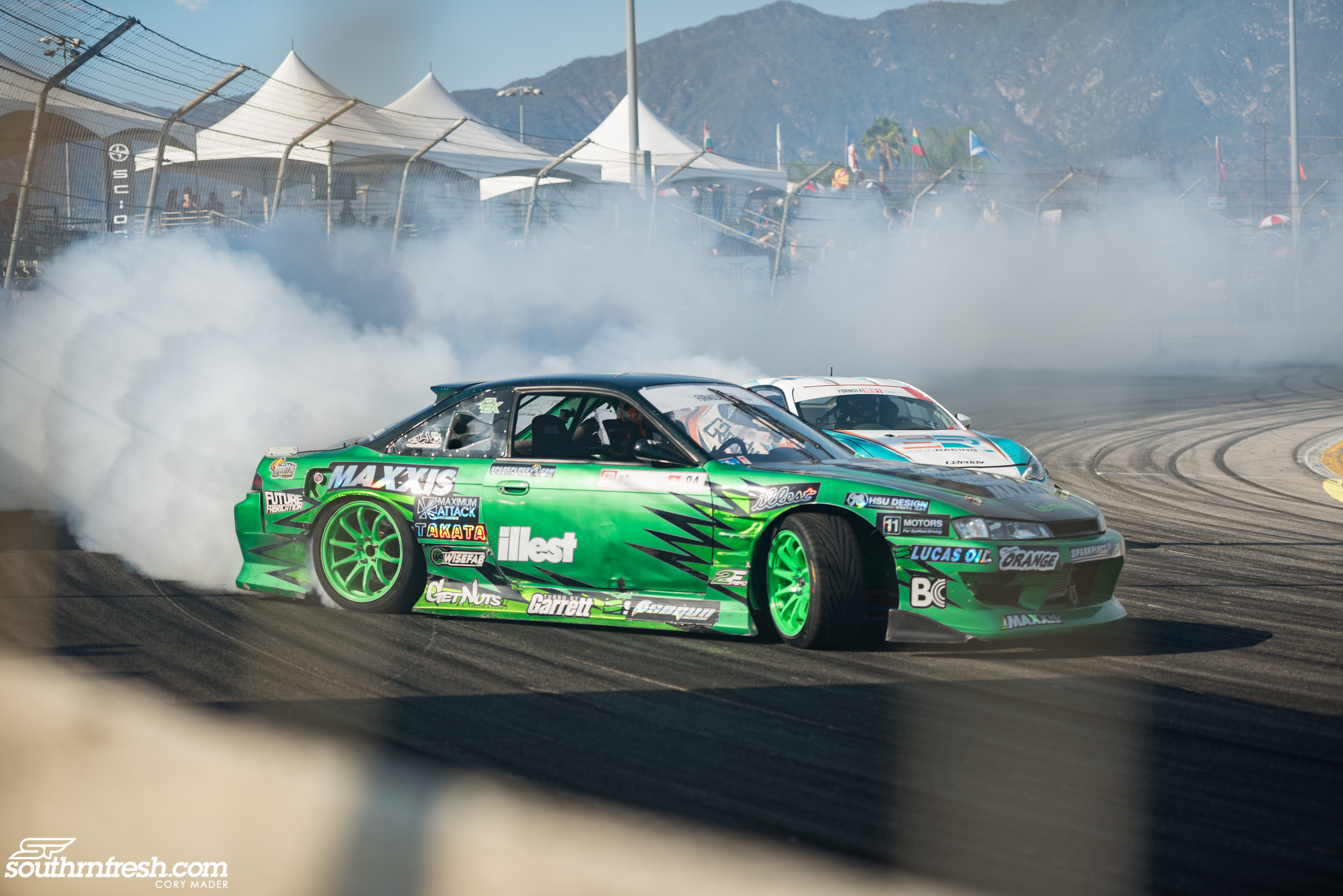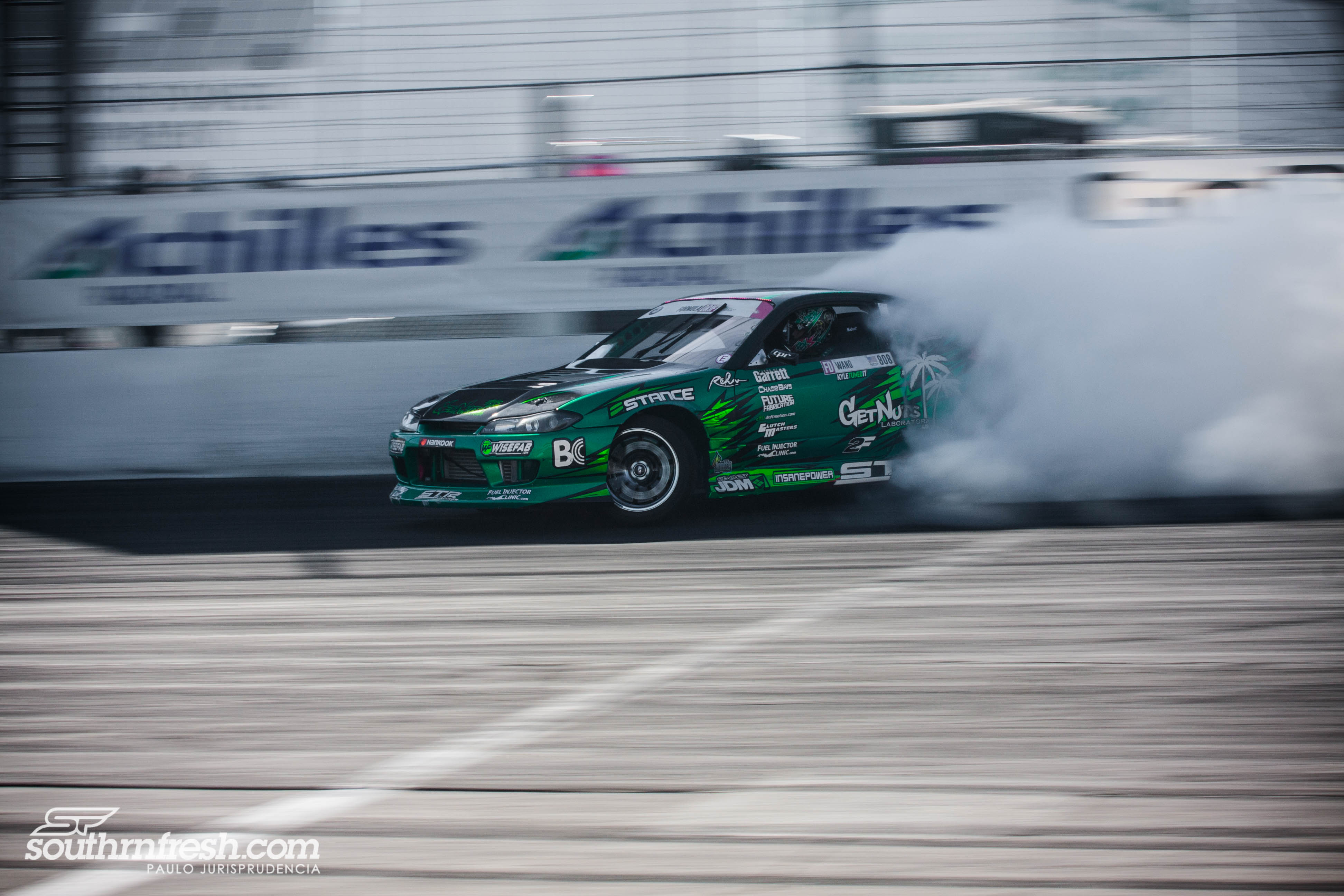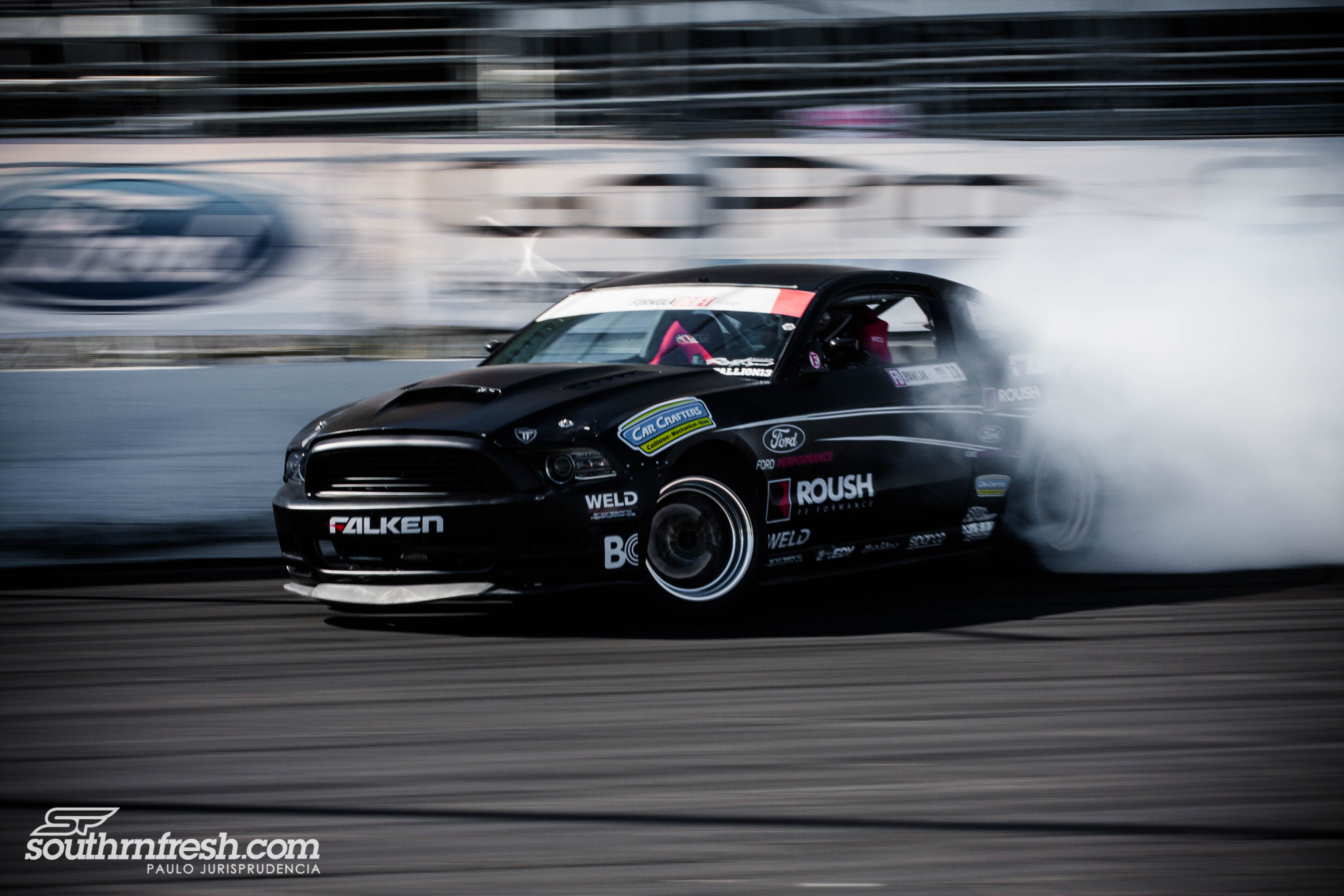 With all that out of the way, the round of 32 was pretty sedated versus the regular pileup caused by the banks of Irwindale, but that was to come in the Round of 16.
The round of 32 shook out as follows:
Wang over Stoneback, with Stoneback leaving competition after straightening out and driving through the course and Yokoi over Landreville regardless of some slight contact in the second run of the matchup.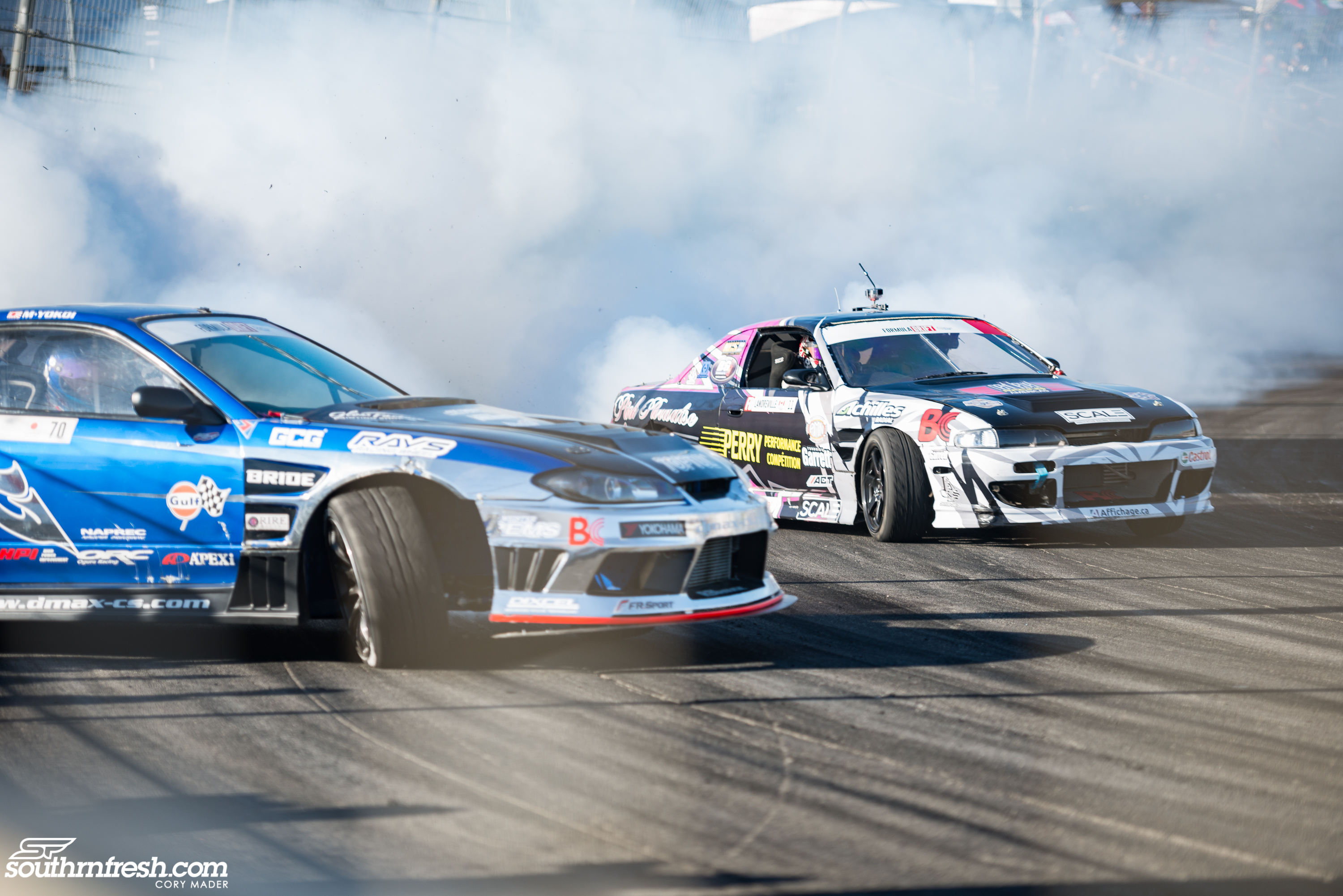 Foust bests Nishida after two solid performances in both drivers' lead and follow runs.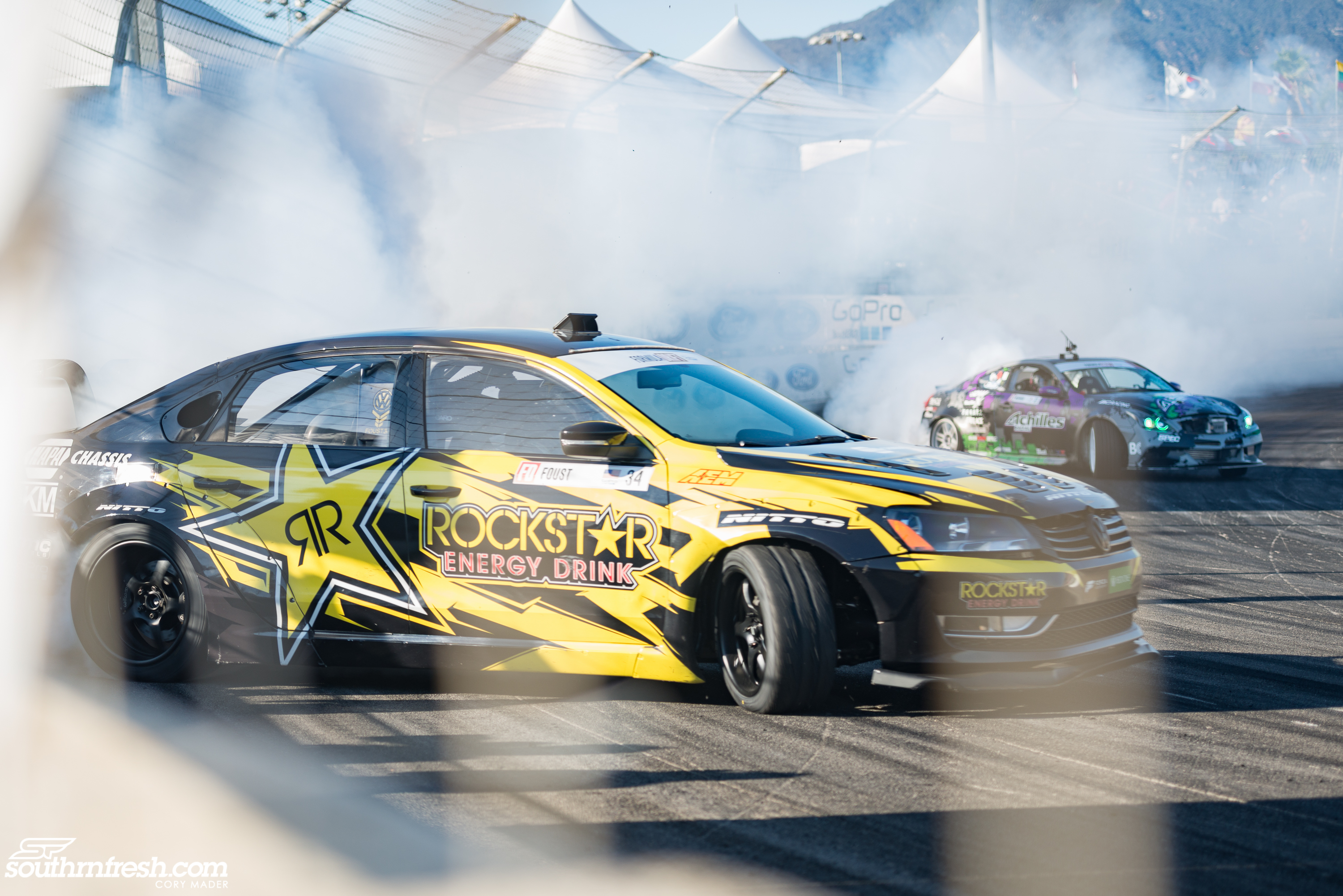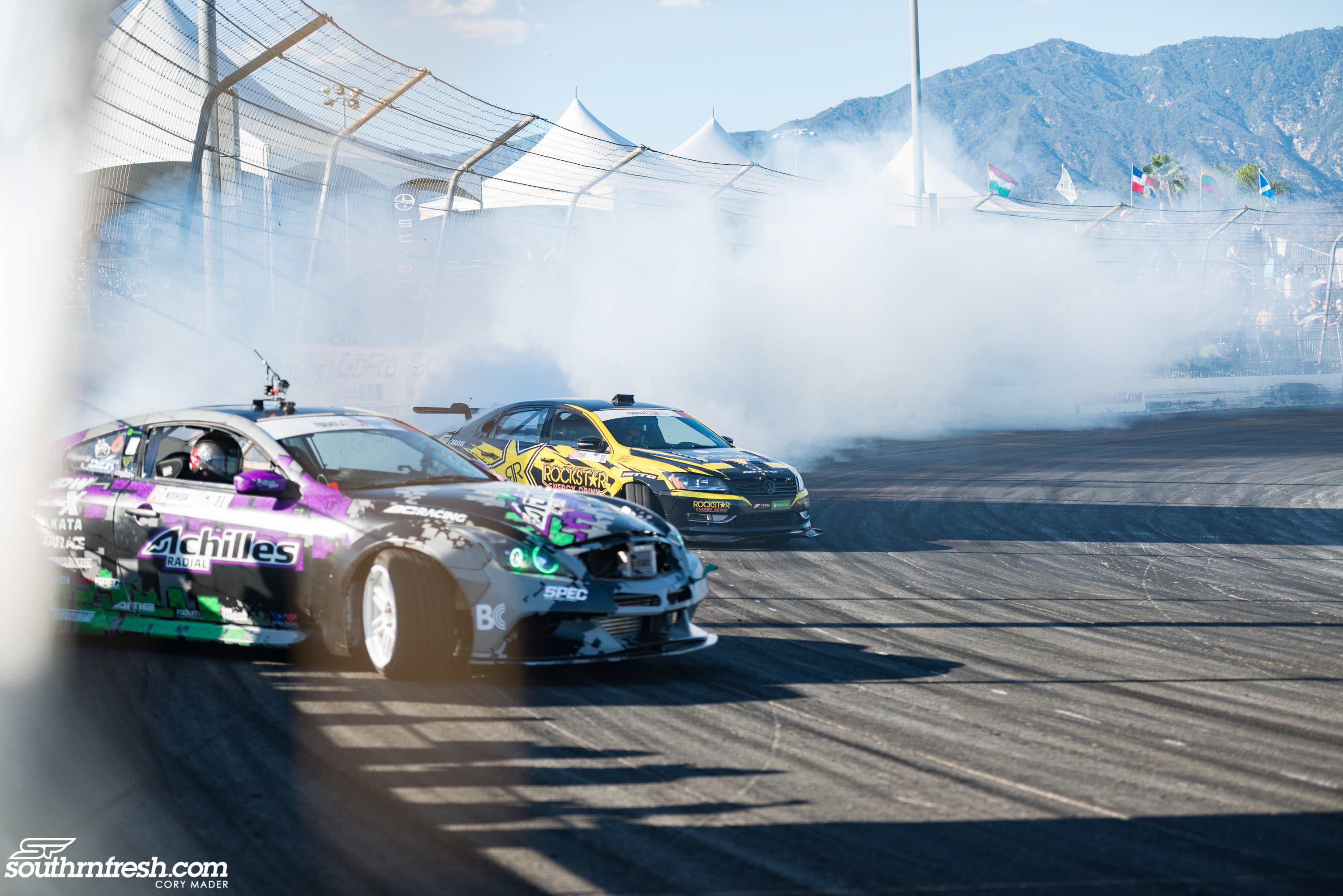 Forsberg takes what amounts to another practice run with plenty of smoke and great exhaust notes after Savage can't get to the starting line and Mad Mike overtakes James Evans to secure his top 16 spot.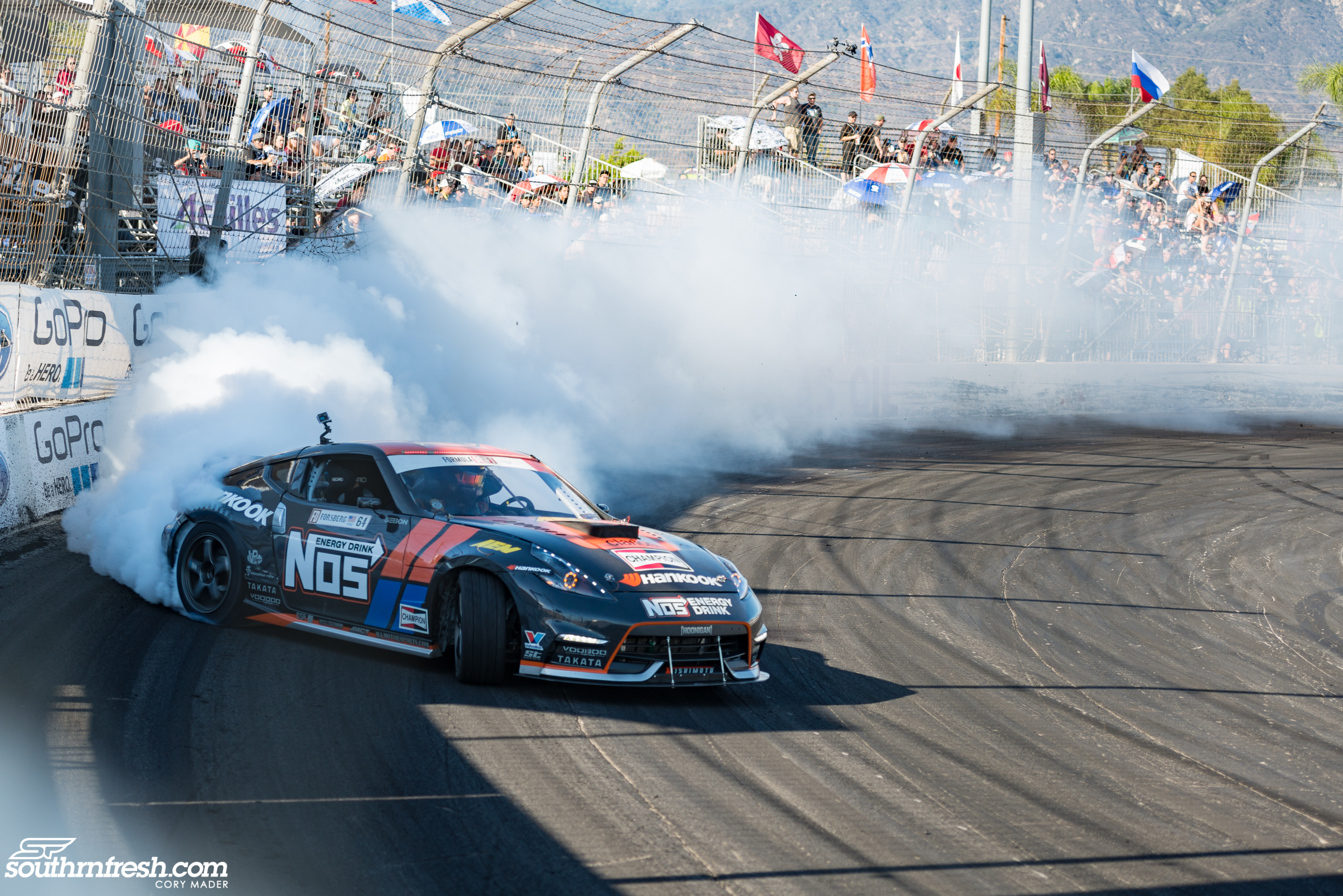 Tuerck wins out over Conrad Grunewald, and leads us into Aasbo's top 32 round. With a win here over Kristaps Bluss, Aasbo would clench the season win. Bluss has been no slouch this season, but he just can't hang with Aasbo, struggling in his follow run and spinning out on the second time through the course during his lead run. This gives Aasbo the US and World championship title in what many would say was an interesting and somewhat anticlimactic fashion. Either way, a huge congratulations to Aasbo, Team Scion, and Rockstar.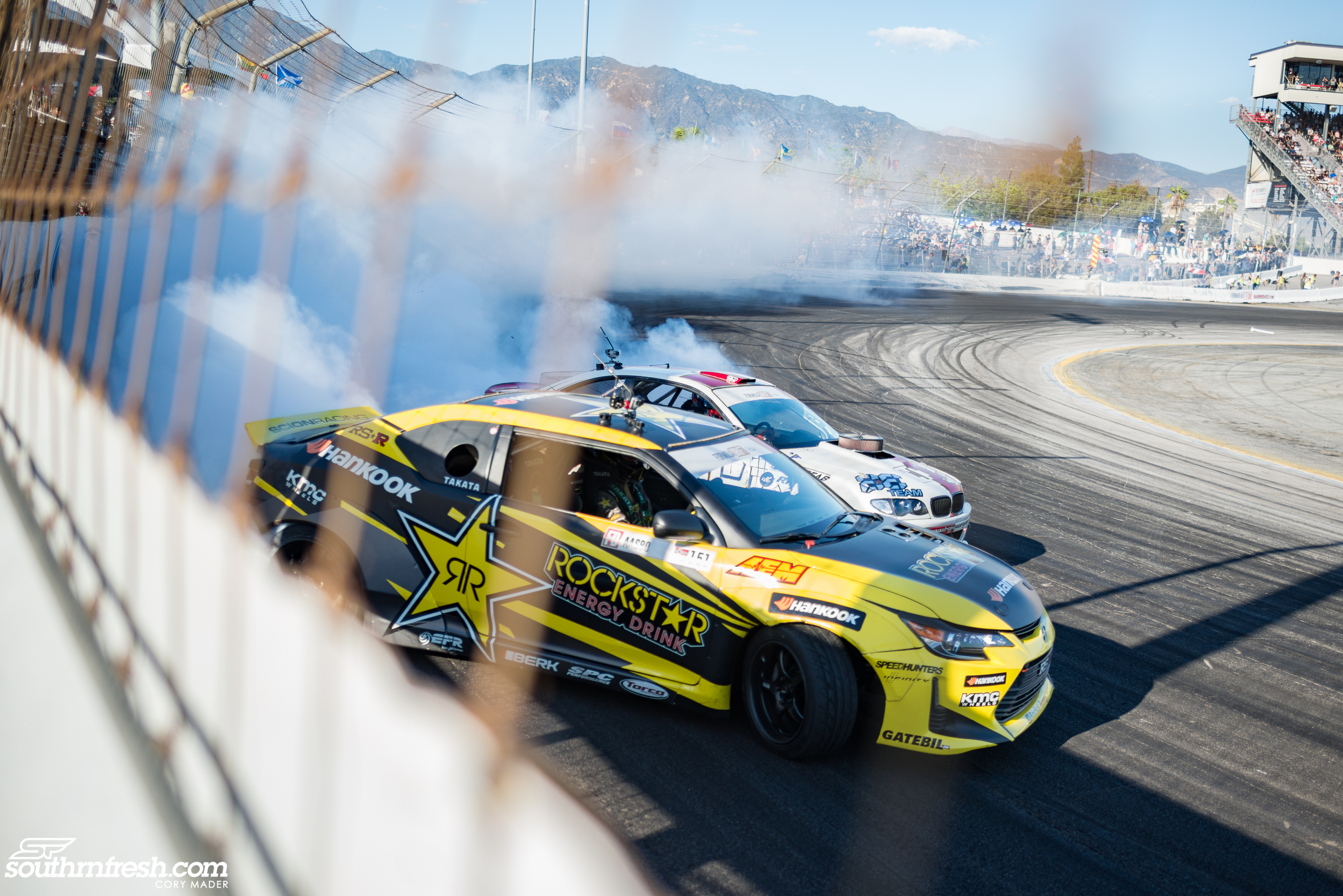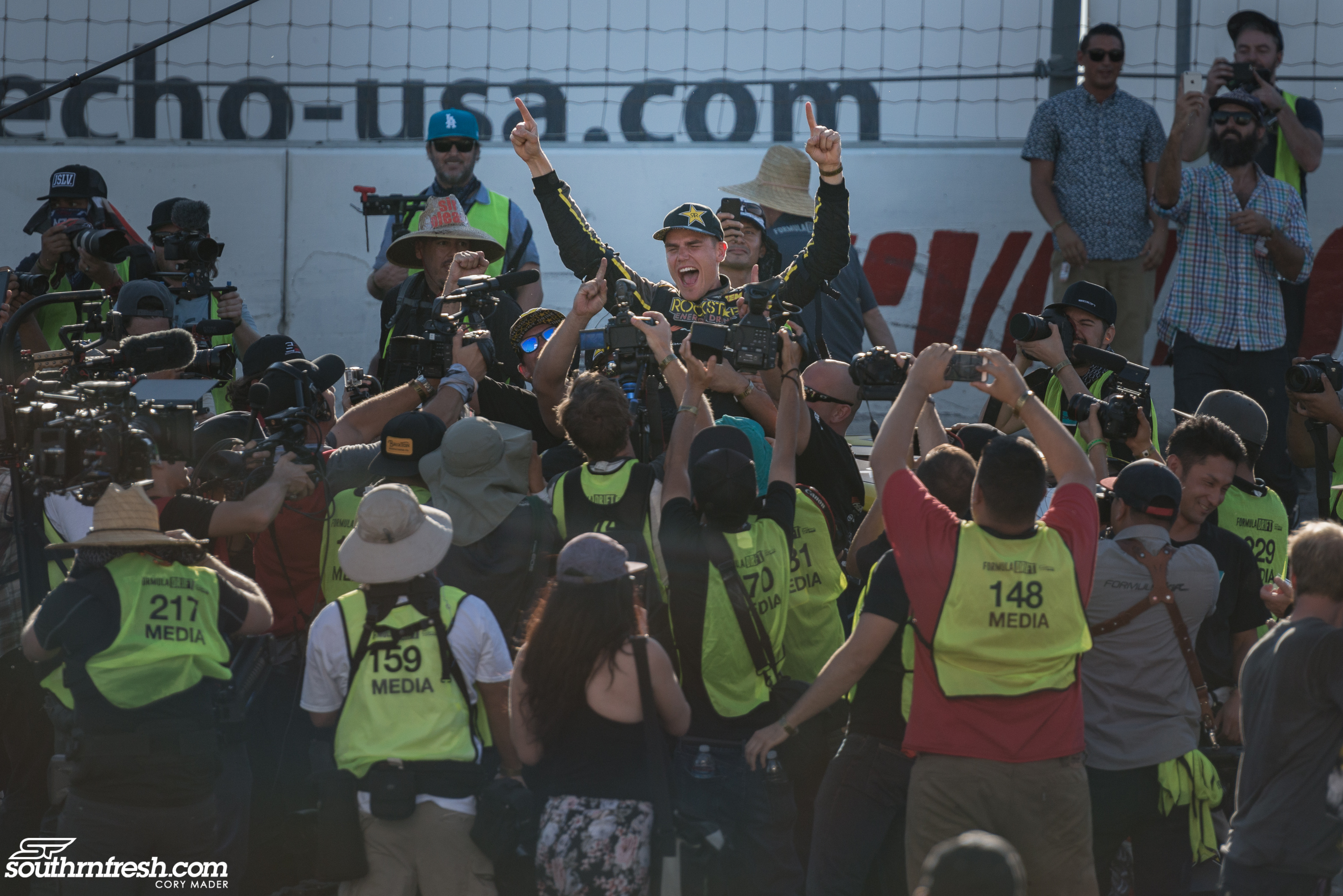 Daigo Saito carries his 3 year undefeated streak at Irwindale through his battle with Pat Goodin with a unanimous win, Field over Kearney, Bakchis slips past Mohan, and JTP moves on after the first run of the matchup following Wicknick's car being deemed unsafe to compete with clouds of steam belching from his radiator at the starting line.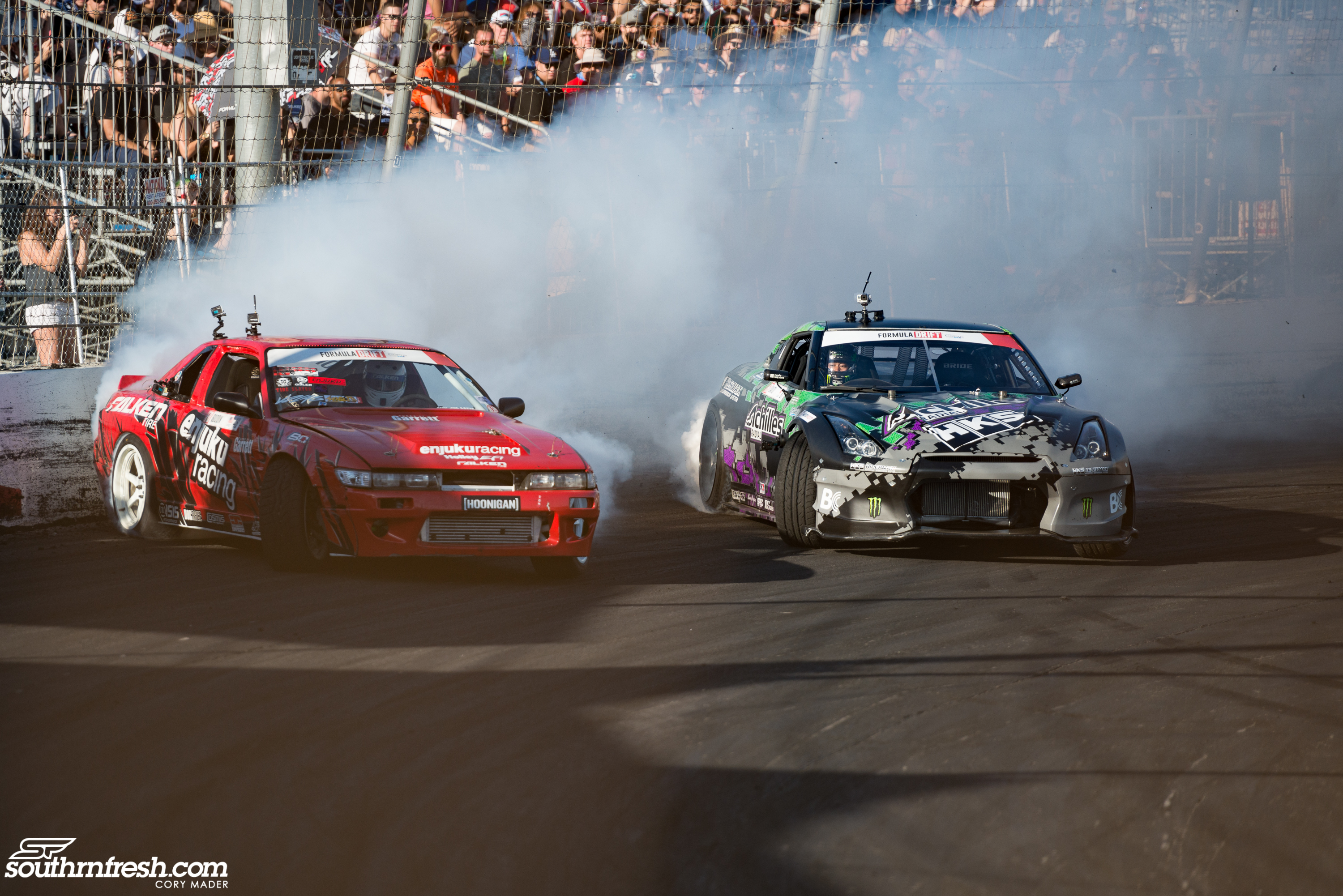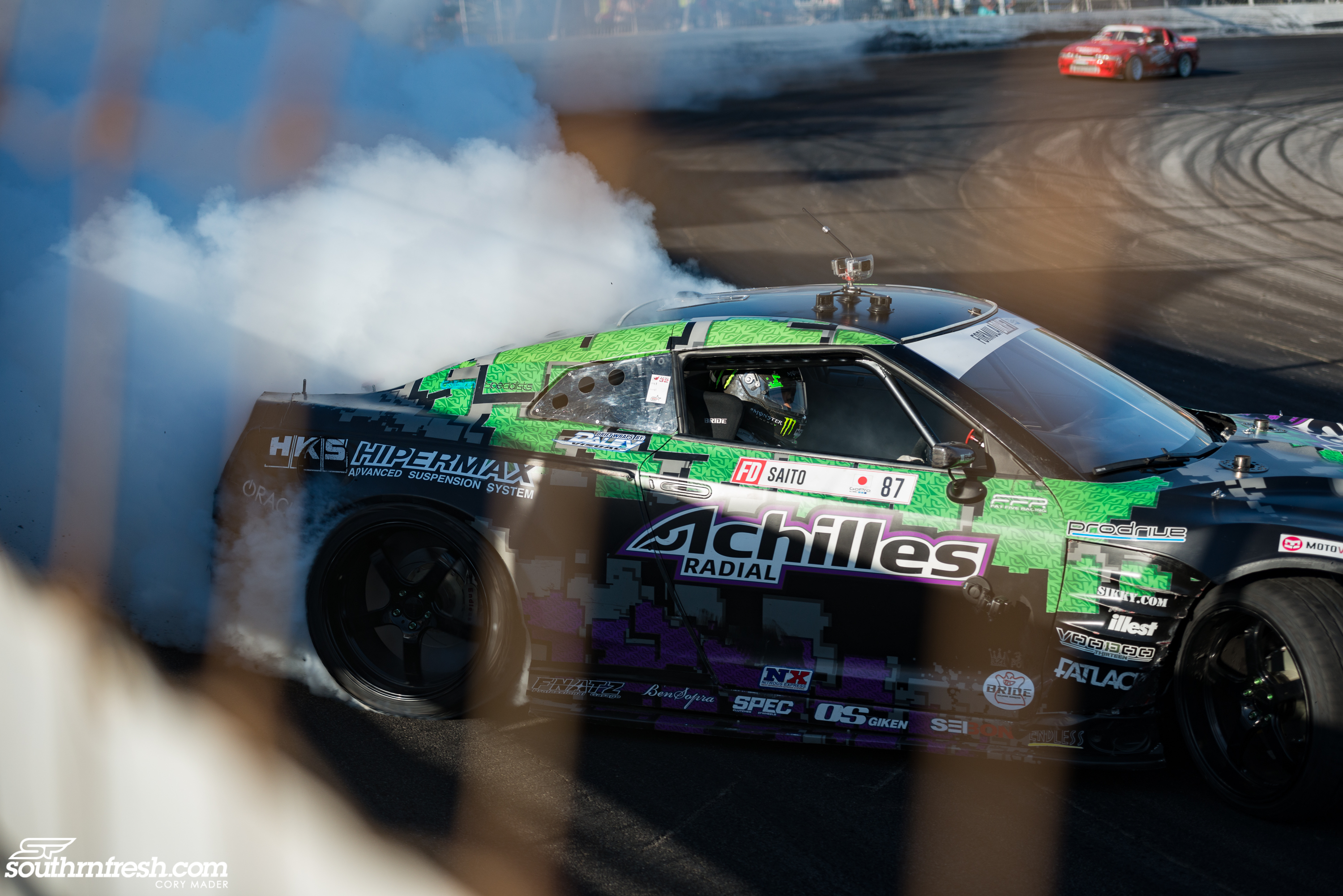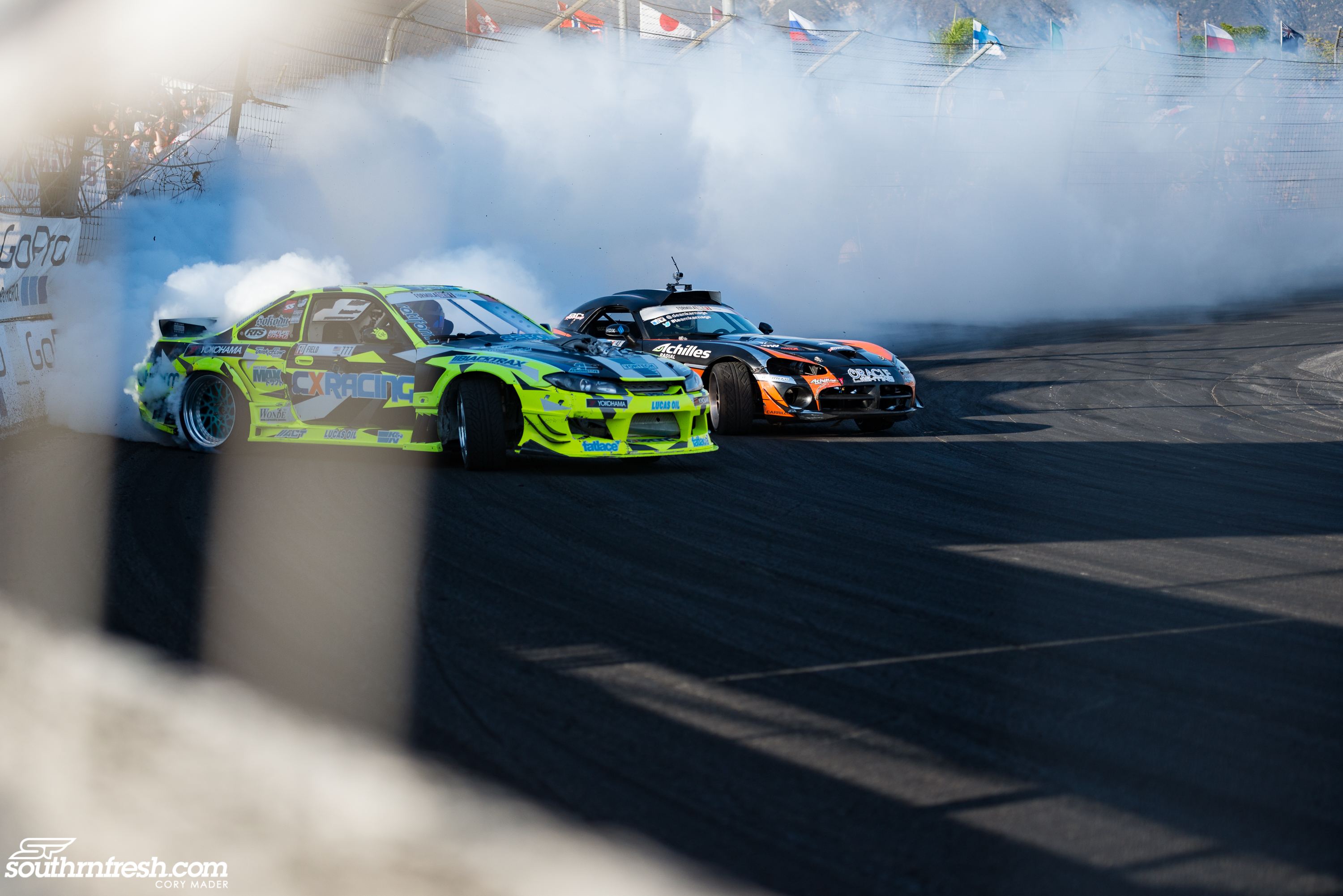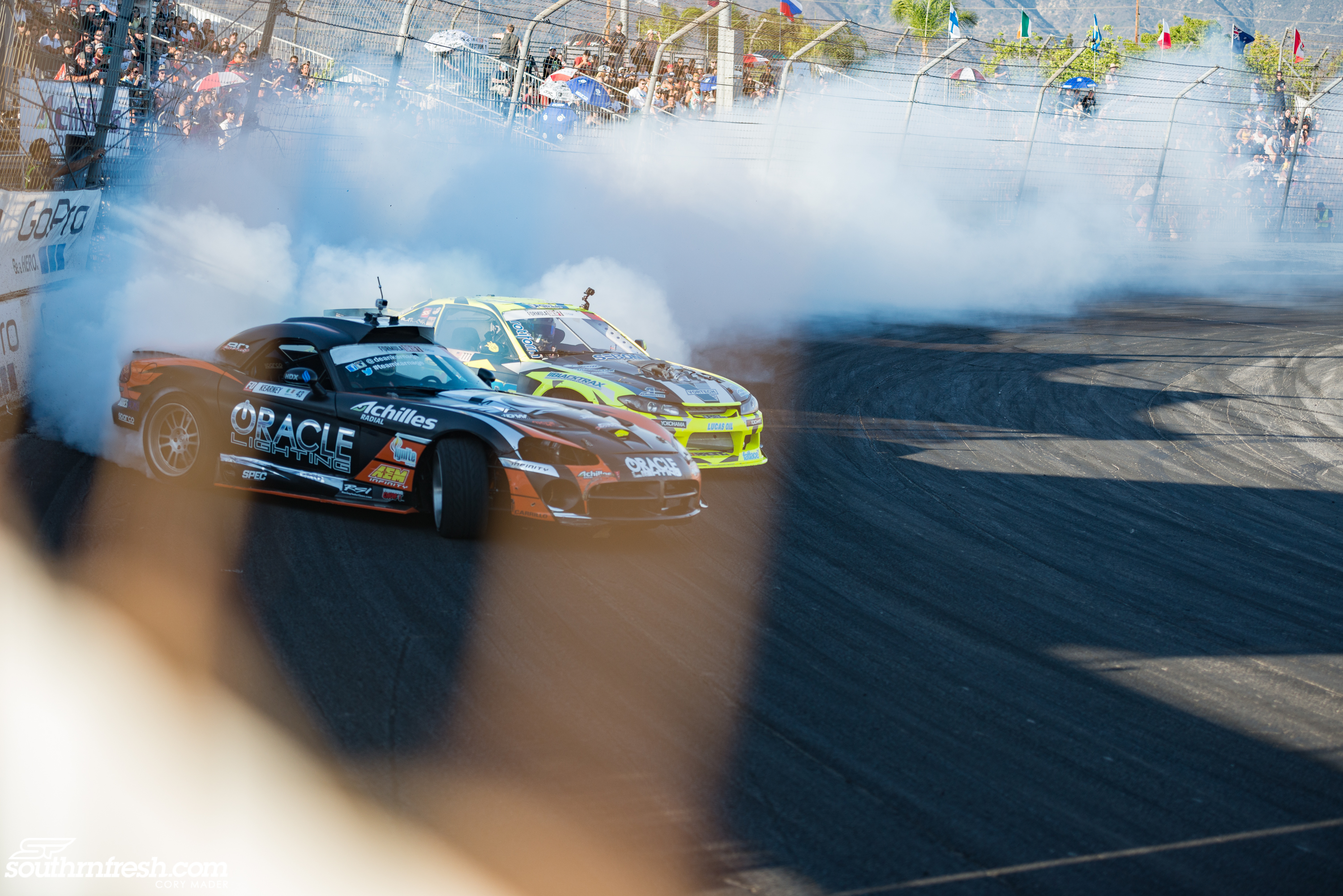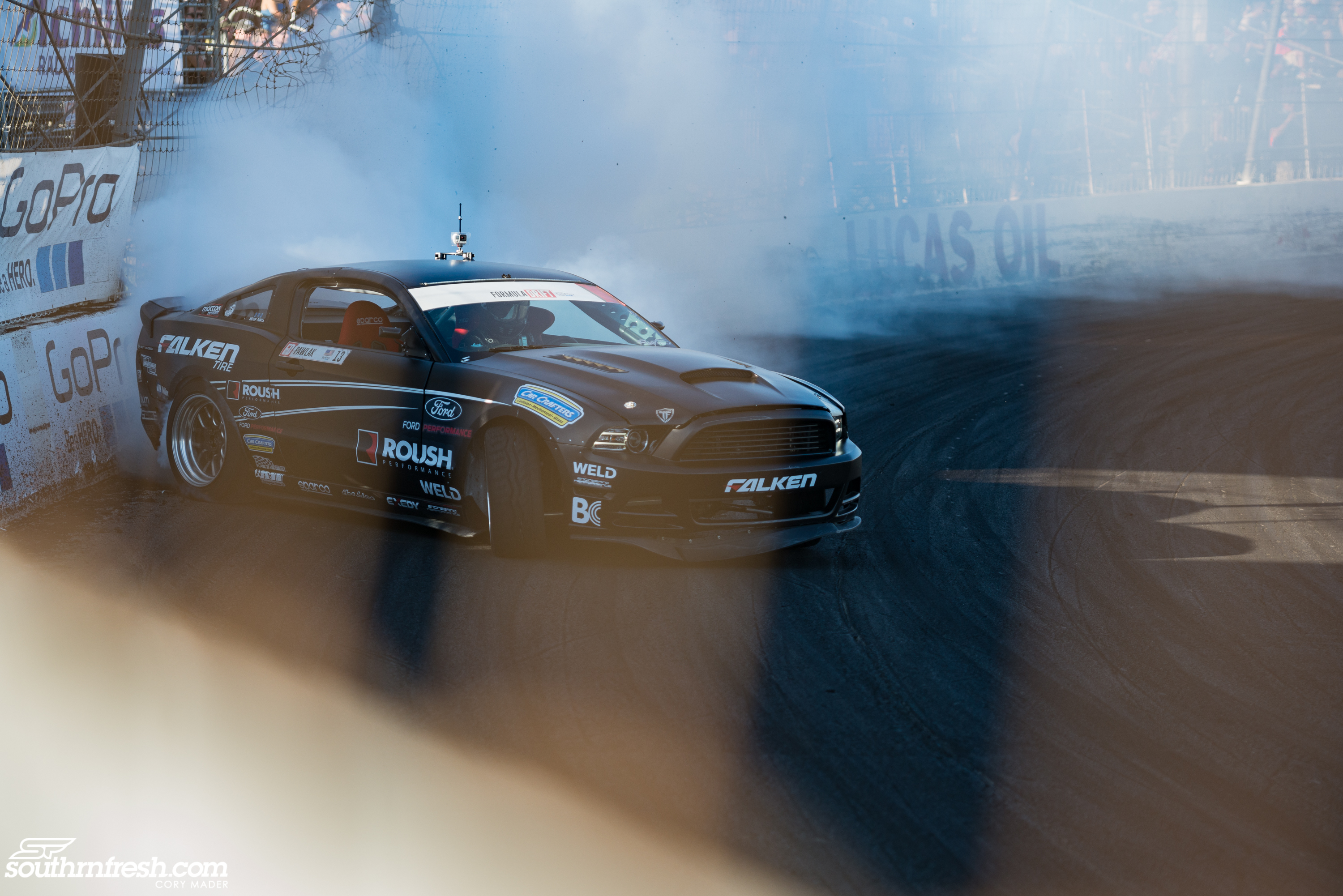 Mordaunt moves past Hohnadell after Hohnadell blasts into the air directly in front of me at the second bank (taking him out of the competition of course, though we're super glad he walked away unscathed), and Gushi moves on past Castro after a Castro spin entering the second bank.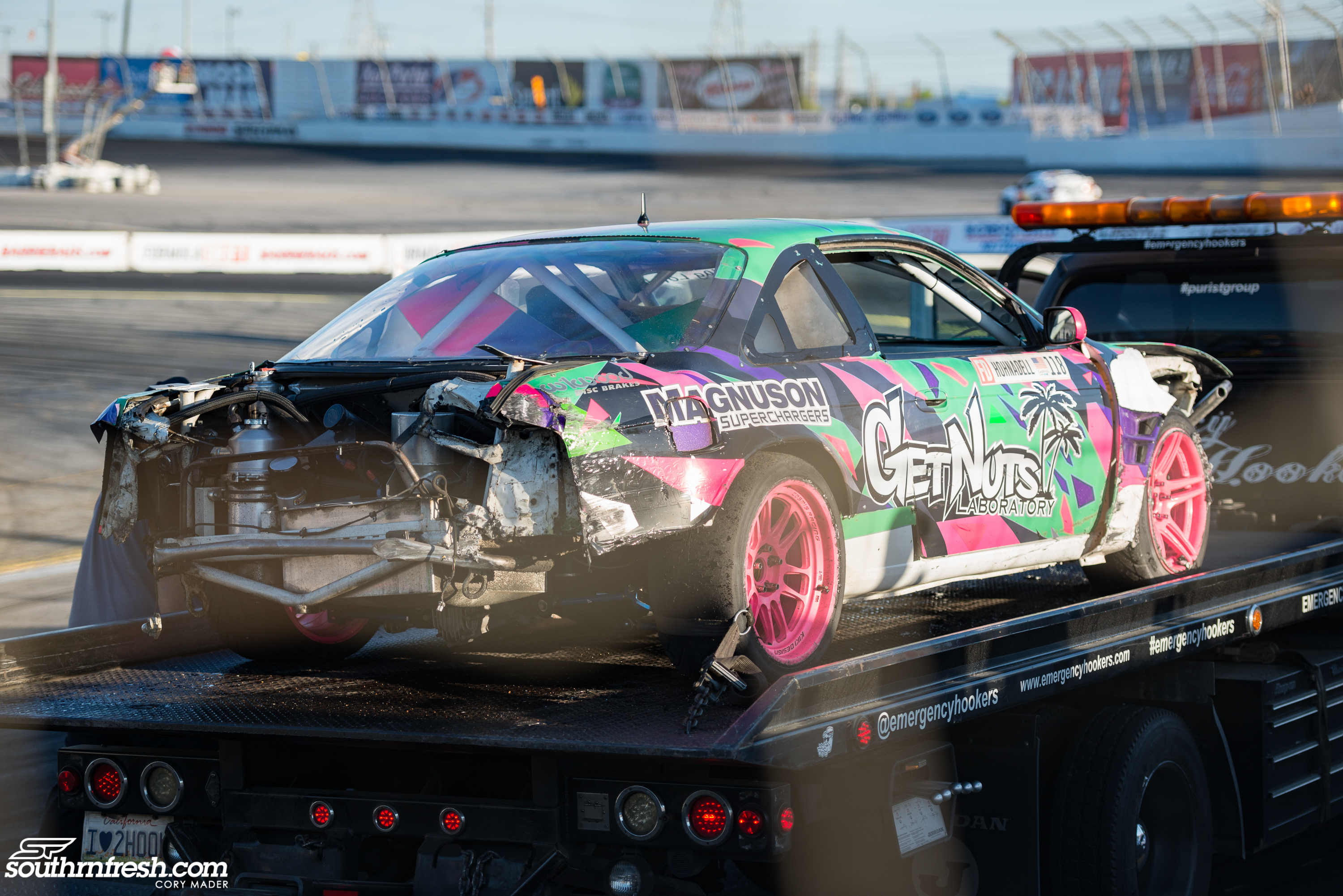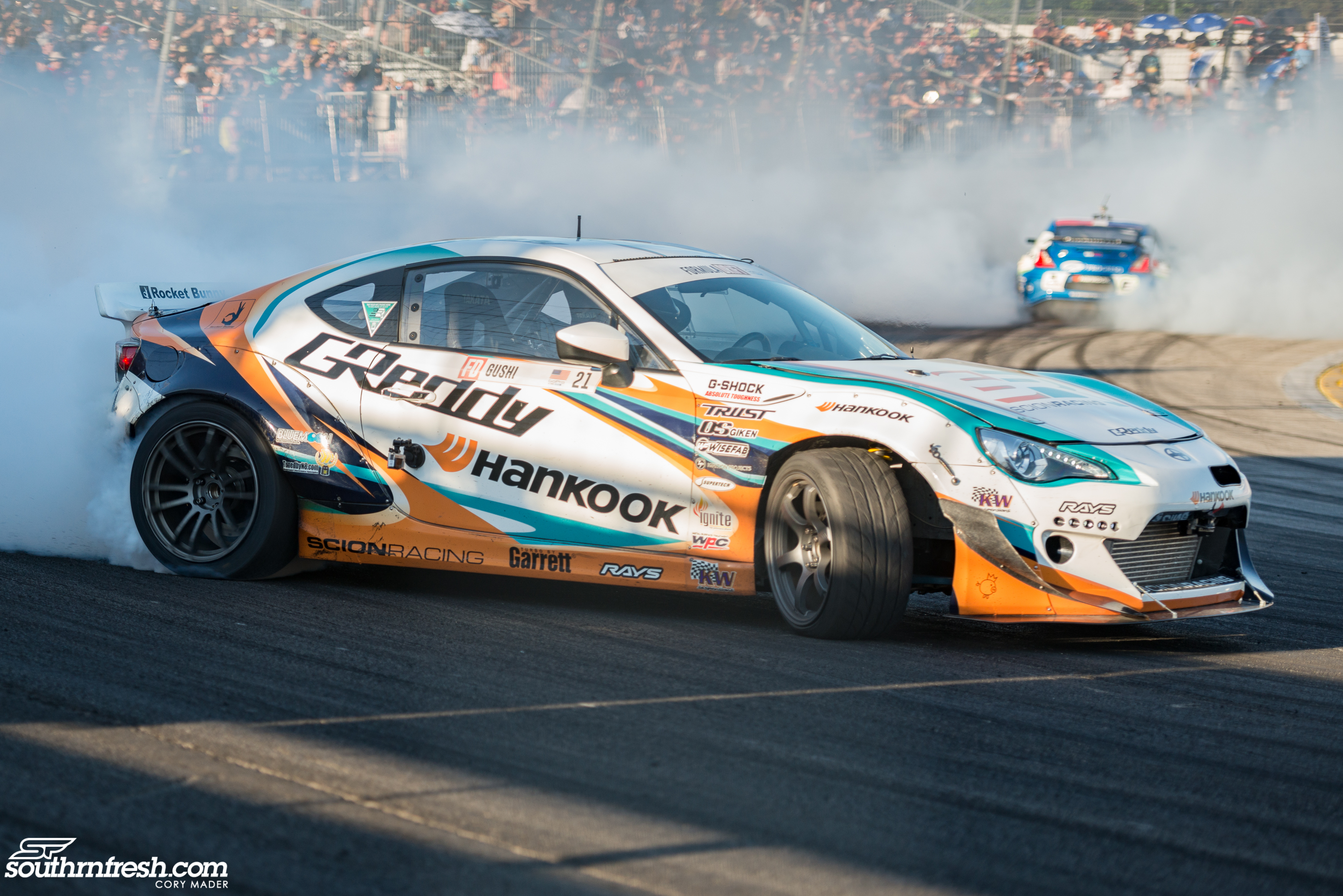 To round out the round of 32, Essa, DeNofa, and Ng (in a borrowed Get Nuts Lab car for the weekend) move past Yoshihara, Moen, and Mcquarrie respectively.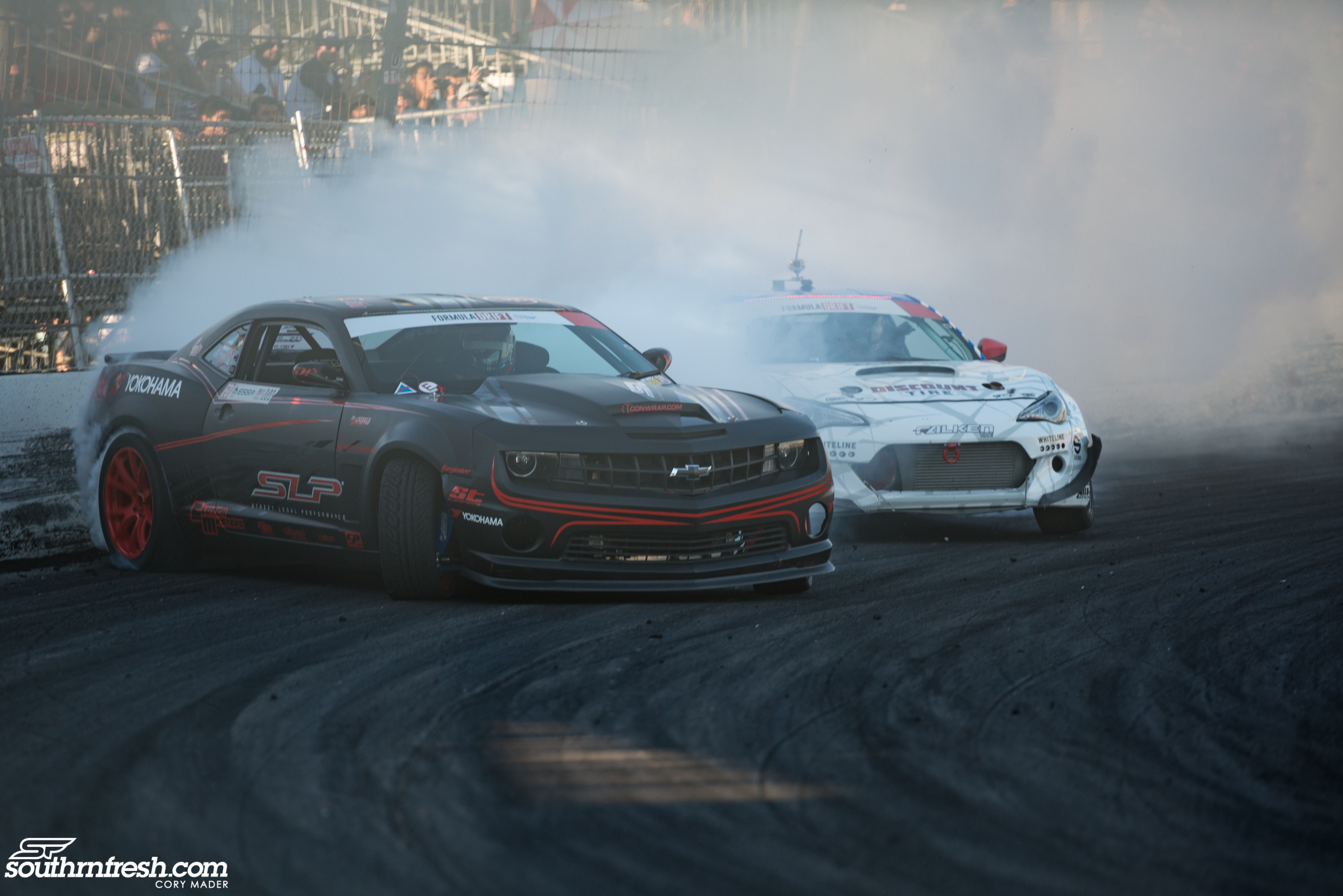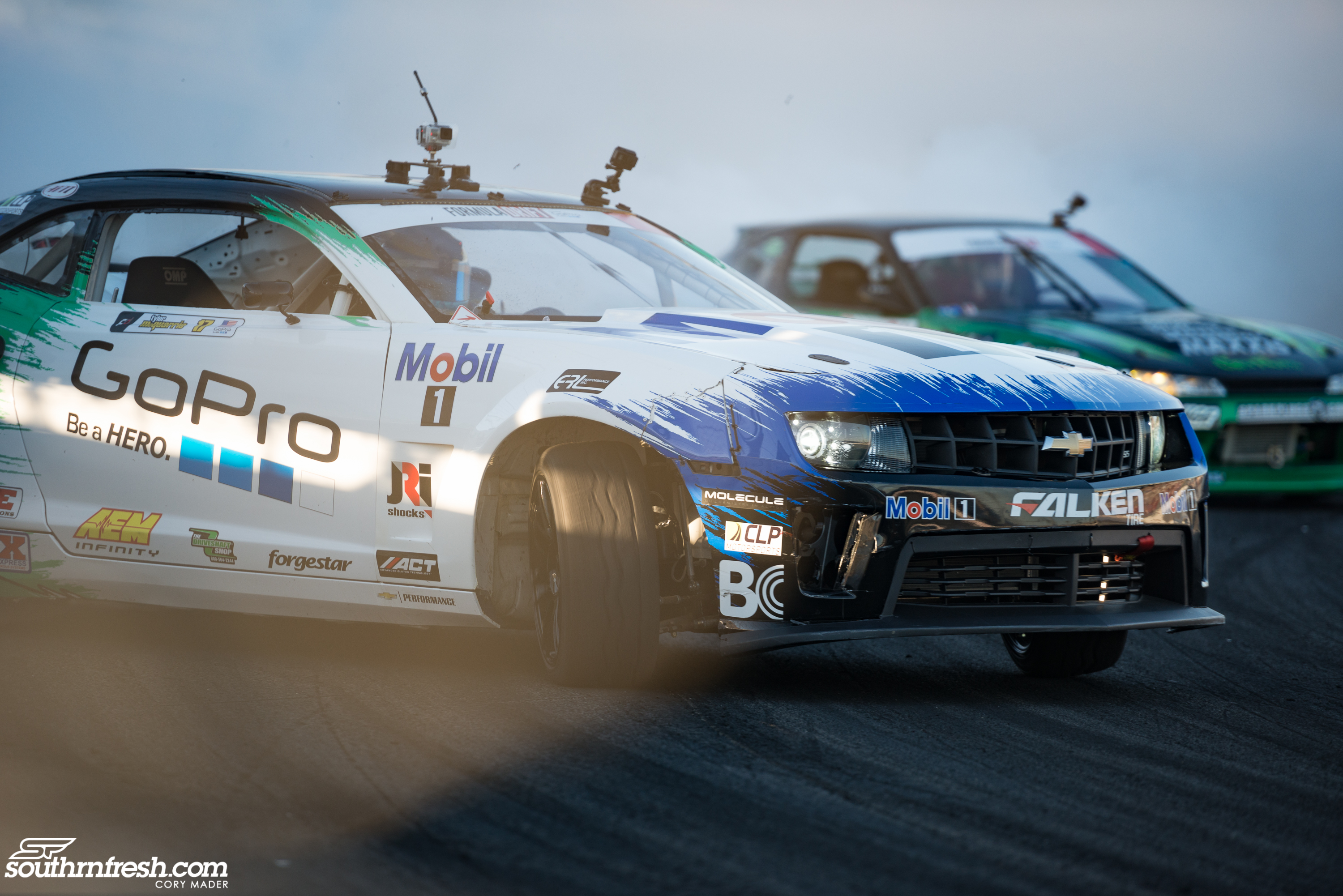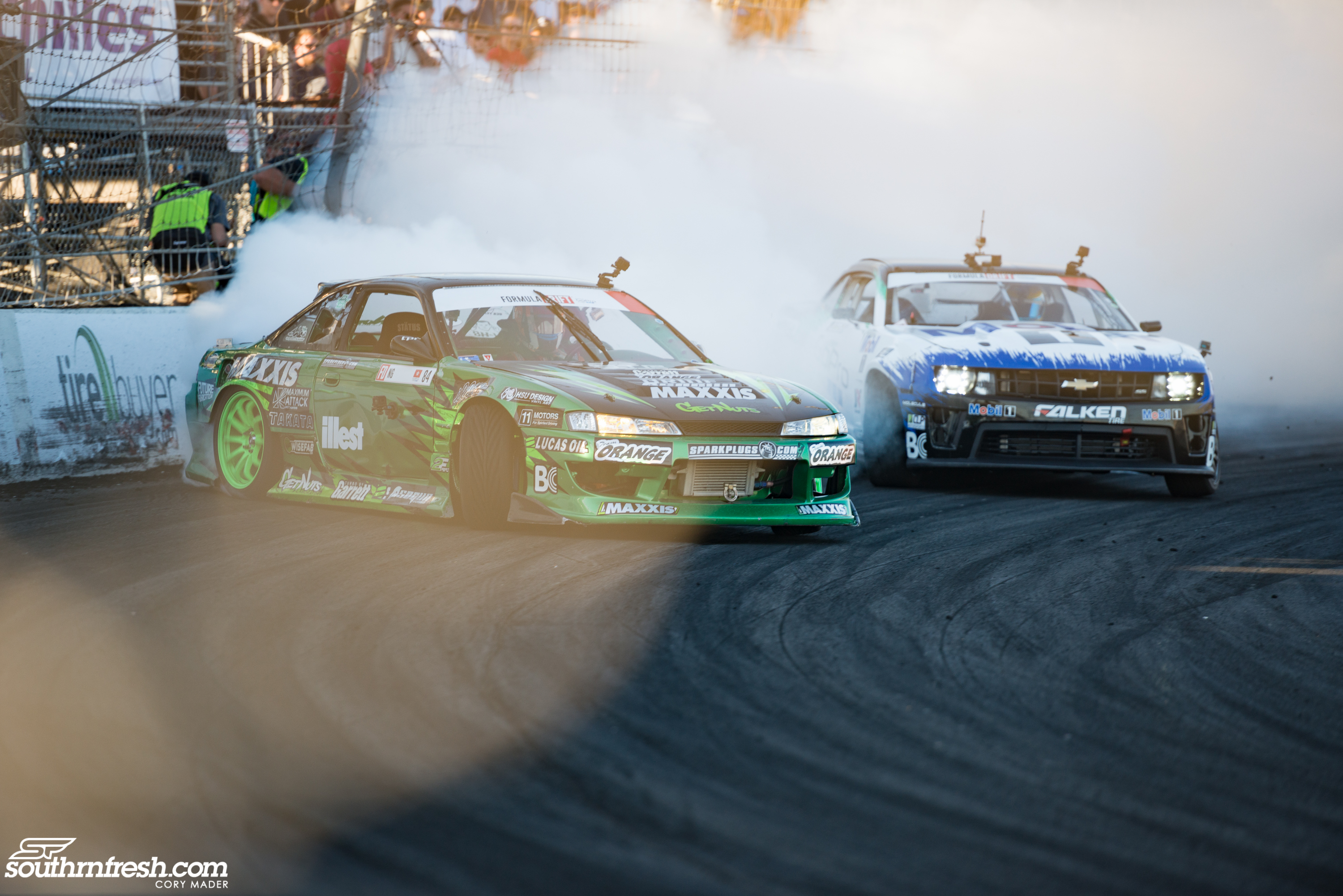 As stated previously, the Round of 16 got rowdy with wrecks and breakdowns, but not before Vaughn Gittin Jr. got the crowd hyped up in his Ultimate Fun Haver Ecoboost F150.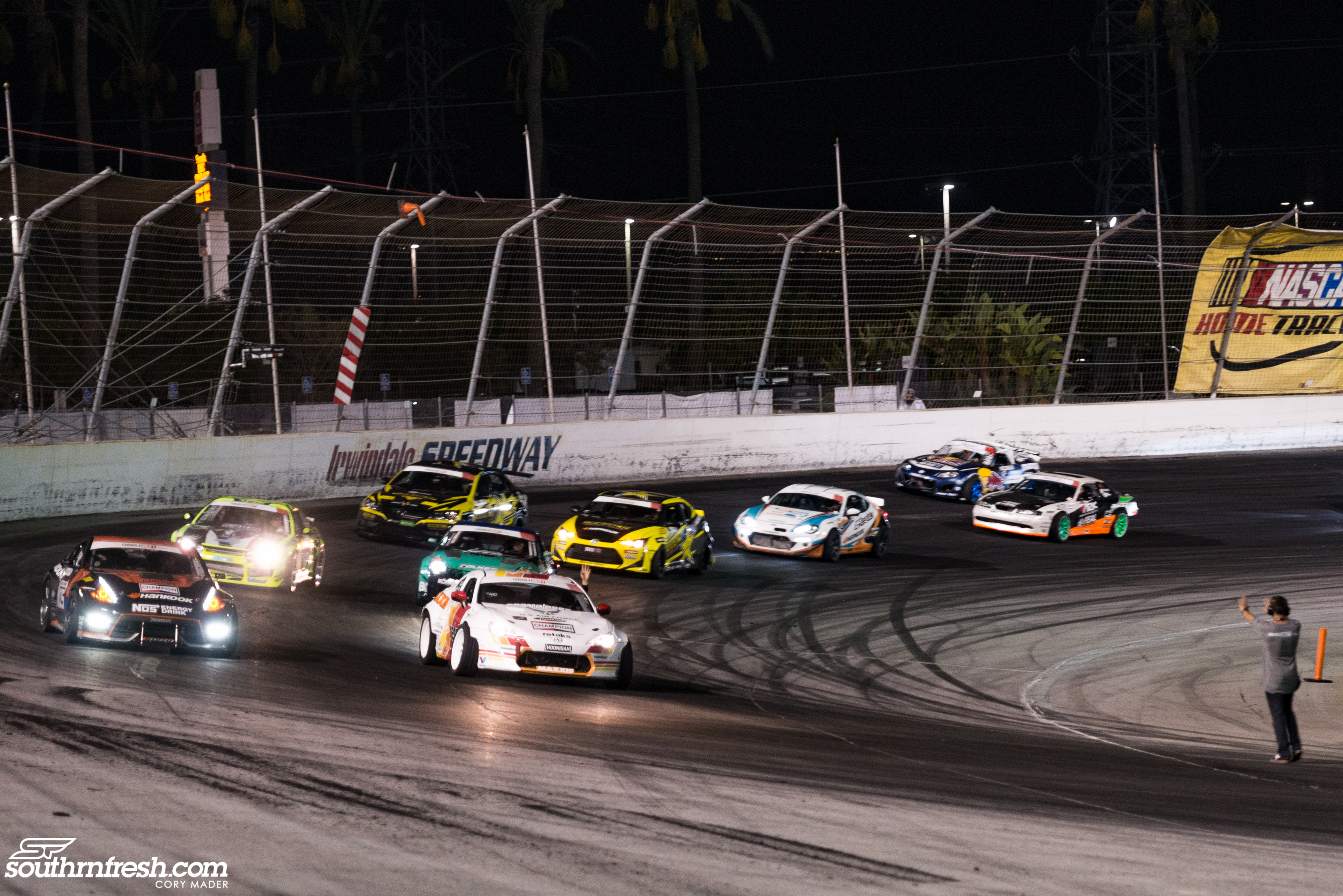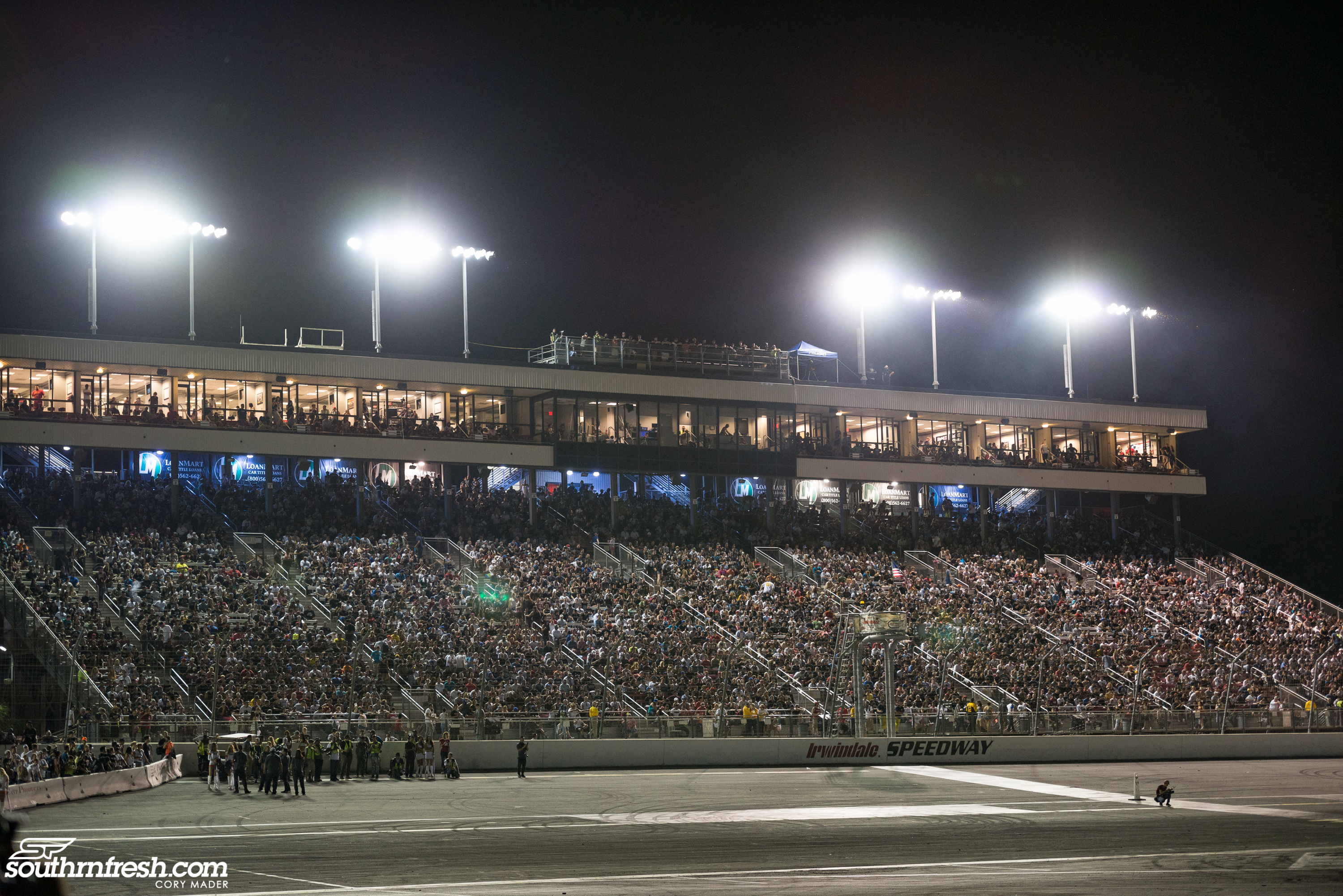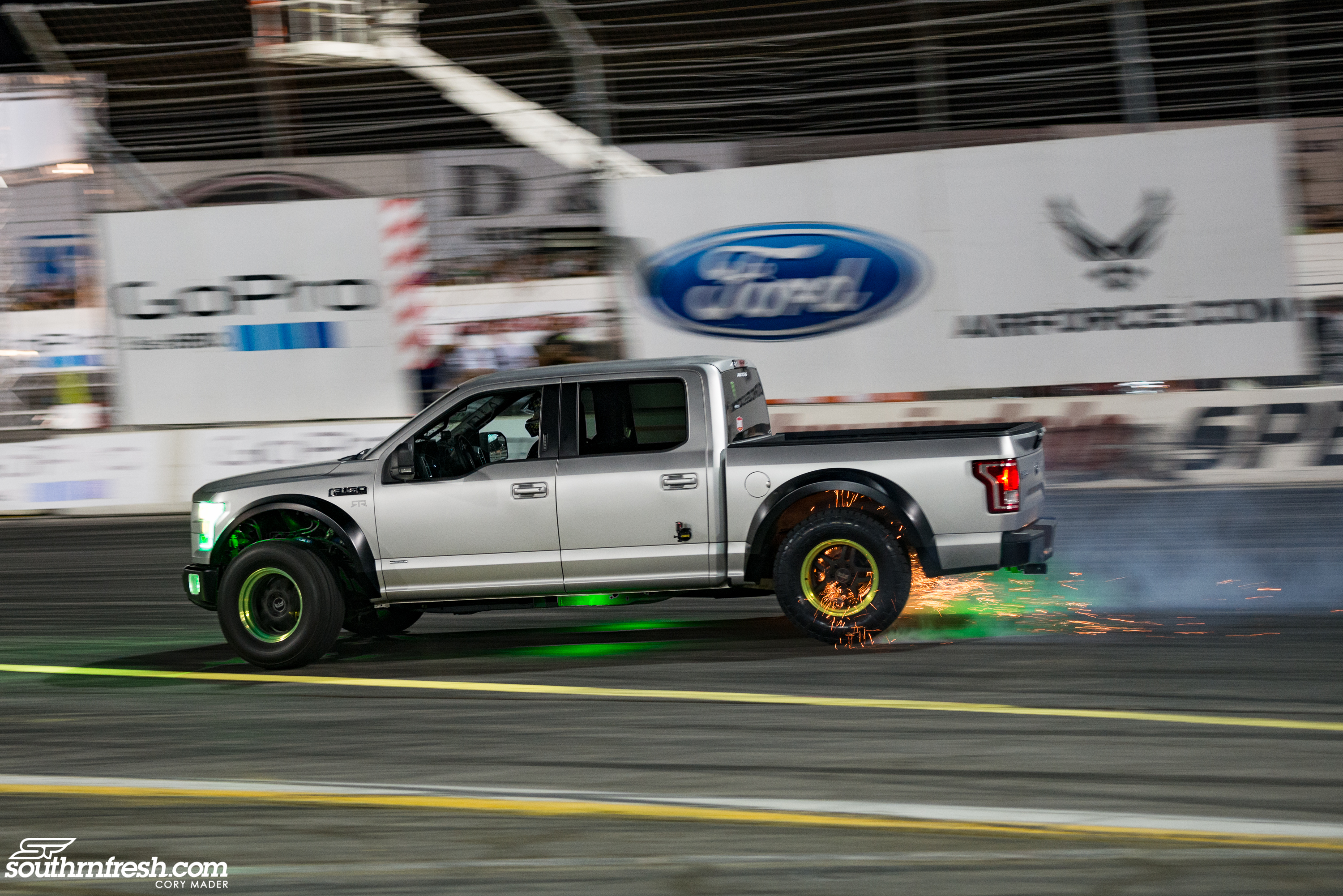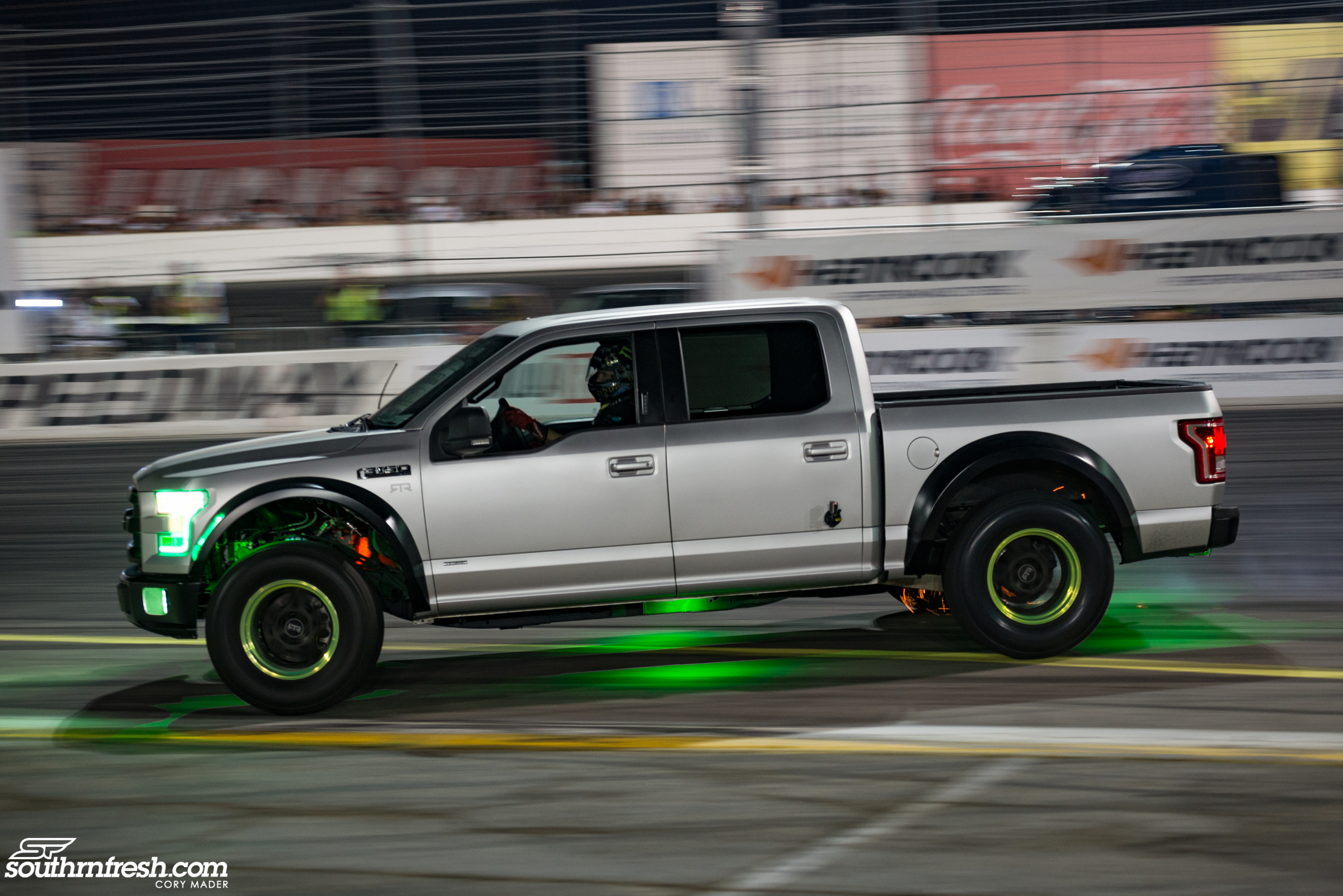 Getting back to the bracket, Yokoi falls victim to the banks of Irwindale like many before him, letting Wang advance and Forsberg leaves Foust behind after a huge gap on his lead run following a solid follow run.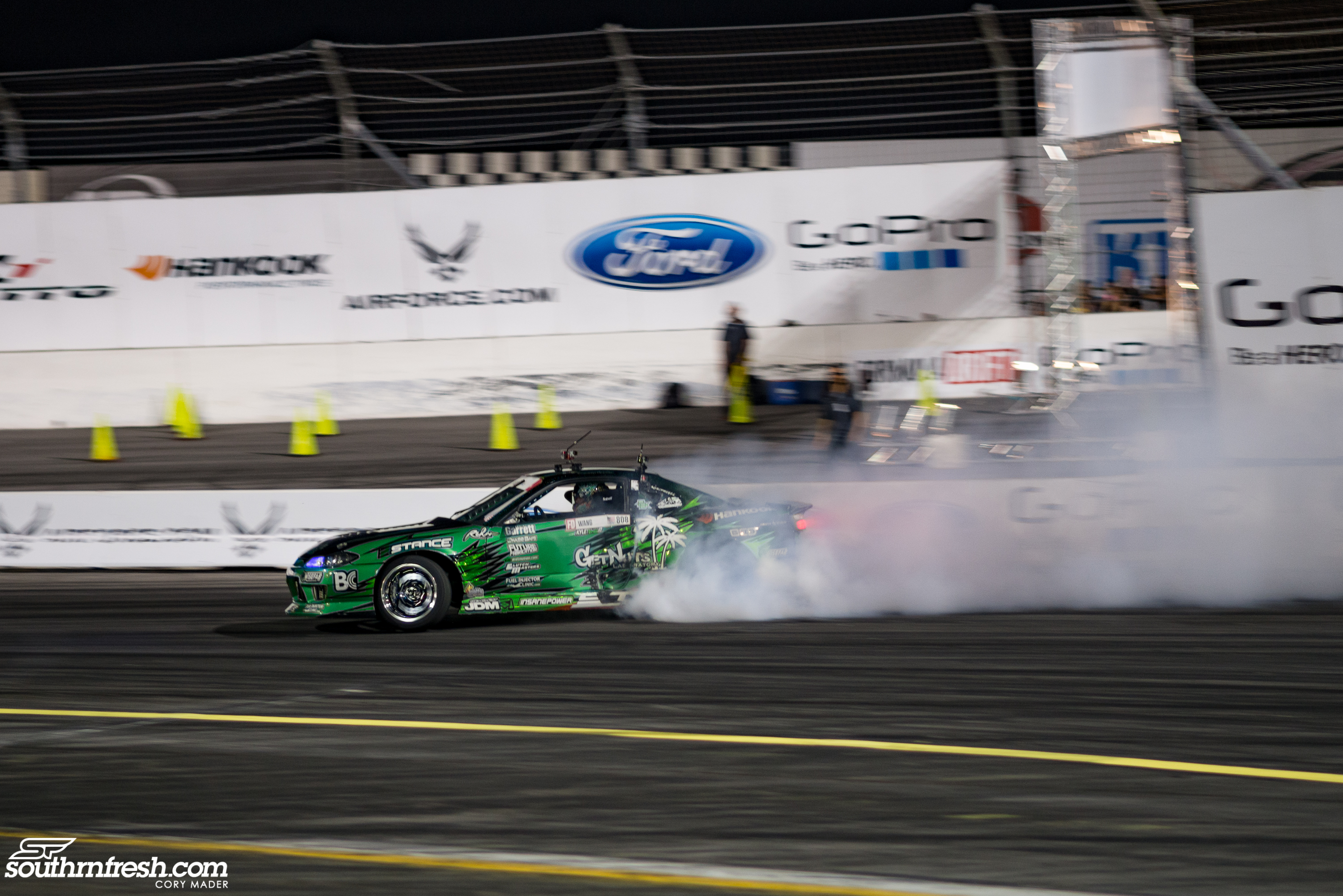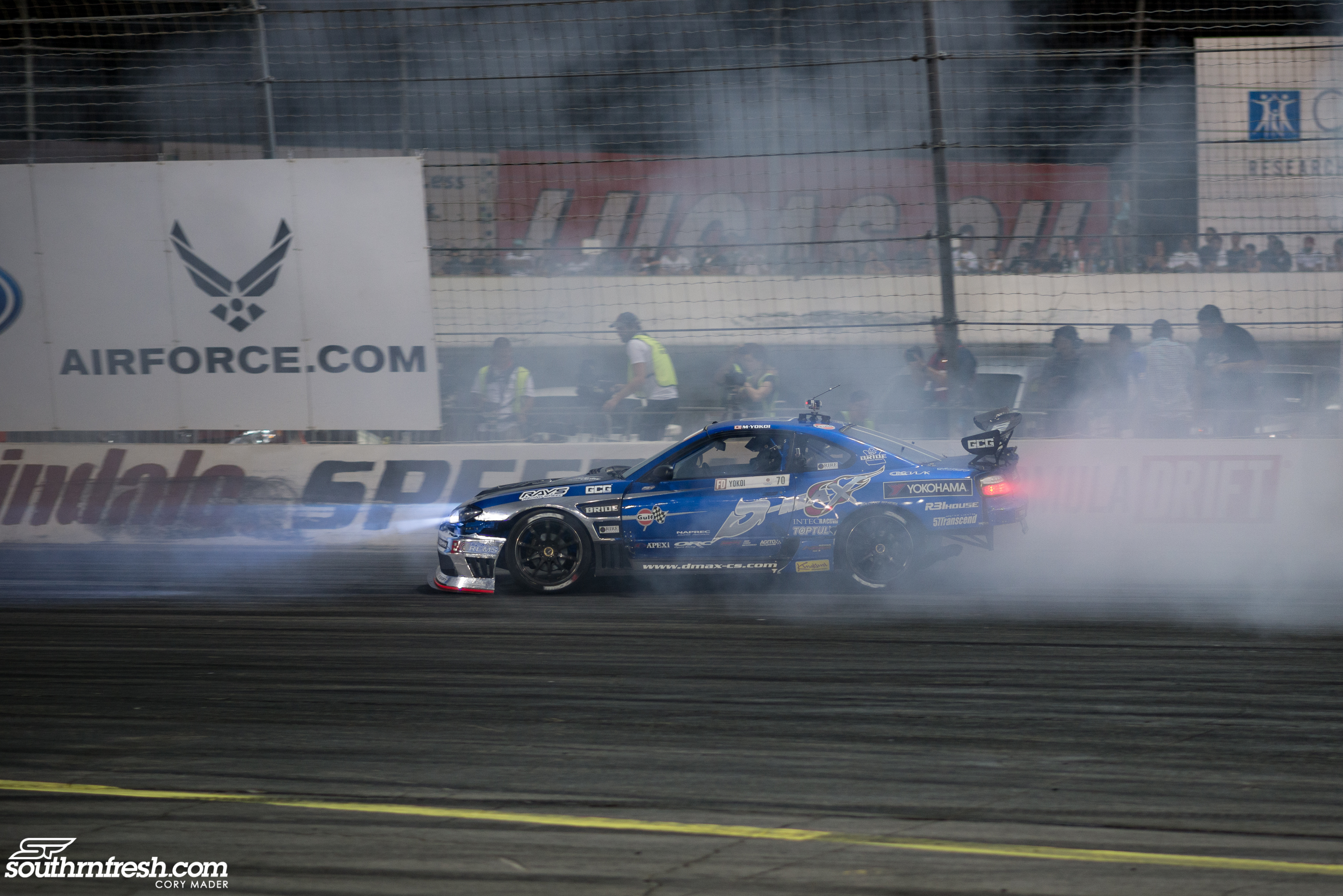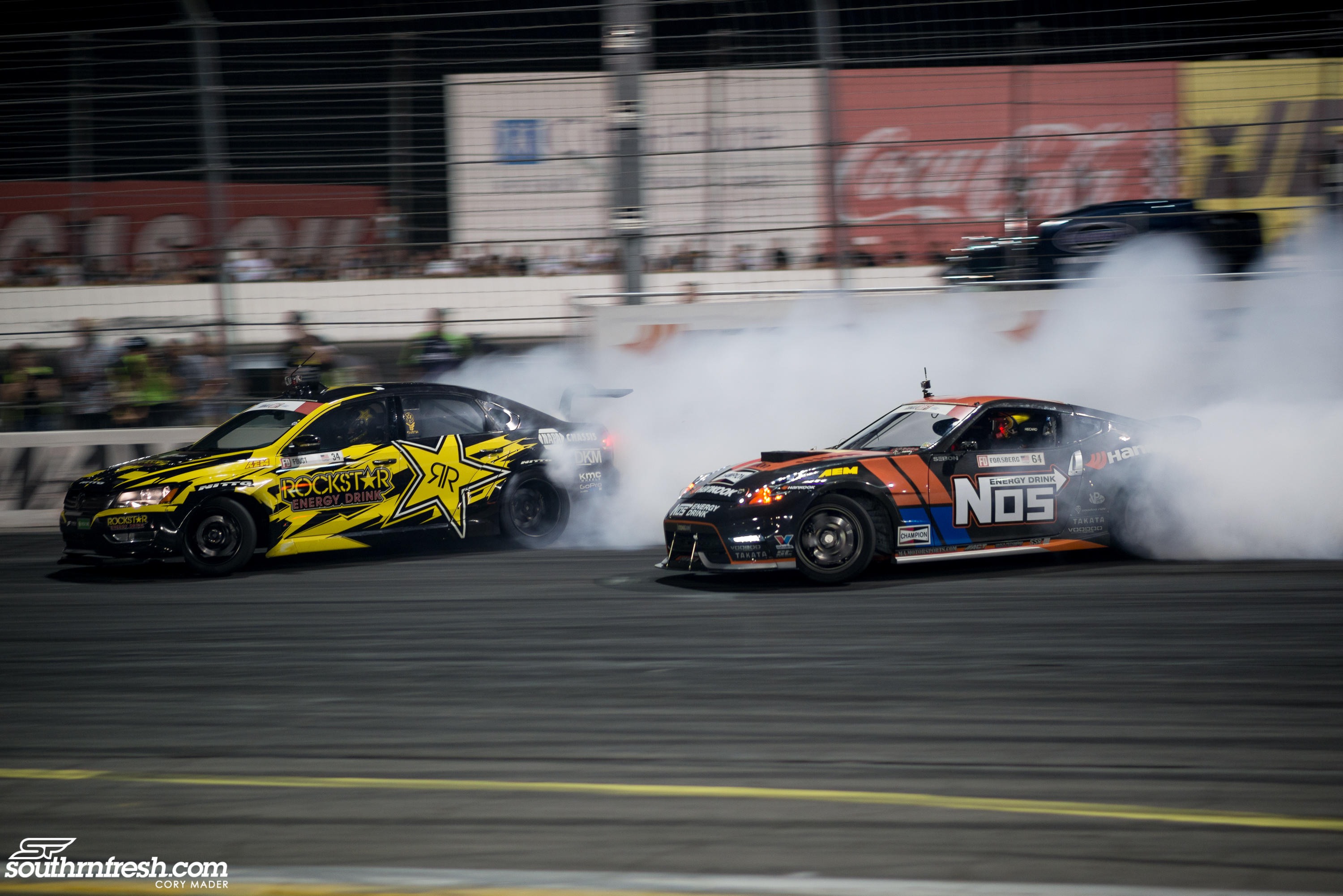 In a scene eerily reminiscent of Long Beach, Tuerck becomes a victim of mechanical failure (reportedly a broken rear control arm), his competition time out expiring on the big screen as his and Matt Coffman's crew scrambled for parts and tools within the 5 minute time limit.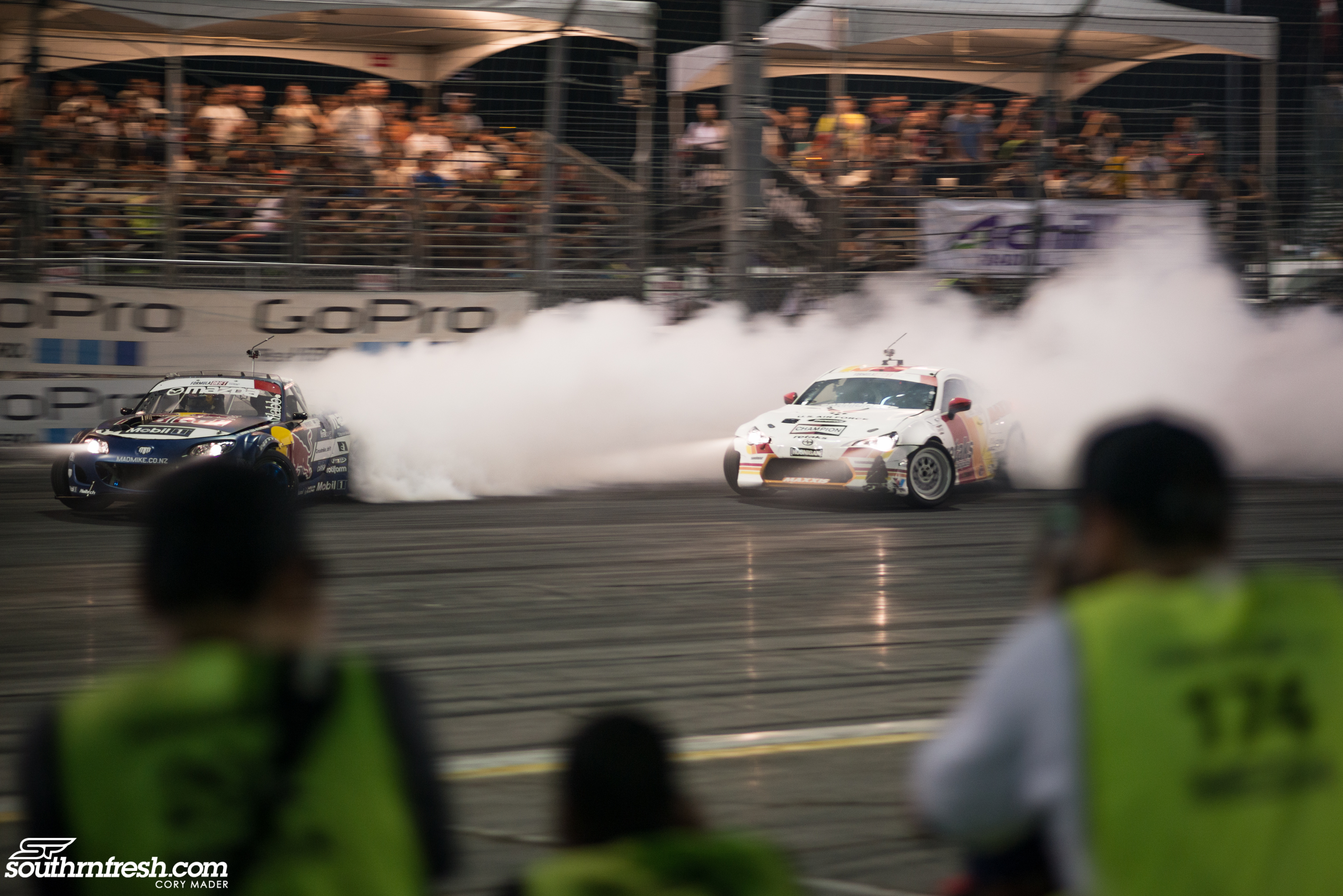 Aasbo may have won the overall championship, but Daigo Saito wouldn't let his winning streak at Irwindale go that easily.  After a solid lead and follow by both drivers, the judges call for a One More Time and are met with uproarious applause from the crowd. In Aasbo's lead, Saito overshoots the switchback clipping point in front of the stands, straightening out for the rest of the lap. Saito spins in the last turn of his lead run after having maintained a large gap in front of Aasbo the whole run. Nevertheless, this gives Aasbo a decisive win.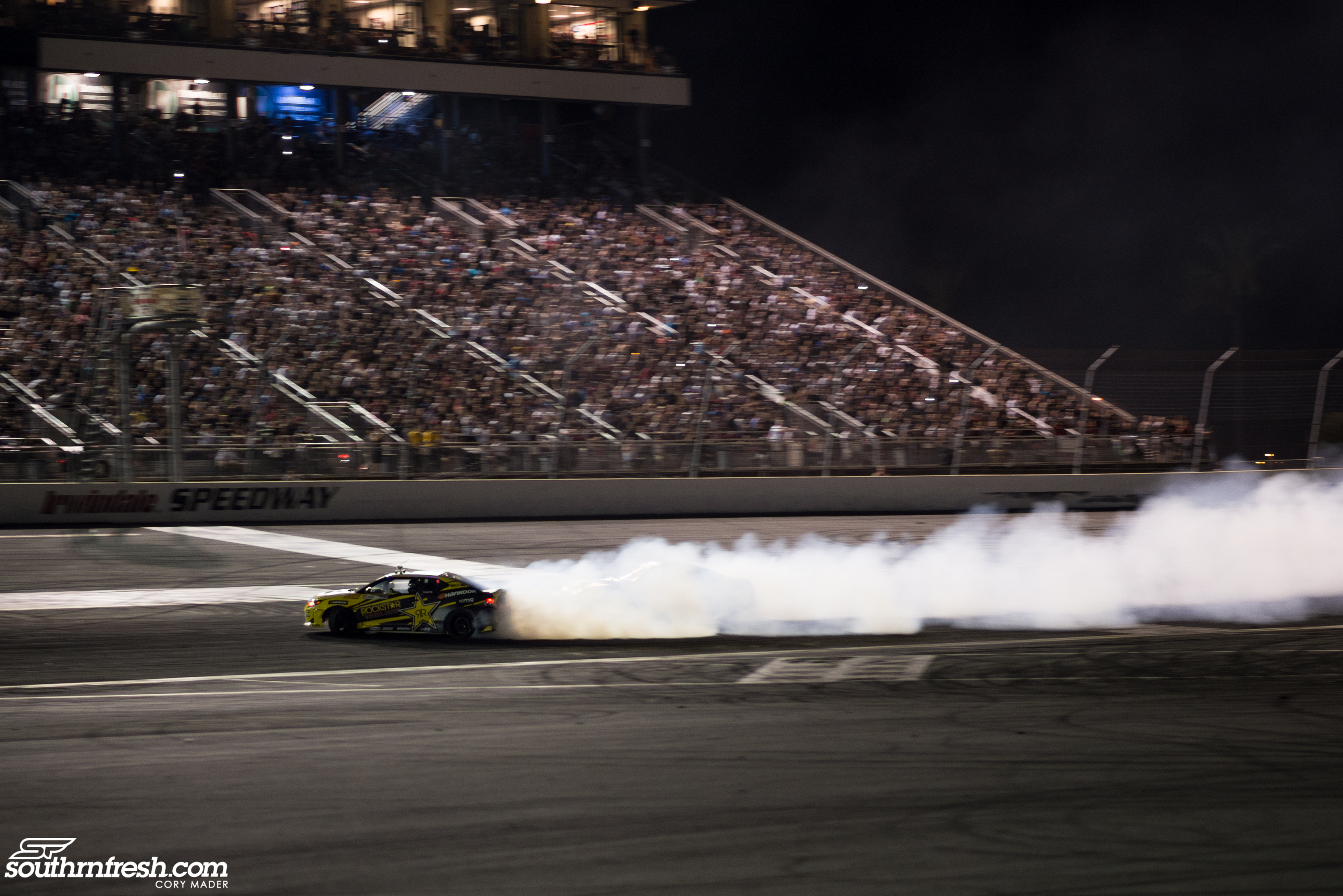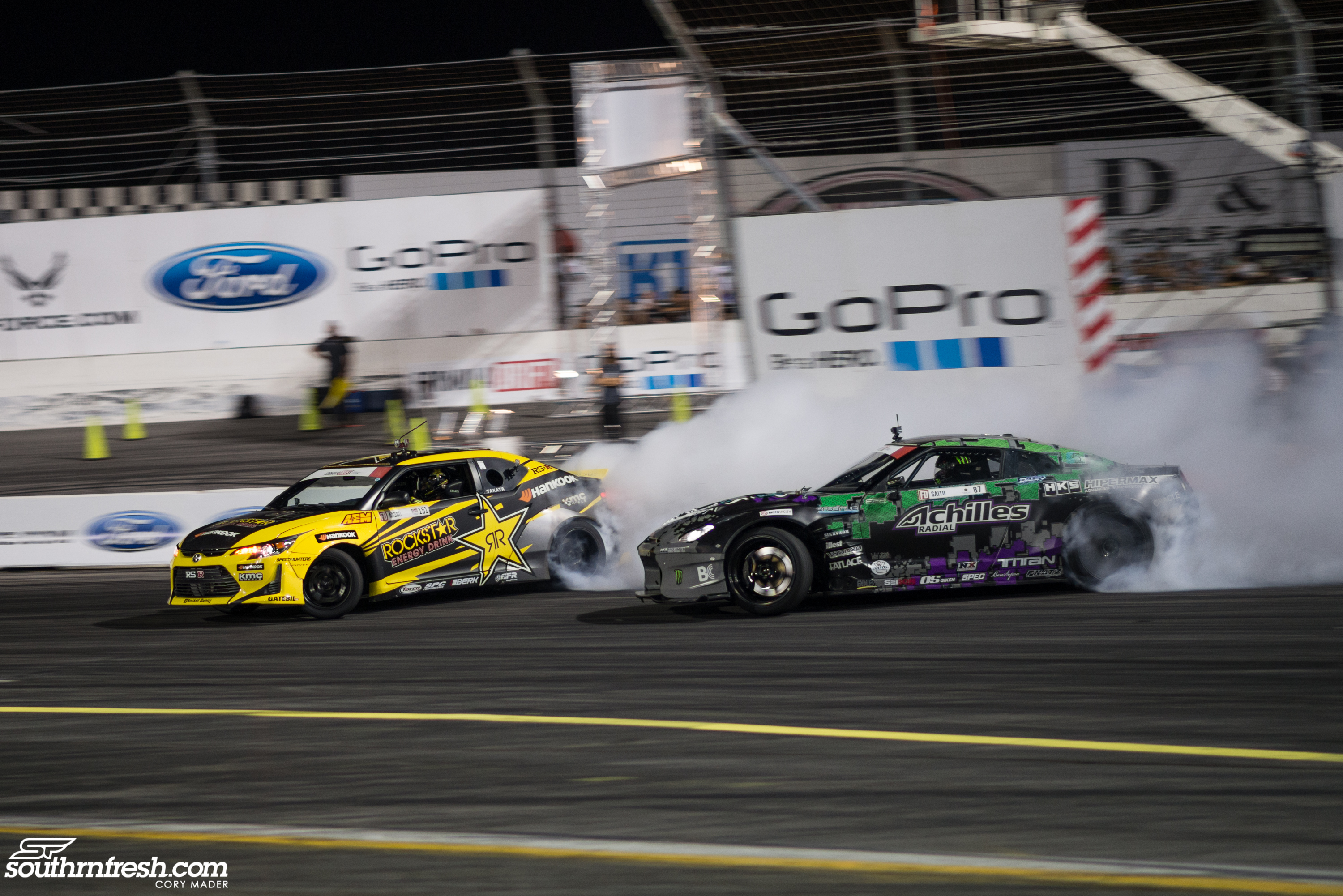 The battle of attrition that was the Field v. Bakchis matchup was crazy. After dual runs with Field's backfire igniting his smoke clouds throughout the whole course, a One More Time was voted for. The One More Time led to a couple of consistent runs by both drivers with Bakchis pulling a cheeky braking maneuver going into the last turn of his lead run to open up a huge lead and causing another One More Time to get a cleaner run from both drivers once and for all. During the second run of the second OMT,  Bakchis stumbles out of the gate and starts following on his lead run somehow, but opens up a huge lead after Field slows to let Bakchis pass. In the second bank, Field's car catches fire from tire debris buildup that probably wasn't helped by his flamethrower of an exhaust pipe. Bakchis gets a 3/3 win.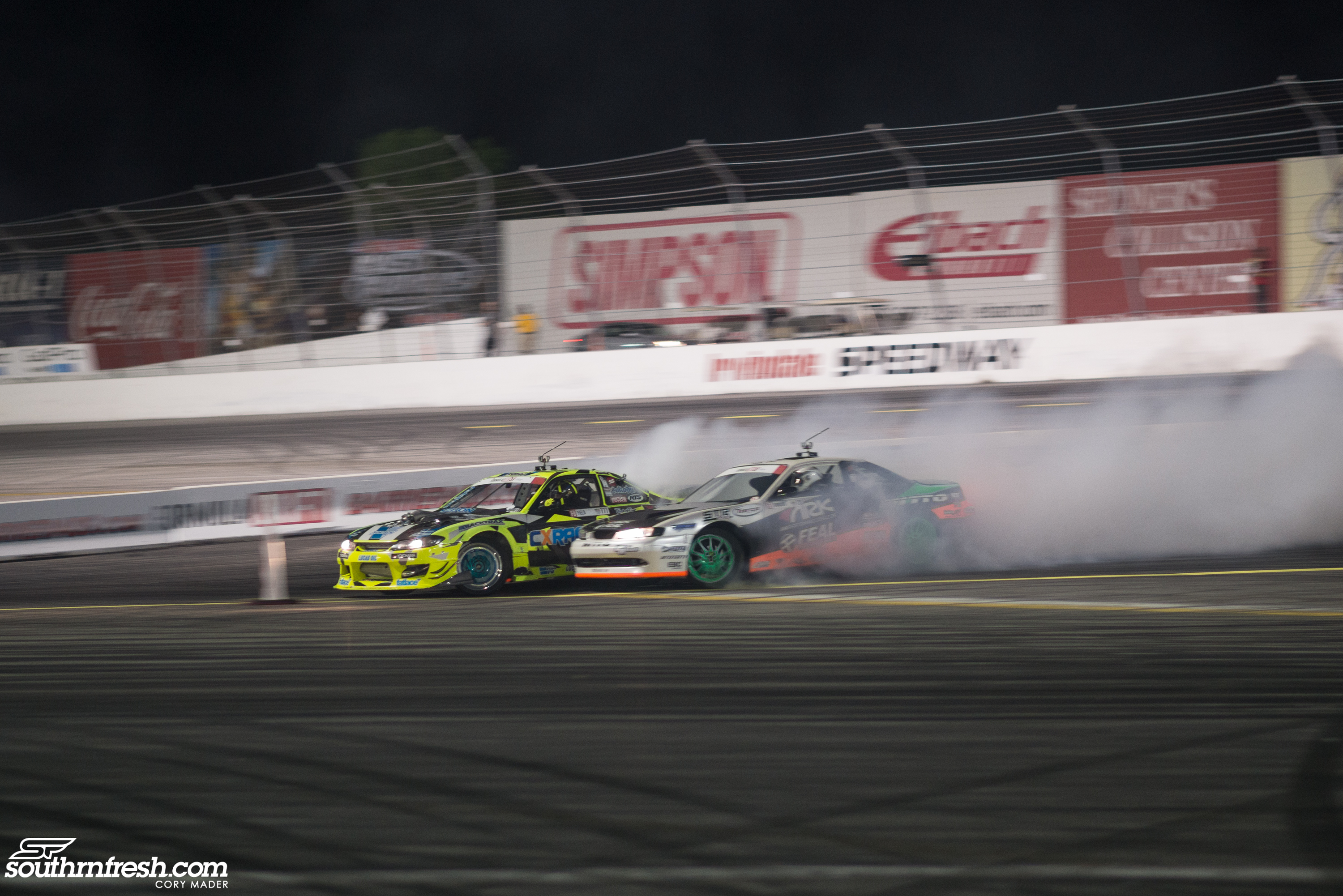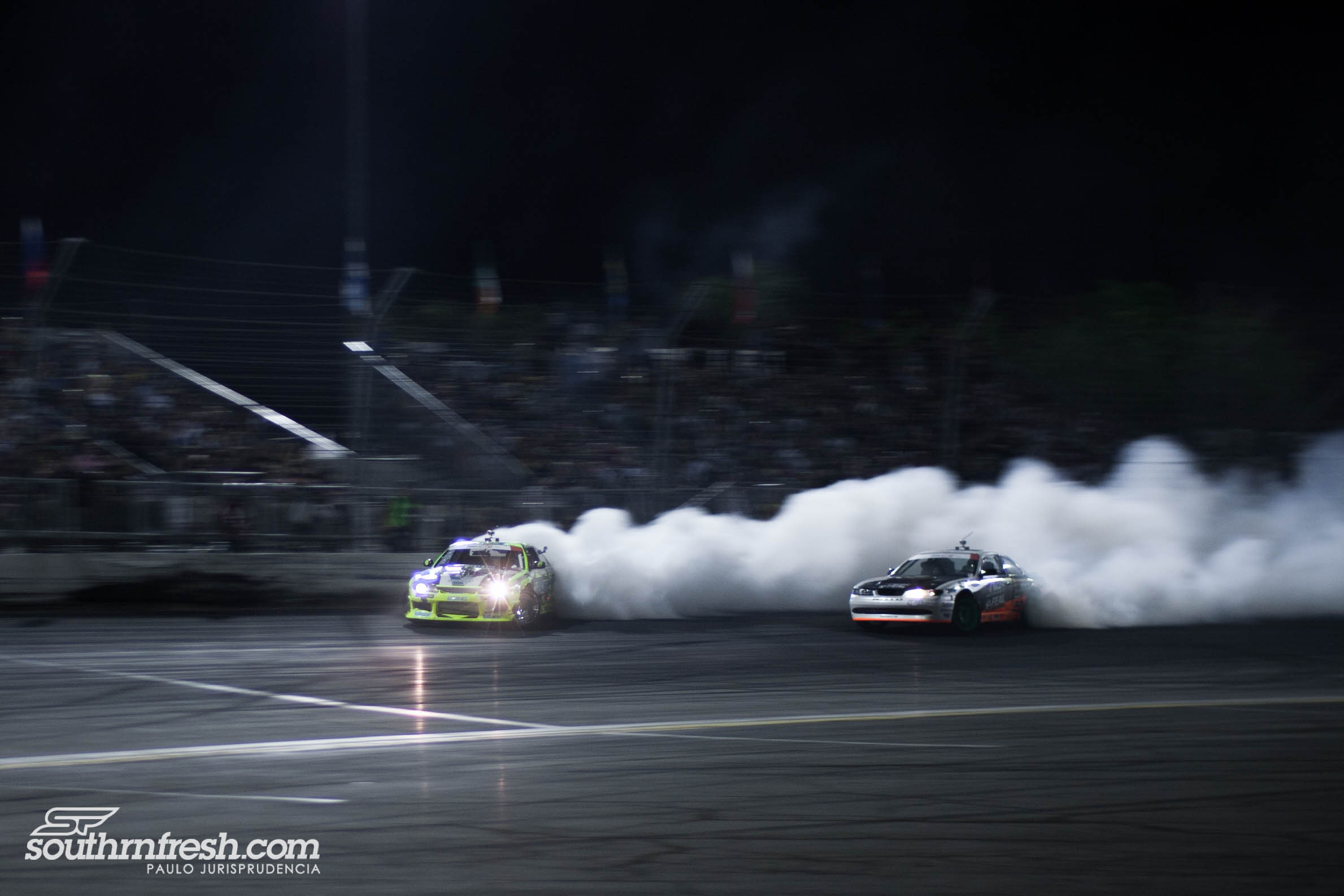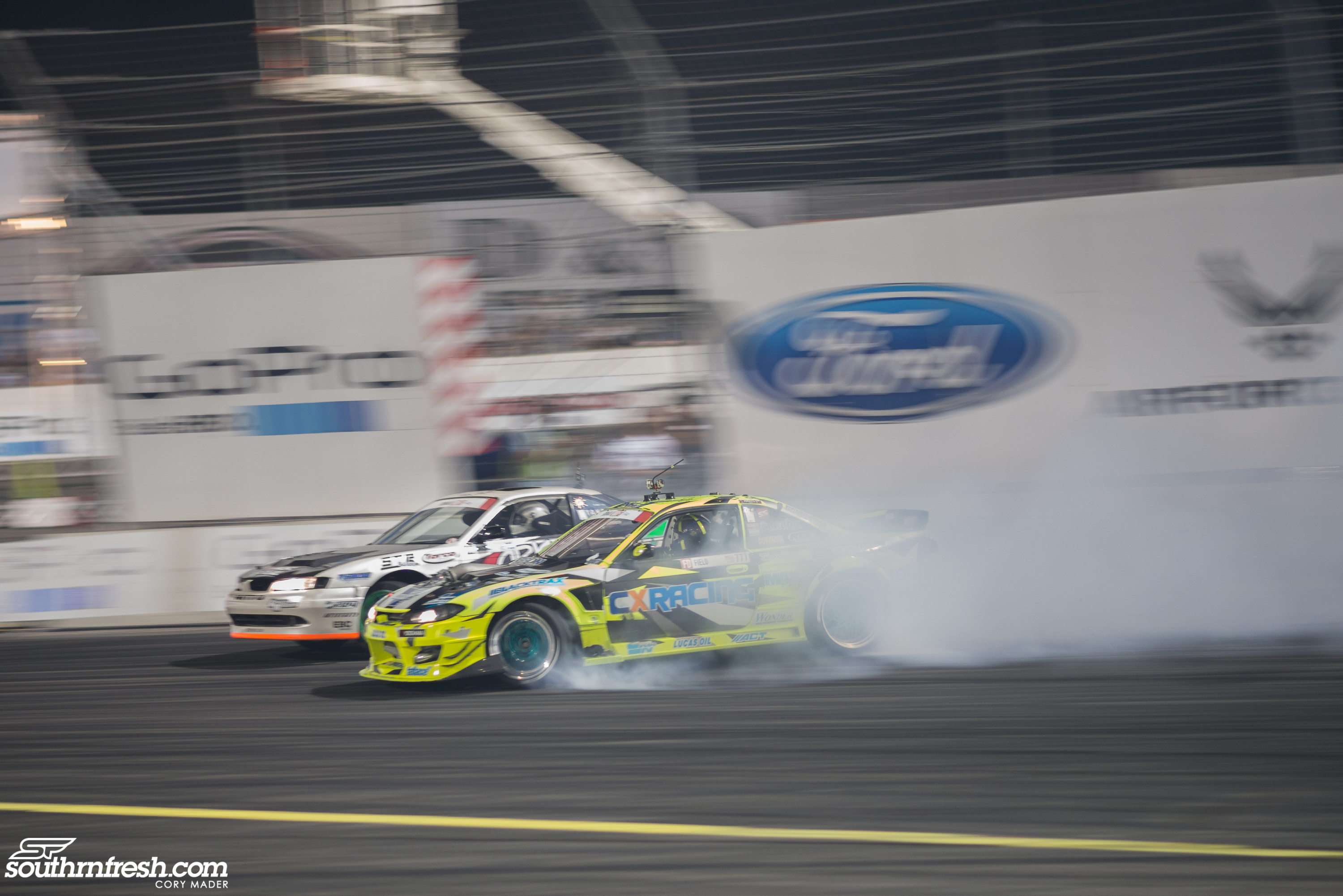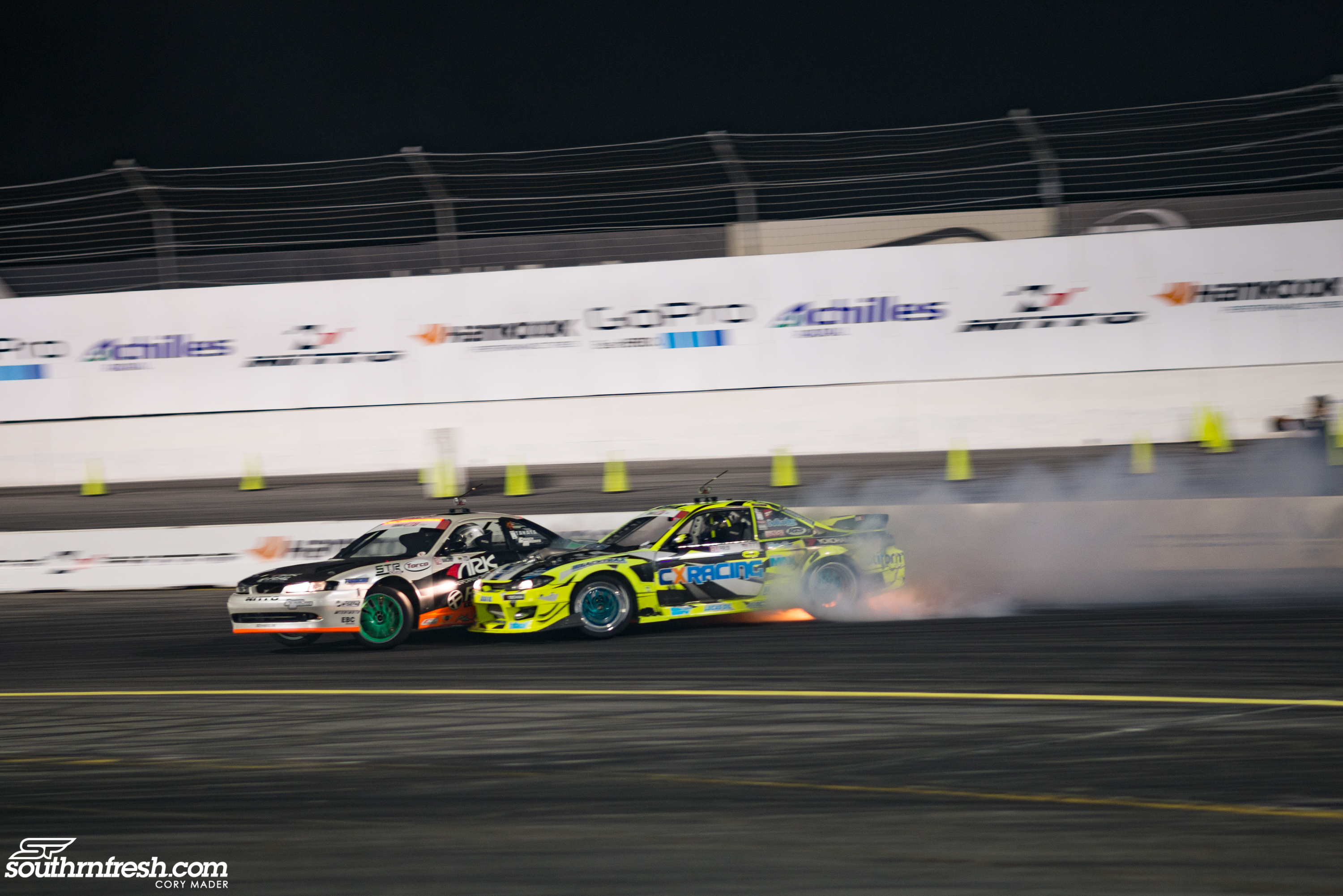 In a JTP v. Mordaunt matchup, Pawlak hits the switchback cone and Mordaunt spins, leading to a JTP victory. With Gushi going up against Essa, Gushi goes forward after an Essa spin. To wrap up the round of 16, DeNofa drives through the course on the second round of his matchup vs. Ng, allowing Ng to move on.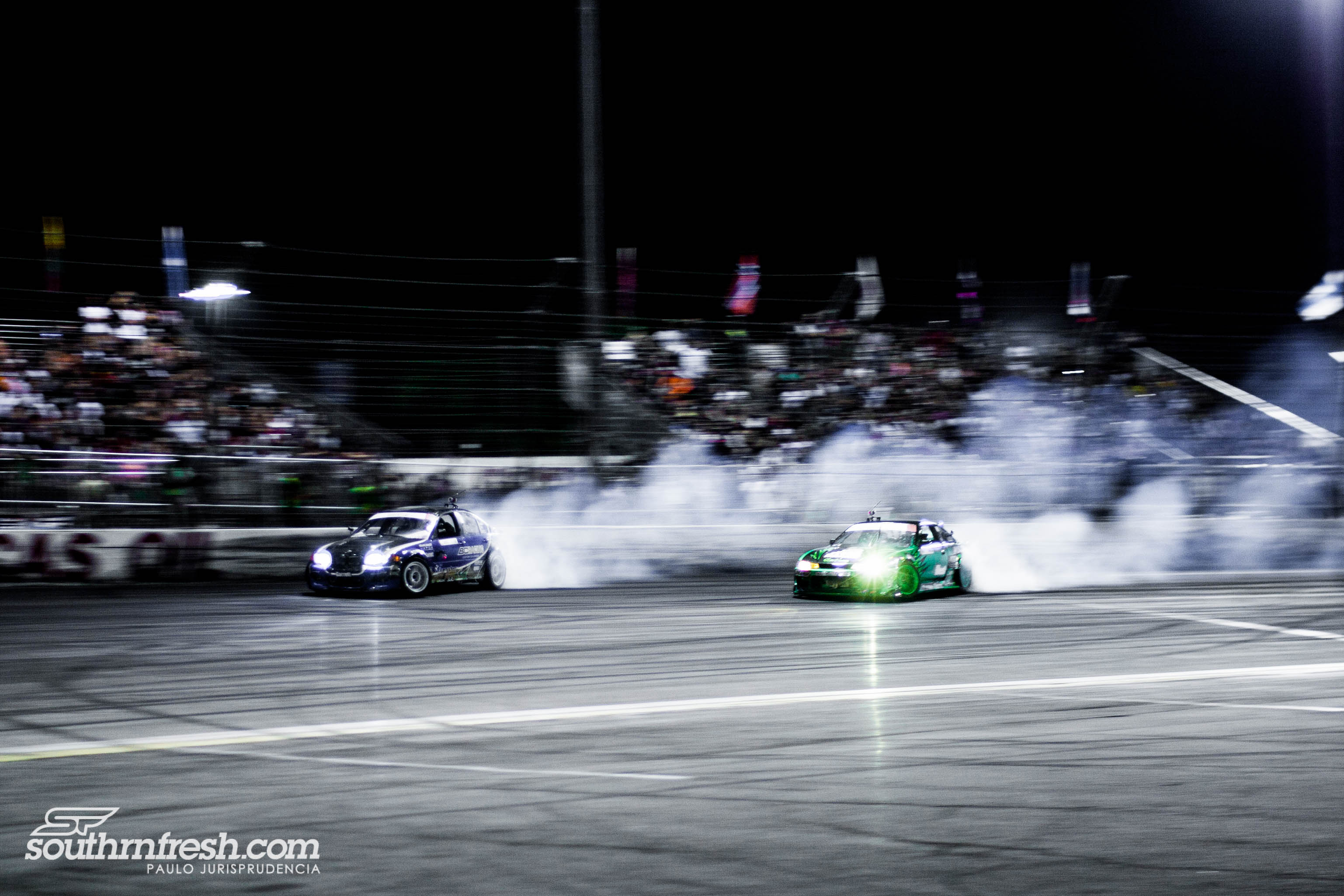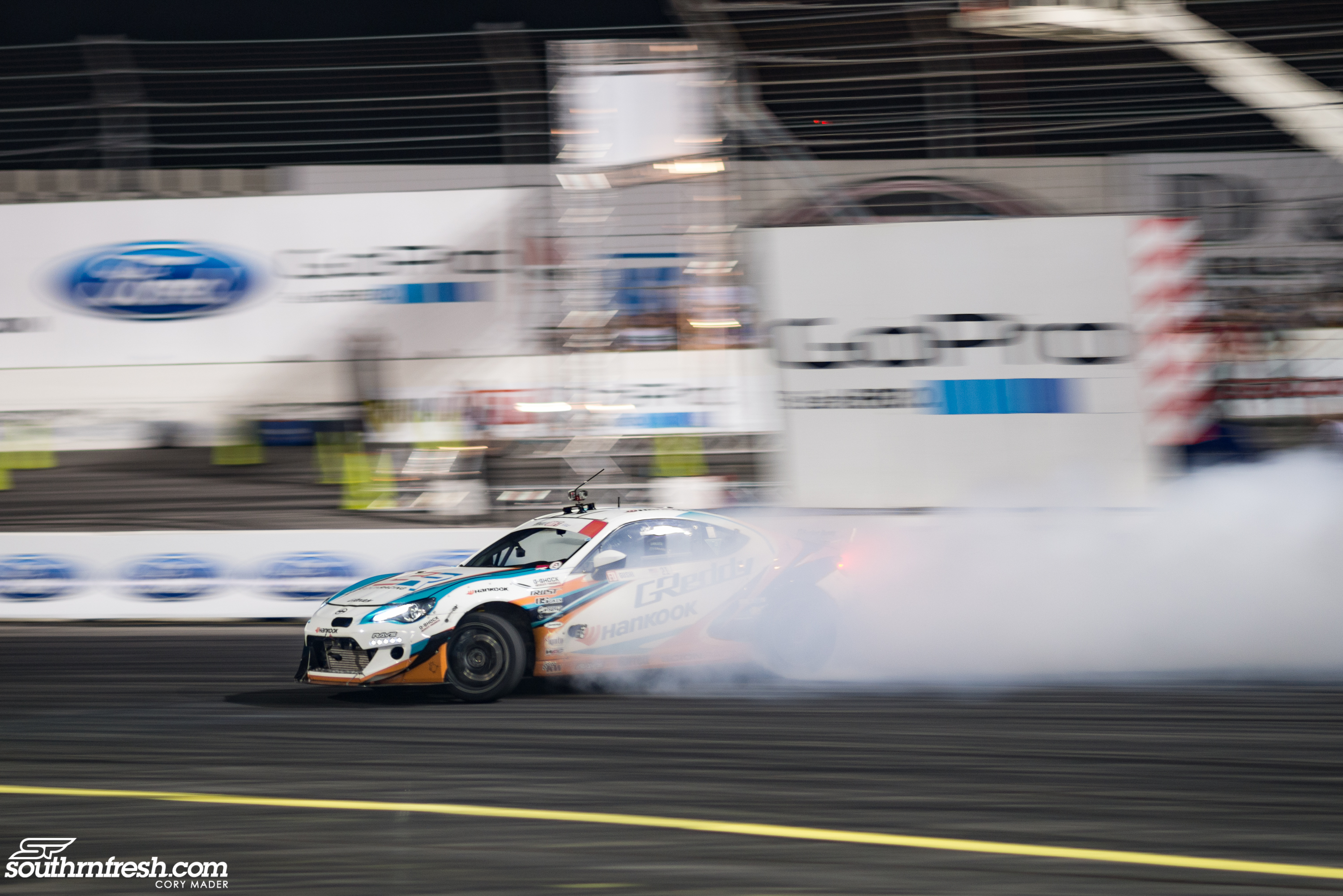 The Elite 8 finds Wang v. Forsberg, Whiddett v. Aasbo, Bakchis v. JTP, and Gushi v. Ng. Wang's smooth (and less aggressive) runs put him through to the Final 4, Aasbo's consistency comes through again with back-to-back good runs, JTP puts on a clinic in tandem drifting with an incredible door-to-door follow run to move on, and Gushi moves on after a slight tap in his follow run following a big brake check by Ng entering bank 2.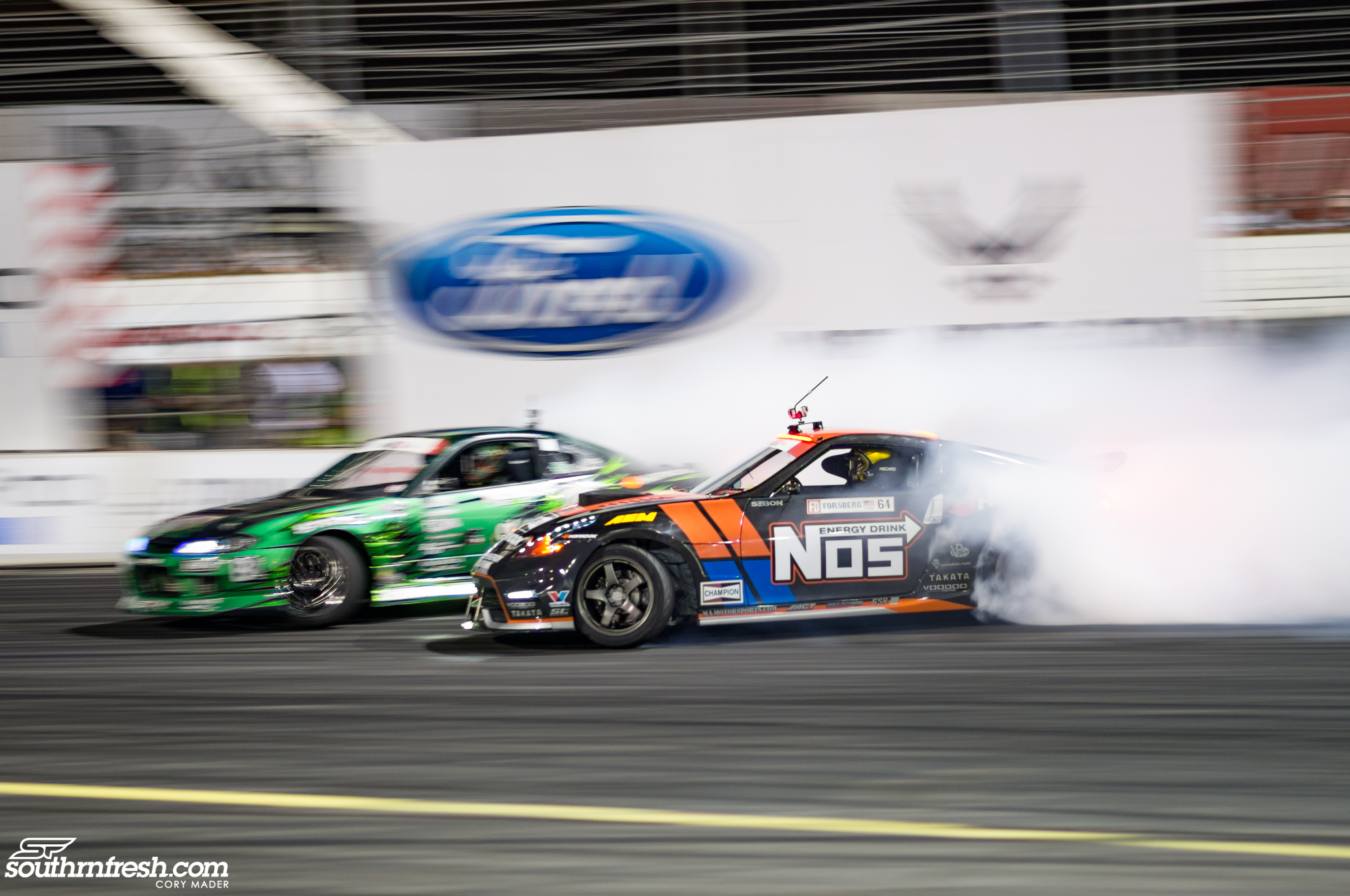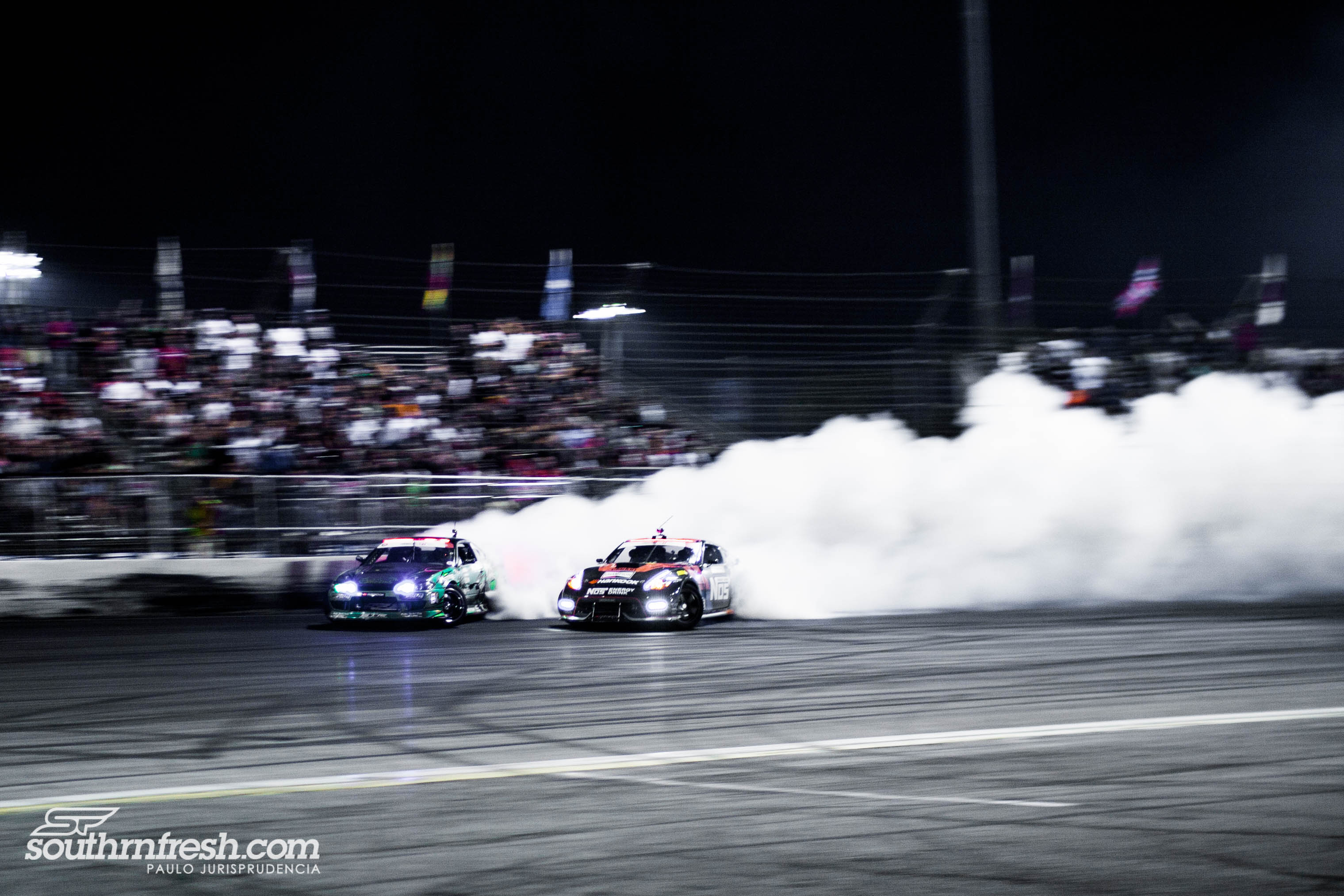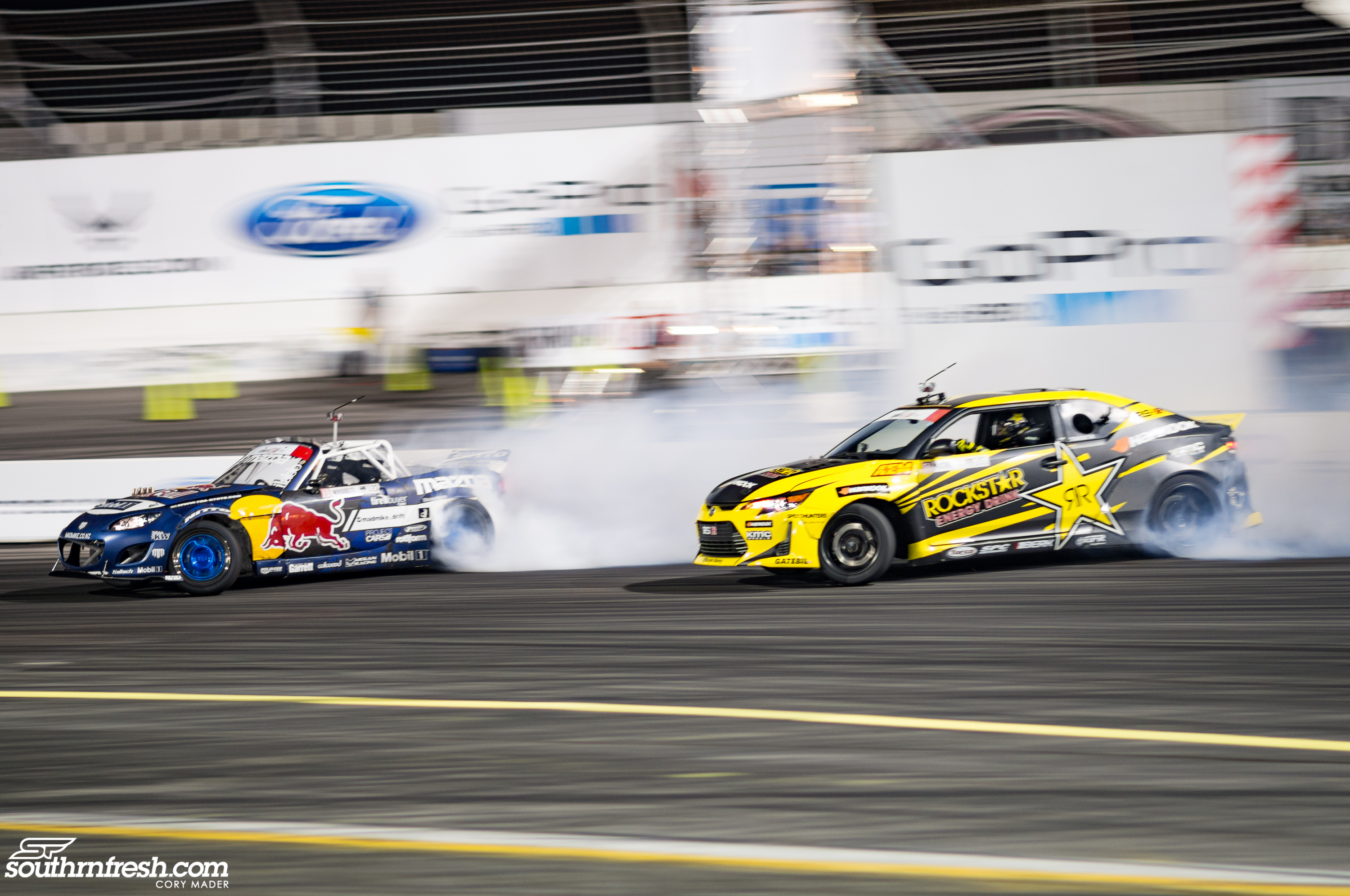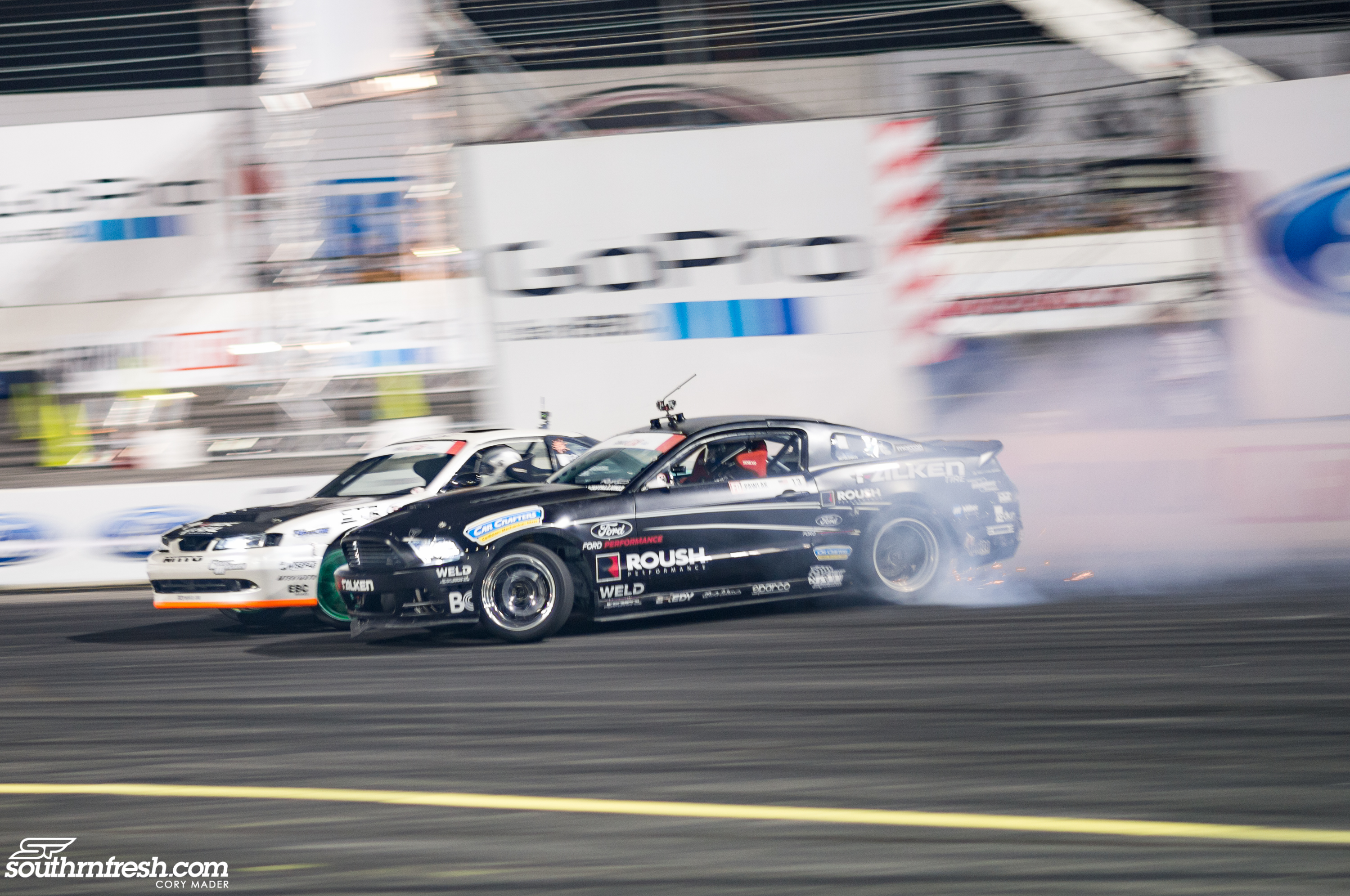 The Final 4 gave us Wang v. Aasbo and JTP v. Gushi, with a huge portion of the crowd hoping for a Aasbo v. Gushi Team Scion final.
Aasbo overcomes a slight disadvantage in his first (follow) run to open up a large gap on his second (lead) run and is voted past Wang and into the final. On the other side of the bracket, Gushi overcomes JTP after the judges rule JTP caused contact between the two and pushed Gushi into the wall of bank 2. This leads to Gushi being forced to look over his car for safety reasons, followed up by a textbook second run to put Gushi through to the next round.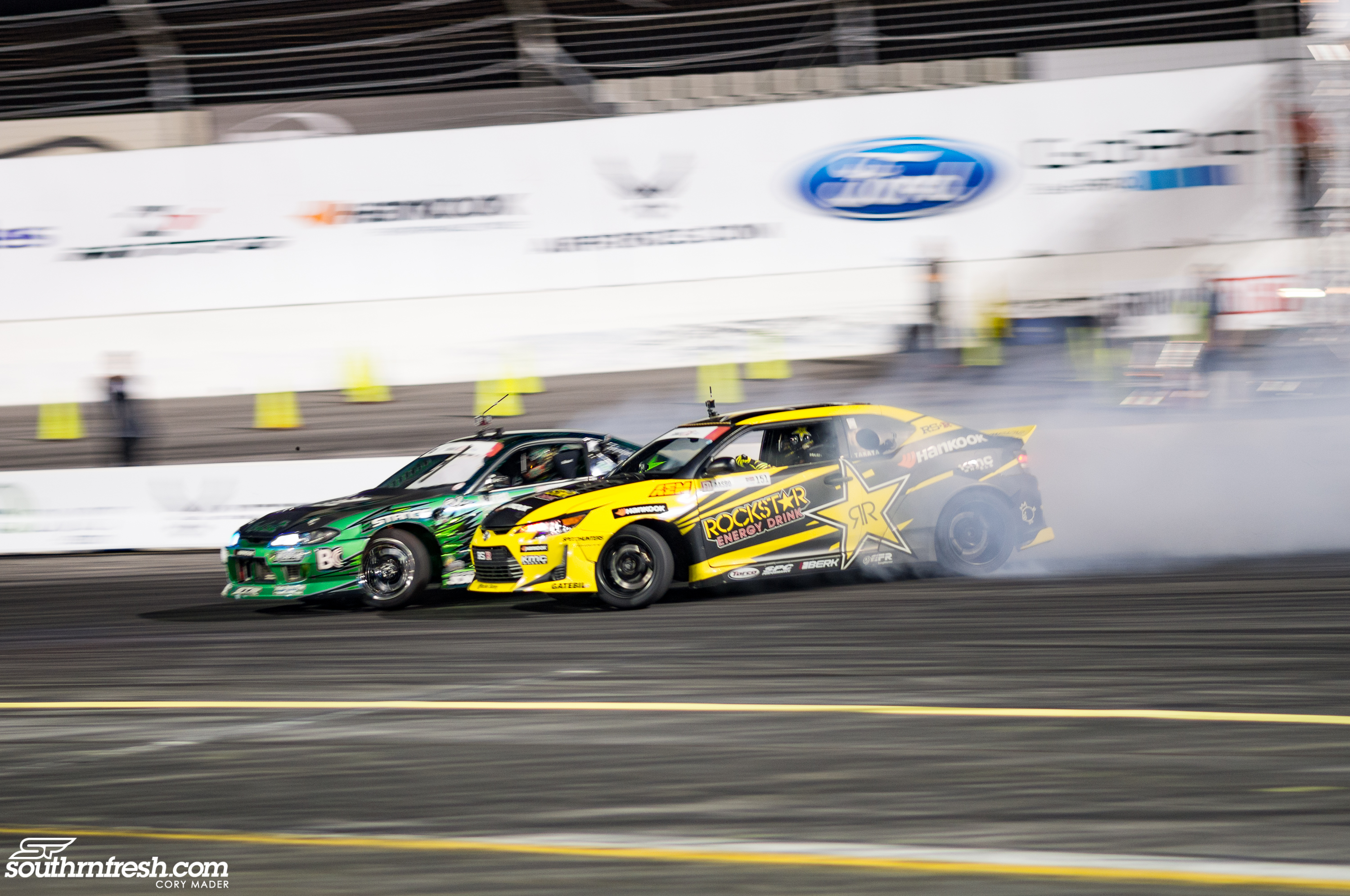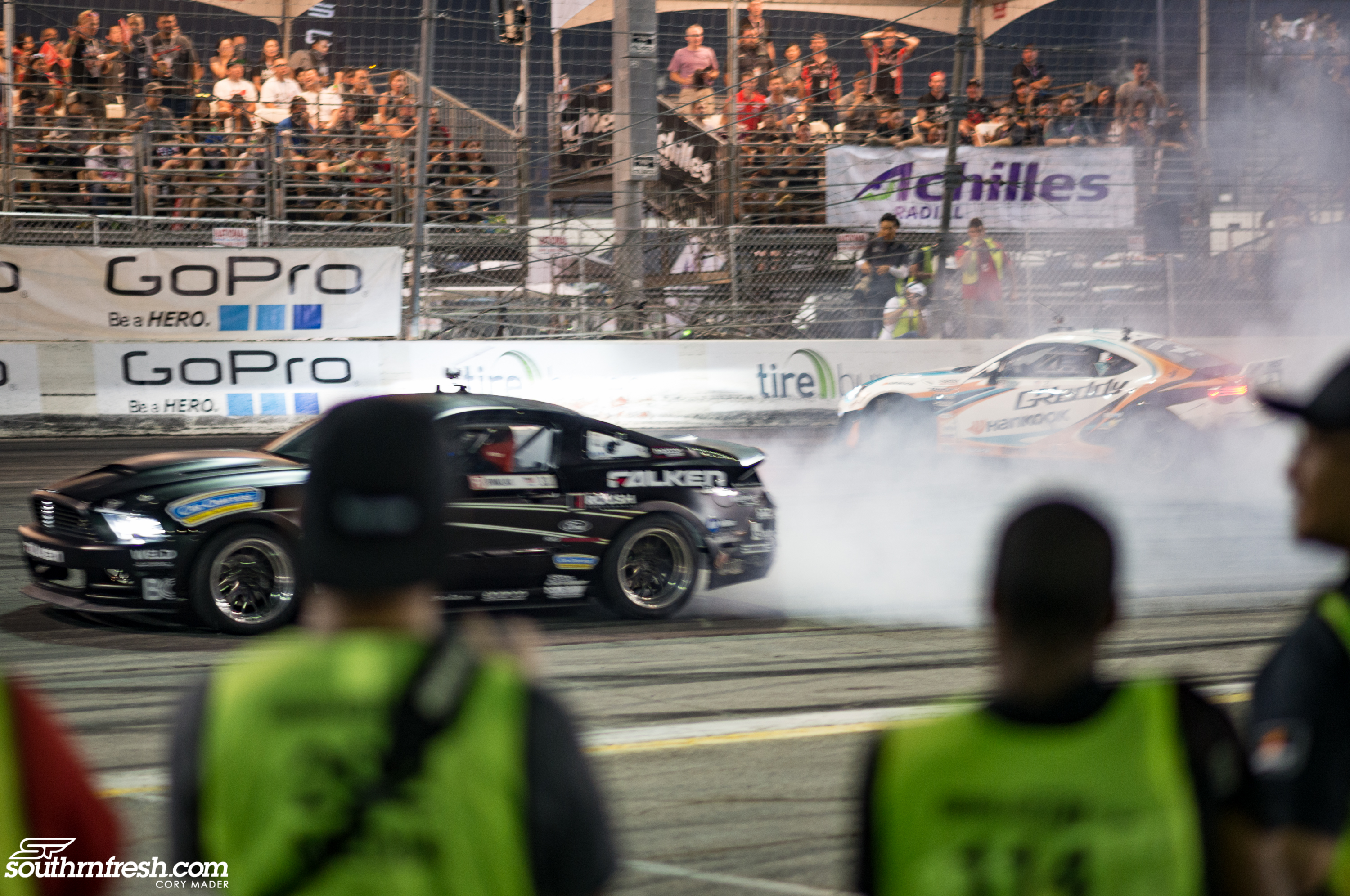 In a final that couldn't have been scripted, we are gifted with an Aasbo v. Gushi matchup at what is widely considered the last FD event at Irwindale. The giant, Saito, has fallen to the Norwegian Hammer, and Gushi overcame mountains of mechanical problems to meet at the apex of the season. In runs that could have only been executed by guys that practice together, the two put together a perfect run on the first time through with Gushi leading. The second run, however, is a different story. Aasbo absolutely blasts off the line in the lead, opening up a huge gap that is never quite sewn up as he paces his way through the course. Aasbo unanimously takes down the higher qualifier Gushi and takes Irwindale, FD US, and FD Worlds. Wang follows up in a solid third place.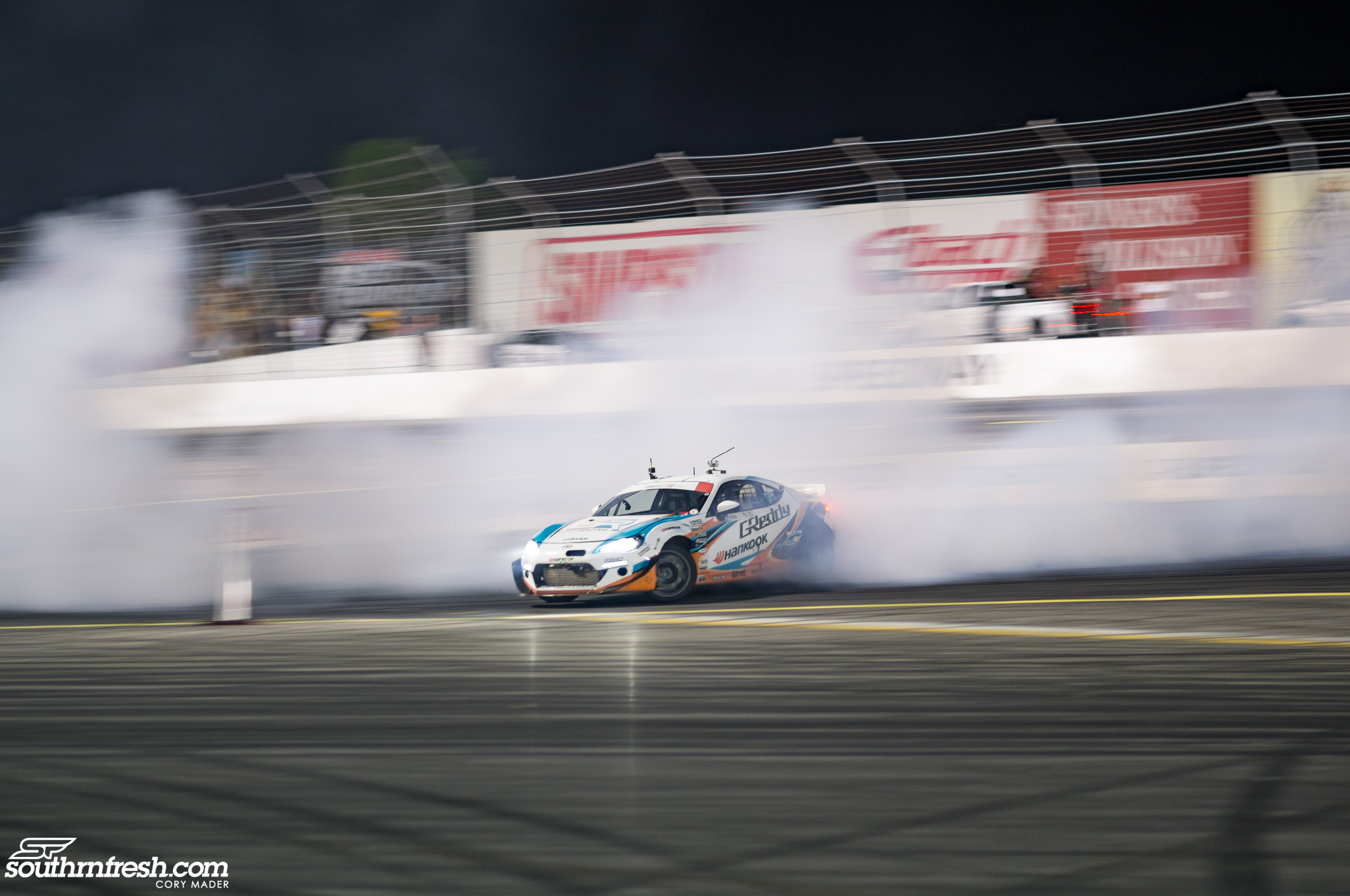 The weekend had it's ups and downs, between heat and humidity, course changes and accidents, perfect runs and a standing room only sold out crowd surrounding the oval at Irwindale, and while this may or may not have been the last year of FDIRW, this event was certainly one to be remembered and savored moving forward into Formula Drift 2016.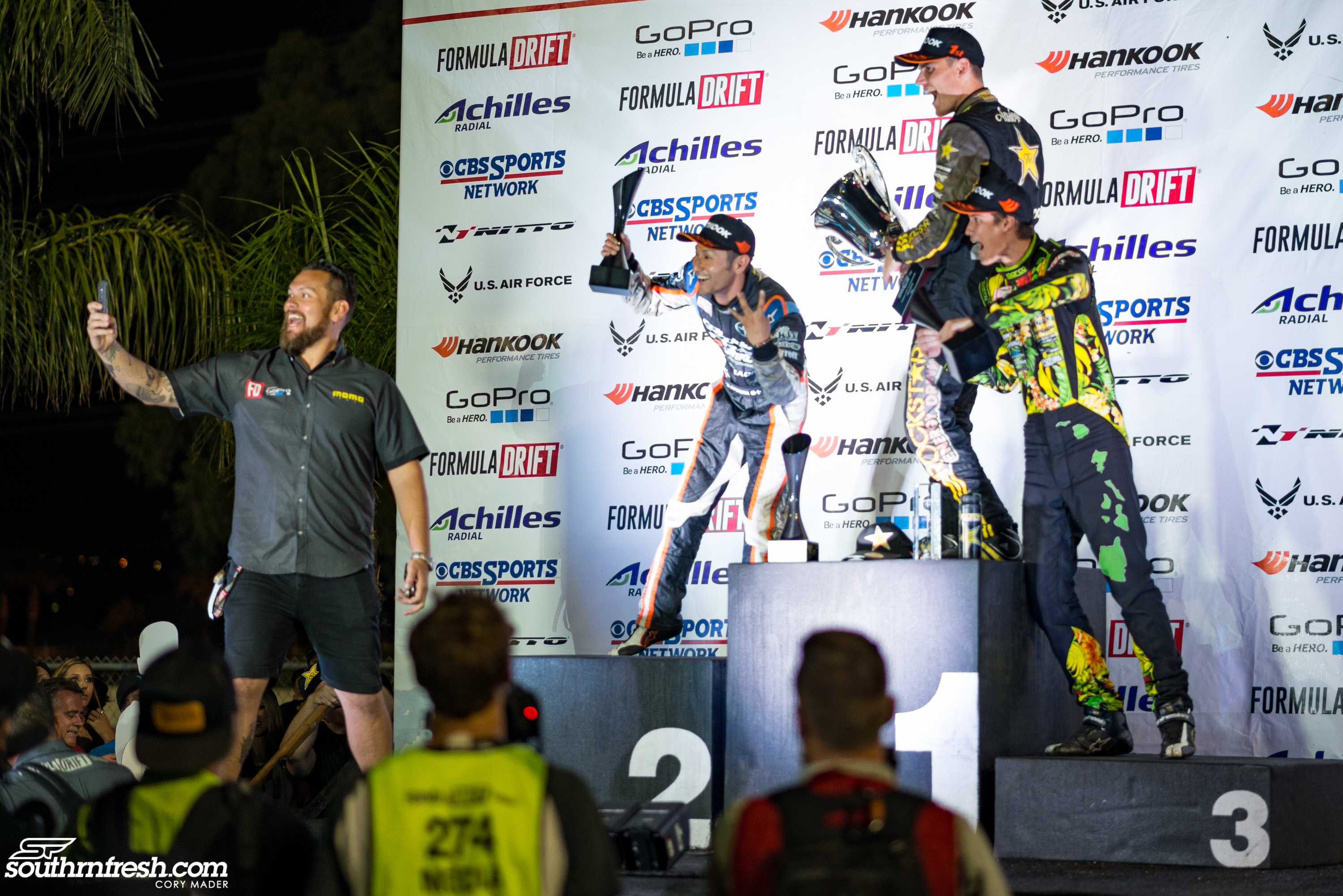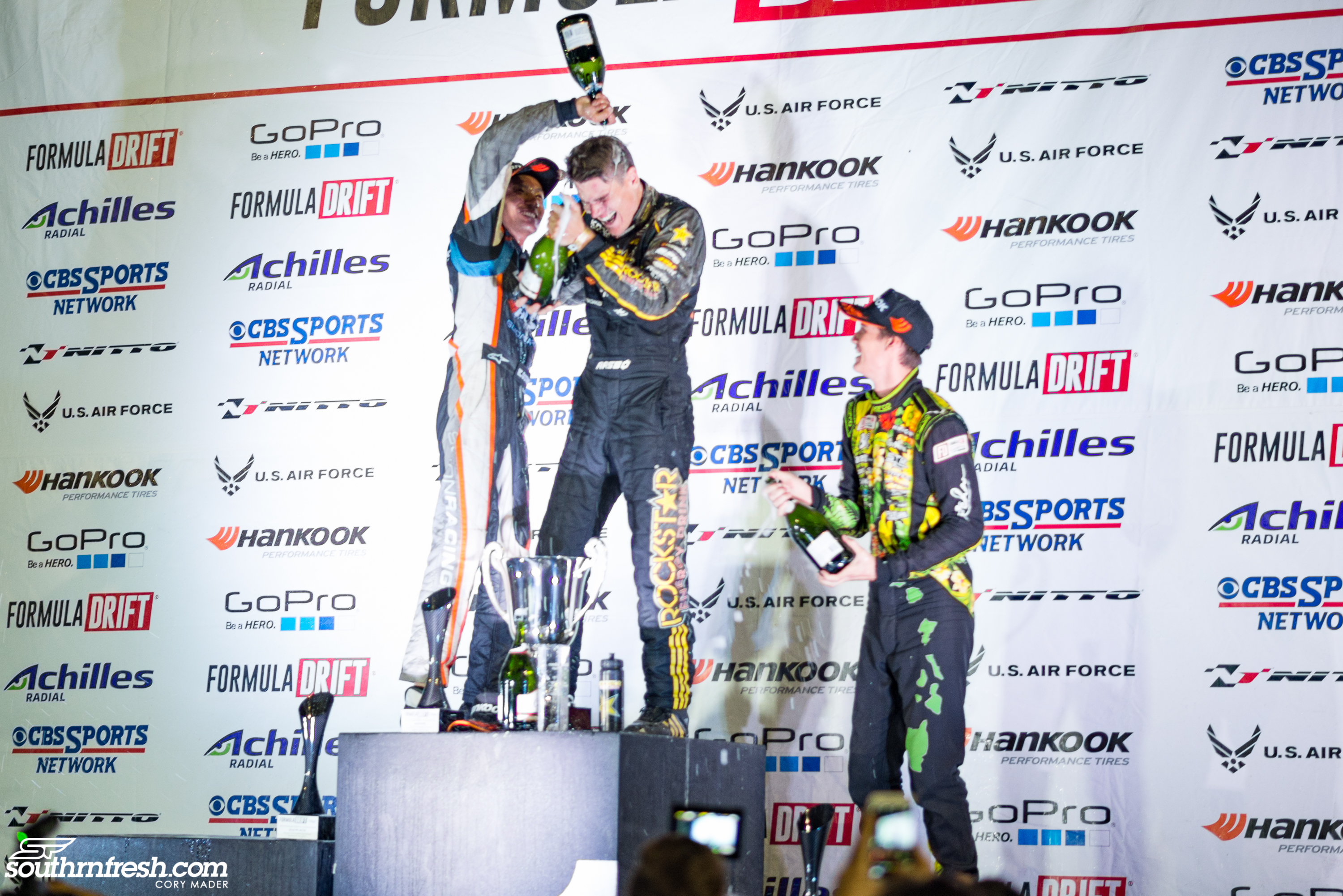 Take ya some BONUS SHOTS!