After a long night of driving and cleaning the Mazda, it was game time.  We woke up about 7:30am, to get to the convention center at 9am.  We expected some delay, so we wanted to be sure to be on time for arrival.  Our hotel was only 10 minutes away from the convention center, so we arrived a litthe earlier then we had to for roll in.
Like any other year organization of Wekfest seems to be their priority.  This year the team was forced to use 2 convention center halls instead of 1 like the previous years.  It allowed for more cars, but a little bit more hassle for the fire marshals to get all the cars checked in and cleared before the crowd could be let in.
Usually the outside staging area is a good chance to get some really good shots in the early morning light before they get inside.  But we we checked in and got inside pretty quick.  So we were not able to grab as many shots this year.
Mike Nguyen's Lexus GS waiting to be parked.
Anytime I go to a show I always take notes on ideas, and layouts to take home and use for our own events.  One thing I take notice is the emphasis put on properly parking cars in good places to be viewed from all angles as best as possible.  One thing I hate the most is being forced to squeeze in between cars to get a good angle for a photo or even actually look at the whole car.
I had a few spots to hit before I could leave the Mazda alone and go check out what was in the convention center.  Wiped off the wheels, and threw some tire shine on the tires, got Jon to help put a Southrnfresh seal on the back window and let it be.
The best part of the event is always the pep talk Junior does before the event starts, Its like a Sunday sermon to a real enthusiast.  Gives everyone a summary of what the judges are looking for, and why each one of us are here.  The main emphasis was letting us know how tough it is to even get in the building on this stage.  Regardless how you feel, we all have to admit that the west coast sets trends and does a hell of a job keeping the import scene a float.  And being that most of the guys that pick the cars for a Wekfest event have seen any and almost everything, so I personally take pride in being selected to be in the building.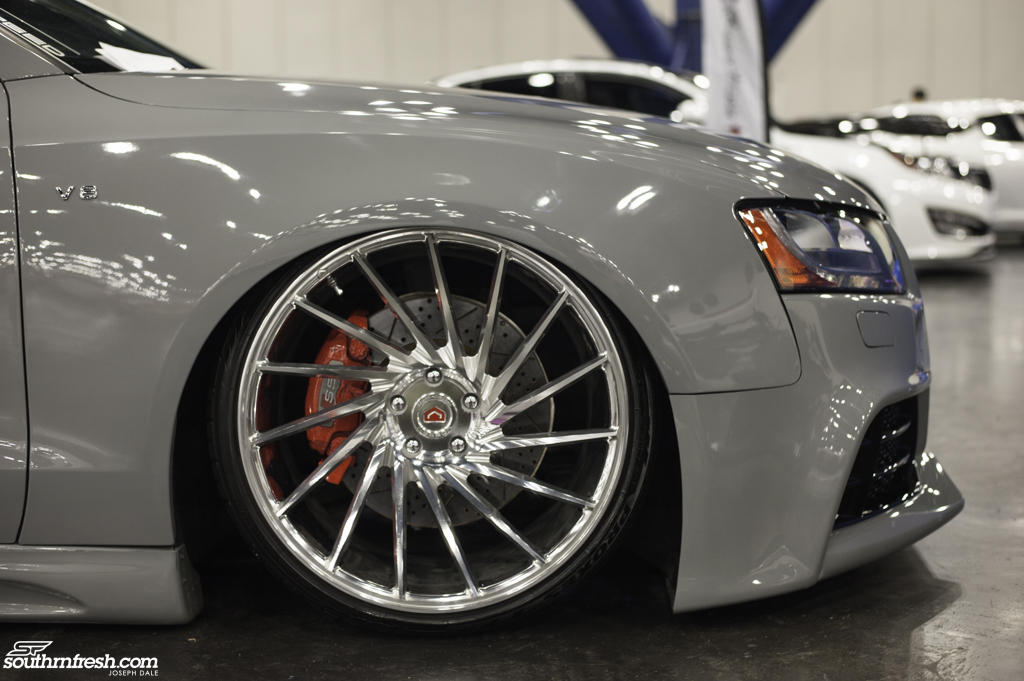 The line to purchase Wekfest merchandise is consistently 1 hour long all day.  I waited in the line only to be let down, because they were out of XXL.  I refused to leave empty handed, and I forced myself to buy a license plate frame..haha.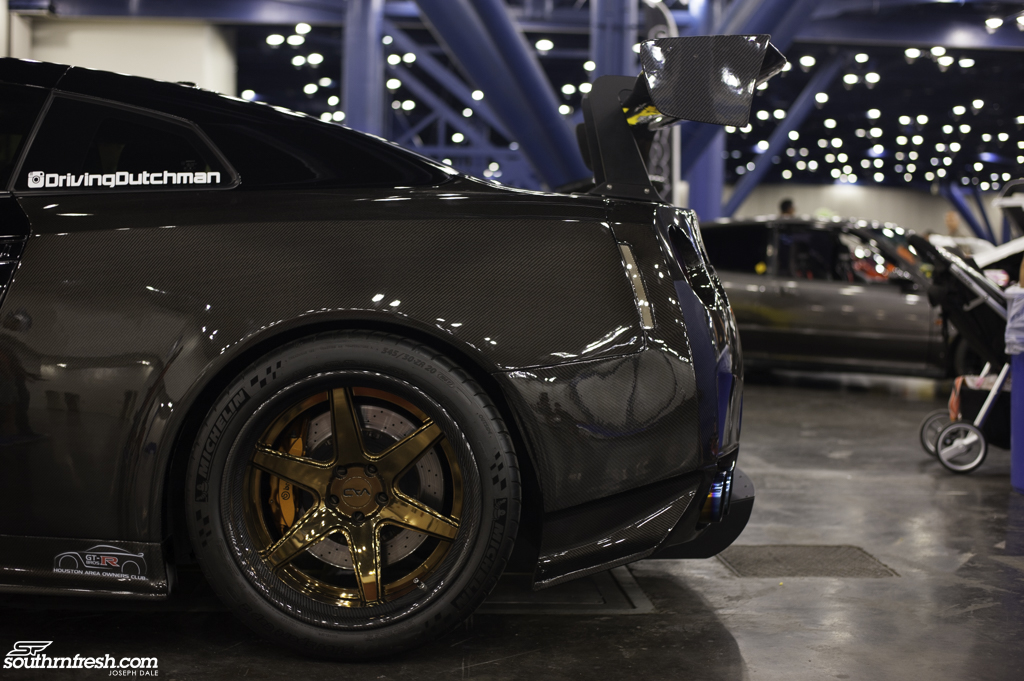 Tianna Gregory was actually the star of the show, the line for her fans was about 2 hours long.  And she took the time and met with every last one of them.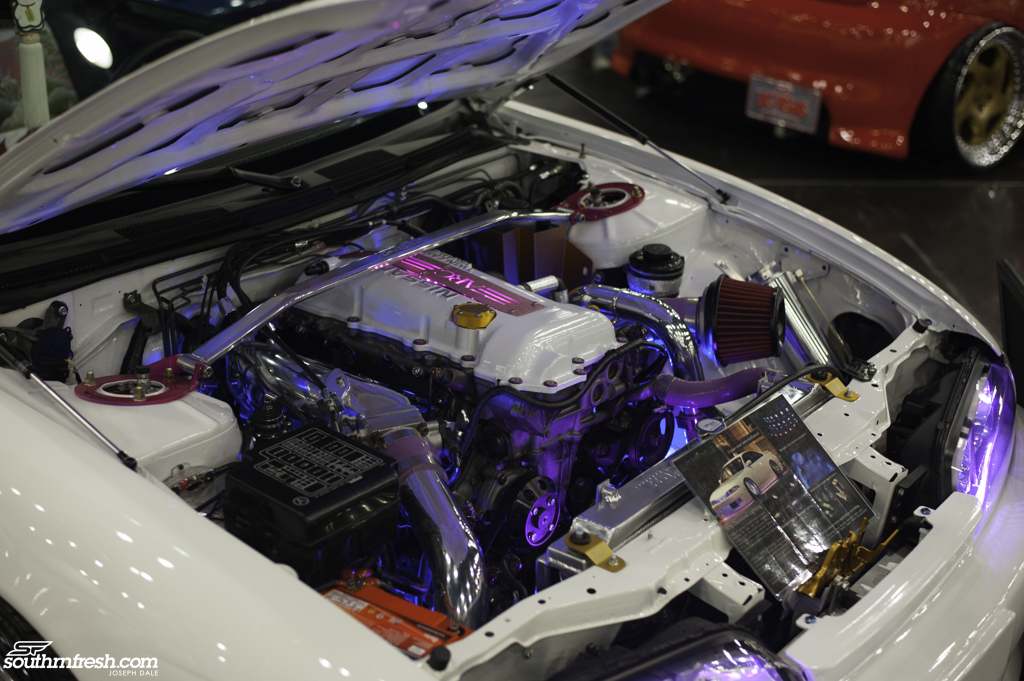 The show got started kind of late because of the amount of cars they had this year.  And the fire marshals had some issues, but the team got all the cars sorted out.
People always ask me about having a real show with trophies and judges in Atlanta.  But I dont even think we are ready for this much responsibility yet.  I was leaning towards attempting hosting a real indoor show, but that was before I experienced the process myself.  There is a difference in putting on a show and actually taking the time and putting on a good show without all the extra stuff, that distracts you from the cars themselves.  I just do not think we are ready to do it at the proper level as of yet..  but one day we will be ready.
Wekfest is the ONLY event that is not full of extra things going on that takes your attention away from the vehicles.  Instead the vehicles keep your attention enough that you do not need the extra activities.  Hand picking the cars that have character and make you want to see more is key.   I spend a lot of time telling friends and locals to make the trip out to Wekfest Texas because of the build quality of the vehicles in the building.  Before this show I had not been to a large car event since our own in August.  Our event was a great success, but I was ready to enjoy more events held by other people, but the fact that there was not anything going on was disappointing.  I felt like there was not any other group willing to put any effort into a large event in Georgia besides us. 
No shot at anyone local that is doing events.  But there is only so many times we can go through the same ole show presentations, and get the same poor outcome.  I try to attend every event I can, but I can usually get an idea how the show is gonna be by the group that is putting it on. I am the type of person that feeds of other peoples success.  Which is why I take these trips to learn and see how these things are done at a higher level…
to be continued…