Again this year we took the 12 hour drive to Houston, Texas for Wekfest from Atlanta.  But this year I would be entering my car into the show, instead of just going to spectate.  After going to Wekfest New Jersey, and Wekfest Texas in 2013.  I gained  alot of respect for the show, and the people that help put it together.  I was motivated to attempt at getting in the show.  It was a honor to be selected to be in the actual building.  The trip was not defined on whether I would win or not, but preparing for the show months before motivated me to modify my Mazda 6 a little better and take time and think over the details and hope they notice.  For the first time ever I understood what people went through entering shows, and preparing for an event in hopes of impressing a judge.
Jon and I had planned to just take the trip on our own, but the week before Johnny and his girlfriend told us they were going to New Orleans that same weekend for a vacation and to attend the New Orleans Speed and Style event at NOLA Motorsports Park.  They offered their hotel room to us for a night, so we can hang out in New Orleans Friday night, and check out the show on Saturday.  Richard S. also decided to join us for the trip at the last minute.  
First stop Friday morning after we left Atlanta, was my moms house in Montgomery, Alabama for a quick pit stop.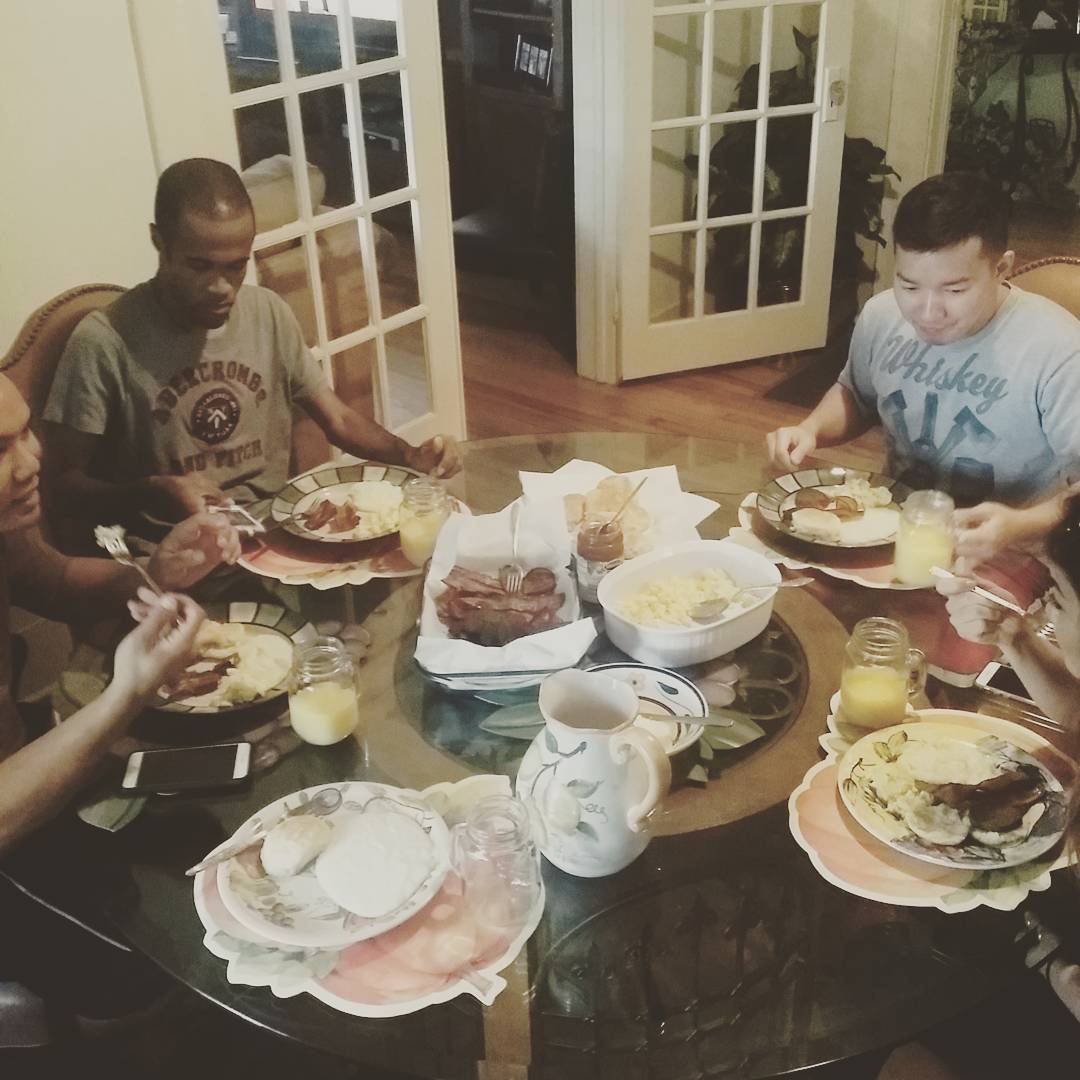 Mom hooked us up with a huge breakfast, so much that we only finished half of it, we sat around for a little bit after and hit the road on the way to New Orleans.. (cell phone pic)
We got to New Orleans in the late afternoon, and checked in the hotel.  Laid around for awhile, and decided to get up and hit the French Quarter and get some seafood.
It took us a few hours to get food.  But after we got some tall alcoholic beverages and did the tourist thing down the French Quarter.
It was the weekend of the Saints and Falcons game, so it was a little crowded.  But not too bad, seemed to be a lot of college students out also, but that is probably normal.
Anyone that goes to New Orleans will agree that it is a special place.  I still dont know how this place operates without a riot every night with so much alcohol and people confined to one street.  There is so much culture packed into this place its amazing.  
We got back to our hotel, and some people that were in town for the Speed and Style show had started to show up.
The Nola Speed and Style show at NOLA Motorsports Park has potential to be an amazing show if they get more advertisement for it.  The event is held by the same guys that do Southern Worthersee in Helen, Ga.  So their audience is the VW and Euro crowd, so that is mostly what came out.  But the potential for this event is great, partially because how well NOLA motorsports park is laid out.
The park has small things that make the event enjoyable.  This view is from the main buildings were the VIP cars were being held.  So you can actually see the action on the track.  If you walked around to the backside of the building you could watch the drifting also.   In the photo you can see Formula D drivers Nate Hamilton, and Pat Goodin drifting on the track for the crowd.  The facility is so large and spacious it makes the event comfortable.  There is even a onsite Go Kart track which is a blast.
Houston native Joshua Garcia aka  Joshiroku, was in attendance competing in the Global Time Attack going on at the event in his 1uz powered Corolla.

Volkswagen brought out Tanner Foust' Rauh Welt inspired Beetle.
There were a handful of non euros at the event.

The main VIP showcase area was located inside the same building that overlooked the track.  The idea I think is cool, but there were only 2 vehicles in the area this year.  
Alongside the Time Attack, and drifting there was a showoff being held.
There were a lot of vendors out at the event, but not many people out while we were there.  But we are 100% sure this will be a huge event next year.  If the team decides to do a little more advertising for it.  We ate some food off the food trucks at the event, and prepared to take the trip down to Houston and catch the Mayday Garage Pre Meet.  We had planned to leave New Orleans by 11am, but we did not leave until 2:30-3pm.  
We got in Houston about 9pm, and went straight to the Pre meet.   When we arrived  a lot of the crowd had left already.  But there was still a lot of people still hanging out.  My first stop was to the Rice Box food truck owned and operated by John P. of Mayday Garage.
Mayday Garage has always been one of our favorite groups of people.  They opened our eyes to the strong Texas culture and stayed true to their humble beginnings.   So getting in town early for this event is a must for us.  
The Pre-Meet was held at Moon Tower Inn a restaurant that specializes in quality American styled food.  As you can see in the photo there was still a decent sized crowd hanging out still.  Chan Le's Subaru set the tone perfectly for this photo, that made this photo look straight out of Fast and the Furious.
For the most part people behaved a lot better then the crowd would have in Atlanta.  HPD came through frequently to make sure nobody got out of line.
John P's Acura NSX parked in front of Moon Tower Inn
I always try to get as many of my friends to make the trip to Wekfest Texas, because it is one of my favorite events.  But the pre-meet is just as special.  The scene in Texas is strong and really different then Georgia.  They are heavy on the car clubs, and its not wheels, air, and sticker car club.  The vehicles are complete builds, and they all compliment each other.  Real car clubs raise the bar for builds, and force everyone to put together a quality build instead of junk for internet fame.  
We chilled for a little while, and went to a local car wash, to give the Mazda a quick wash.  
We got to the Car Wash and ran into Mike Nguyen, and Square One at the wash cleaning their cars. 
Square One was about done washing when we arrived, so after about 30 minutes they headed back to their hotel.  The place was pretty well lit, but we were not familiar with the area, and I did not want to force Ricahard to have to shoot someone…haha.  So we did a quick clean of the Mazda, and went to the hotel to rest.  I got back to the hotel, and did a better detail on the Mazda in the hotel parking garage.  I also had too much gas in my car to get in the building the next morning, so I was up until about 3am cruising the horrible streets of Houston trying to burn some gas in a car that gets 30mpg.  The idea was to cruise the city, and hit the highway, but I was really tired, and the highway put me to sleep.  And the city roads were the absolute worst so it took a long time to waste the gas.  But I got it down, and hit the bed to get up bright and early to head to Wekfest in the morning..
to be continued….