Today we bring you a feature about Paul Evan's and his Nissan 240sx.  I first saw Paul's car at Import Alliance Spring in Atlanta among all the 240s there.  The style and execution made it stand out.  It wasn't a beat up drift car,  show car, or a stock car with wheels and air, it was different.  I have always had a soft spot for S chassis cars built for anything other then drifting, seeing these cars built like this reminds us how special they really are.  I reached out to Paul a few weeks after IA, but we finally were able to connect and get together for some photos, and get to know the man behind the build.
Photos By: Kent Foster – Joseph Dale – Richard S.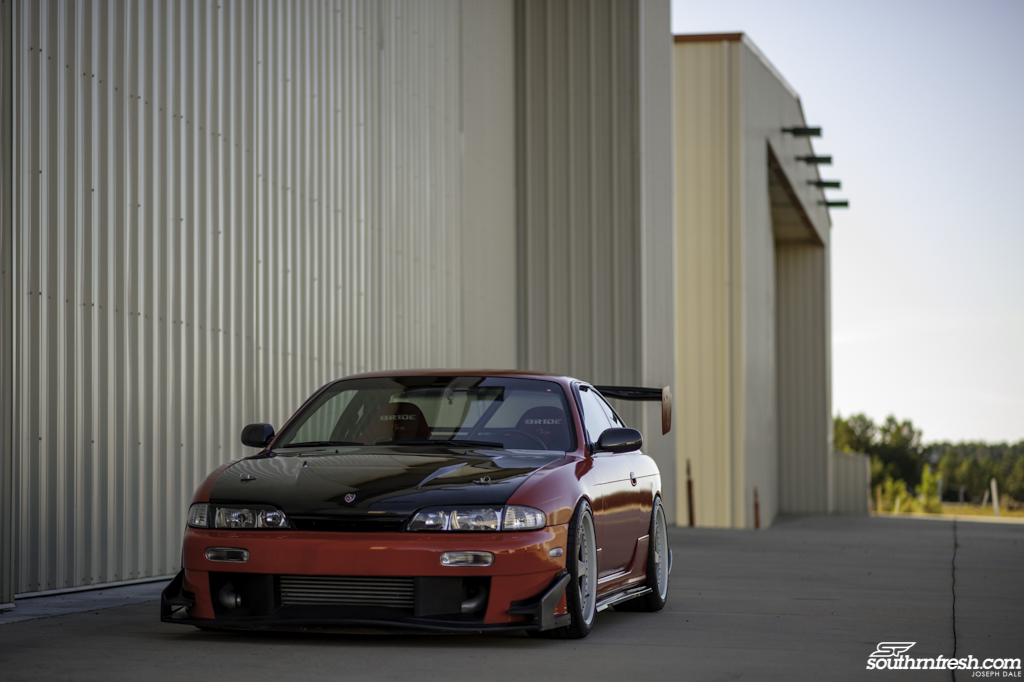 Paul's journey started before he was even born, his family was heavy into racing , and anything automotive.  So once he was able to get a car of his own, he got into a Datsun 240z to get his feet wet.  Paul took his love for automobiles a step forward and wanted to make a career out of it, so he attended UTI to specialize in Nissan/Infiniti.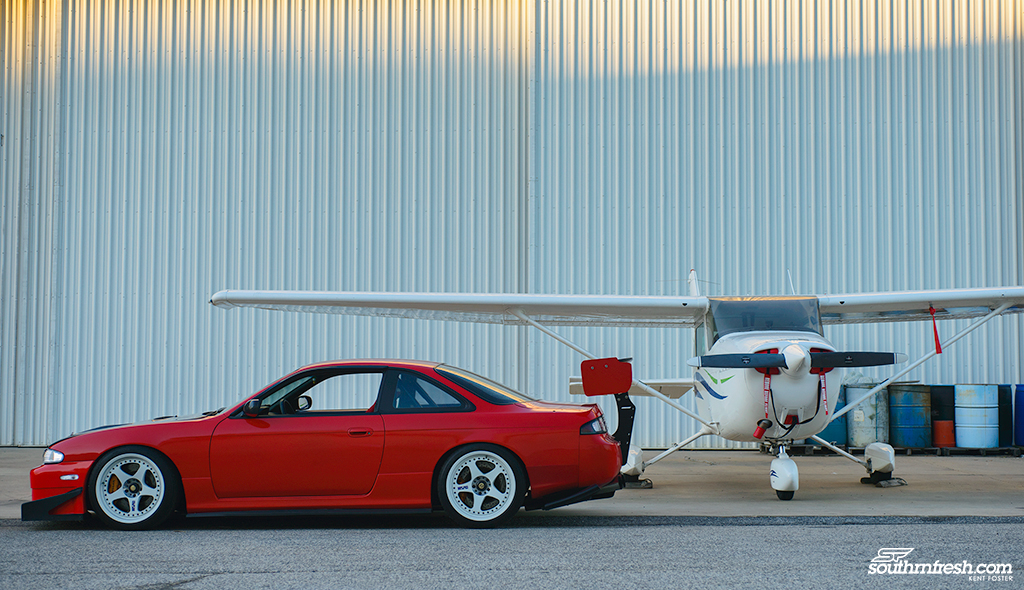 After finishing UTI, he was actually on the hunt for a Integra.  But came across this S14 in a parking lot  that had been abandoned, and covered in mold.  The car had sat for 10 years at a shop.  Because the owner never returned for it, or got it fixed.  Paul said the car spoke to him when he saw it, and he had to have it.  He went through hell with the shop owner to get correct contact information because someone at the shop wanted it for themselves.  But after many attempts Paul was able to make a deal with the original owner and purchase it for $900.   The deal was set, and after the purchase, Paul worked on the car an entire day to get it started, and once it cranked it was the first step to a dream build.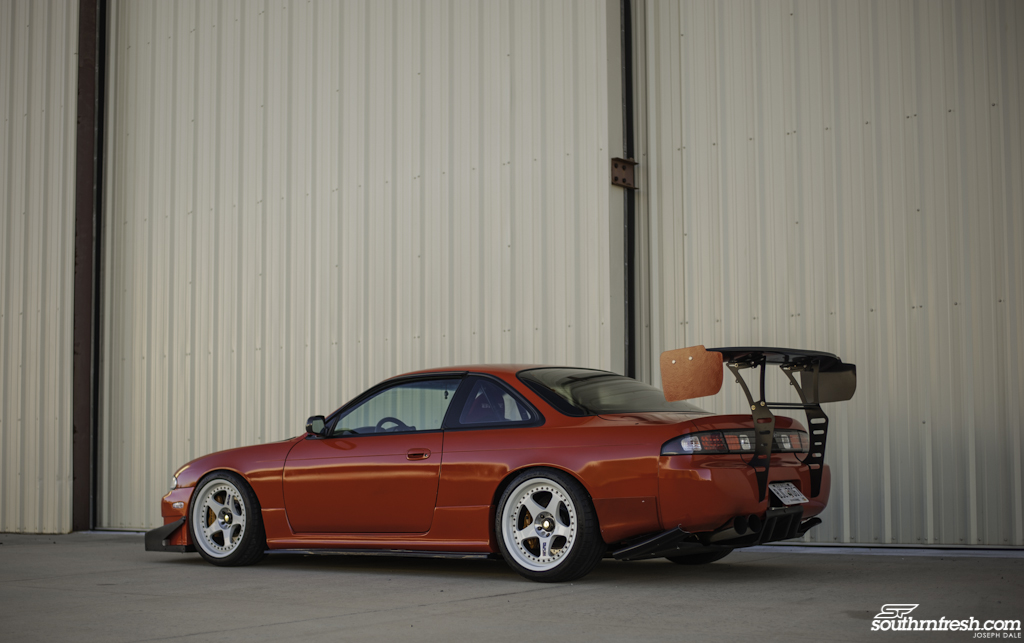 The build plan was always to have a ultimate touge car that would be untouchable in the mountains & back roads, i did not know what engine I wanted or aero to get at the time but through trial and error I started to envision what I wanted. I decided I wanted to grow with the car so left the ka in & pushed the car to its limit, changing/modding things that broke or needed to be changed due to handling.
That approach is the key to a proper build.  I have always thought that modifying a car properly requires you to learn the vehicle and repair/replace things that need to be upgraded.  And at some levels some things work fine until they reach their limit, and need to be upgraded.
At first I did drift the car once drifting started to became huge but my goal was still the same and I would gather good info from how the car behaves in those situations so learned a lot about suspension setups & how far the car could go before loosing control which later helped when I got a chance to start doing some touge runs.
The car stayed at the drift car stage for about 3 years, until Paul was able to get a job at an Infiniti dealership.  After being at Nissan for awhle Paul got into the Nismo program at the dealership.  And started to transform the car into a true representation of a Nismo track car for the streets.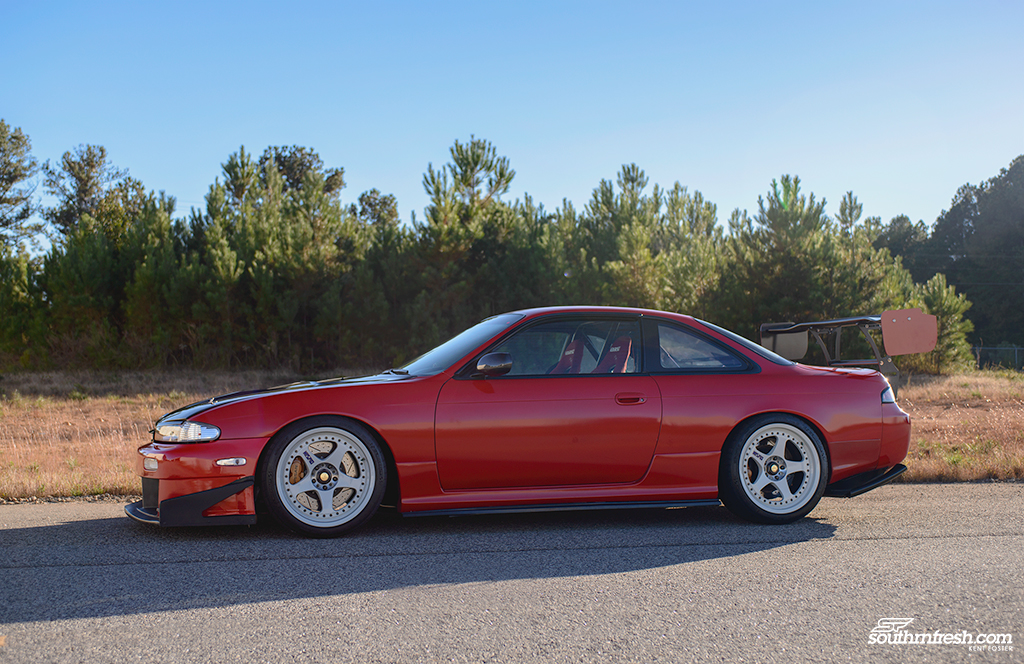 Paul had originally wanted to go with a full Navan kit for the S14, at the time only the OEM pieces were available.  He managed to source most of it from friends that he had met over years that had the parts laying around.  The turbo setup it currently has was put together, and the engine was built.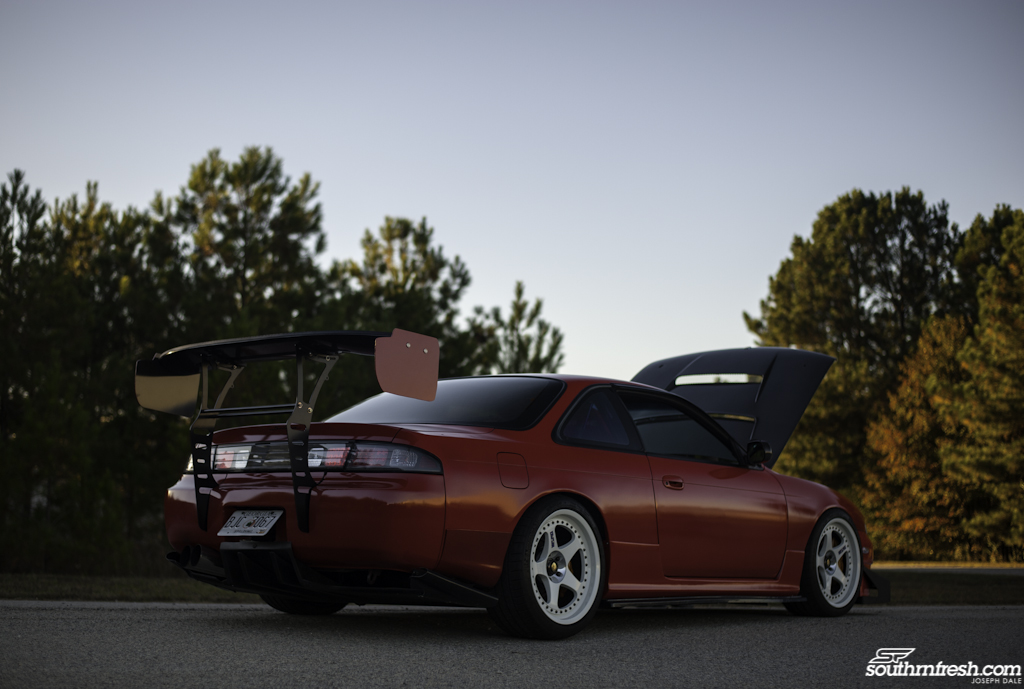 In a blink of an eye, Paul was involved in a really bad accident, while driving his IPL G37 a car had turned out in front of him putting him into a tree.  The accident left Paul paralyzed from the chest down.  
The only thing that kept me sane was trying to achieve everything I dreamed of as a kid reading Super Street & Import Tuner.
 Paul had mentioned  before the accident he was at a stand still with the build.  But after there was nothing else left for him to do but continue with the build and keep pushing on building the car of his dreams.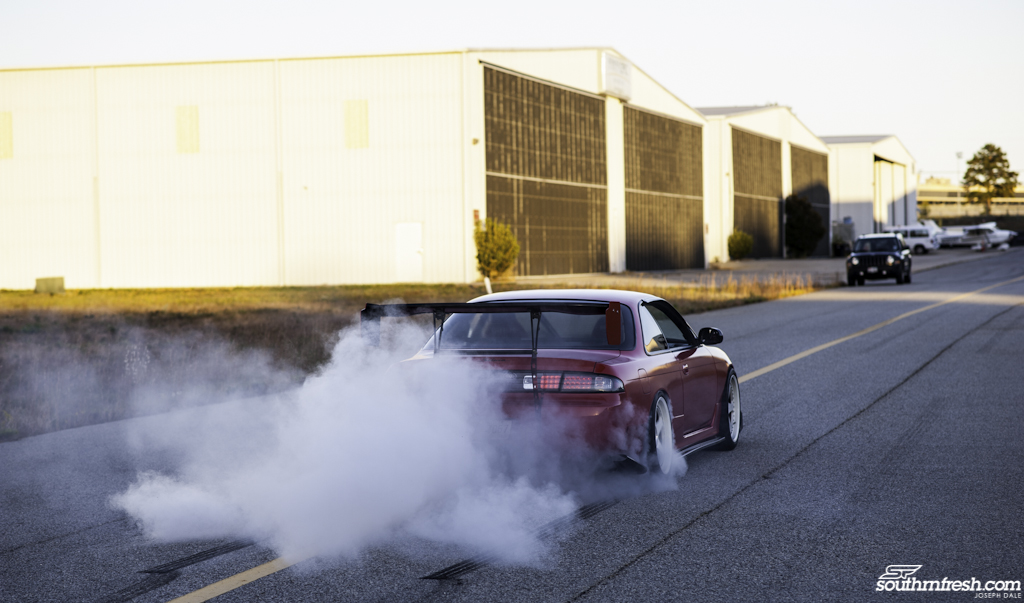 Paul's good friend Dean was driving the car for Paul that day of the shoot.  He is the dedicated driver of the car now.  He did not hesitate to give us a show in the S14.  I could tell that they felt really comfortable thrashing the car.  The car had a hiccup with the tune once it would warm up that day.  But they knew the car so well they managed to work around it enough to enjoy it.
 The most inspiring part of this build was his friends and how much they all help each other with the car.  
DEAN

– is the driver of the group, if you need something tested to it's fullest extent he's the one that will find the weakness. He's also one of the most experienced mechanics in the group from building engines, to full restorations. He hass helped me diagnose & tune the car every time I needed some assistance

JAMES

–  would be more of my right hand man, I owe a lot to him not only for making me get the best products possible & trying to be the best on our side of town but he was also there to help after the accident. Took care of some things at home & stuff like that while I was in the hospital. Hes helped get the car ready for events/races

JACOBE

– is the parts guy & works with Lacy. Jacobe stays in Thailand for school via military & use to run a business buying & selling JDM parts.  So anytime we needed something rare we go to him or Lacy. Jacobe also the networker so normally if everyone gets together to chill itll be because of him. He's of course helped not only with parts but getting the small stuff done

LACY

–  worked with Jacobe on their parts buisness but has helped out with the car for some of the more tedious stuff that needed to be done real quick. 

MIKEL

–  basically same as James but also networks like Jacobe, pretty much he made sure I get the best & keep my head straight. Helps any of us that needs it & was another main person that helped out a lot after the accident

TYLER

–  the most recent but has been starting to become a key to getting the cars chassis stiffer, exhaust work, & any other metal work. Pretty good welder
This car, this guy, and his friends is one of the best things I have been able to present on the site.  In a time when people associate themselves with people just because of what they drive, and how many followers they have.  To meet these guys, and to see how much Paul's friends have done for him in good and bad times is special.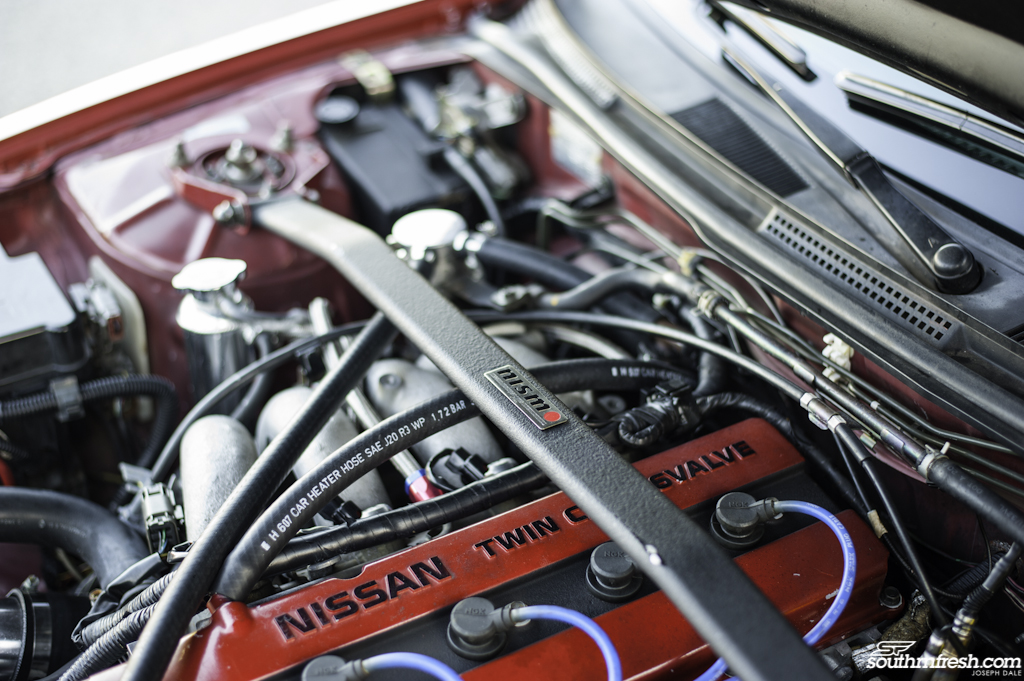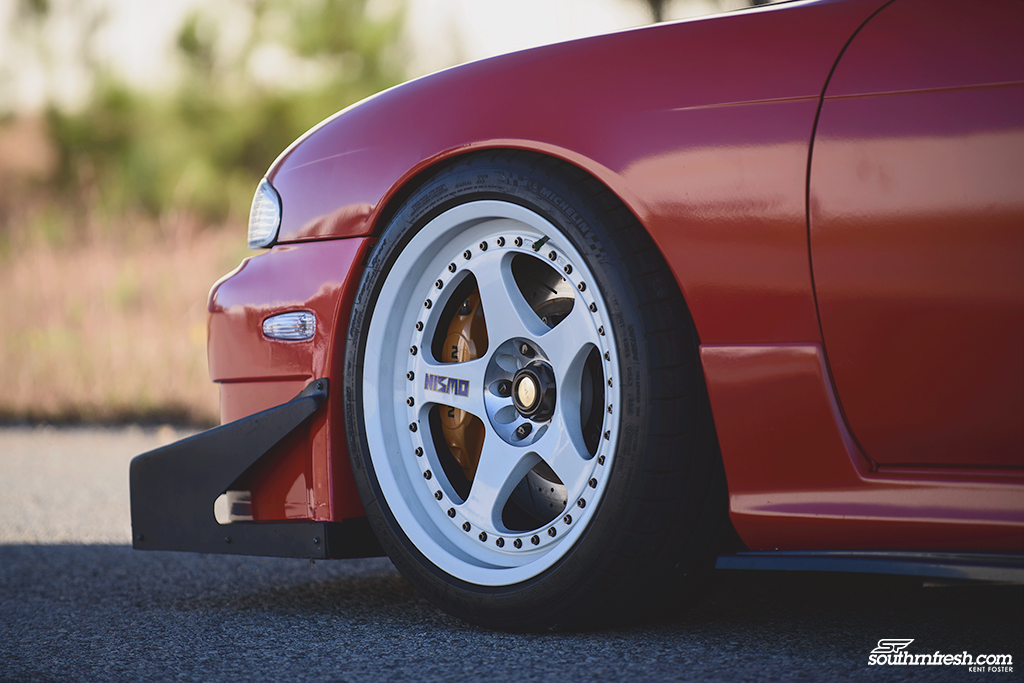 Good friends, and positive motivation enabled Paul to get this car the way it sits today here is a breakdown of the build. 
Wheel/Brakes/Suspension
Nismo lmgt1 18×9.5 et15
 255/40r18 Michelin pilot super sports
Nismo racing lug nuts
Nismo 50mm extended wheel studs
Akebono brakes were salvaged from his wrecked G37 were sent to Z1motorsports to be rebuilt:
 Z1motorsports 14.5″ 2 peice front rotors
Z1motorsports 14.25″ rear rotors
Hawk track compound brake pads
Z32 rear ebrake
 R33 ebrake cable
Z1 motorsports ss brake lines
Motul rbf600 brake fluid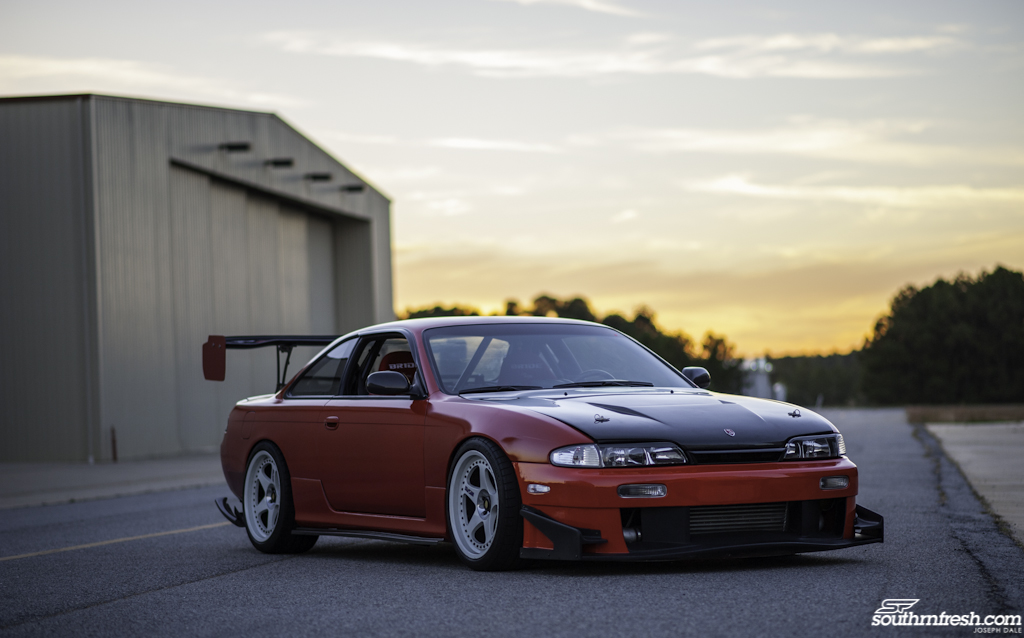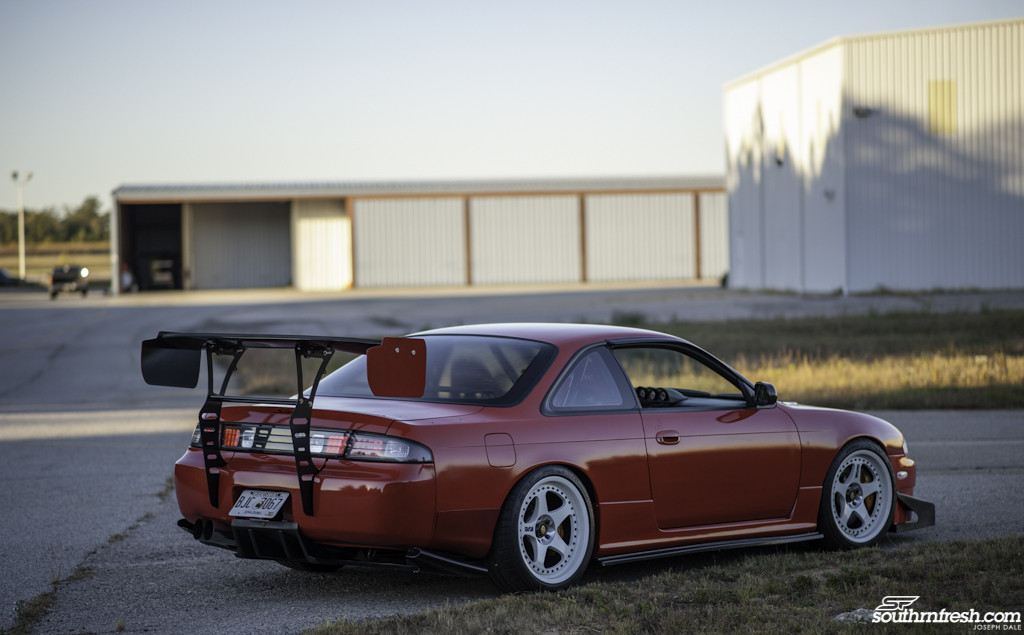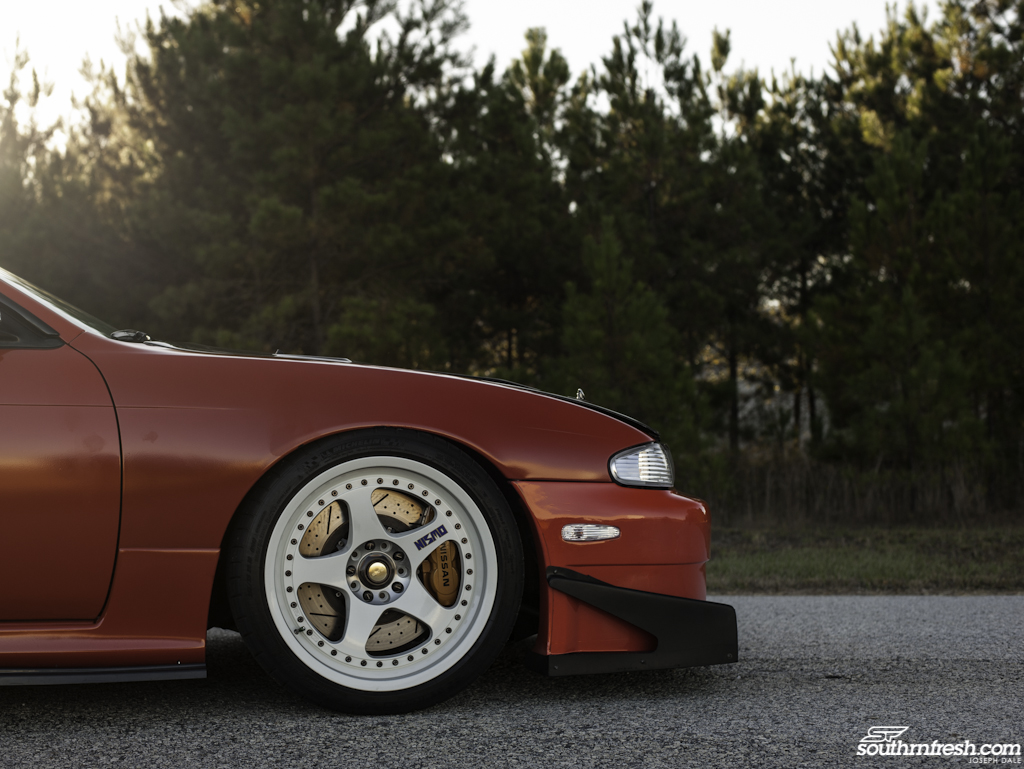 URAS GT front bumper with canards
 OEM Navan side skirts
Custom side skirt extensions
OEM Navan rear valance
Seibon dv style carbon fiber hood
Custom carbon fiber mirrior covers
 JDM headlights
Circuit sport headlight clear covers
 Circuit sports clear corners
 OEM Nissan engine undercover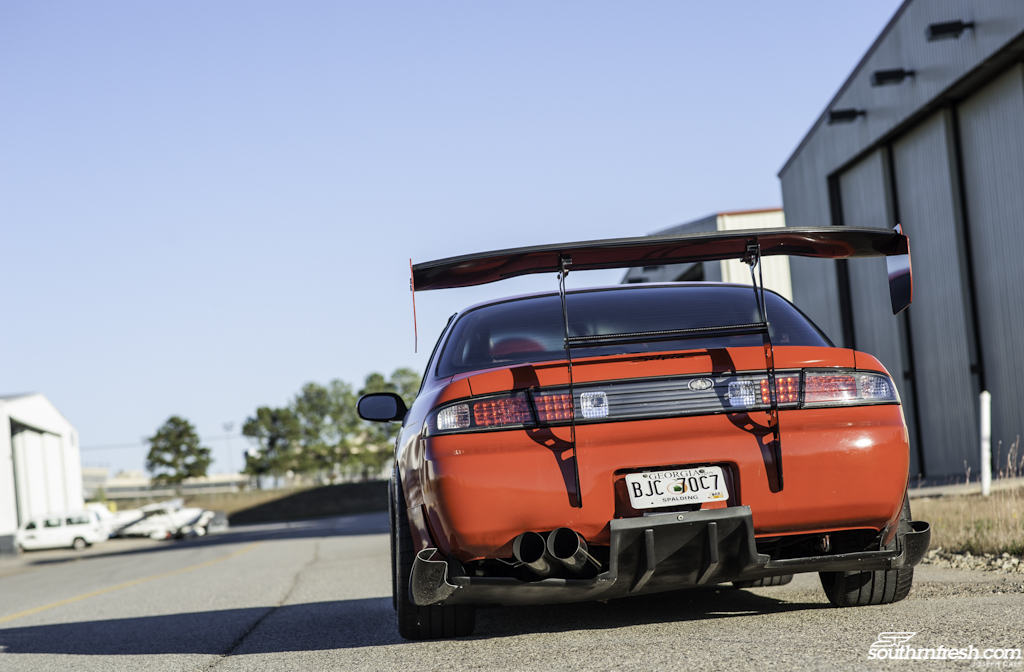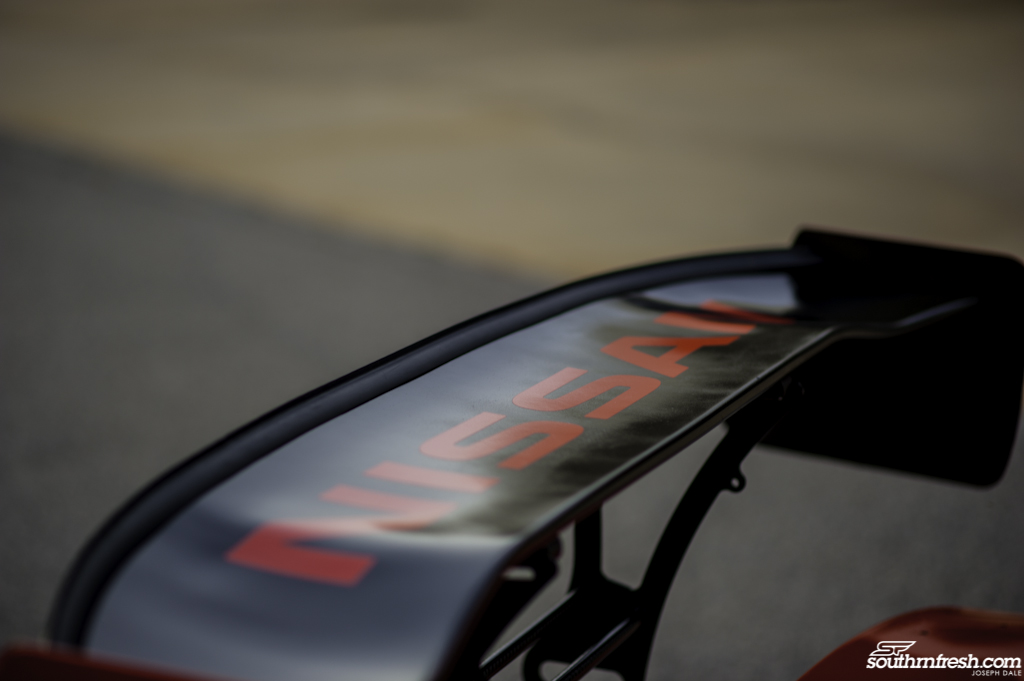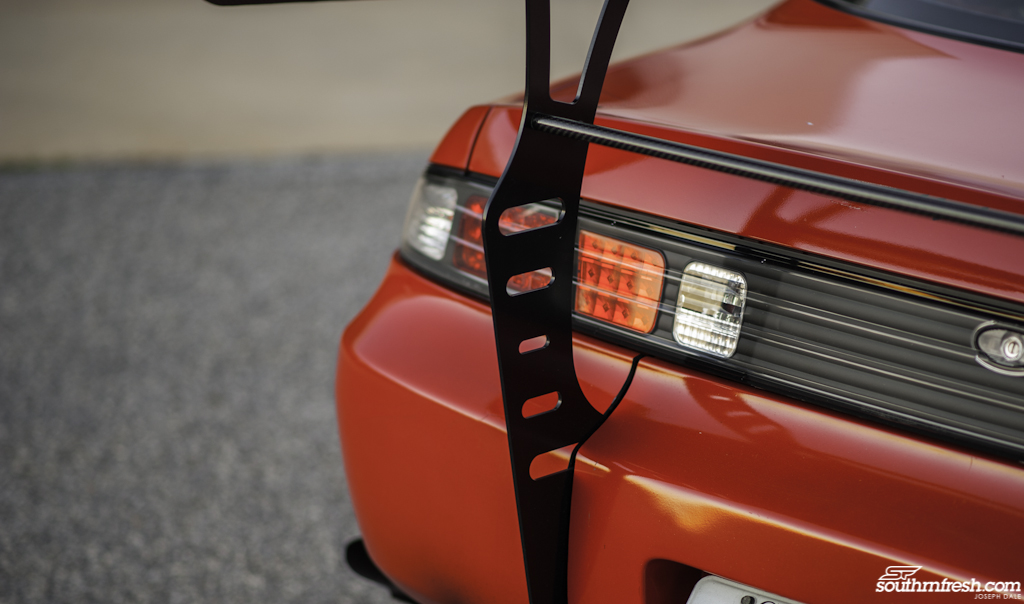 Rear Aero 
Aim9 chassis mount wing stands
Uras gt wing decklid
Custom carbon fiber gt wing endplates with apr hardware
R32 fiberglass diffuser
 DMAX kouki style led black taillights,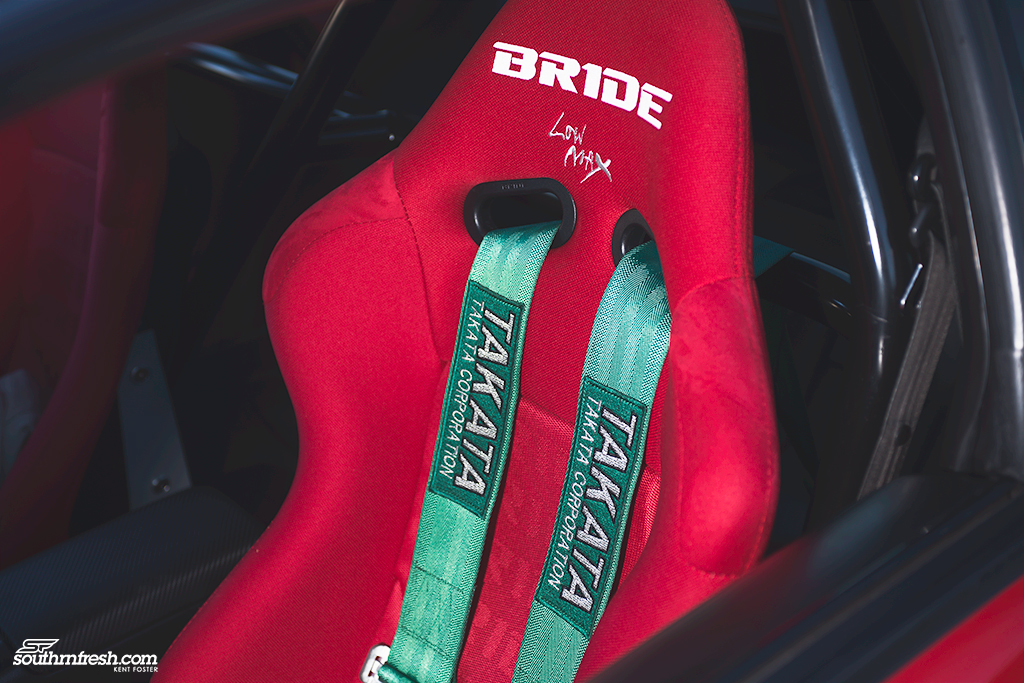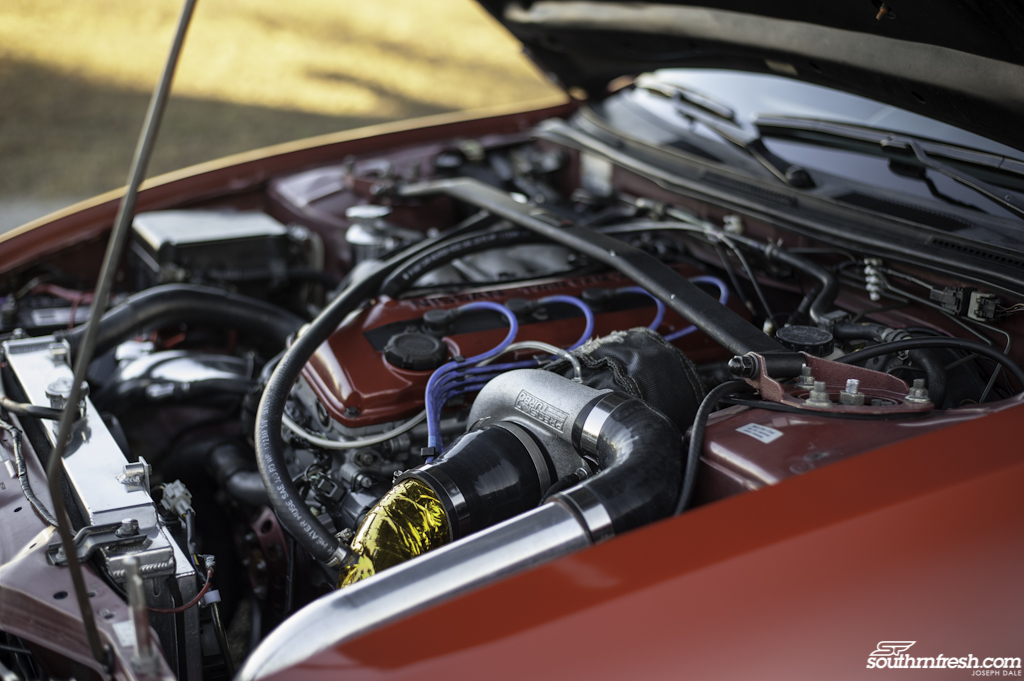 Engine
 Weisco 9.5:1 pistons
Manly H-beam rods
balanced crank
Arp head studs
Arp main studs
Z1motorsports refreshed head
Nismo 740cc inj
Nismo fuel presure regulator
Nismo fuel pump,
Fuel Lab fuel filter
custom equal length manifold
Precision 6262 turbo
custom exhaust
Isr blast pipes
Greddy intercooler piping
Greddy air filter
Z32 maf
Nismo swirl pot
Nismo radiator caps
Koyo radiator
Mishimoto cooling fans
custom oil cooler
RS-enthalpy tune,
Apexi neo fc
AEM boost controller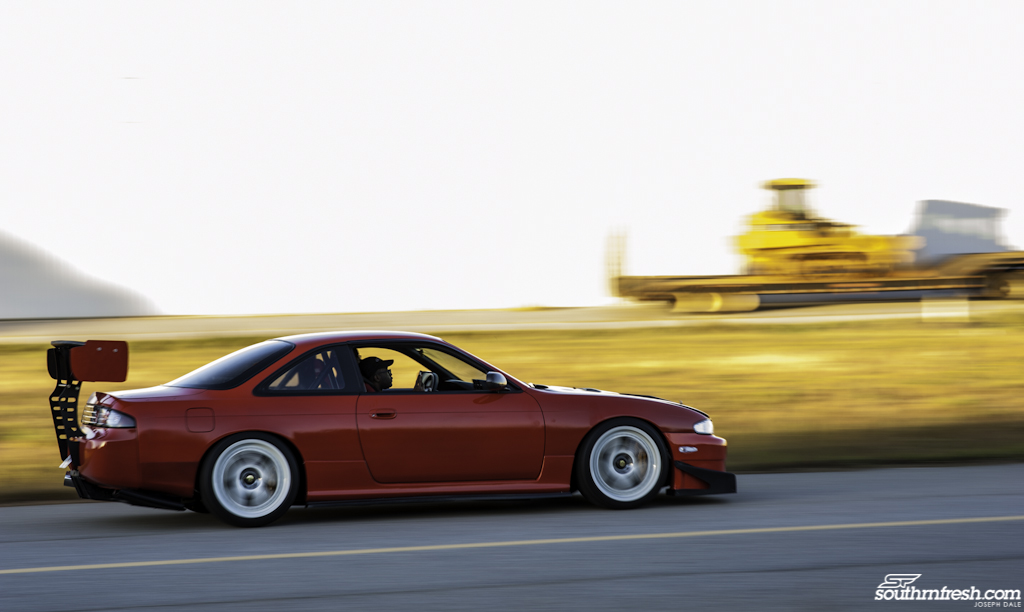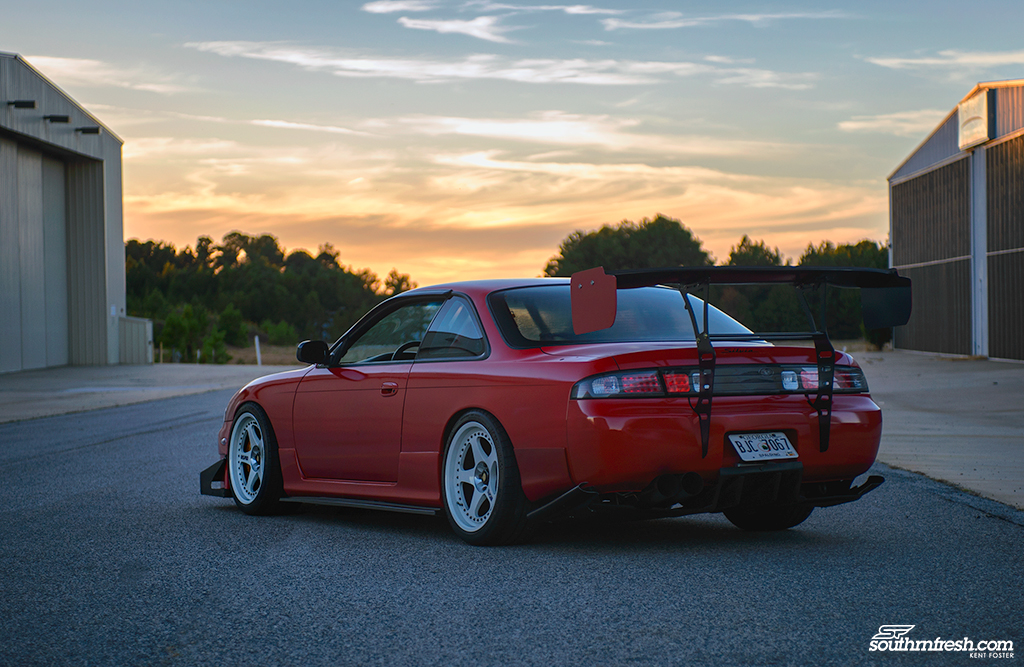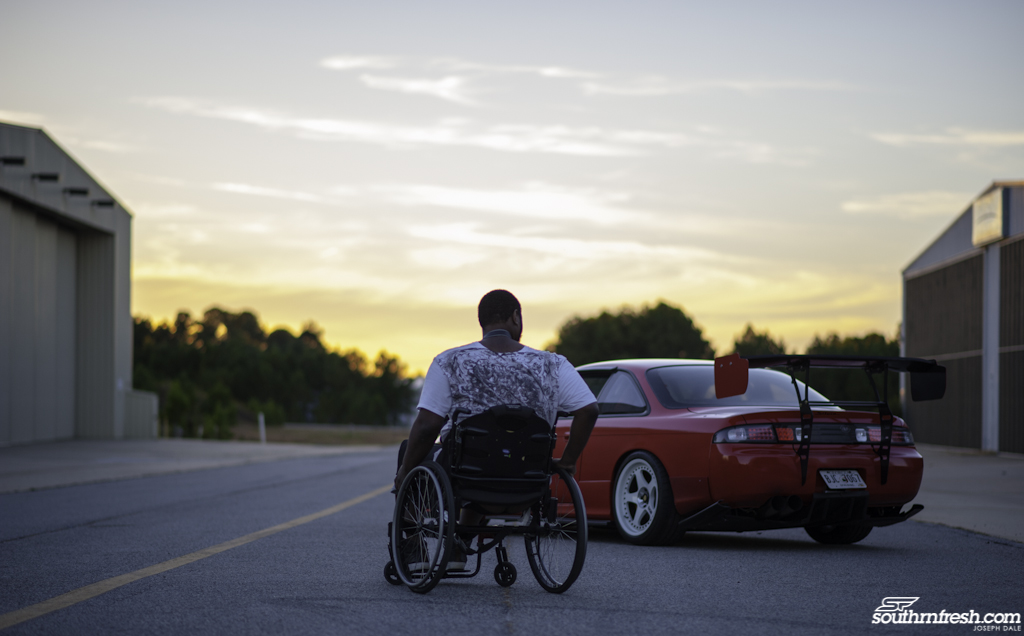 In a year and a half time with help from friends the car came to be pretty much what i always wanted as a kid & to me a true representation of what nismo would do to a s14. It may not be perfect but i can say I built the car my self with friends, everything you see see is all my trials & errors with modding & driving. Every hidden battle scar, mark, drill and cut has its story. I didn't set out to have a show car but a car to enjoy & let others enjoy. It also gives me a goal as i go through therapy to drive the car again & be back on the road doing what I always loved. If it honestly wasn't for my mom encouraging me to stick with my dream I would've gave up before any of this started, and thanks to my close circle of friends pushing me to do better this project would not be where its at today.
Much respect to Paul and his friends for the inspiration to keep on pushing.  And we will be there when he can finally drive his car again.
Instagram – @evanspaul1330  
Thanks for looking!!!