Many moons ago I stumbled upon this creation by Tommy Reichelderfer at an event.  At the time the vehicle looked unfinished, like it was in the middle of a major transformation.  The front end was missing, it had huge lights mounted on the core support, and had a big loud V8 in it.  I had seen the car a few more times and had anticipated one day seeing the car with a completed front end on it.
Photos of the Miata in 2013
I finally got around to speaking to Tommy a few times online while the car was being put together still.  And I started to realize that this is what the car has become.  At that time the frame rails were still in the factory position, and the metal around the struts were still attached to the car.(pictured above)  It was hard to get the idea out of my head that this is what the car built to look like up until later.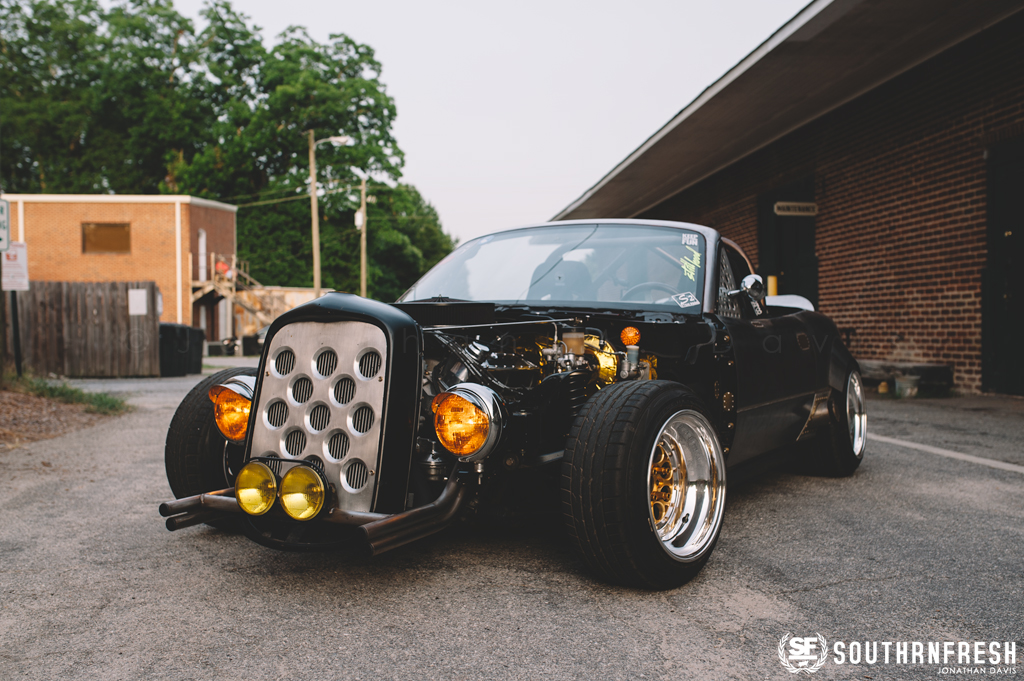 Not because I saw the vision, but I started to understand what Tommy was doing.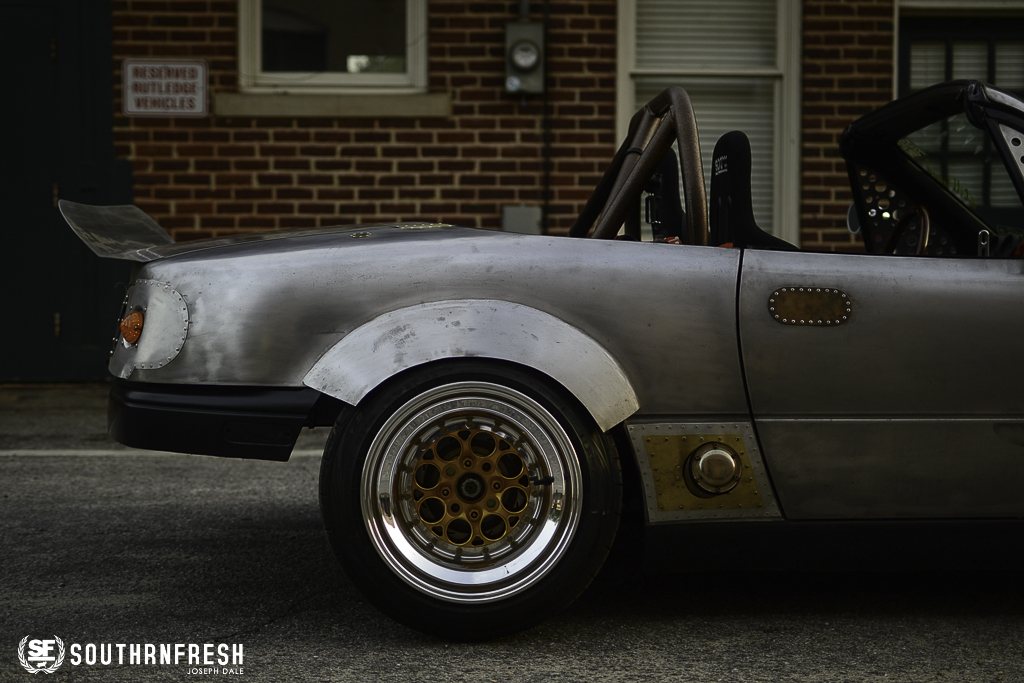 Building with a purpose, and a goal but not really a plan.  Luckily Tommy is gifted to be able to handcraft his creation, and do the metal work himself.  Countless hours shaping, welding, measuring are into every body panel.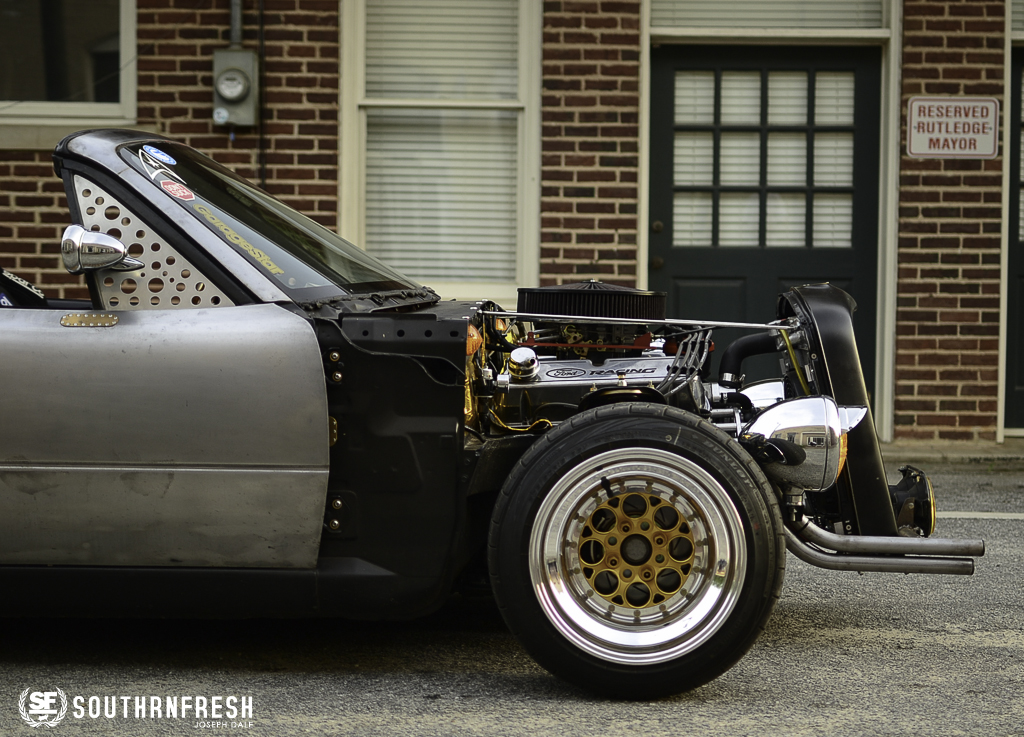 Being a loyal Mazda lover myself, I always classify Miata owners as special individuals who spend a lot of time making a near perfect car, into their perfect car.  Slammed, on a road course, a daily commuter, or chopped cut and reformed into whatever you want it to be.  The core of the Miata still remains as a fun roadster. 
The process begin with sanding the panels all down to bare metal.  One would think keeping this thing from discoloring is a task, but Tommy simply cleans the car with a brilo pad.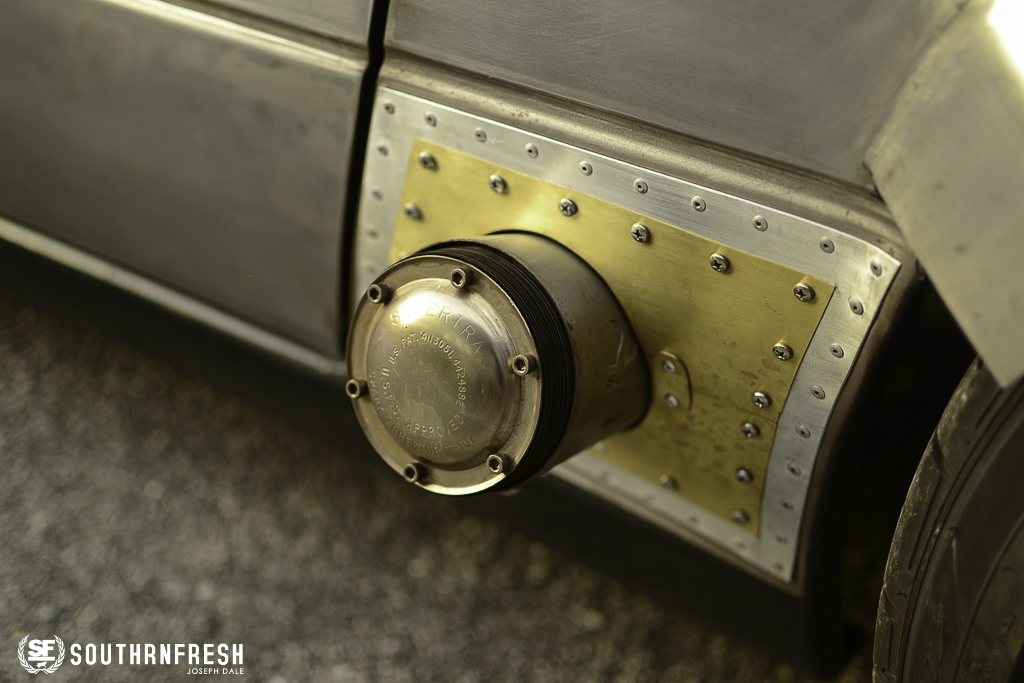 All unused panels were covered with riveted brass plates made by Tommy himself.  Along with the aluminum corner windows, aluminum taillights using universal trailer lights for brake/tails, aluminum dimpled grille plate, and the aluminum duckbill wing.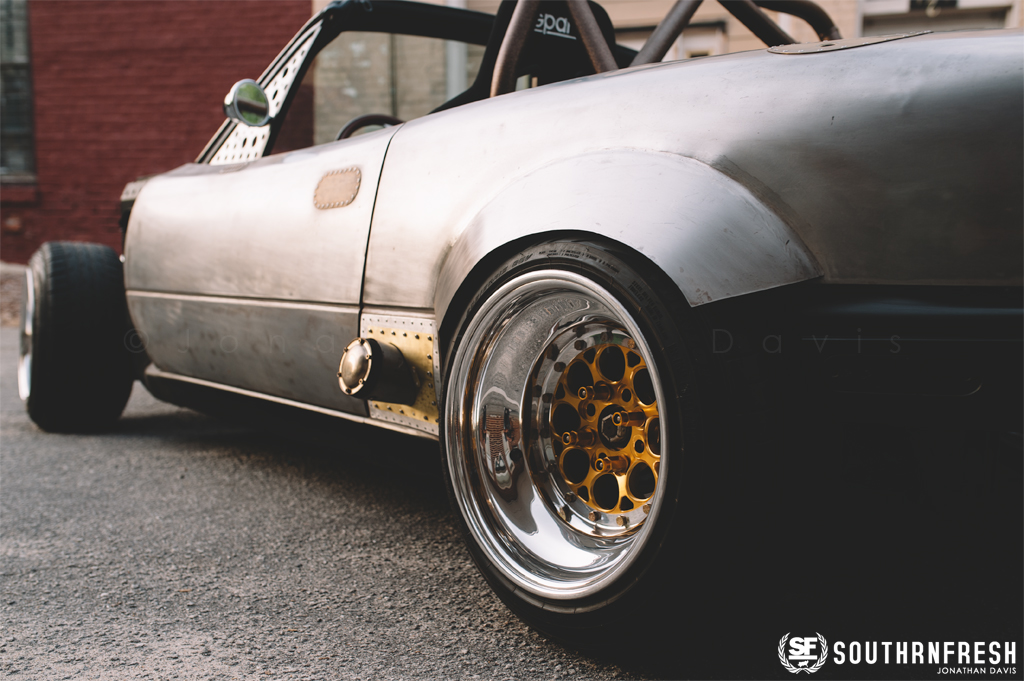 The Boss Roadster sits on Weld Magnum Import Drag 15×10-13.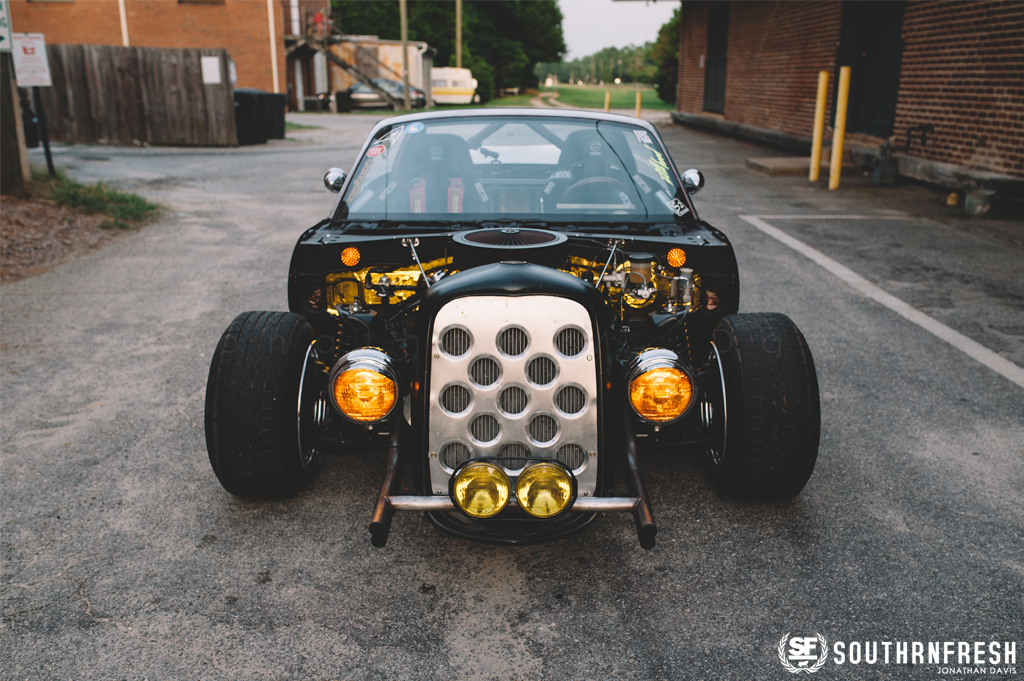 The tube front end was also handmade by Tommy himself to hold the powerful Ford 302.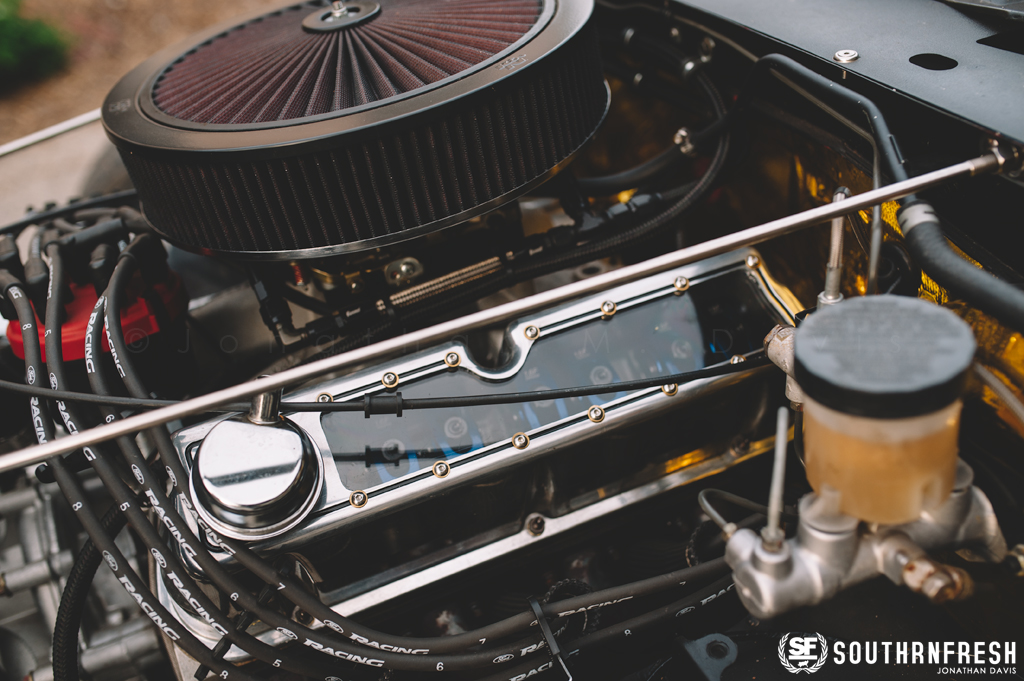 The Ford 302 was completely overhauled, and upgraded with the essentials to power the project.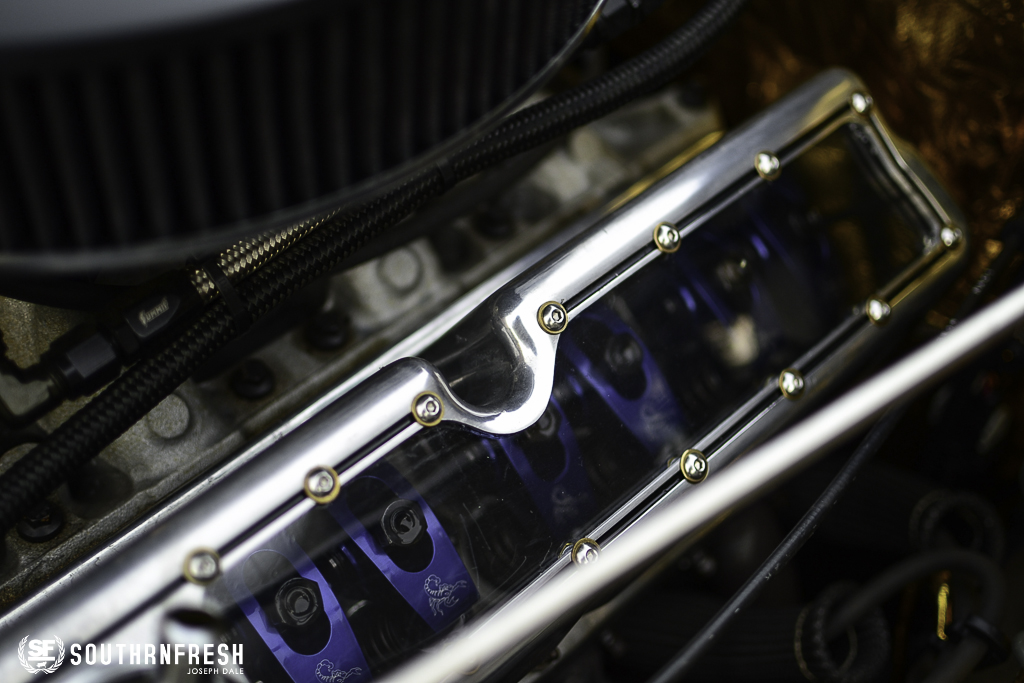 Tommy's creativity is all over.  Here we got a sneak peek at his see through valve covers he created.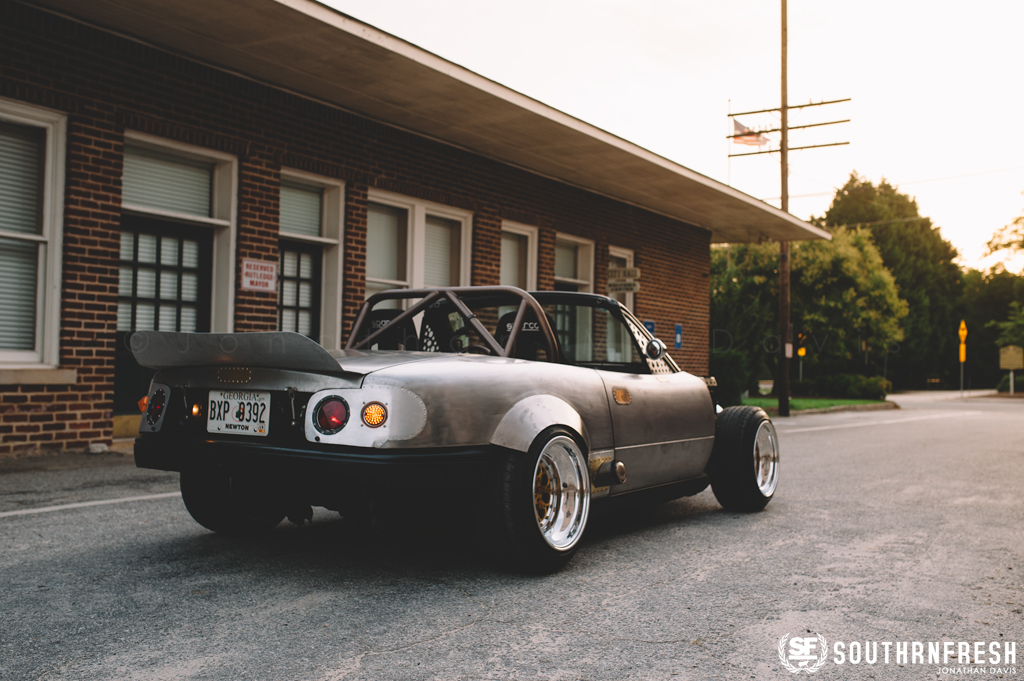 The gift of being able to do metal work is something anyone will respect.  Imagine being able to go in your garage or shop and just completely redesign your car, and mold it into what you want.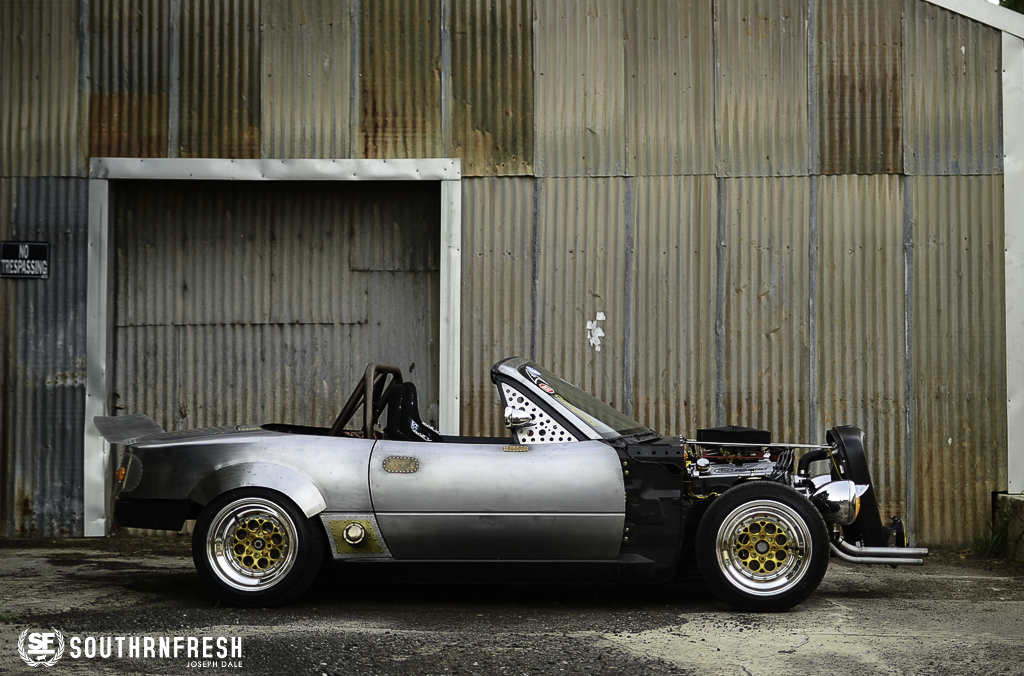 Talking to people with out of the ordinary builds, most will say they just want to be different.  But Tommy's answer is always "it was the idea he planned, and it just kept going".  And I applaud Tommy for taking on a project for self, and staying the course.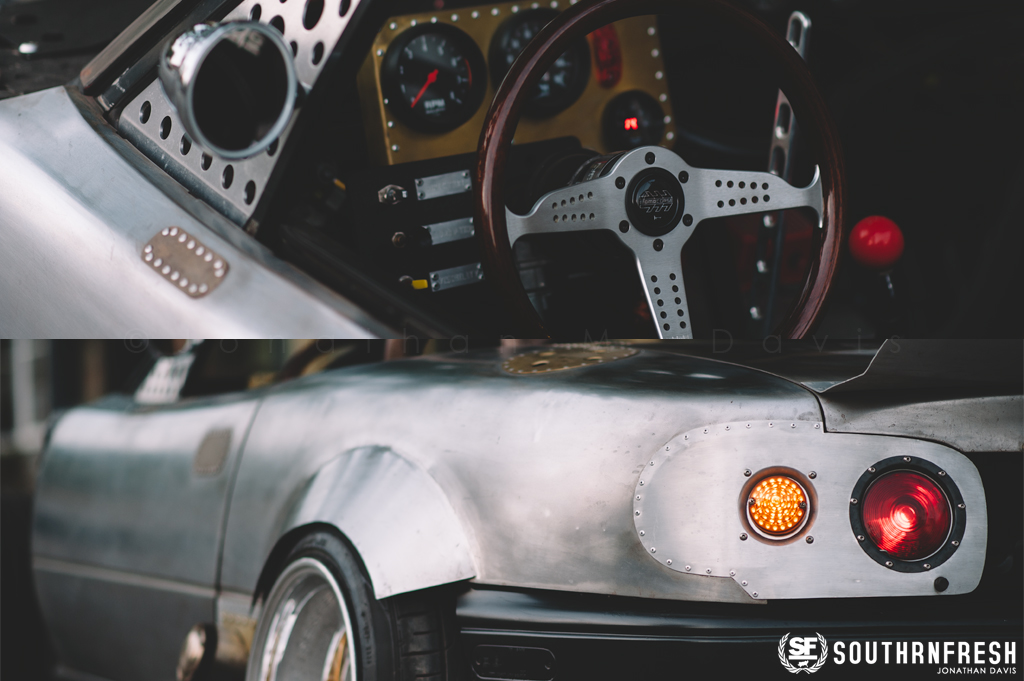 The interior follows the same flow as the exterior, with a old fighter plane style with the hand made brass dash panels holding the gauges.  The interior has been completely stripped and is covered with bedlining  material.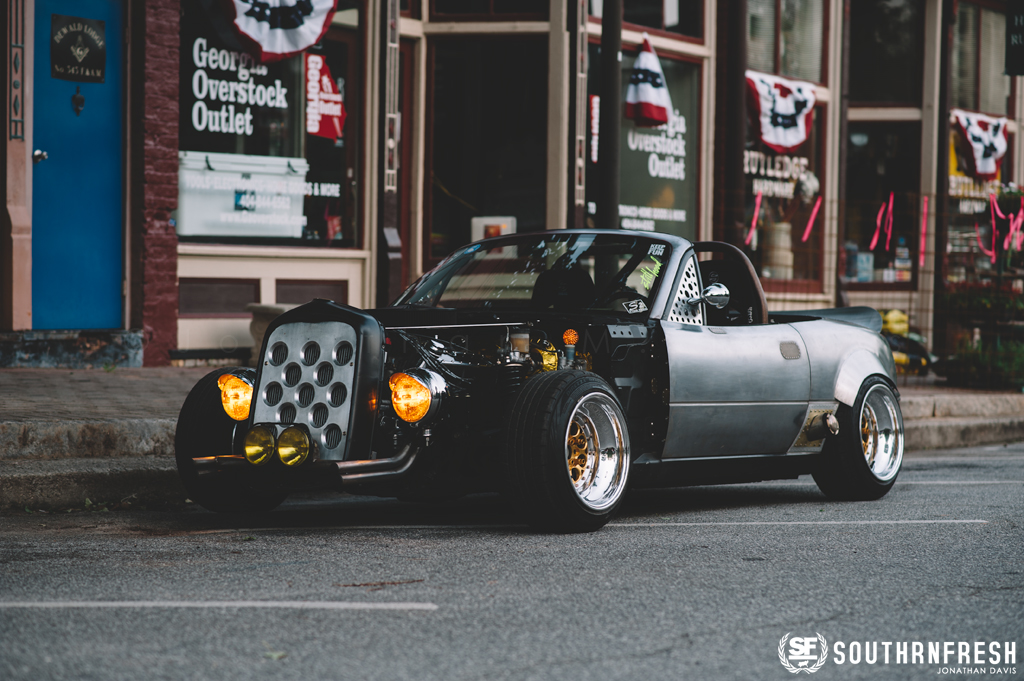 Looking at this car inside and out, makes you rethink using the word "build" so loosely…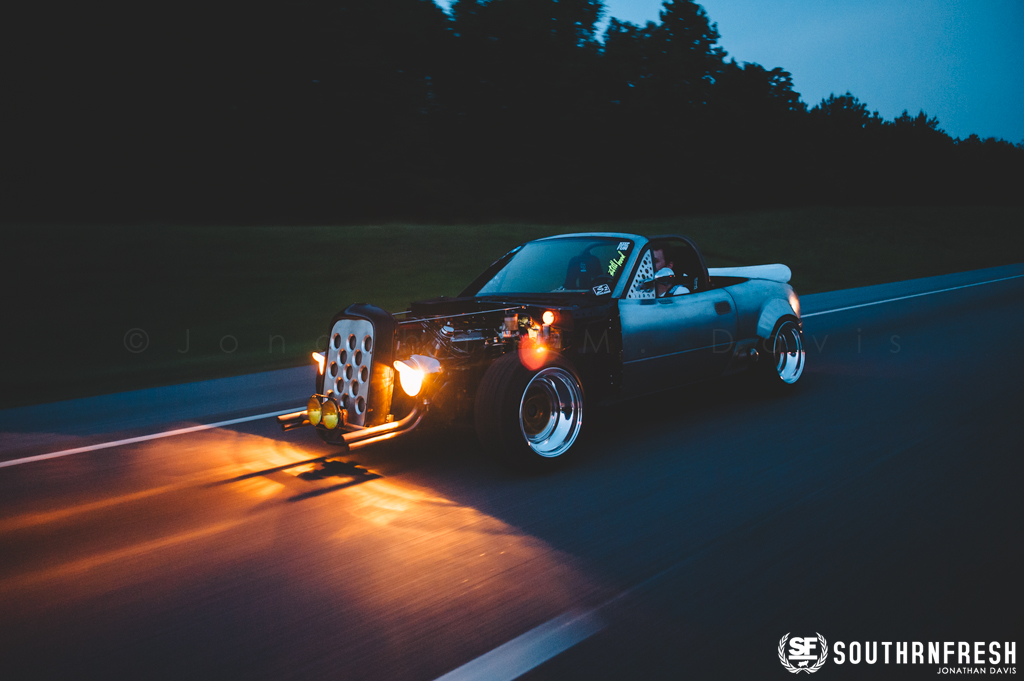 -1993 Miata chassis
Body:
-All body panels sanded to bare steel.
-United Pacific '30s Ford replica headlight buckets
-Handmade riveted brass plates covering all unused openings
-Handmade aluminum duckbill wing
-Shelby GT350 replica side mirrors
-Handmade aluminum corner windows
-United Pacific 60's Ford LED turn signals front and rear
-Handmade aluminum taillights using universal trailer lights for brake/tails
-Chopped '32 Ford replica grille frame
-Handmade aluminum dimpled grille plate
-Garage built tube front end
-Weld Magnum Import Drag 15×10-13
-Gutted and shortened rear bumper
-Honda Ruckus sourced foglights
Interior:
-Fully stripped and bedlinered interior
-Momo Prototipo steering wheel
-Sparco Sprint V seats
-Sparco and Momo 4 point harnesses
-Hard Dog Hard Core roll bar
-Handmade brass gauge cluster
-Autometer Z series mechanical gauges
-AEM wideband o2.
-Hurst shifter
-ASD pass-through hydraulic handbrake
Chassis/Suspension:
-BC coilovers
-Flyin' Miata rear swaybar
-V8Roadsters mountless tubular front subframe, garage built engine mounts for smallblock Ford.
-Monster Miata transmission crossmember
-Monster Miata differential mount and axles
-Manual steering rack
-1.8 Miata brakes, Brembo slotted rotors, Hawk HP+ pads
Drivetrain:
-Rebuilt 1985 Ford 5.0 roller block, crank, rods, and factory forged pistons, stock 302c.i. displacement.
-ARP head studs, main studs, and ARP Waveloc rod bolts.
-Monster Miata oil pan
-AFR 165 58cc CNC aluminum non-emissions cylinder heads. 1.900/1.600 valves.
-Comp Cams .512/.512, 218/224 @.050, 114 deg. lobe sep. 
-Edelbrock Performer mechanical fuel pump
-Ford Motorsport roller lifters
-Trick Flow pushrods
-Scorpion 1.6 roller rockers
-Edelbrock Performer RPM Air Gap intake manifold
-1in. carb spacer
-Holley 4150 Street HP mechanical secondary 650cfm 
-Ford Racing shorty water pump
-CVF shorty pulleys
-K&N air cleaner
-MSD 6AL ignition
-MSD Blaster SS coil
-MSD Pro Billet distributor
-Fidanza aluminum 11lb. flywheel
-Professional Products crank balancer
-Ford Racing clutch
-Earl's Pro Lite 350 nylon braided fuel lines throughout, Ano-Tuff black anodized AN hose ends
-Holley adjustable fuel pressure regulator
-RCI rear sump 10 gallon fuel cell in trunk
-Shortened Mustang driveshaft
-Ford 7.5in. IRS diff, clutch type limited slip
-Rebuilt Borg Warner World Class T-5 transmission
-Ebay 3 row '32 Ford lowboy radiator
-Heavily modified Hedman headers, 12in. Summit Racing bullet mufflers
Thanks for looking